My obsession with quilting wreaks havoc with my neck. I have two discs that slip (they extend farther than they should when I bend my neck forward or backward). It doesn't take much activity to make my neck tighten up and go into these really fun muscle spasms. Most quilters get that tired neck and sore shoulder thing going on when doing a lot of piece work or, expecially, when quilting a piece. The other day Megan Jorrick of Sew Stitching Cute was mentioning issues with her neck and I could completely relate. This week my neck was giving me fits and I was really careful not to aggravate it too much. There are a few things that I do to protect it and I thought sharing what I have learned might help others that deal with the same issue. The main goal is to limit the amount of looking down that I do. The head is really heavy and to look downward is a big strain on your neck. Googling for information, I found that the average human head weighs approximately 10 pounds. Imagine supporting the weight of two 5 pound bags of sugar on your neck. When you extend your head to bend forward to look down that is a lot of stress on your neck.
First off, whenever possible, I look at something straight on rather than bending my neck to see it. This means that if I am ironing seams or bits of fabric, I don't use my ironing board. I made a little pressing pad which I keep on the desk near my sewing machine. I actually kneel down at the desk and press away – that way I really don't have to bend my neck. It probably looks odd, like I am worshipping the iron, but it is helpful.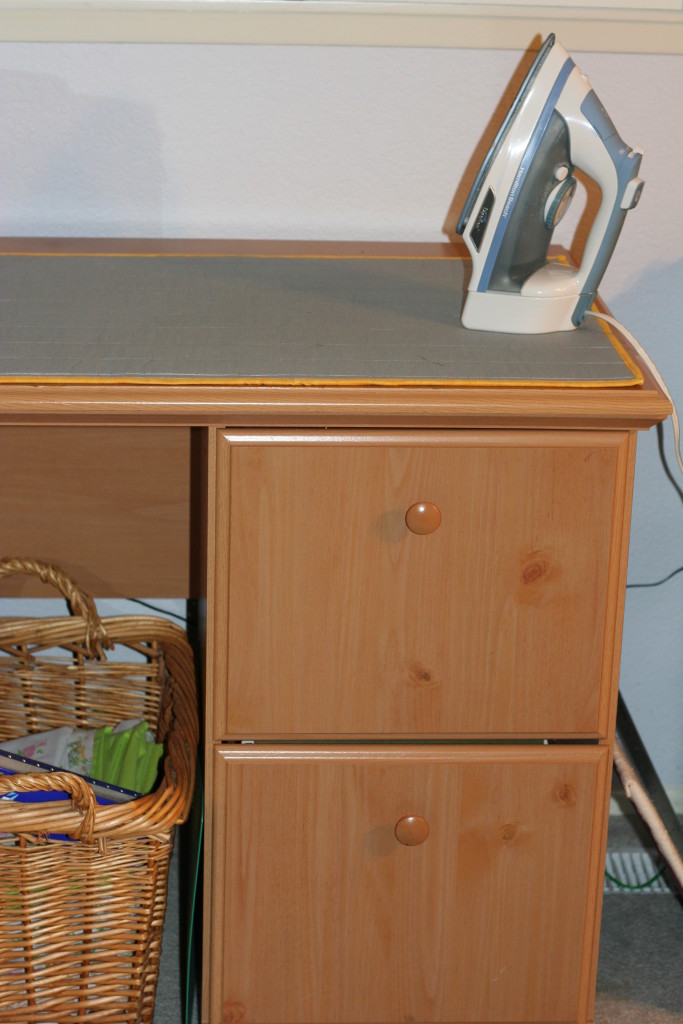 Second trick is when I am piecing a long stretch involving matching many little seams (e.g. one row of blocks to the next row of blocks) I, again, get at eye level with it. I happen to have a queen size bed in the sewing room. I lay one row on the bed, kneel down and place the other row on top of it. Then I can match seams and do all of that fussing while looking (almost) straight on to the piece.  Same goes for pin-basting a quilt sandwich. I have a long table that is fairly low in the basement and I use that. Kneeling down at that table is a challenge because of the cement floor but I found an old pillow to kneel on and I can push that along as I scoot around and pin while looking straight on the quilt. Pin basting a quilt on the floor involves crawling around and reaching to the center of the quilt which is horrible for my neck. As you know, it takes a while to pin a quilt sandwich together. Better to use a table for this task.
This is one of my favorite tricks though. My husband was watching me sew and he kept telling me that if I could change the angle of the actual sewing machine I might be able to lift my head a bit. It works. Not perfectly but it makes a difference. My machine sets down into a table so I took an old piece of flannel and rolled it tightly. I lifted the front end of my machine and put the flannel under it, tipping the front of the machine up. It hasn't posed any problems with stitching or quilting unless I am appliqueing. For some reason, my machine has to be flat for that. Here is a picture to show you. Not gorgeous but it is worth it.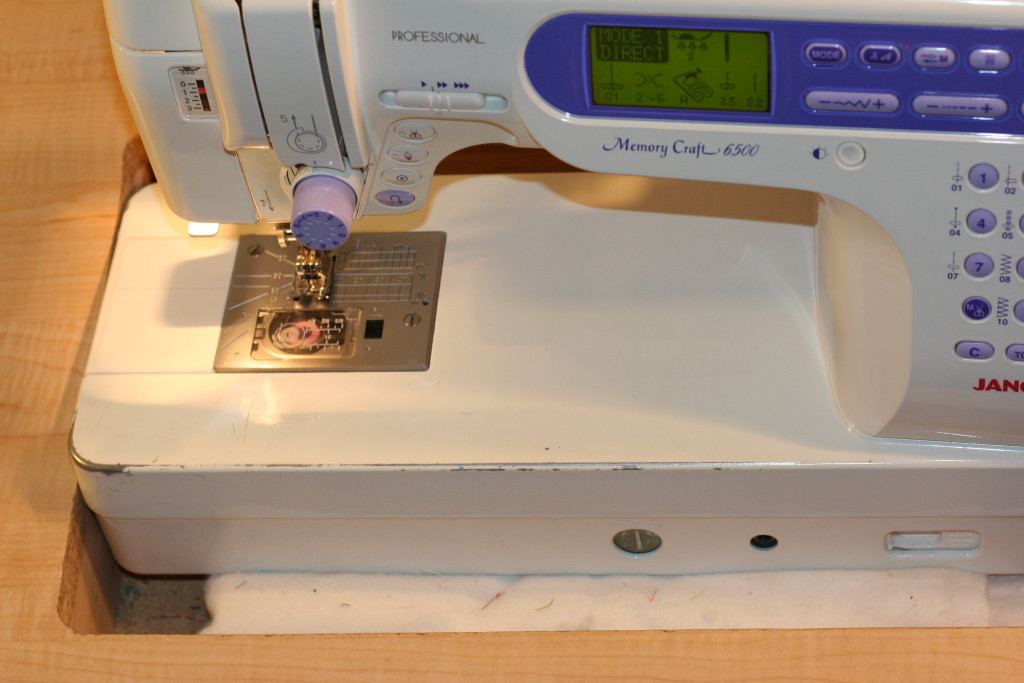 My last tip, and the most obvious one, is to sew in short increments. My neck has very little tolerance for sewing which means that I have to limit myself to 15 minute increments which makes it tough to accomplish what I really want to. This is probably the hardest part for me. I get sucked into the process and then I look up and see that 40 minutes have passed. I'm working on it though.
I only did a few quick projects this week. I got a few French Press cozies made for my Etsy shop. More fun though is the baby doll quilt I made.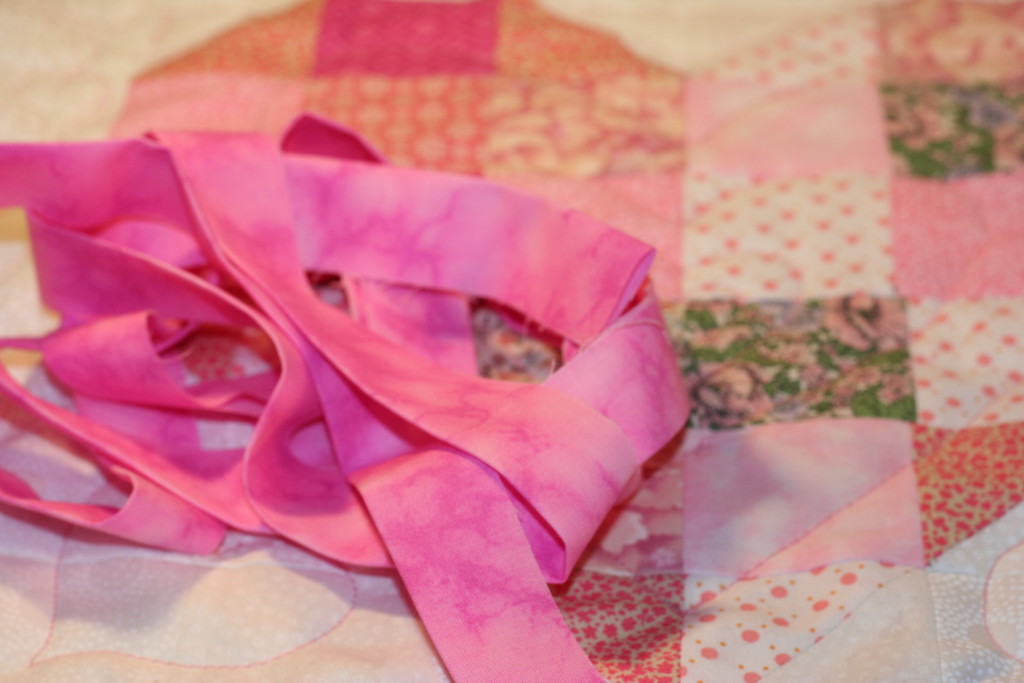 Julia and I are going to see my sisters this weekend. One sister is having a "Heart's Party" for Valentine's Day at the request of her three year old grand-daughter. I made a "heart" baby quilt to bring for the kids to use with their baby dolls.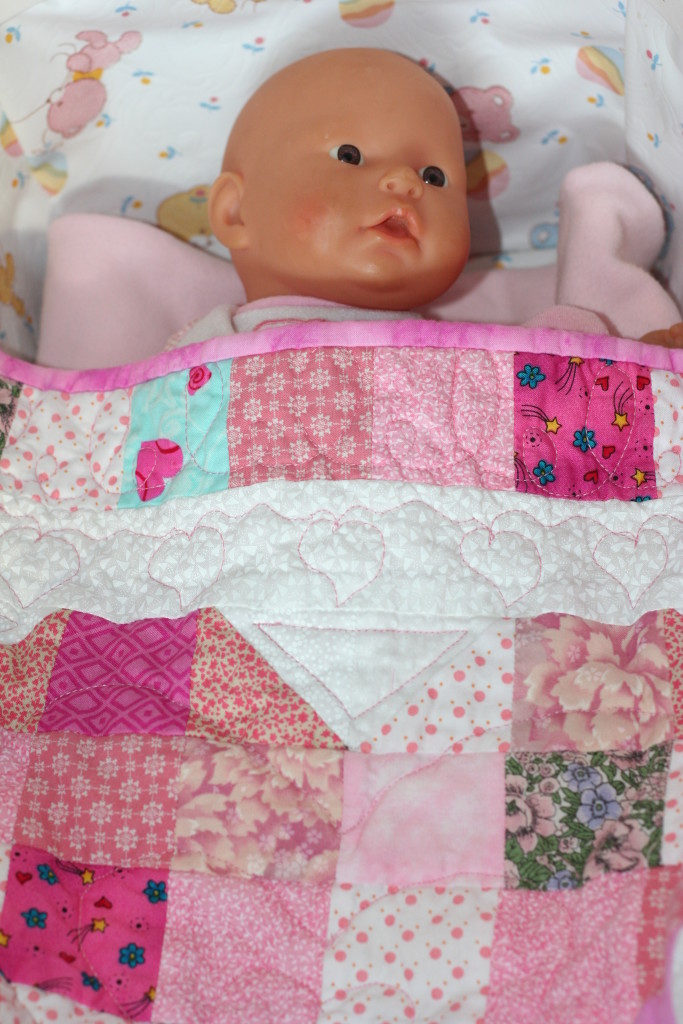 I had a pile of 2 1/2 inch squares leftover from the scrappy rainbow quilt I made for RSC2014 so this came together very quickly.  It finished at 15″ x 18″.  The quilting is a mix of heart shapes and loops quilted in pink which I am sure will be totally appreciated by the toddlers that will be playing with it!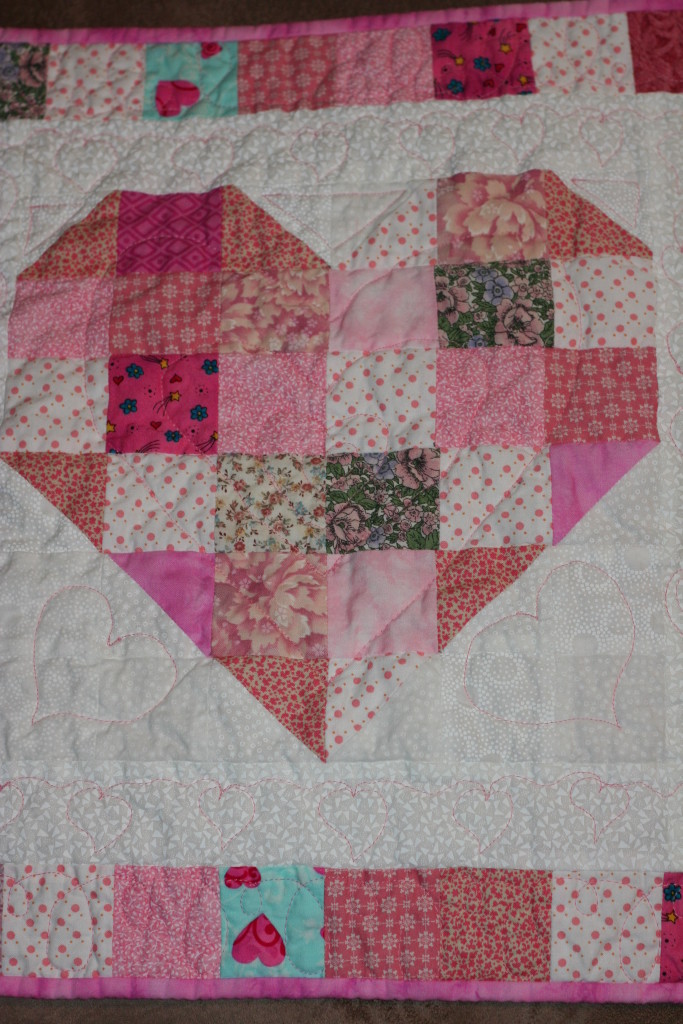 Can't wait to see my sisters, their kids and their grandbabies!! Hurray for long weekends!
Linking to Lorna at Sew Fresh Quilts and Amanda Jean at Crazy Mom Quilts.  Also linking to Tips and Tutorials Tuesday and So Scrappy (since pink is the February color.)