I have been a volunteer with our local food ministry (www.interfaithfoodministry.org) for a long while now. As with any non-profit, we are constantly fund raising to keep the ministry going.  We have had several fund raising dinners at local restaurants and along with the dinner we usually hold a raffle or silent auction.  I have donated three quilts over the past 18 months for these events.  It has been great practice for me and the quilts are popular items that have raised money for a cause that is near and dear to my heart.
The first quilt I made was a simple one that was based on a tutorial at Crazy Mom Quilts called "Fair and Square". The pattern was very easy to use, which was a good thing since this was one of my first quilts! It was made using scraps I had on-hand with the exception of the sashing and the backing. This was the first quilt that I free motion quilted and I did it with random loops.  It turned out decent, considering it was the first one!
The front: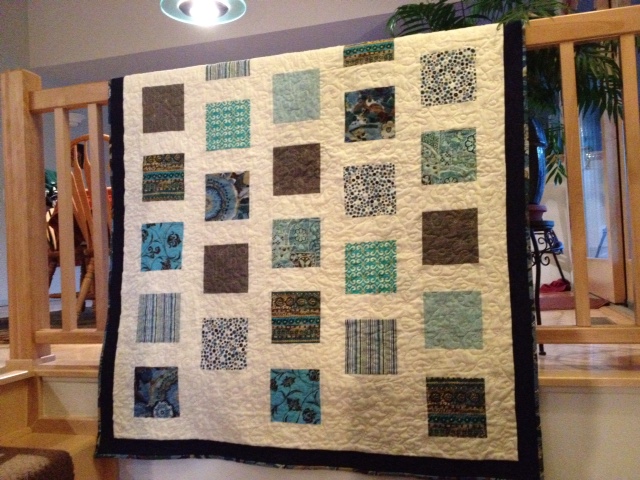 I pieced the back with fabric I had left over.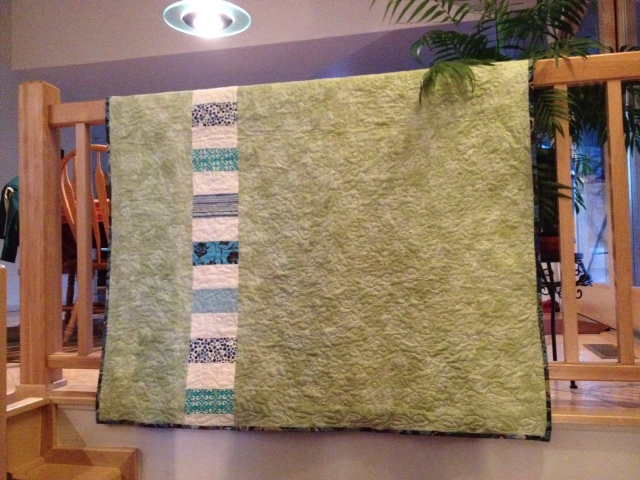 Quilt number two was one of my favorites.  I love both the pattern and fabric. The pattern is called Doubly Charming and was provided by Teresa at Sewn Up By Teresa Down Under. I love this pattern. It came together easily. It uses three charm packs. I chose "Eat Your Fruits and Veggies" by Pat Sloan for Moda. The colors were so bright and cheerful. I quilted it with straight diagonal lines which basically outlined the squares.  I also tried tracing a sunrise and quilting that design on the setting triangles. That worked really well. I machine quilted the binding.
Here is the back: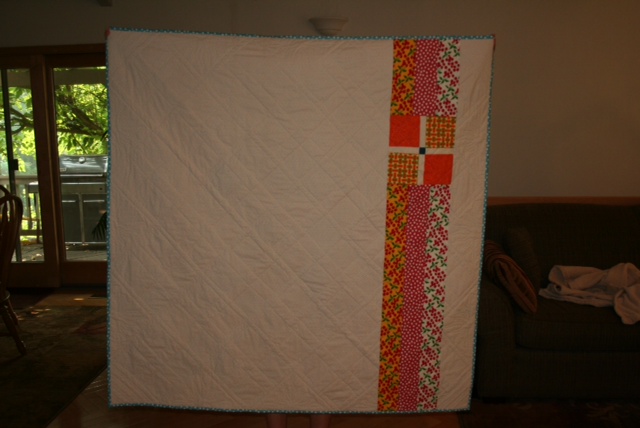 FInally, the third quilt.  For this one I used a tutorial at Crazy Mom Quilts (she has the best tutorials!!) called Zig Zag Quilt. I love this pattern for it's chevron look but no piecing of triangles needed! So simple.  The fabric line was called Beyond the Gate by Jill Finley for Henry Glass & Co. This was such a fun project. I love the look of this quilt – it's very soothing. I quilted the colored rows with gray thread and used white on the white rows. The gray looked fine with the green and blue rows but stood out a bit too much against the yellow rows.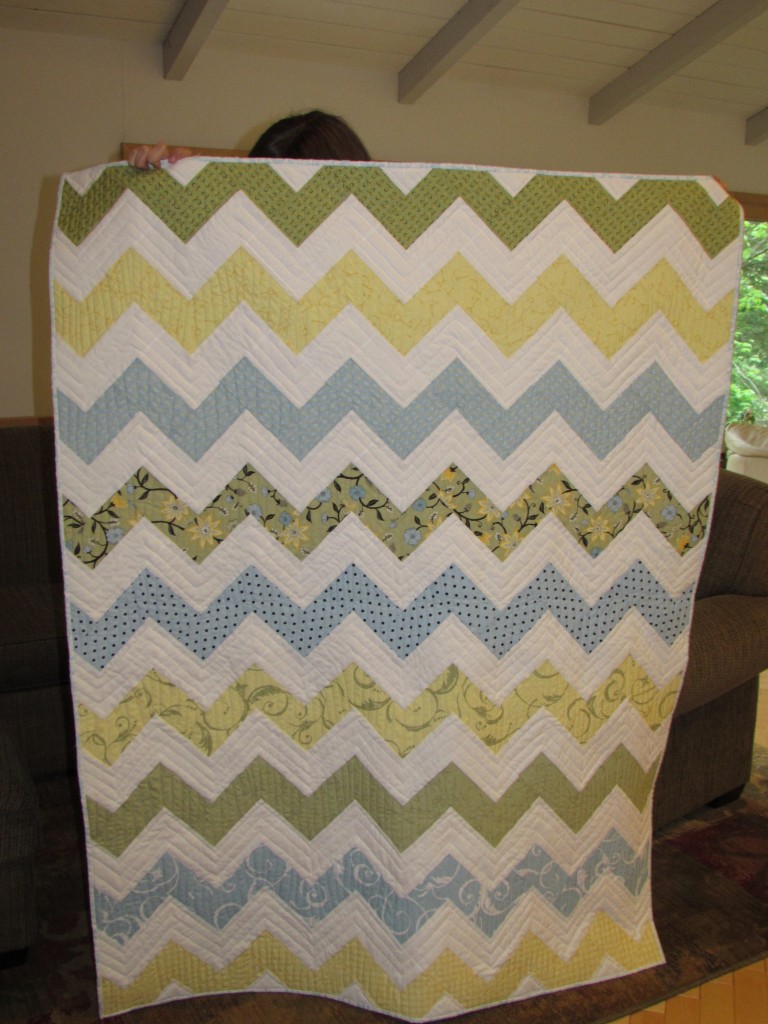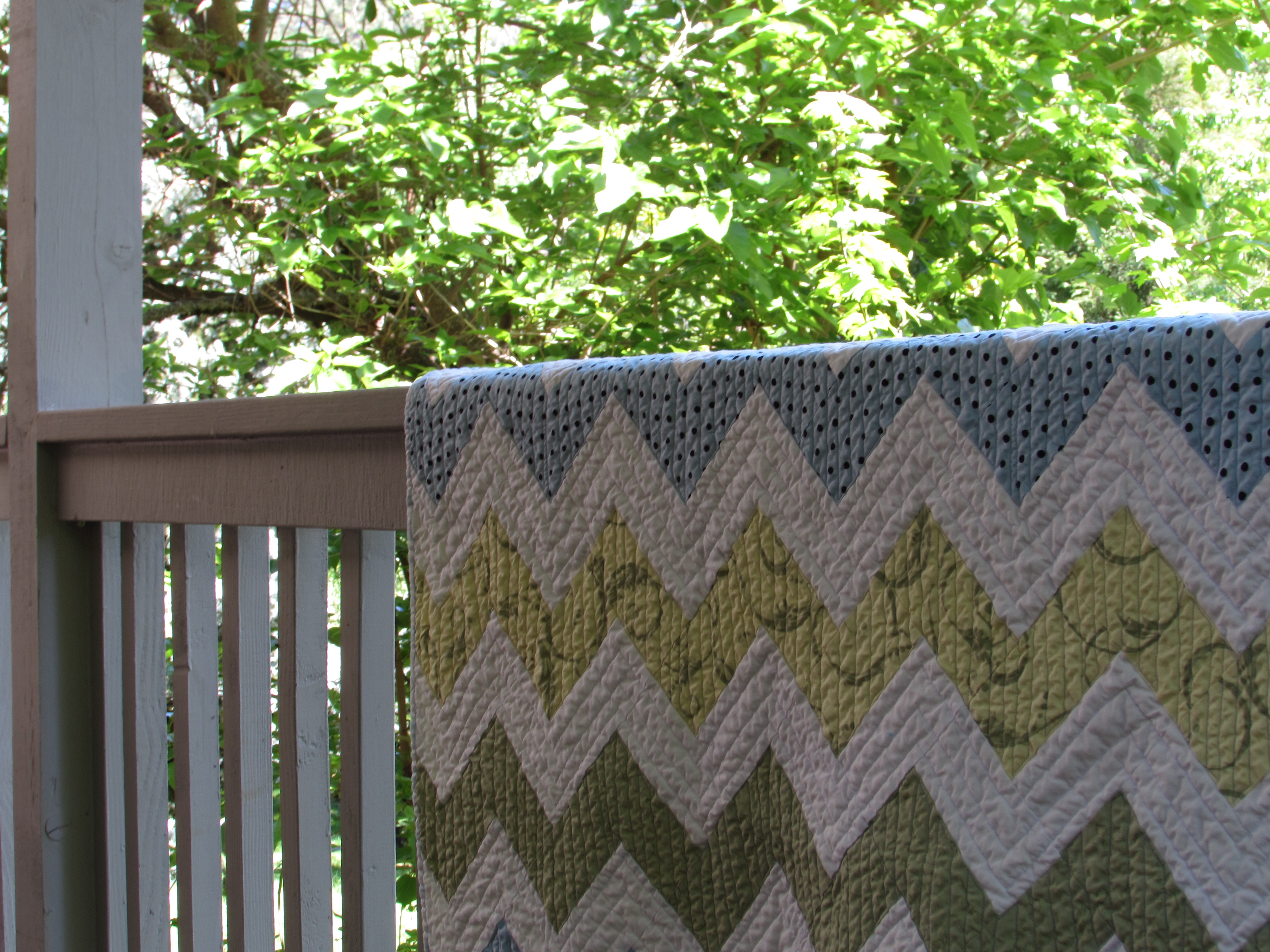 and now the back side……….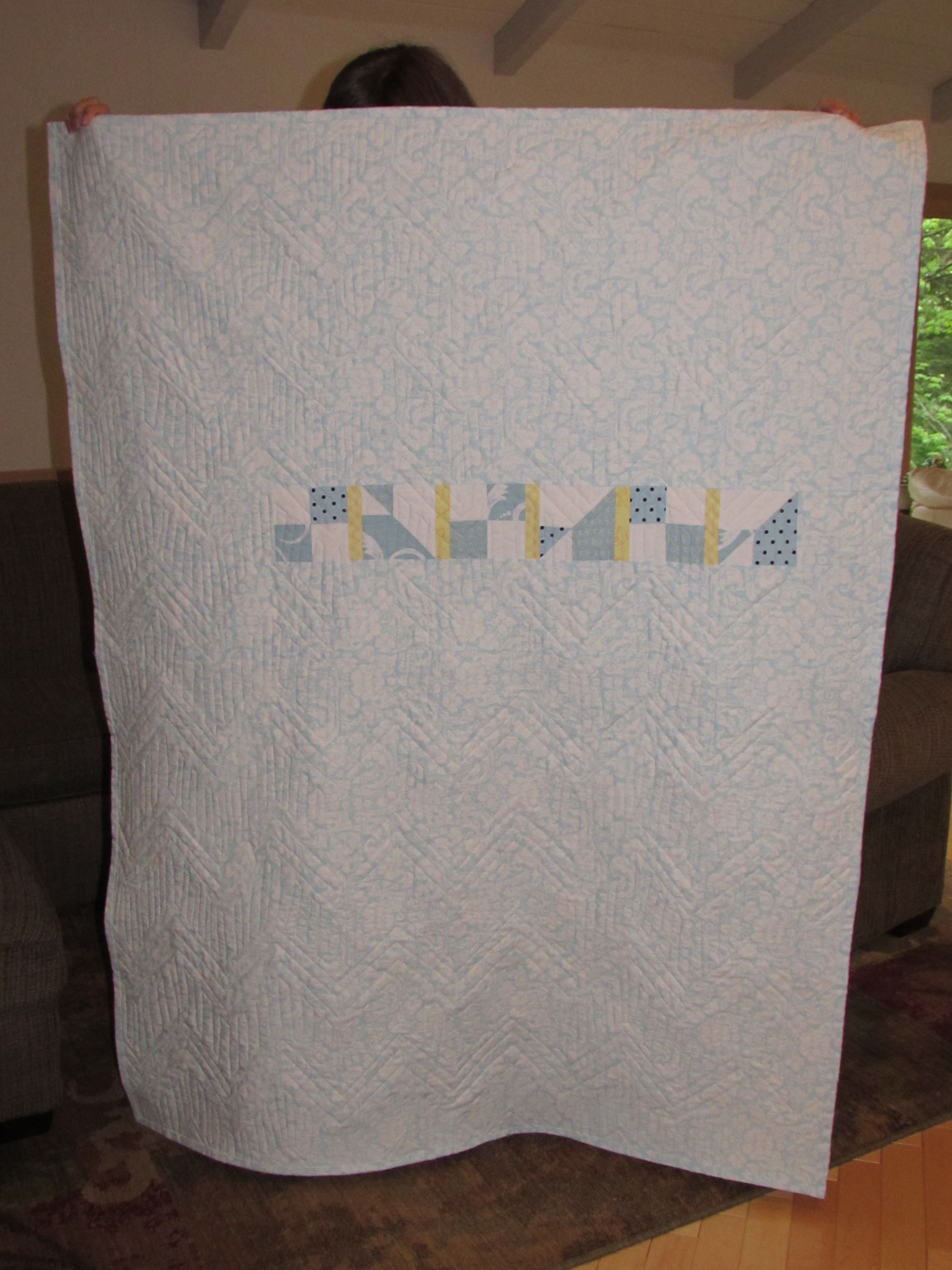 Love putting this quilty hobby of mine to good use for a good cause!! Anyone else making donation quilts? Comment with some links so I can see them!
Linking up to Anything Goes Monday at Stitch by Stitch, Linky Tuesday at Freemotion by the River, Show and Tell Tuesday at Fresh Squeezed Fabrics, and Sew Cute Tuesday at Blossom Heart Quilts.