Crazy busy around here this week. We are definitely making progress on the house up in Downieville but it takes time and effort. Much more on Ray's part than mine but still… On Wednesday I took a drive up to the house (it takes just over an hour's time to get there) to let in a guy to finish the drywall. He textured the walls which took the better part of the afternoon. While he was working, I took advantage of some gorgeous weather and went for a hike. I was a little bit nervous about hiking alone. I don't have cell reception and no one knew where I was going. I played it safe and didn't go too far down the trail. I did find a new one though and the water was gorgeous. With the drought, the river is extremely low. Even so, it was breathtaking in spots.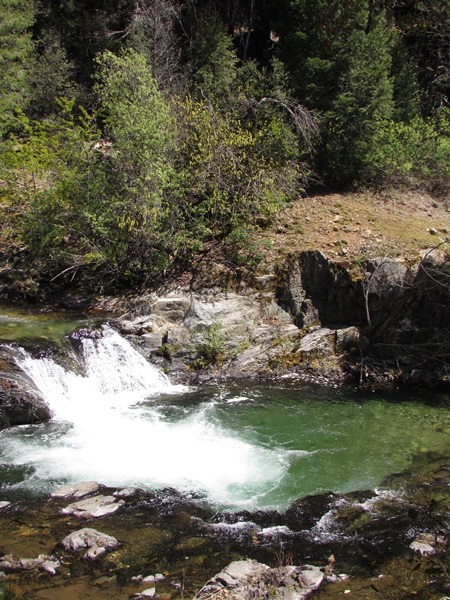 Spending the afternoon on my own up there was really nice. I haven't honestly spent very much time alone. Four kids will do that to a person. When I got back to the house I was texting with  Ray and sending progress pictures of the work being done. We decided I should spend the night so I could: 1.) Continue this alone thing that was going so well – and – 2.) prime the bedroom once the texturing dried. The only issue was that I didn't bring extra clothes as this was completely unplanned (spontaneity isn't my strong suit either, so this was a good thing for me to do!)  My husband had extra clothes up there. He is a planner and is always well supplied with whatever he needs. I dug into his stuff and came up with a lovely pair of jeans and a tshirt of his to use for painting. Just as a point of reference, he is 8 inches taller than me and probably 80 pounds heavier. As long as no one came to the door, I was pleased with the look I was sporting.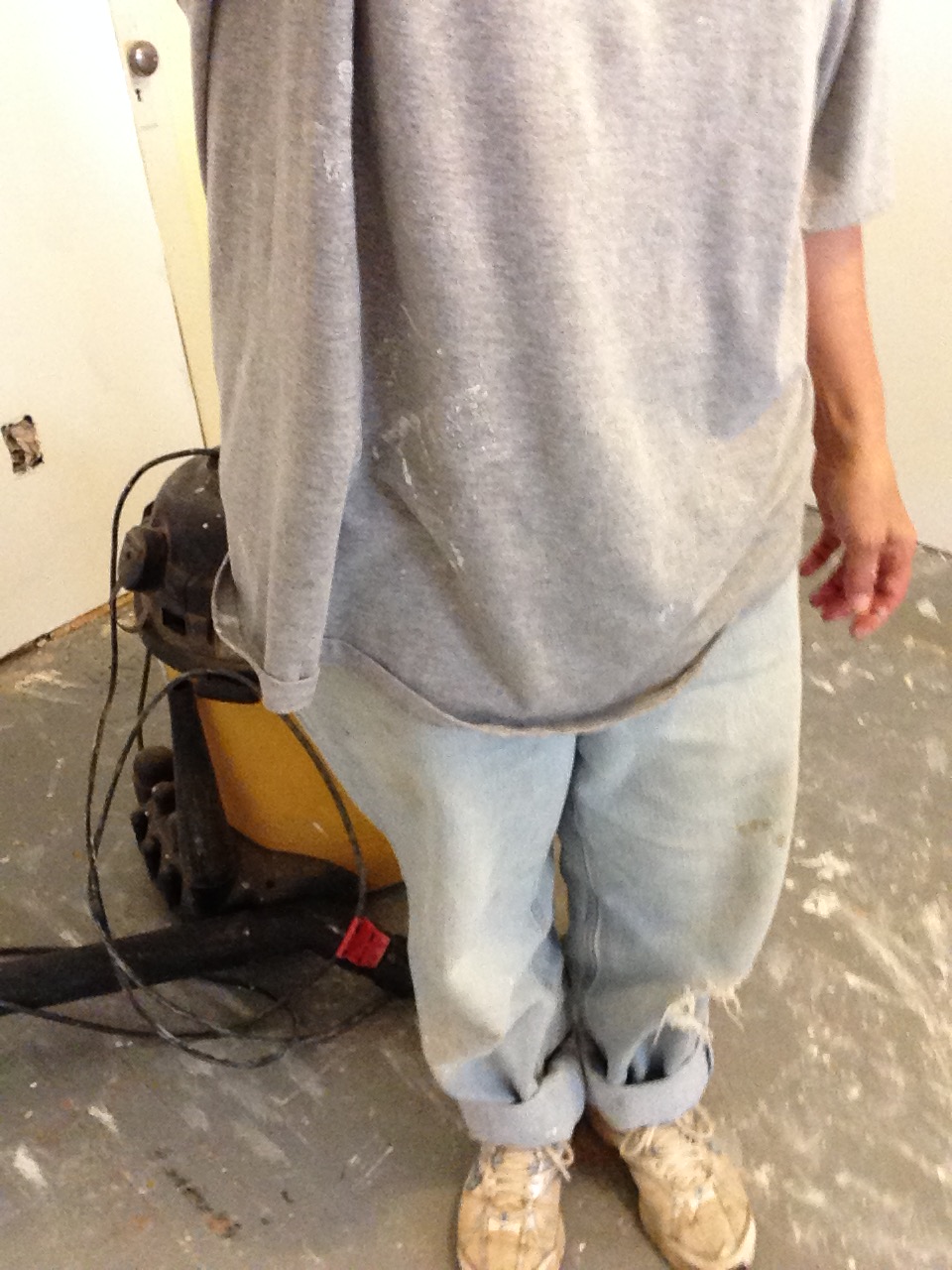 I know, it was an amazing look. I got the room primed and ready for paint. We will go up later this afternoon and finish up the painting. One step closer to having a bedroom. Wahoo!
While all of this was going on, I did manage a quick finish. I completed the chevron table runner.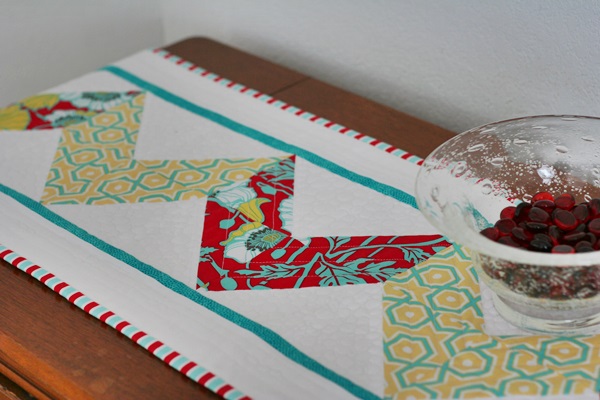 The quilting is inspired by an older quilt along on www.christaquilts.com. I reversed it though and pebbled the white sections and straight-lined the chevron. I didn't want to pebble over the print fabric or it would have been too busy. The pebbling looks great on the white though. I combined the two stitches and ran some straight lines along the border with circles interspersed on those lines.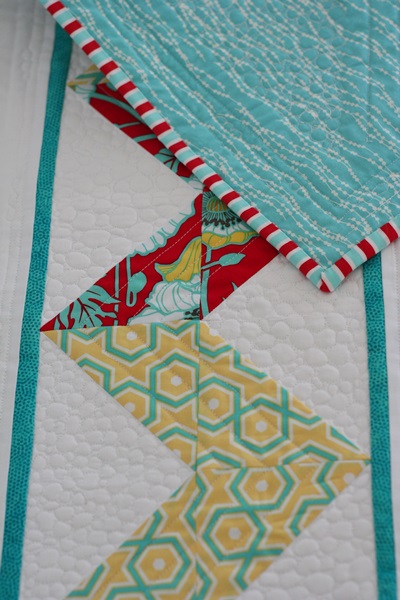 You might remember that the chevron fabrics are from a Joel Dewberry line. The backing is  called Sphere, a part of Moda's Zen Chic line. That was scored during a 50% off sale a while back.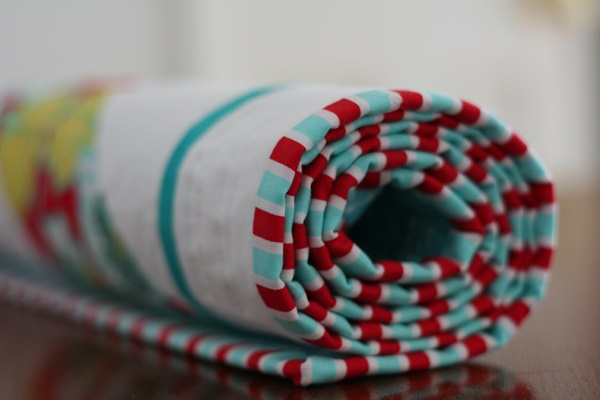 As usual, the binding is my favorite part. I used Daysail, by Bonnie and Camille. I love the stripes. I had originally planned to make a bias cut binding but decided I liked the standard cut better for this project. It is adorable; the blue and red stripe plays well with the Joel Dewberry prints. This is one of three table runners that I am making for my April goal for ALYOF.  The second one is nearly done as well, so I am making progress. This table runner is listed in my Etsy shop.
Saturday is my 17th wedding anniversary. Time has flown by. We are celebrating in high style, because that's the kind of couple that we are. The plan is to paint the bedroom and hopefully finish up some electrical work in there. Jealous, aren't you? Enjoy your weekend, whatever the plan!
Linking to Crazy Mom Quilts and Let's Bee Social, my two favorite linky parties. You'll find these links at the top of the page, under link ups.