This is the tale of my niece and her tshirt quilt.
Long ago and far away (like last April and about 175 miles away….)  a very sweet girl contacted her adoring aunt and asked for a favor.  She had recently graduated from high school and was getting ready to go to the Culinary Institute in Napa Valley, California. While in high school this lovely girl, let's call her Lil, had been on the Dance Team all four years.  She loves dance and competed while on the team.  She is the first cutie on the left.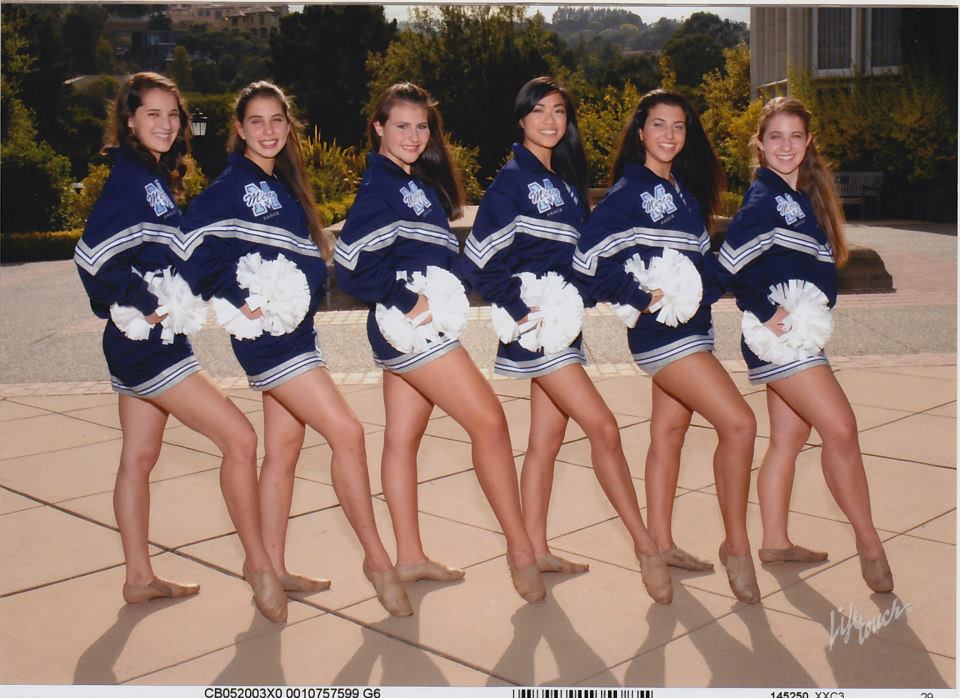 Dance is Lil's thing and she hated to see it end – it puts her in her happy place.  (Though it looks torturous to me. Ouch.)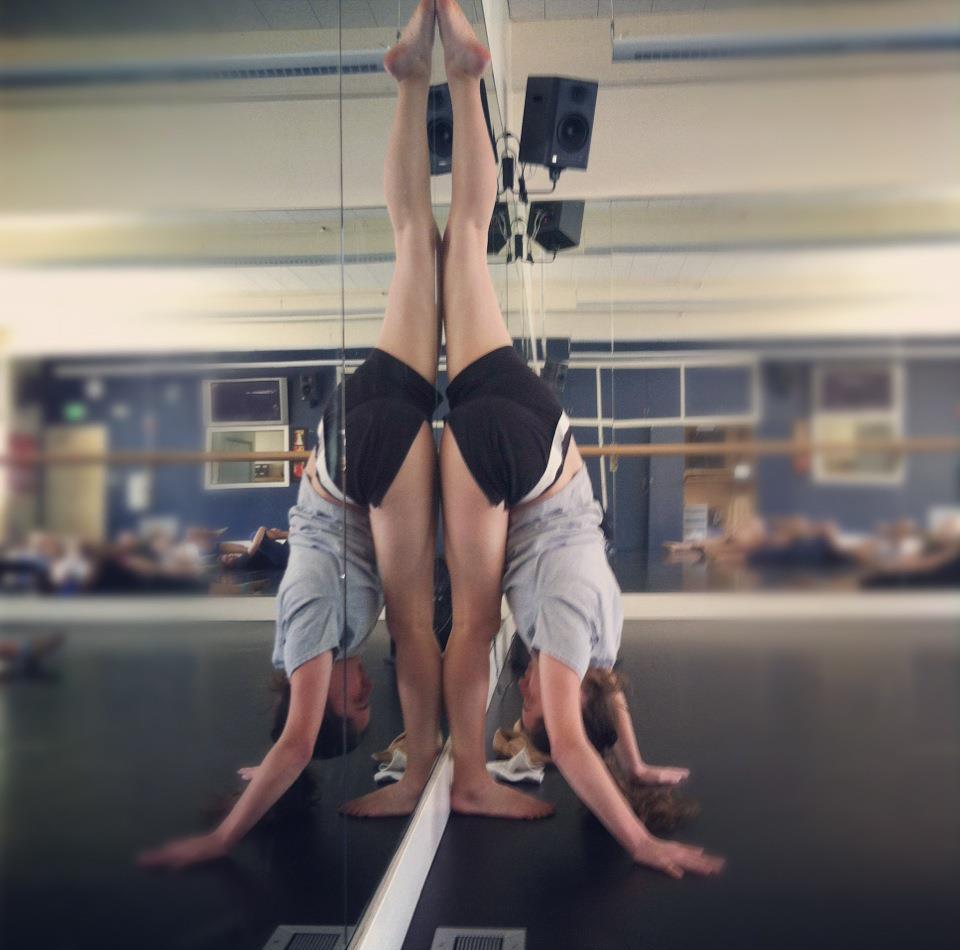 Apparently being on dance team for four years means you will amass a collection of dance tshirts.  Lil became very attached to these tshirts as they held such fond memories for her. She didn't really want to wear them anymore but didn't want them to just sit in a drawer.  She texted me one day…. "Aunt Bernie, I saw something on Pinterest, it's a tshirt quilt. (It all starts with Pinterest, right?)  I wondered if you would make one for me."  (She had asked her mom but, let's be honest, her mom would only be able to do this if she could figure out how to make it with duct tape and a stapler.  She may be the best mom ever, but not a sewist, that mom.) I had never made a quilt with knit fabric before so I saw it as a potential learning experience for me and a way to win points as super-aunt at the same time. Sure, I told her, love to.  I immediately received text after text telling me how wonderful I was for doing this.  Immediate gratification for me, that's for sure.
Within a few weeks I received these (sorry, lousy quality on this photo). It was a bit daunting to look at these and try to figure out where to start.  Luckily, there is an excellent tutorial (yay Pinterest) from Cindi at Seamstobeyouandme.com.  It is really detailed and the process is pretty much foolproof.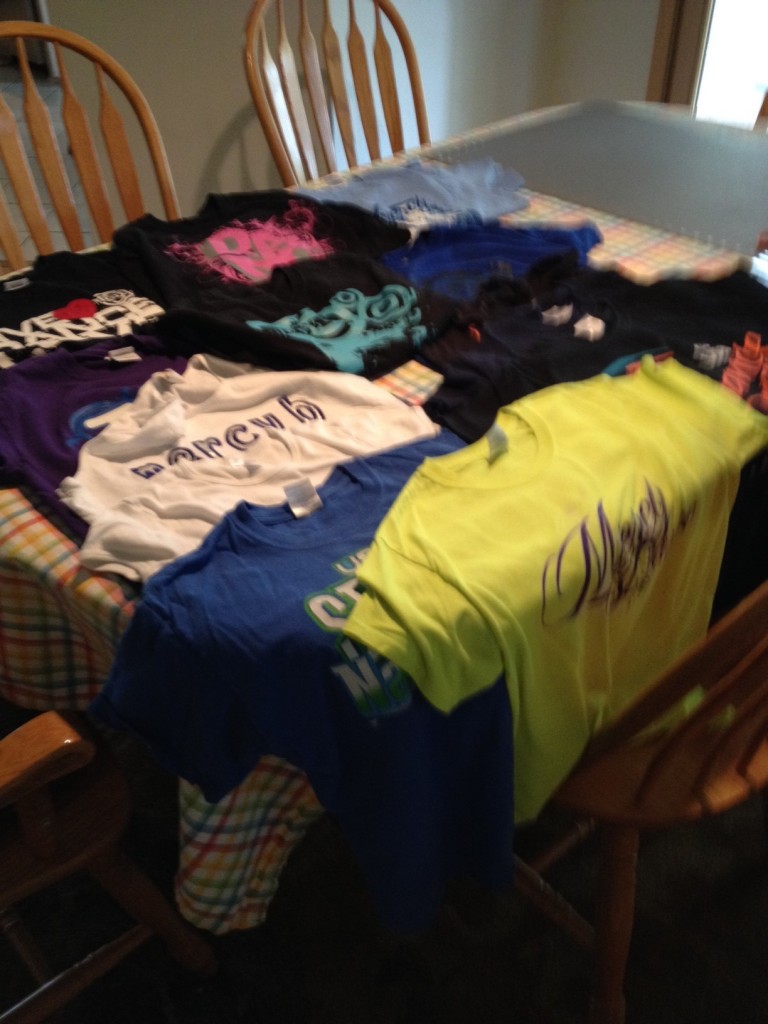 After washing the shirts and lightly pressing them, I used the method described in the tutorial and cut them into equal squares.  Two of the shirts were tiny and I couldn't get a big enough square (without using the sleeve, which would have left a big seam across the square) so I did have to piece them a tiny bit.  It wasn't difficult though.  The squares then had to be reinforced with fusible interfacing or the knit would stretch too much while sewing, and then quilting this project. Really, the pressing, squaring, cutting and fusing took the most time.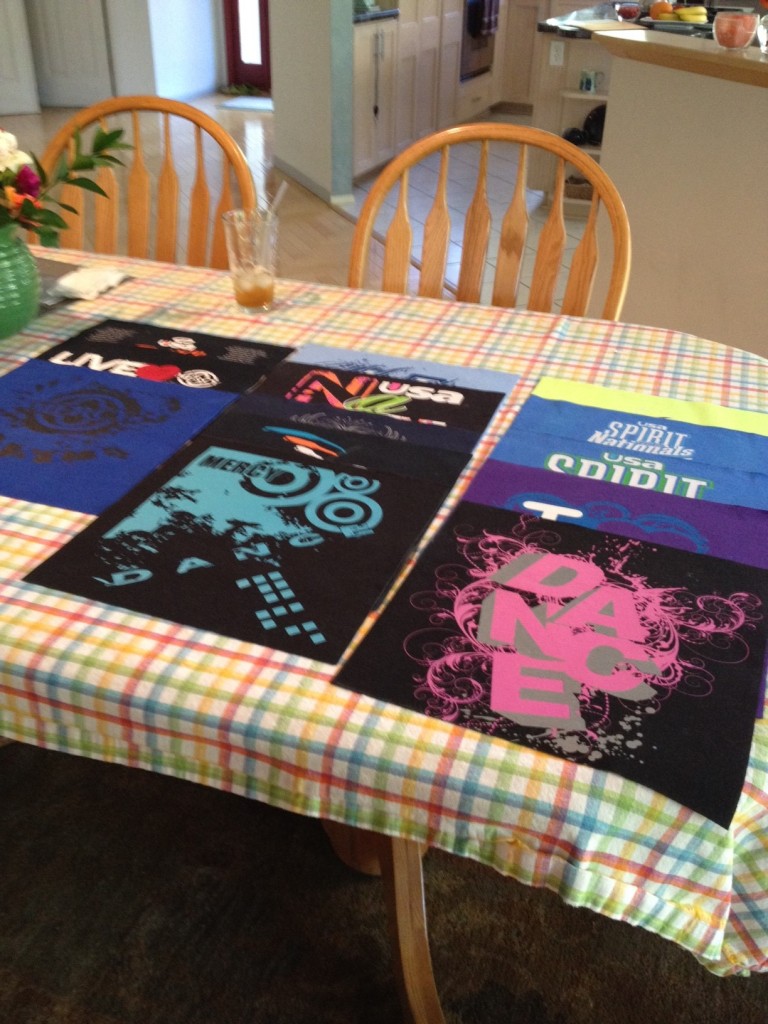 She had given me thirteen shirts and two of them had a back side that I thought she would want to preserve.  So I did 15 squares and made 5 rows of three squares each. I found a black fabric with tiny polka dots in pink, green, blue and purple and thought that would be a good match for the tshirts she had given me.  I created a sashing around the blocks to set each one apart from the other.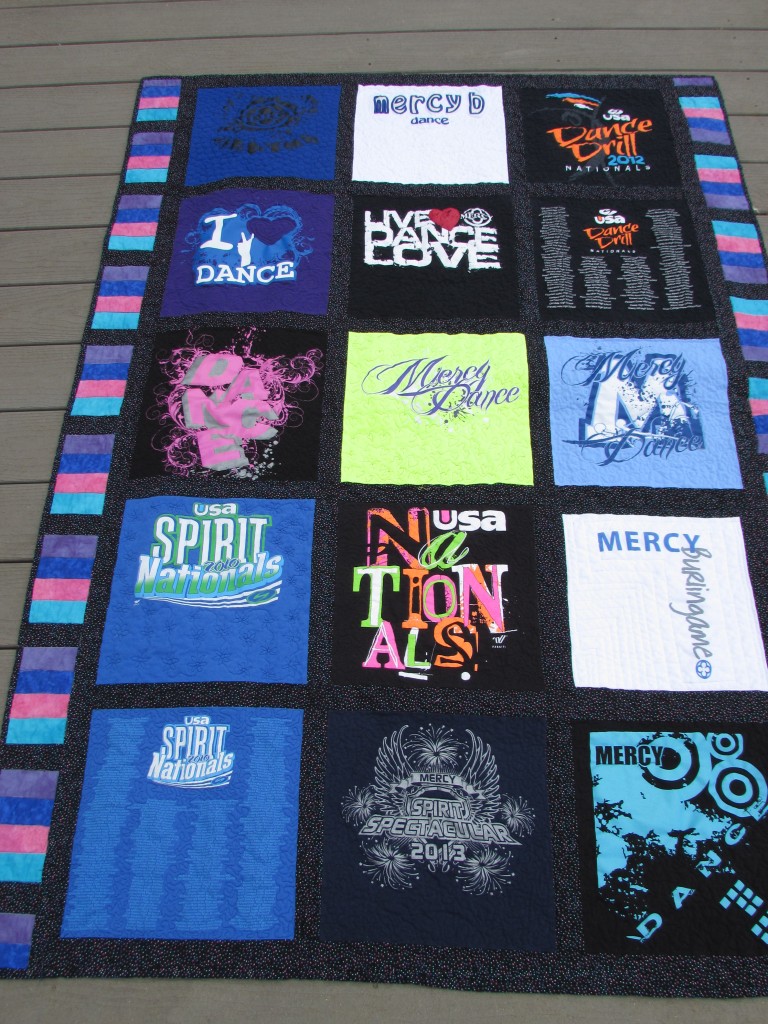 I had quite a bit of scrap that I used for a pieced border.  I needed to add some width since the layout was 3 x 5 squares.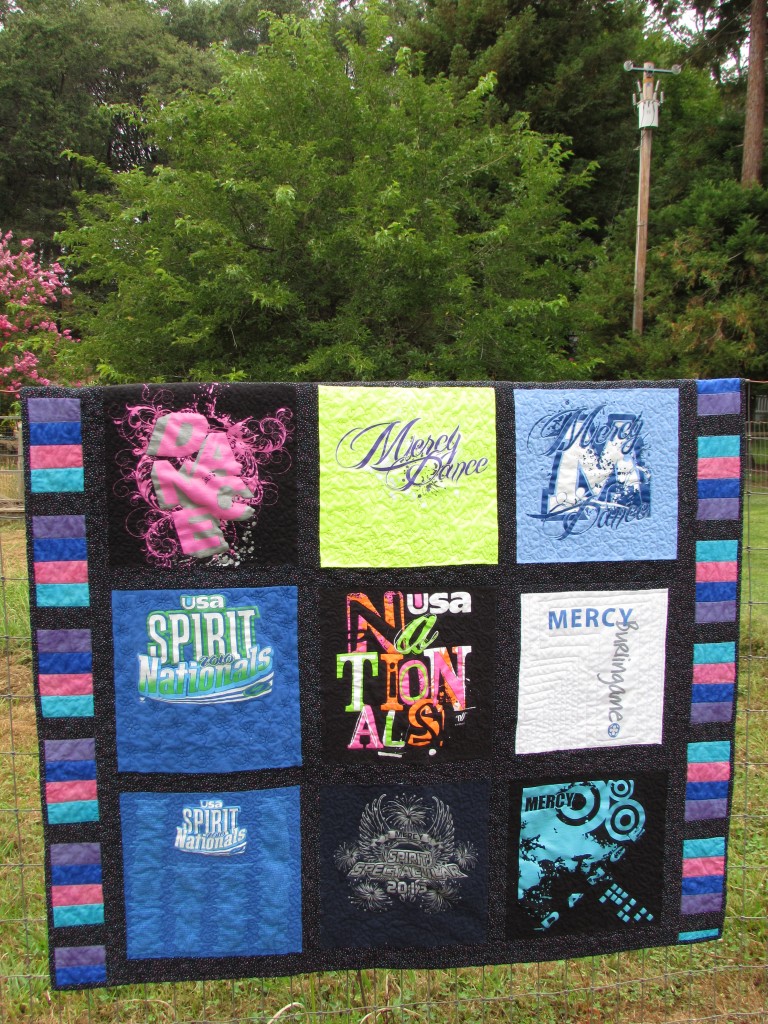 When quilting this I decided to do it as a sampler.  I FMQ'd each square with a different pattern so that I would get in a lot of practice. (In retrospect, if doing this over again, I would quilt this with less density.  I think I quilted it a bit too tightly and it gave it a stiffness that I was not all too happy with.) Because some of the logos were so big, I felt like I needed to really quilt it up around the logo.  Looking back, I could do a lot less and get a good result.  I also quilted a wavy line through the sashing.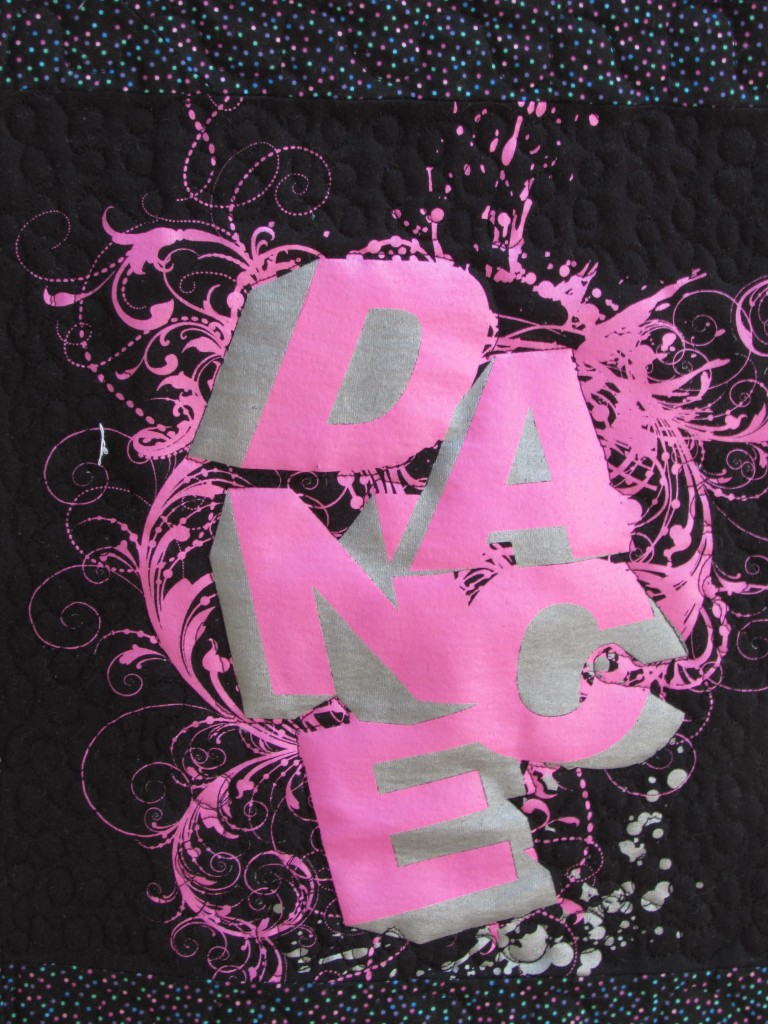 Lil asked for a flannel backing ("to make it snuggly") in either black or blue.  So I came up with this: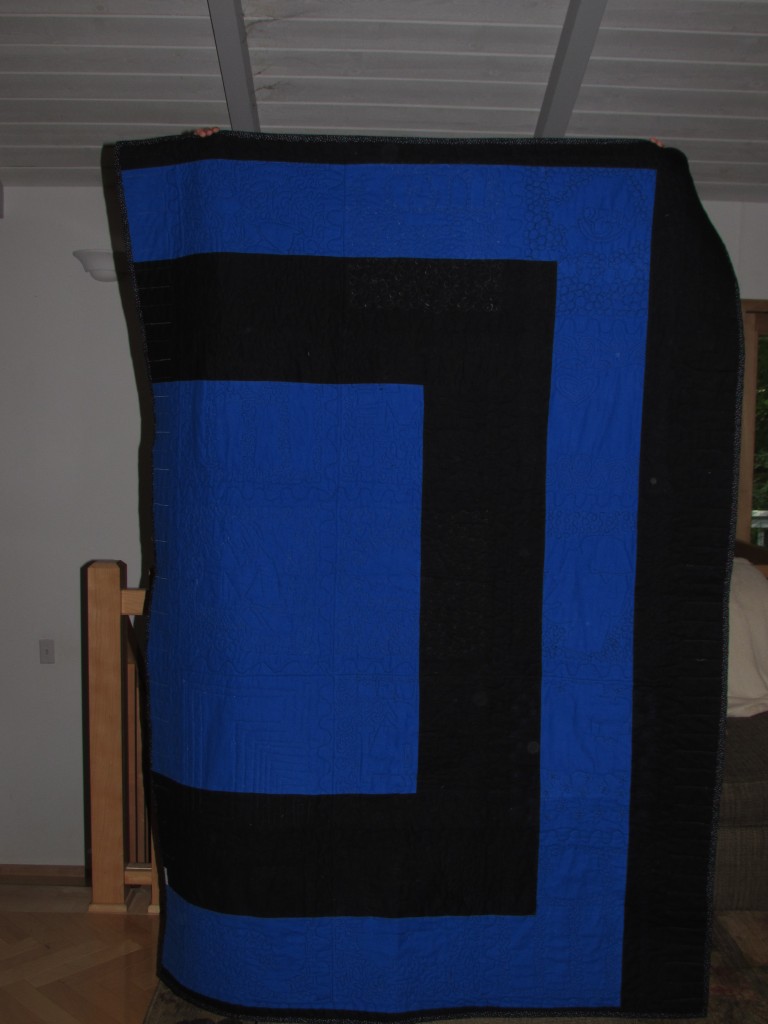 For me the absolute best part of making this quilt was GIVING this quilt to Lil.  She was so grateful and left a voicemail on my phone that will never be deleted.  Soooo sweet.  Isn't she?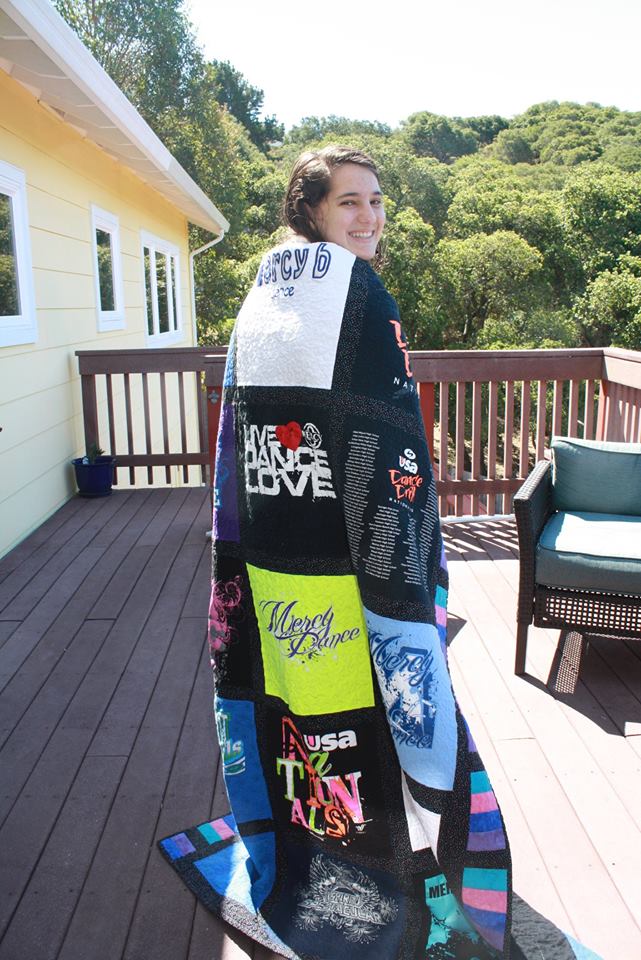 By the way, dance team may be over but the dancing continues.  Now, aerial style.  Yikes!!!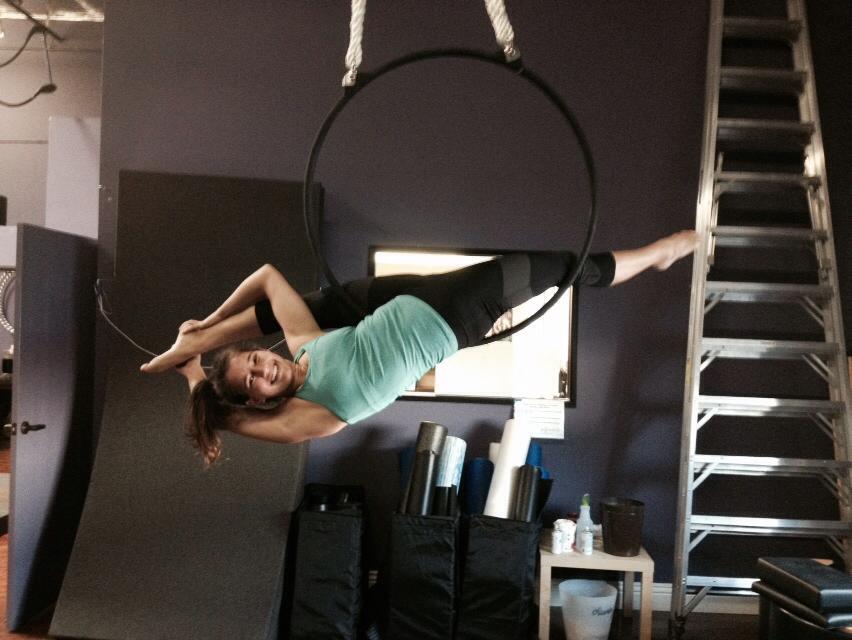 Love this girl!
Linking to the following: Linky Tuesday, Sew Cute Tuesday, Fabric Tuesday,WIP Wednesday, Let's Bee Social, Needle and Thread Thursday, TGIFF, and finally, Finish It Up Friday. All of these links can be found at the tab at the top of my page, under Link Ups.  Check them out and see all of the amazing projects people are working on!