Recently I took a day trip with my wonderful friend, Sophia. We went to the  Crocker Museum in Sacramento to see a quilt exhibit that they have (runs through September 1st so if you are a local you can still catch it).  The exhibit was amazing.  Most all of the quilts were created in the late 1800's and early 1900's.  The handwork left me in awe.  Such beautiful and precise stitching on some of these pieces.
While I was there I learned that some quilts were actually made of silk cigar ribbons.  These are silk ribbons that were used to tie a bundle of 25-50 cigars together for sale.  (They are not the little wrappers on the individual cigars).  The ribbons were considered advertisement as they had the brand printed on them. As was common back in these days, women saved everything that might be useful in some way. These ribbons were usually made in gold and yellow tones but sometimes printed on red or green.  The women would save them and might trade with each other to get a good collection going.  Then they were stitched into something. The silk was very thin and the quality was mediocre at best so the quilts often wore quickly.  I happened to get a quick picture of one at the exhibit, before the docent told me no picture taking. (Why can't we take pictures of these gorgeous quilts???  No flash was being used so I don't think it would disturb others that were looking at the quilts.  Certainly can't reproduce these beauties.  I didn't understand it and the docent had no good reason, other than "that's the policy". I am not too fond of those kinds of rules.  That docent was all over me after that and there was no further picture taking!!)  Anyway, I did get this one picture.  Not great photographic quality but it shows what I am talking about. This quilt looked as though it would crumble if handled.  So light and thin but really beautiful.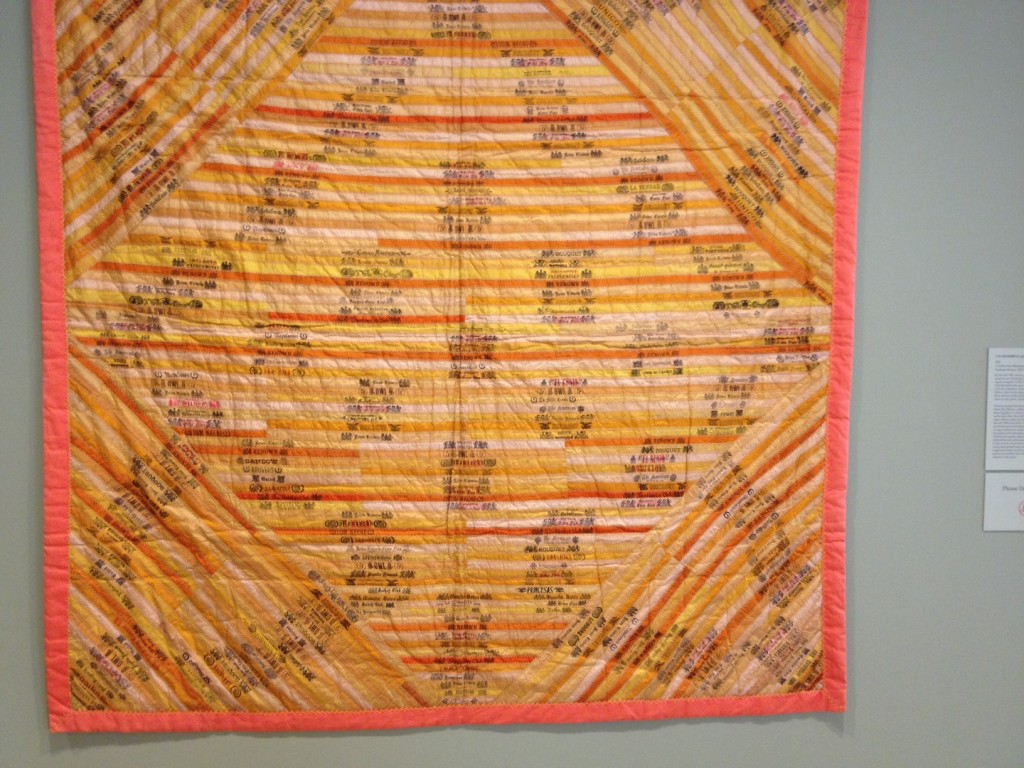 I love the history to be learned about all of these quilts.  I was also thrilled to see a quilt by Anna Williams. You probably know, but she was an African American quilter from Baton Rouge, LA. She learned to quilt as a child and made the most amazing crazy quilts. She saved her scraps in a refrigerator box (that could be quite a stash). When she began a quilt she would take the larger scraps and cut them down as needed. These pieces were tiny! While she did start out hand stitching her quilts, she switched to machine quilting later on to increase her productivity. Truly amazing work! She died in 2010 and her quilts have been shown in many exhibits. I so wish I had a picture of the one  (small) quilt that was on exhibit but I don't.  Just sweet memories of it! Here is an example of one of her quilts that is on display at the Brooklyn Museum: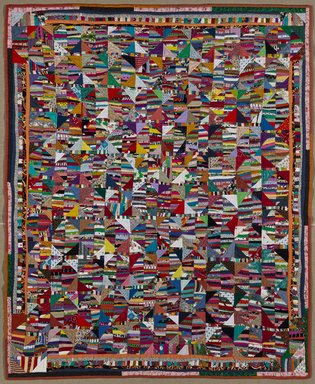 Quilting has such a rich history.  I kind of want to go back to the Sacramento exhibit one more time.  (Maybe that docent won't be there and I can another get a picture or two!) Also on the list for exhibits is the San Jose Museum of Quilts and Textiles.  That is only about 175 miles from me and would be a fun road trip.  Up for this Sophia???