First of all, you might remember that a couple of weeks ago I went to see my son in the Central Valley.  He is all set up in a nice apartment and I left feeling like I wanted to make something for him. He recently bought some furniture and I thought a new pillow for the couch would be a good project.  I used scraps that I had and a pillow form that was sitting there waiting to be used.  After piecing the strips, I did some quick straight line quilting that is maybe 1/2″ apart.  I didn't mark anything, just eyeballed it. The back is an envelope style backing.  It came together so quickly and I bet I have enough fabric left to make another for him.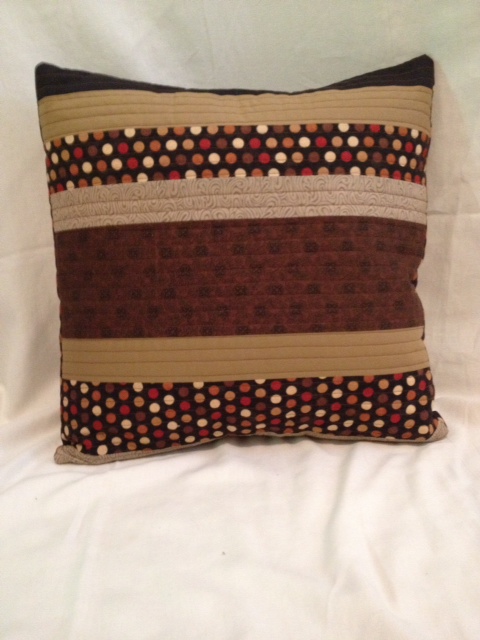 Last post I mentioned that I was leaving for our annual sisters' weekend.  As always we had such a great time. We don't see each other often enough, especially considering I don't live all that far away from three of my sisters.  Life just gets in the way. Anyway, the weekend was mostly comprised of visiting, eating, visiting and then eating again.  (Really, what more do we need??) One of my sisters lives in Colorado and brought each of us a pair of crazy socks.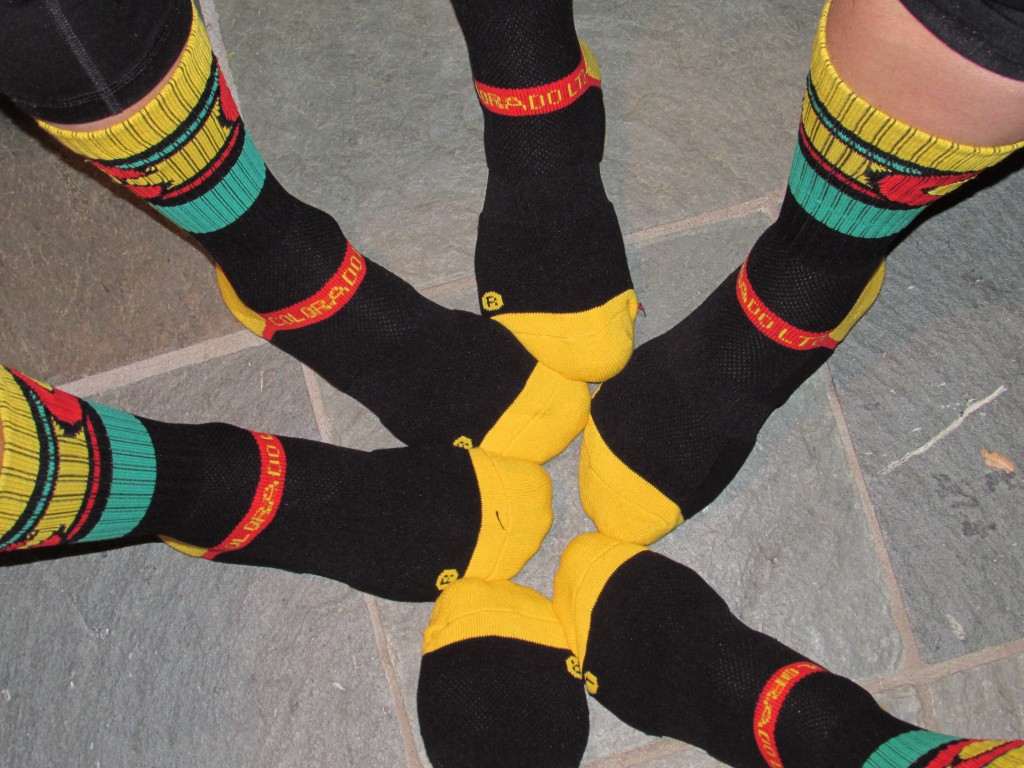 On Saturday afternoon we took a trip to a quilt shop in Sunnyvale, CA.  It was called Eddie's Quilting Bee.  This was really indulgent of my sisters since I was the only one that really wanted to check the place out.  (They're so good to me!) Eddie's shop was fairly well stocked.  I wasn't crazy about the way it was organized, or laid out, but I found a few treasures nevertheless.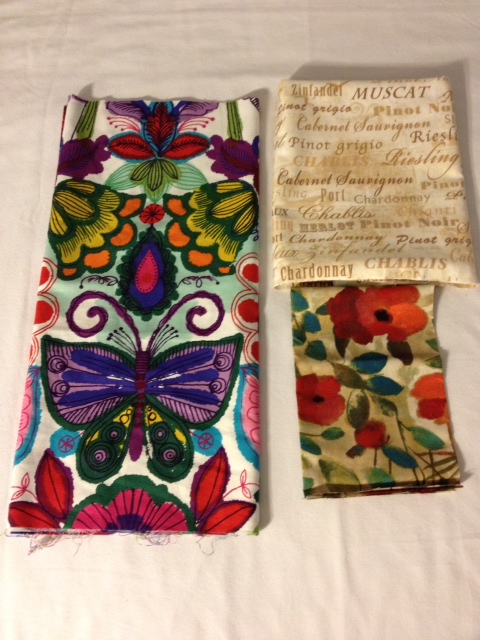 The really bright piece with the butterfly showing in the center is from a line of Alexander Henry fabrics called 'Querida'.  It has a Latin flair and the colors are amazing. I don't have a true plan for it but wanted to have it anyway.  The piece with the text will be used as the backing for a table runner.  Love the wine themed words.  Finally there was a little fat eighth in a basket for a buck and I love the colors.  Just another addition to the stash.
I have a really challenging game for you. 😉 This is where the giveaway comes in!
My sisters and I took a selfie (and being that all of us are way too old to be taking selfies, the quality is less than perfect) in front of Eddie's Quilting Bee. Can you figure out which one is me?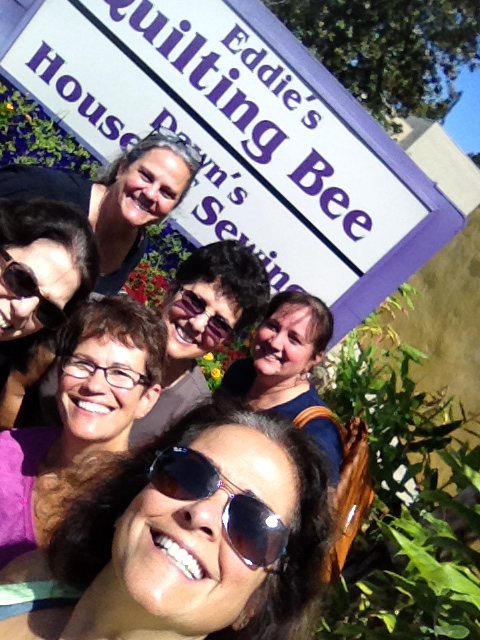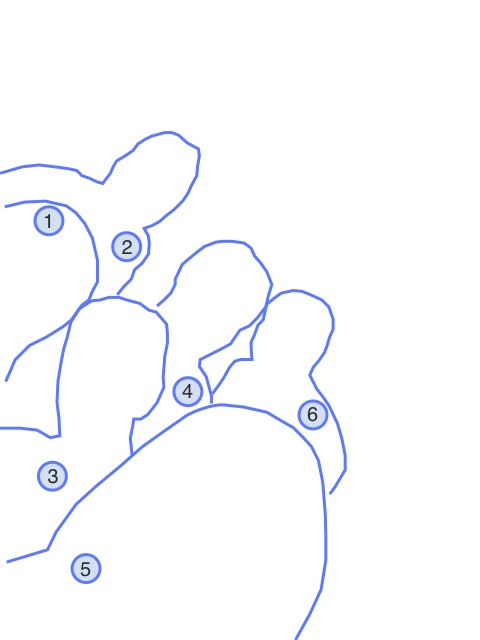 Here is a version of the picture with numbers.  To enter the giveaway, leave a comment with the number that corresponds to the picture that you think is me.  If you want to have another entry, you can follow me on Bloglovin and leave a comment that you did so (or if you already do, just let me know that).
The giveaway stays open until Saturday, August 16th. At that point,I will use some sort of really scientific method to pick the winner.  🙂   I have three really pretty fat quarters for the winner.  They are  watercolor inspired, muted florals from Kathy Davis' line called Enchantment that was designed for Free Spirit.  Take a look.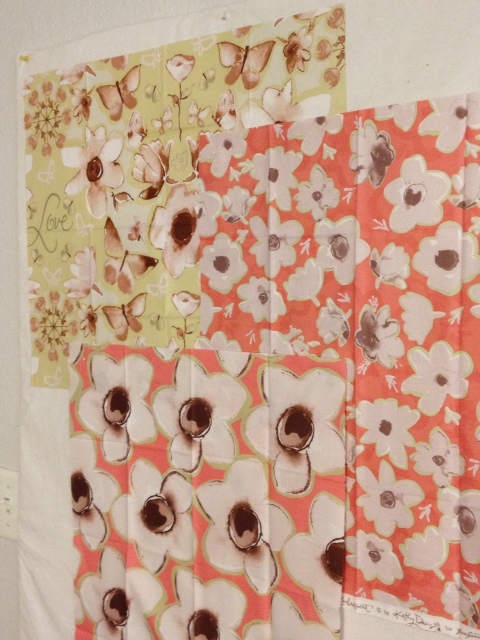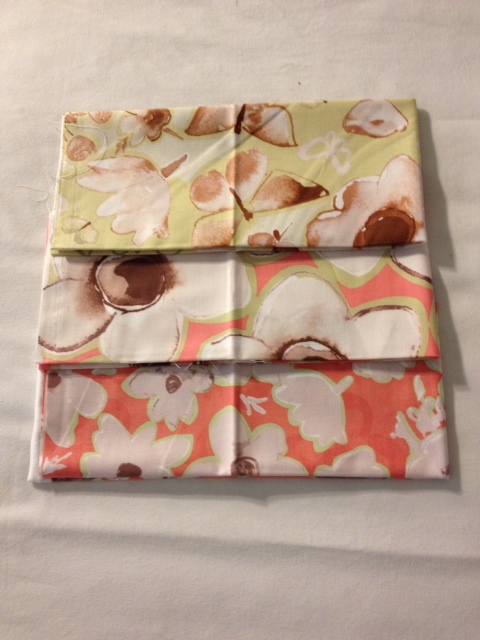 Remember to make sure I have a way to contact you if you are selected!  Leave an email address in the comment if you are a no-reply blogger.  Giveaway is closed (I'm number 4).  Lucky winner is Judy V.!!
Linking up with Anything Goes Monday, Sew Cute Tuesday, Freemotion by the River, Fabric Tuesday, WIP Wednesday and Let's Bee Social.  Also with Needle and Foot Thursday, TGIFF, and Finish it up Friday.  All of these wonderful link-ups are listed in the tab at the top of the blog.