This summer flew by.  I knew it would because we had a lot of different things scheduled when it started.  That usually makes time go by (too) quickly. This week and last were filled with appointments for my 8th grader that are easier done during summer.  The dentist, the orthodontist and the optometrist.  When I took her for an eye exam (she usually only has the quickies that they do at school) and found out that she is near-sighted. She and I were both so surprised. He asked her if she has to squint a lot or if she had trouble reading the board at school.  She innocently says, "No squinting but I can't read the exponents during math." I looked at her and wondered why she didn't ever mention this??  The doctor said that when this happens gradually the person just doesn't really notice.  Now she is happily wearing glasses and keeps lowering them on her nose, looking ahead without them, then through the glasses.  Comparing the difference with awe.  So funny.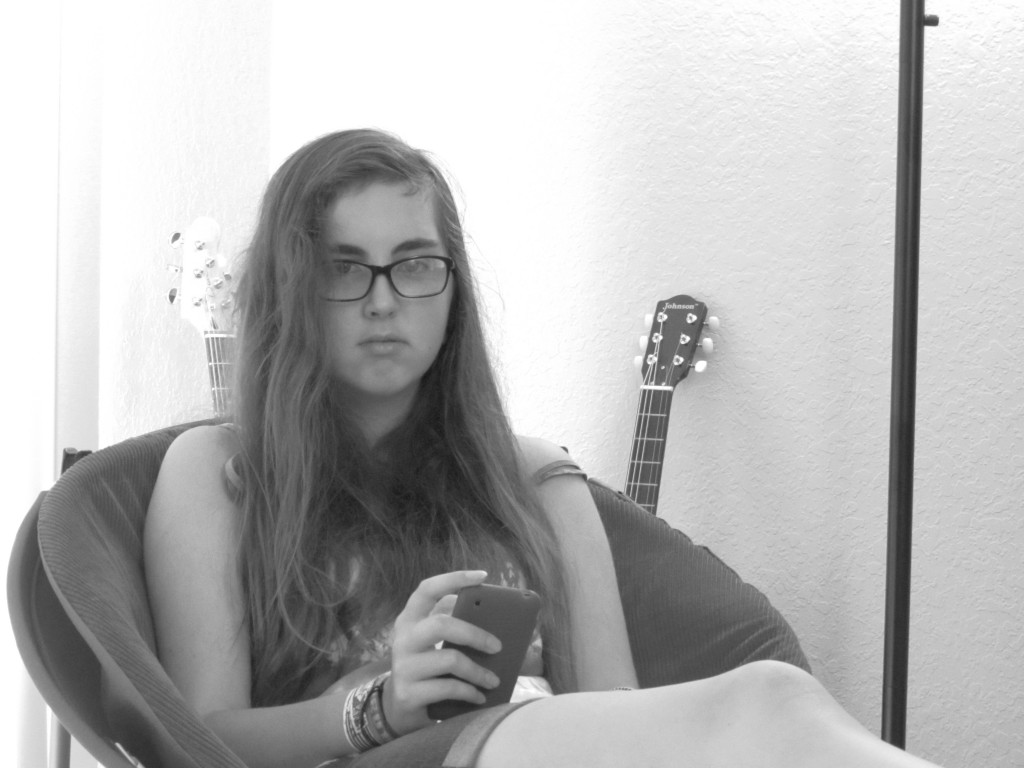 In between all of that I got loads of time at the sewing machine.  Hurray!! Here are some of the things I worked on. First off was this little baby boy quilt.  Puppies and boys, perfect fit, right? I used a simple patchwork of charm squares for the center.  Borders of navy blue were added, as well as a stripped border made from the leftover charm squares.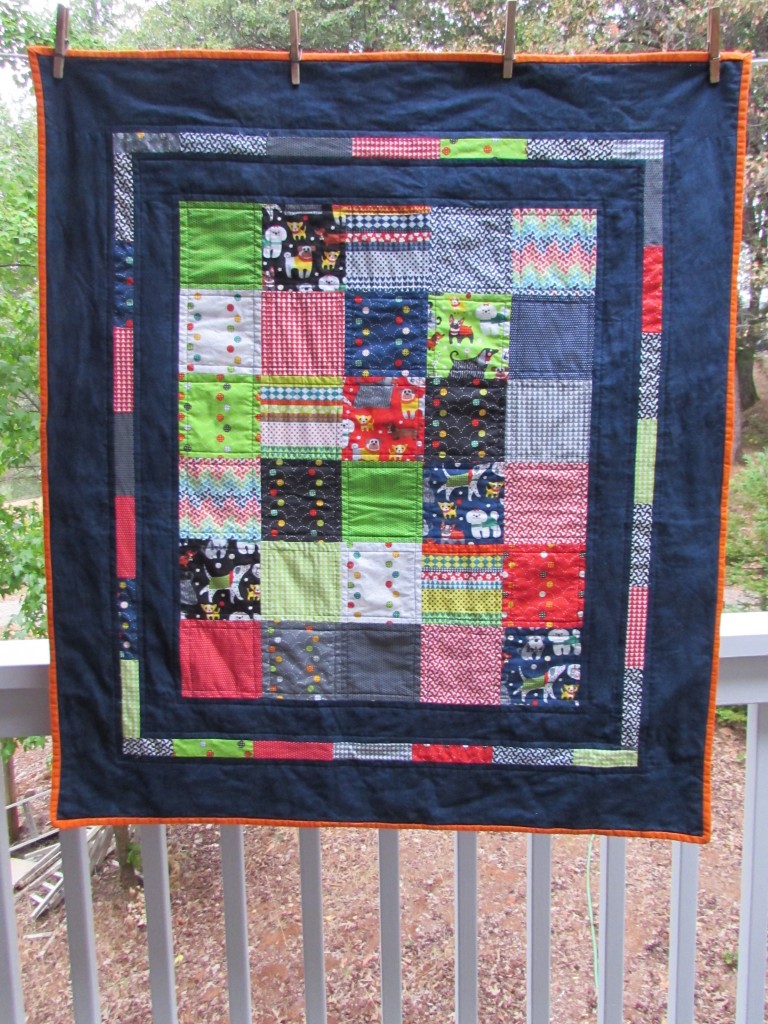 This was inspired by a photo I saw on Pinterest. Very easy to do. I didn't really do any math beforehand; rather I just built it as I went along. The fabric is called "Here Boy" by Abi Hall, designed for Moda. This line is adorable.  It features puppies, dog bones and bouncing balls.  The colors are bright and happy, blues, orange, reds, green and yellow.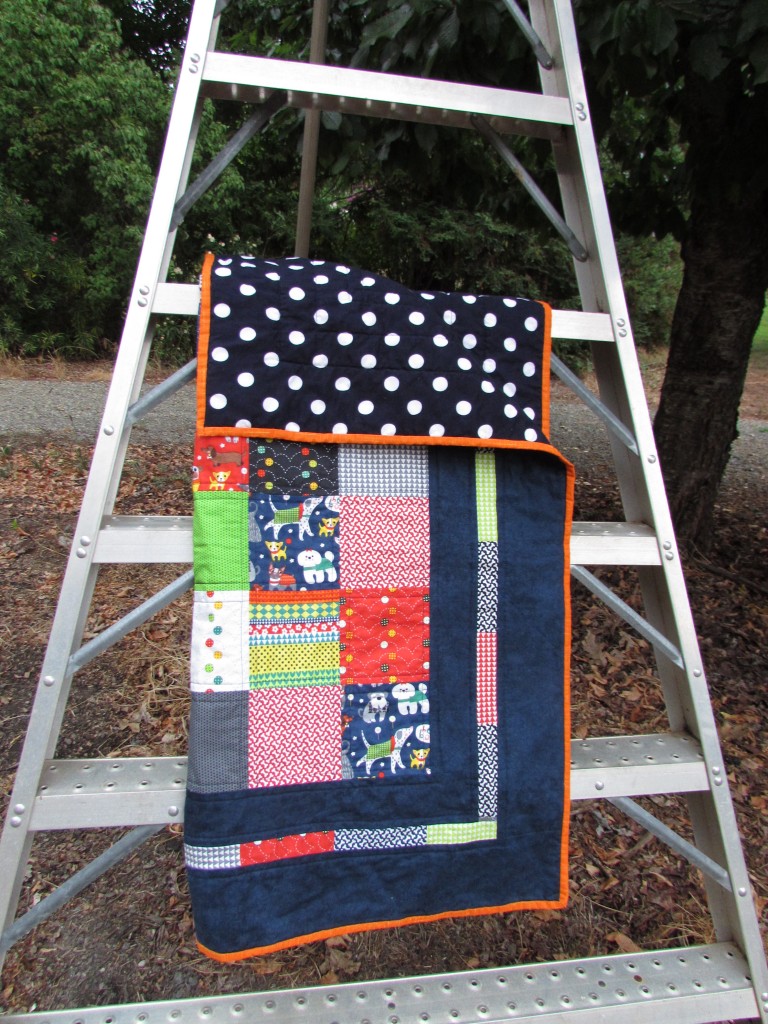 I backed it with a dark navy and white oversized polka dot.  For the first time, I didn't use a pieced backing.  The dots are very sweet on their own. Finished it off with a crazy bright orange binding. I love the contrast. I bound it as I usually do by machine stitching to the front and hand stitching to the back.  I am wondering though, if I should machine stitch both sides.  Seems like a baby quilt is going to be laundered often.  Would it hold up better if I machine stitched the binding on both sides? Give me your thoughts on this please!
Also got some time to work on my RSC14 blocks.  I finished the red blocks that were scheduled for July. I love the cherry fabric scraps. They were from a bag of scraps that my neighbor gave to me. (What a fun bag to look through!)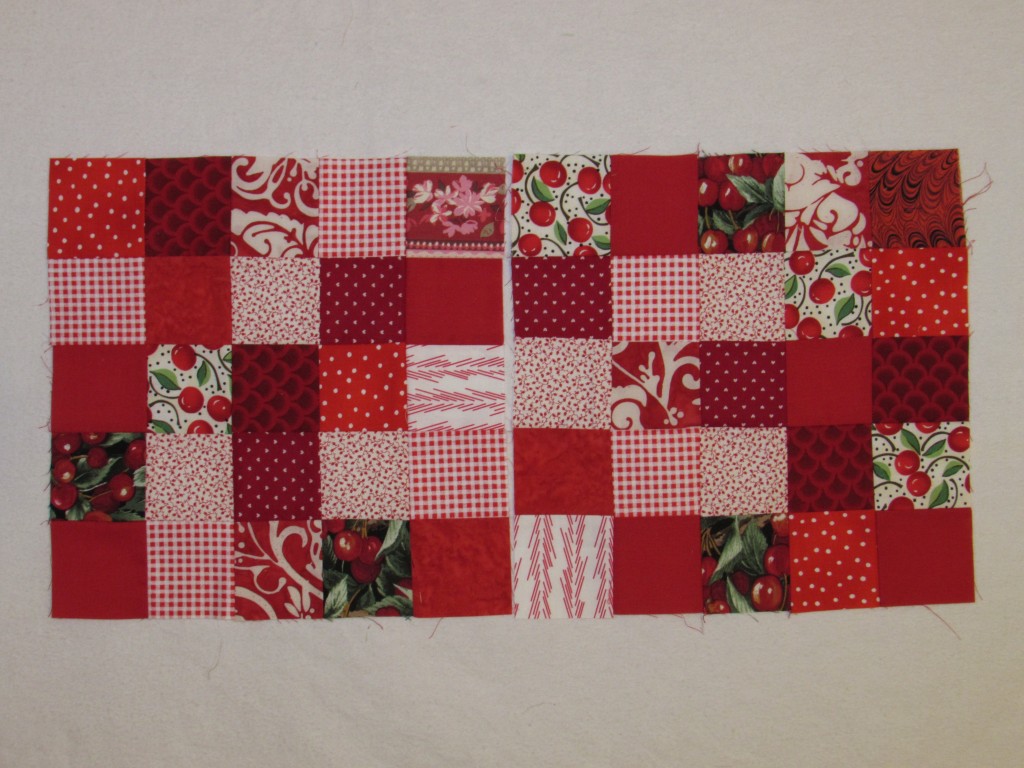 I also finished the bright greens that are the color for August. Looking through my strips, I didn't have tons of bright green but was able to find enough to do these two blocks.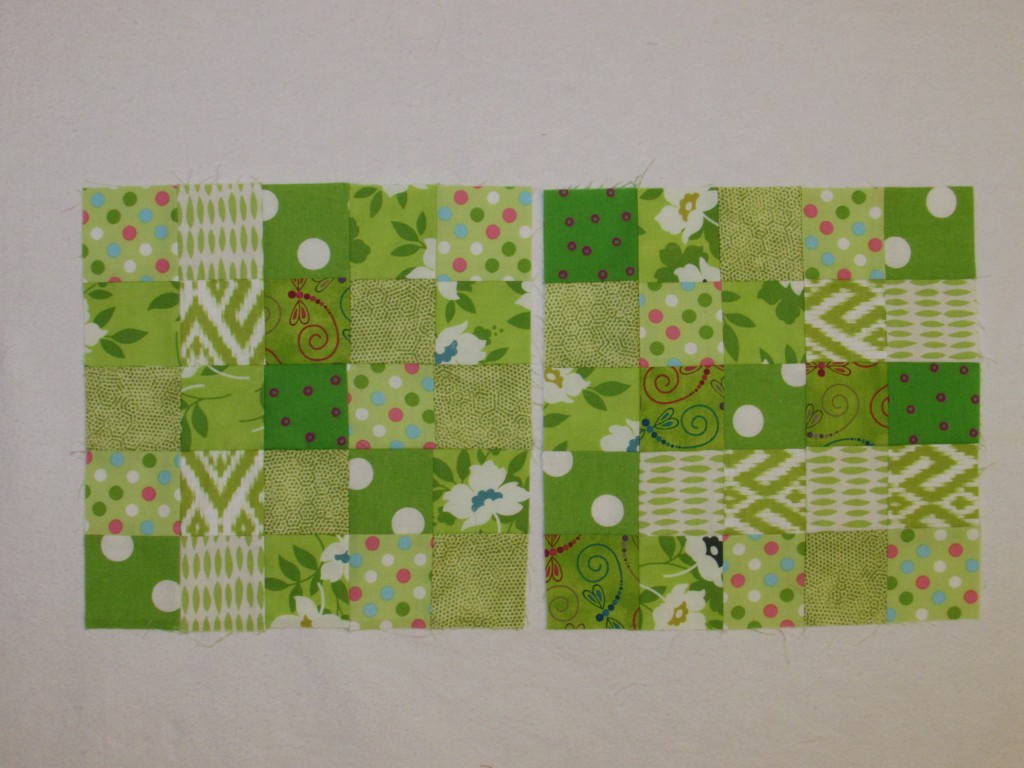 So, I still have to catch up and finish March, April, May and June.  Here is what I've got so far.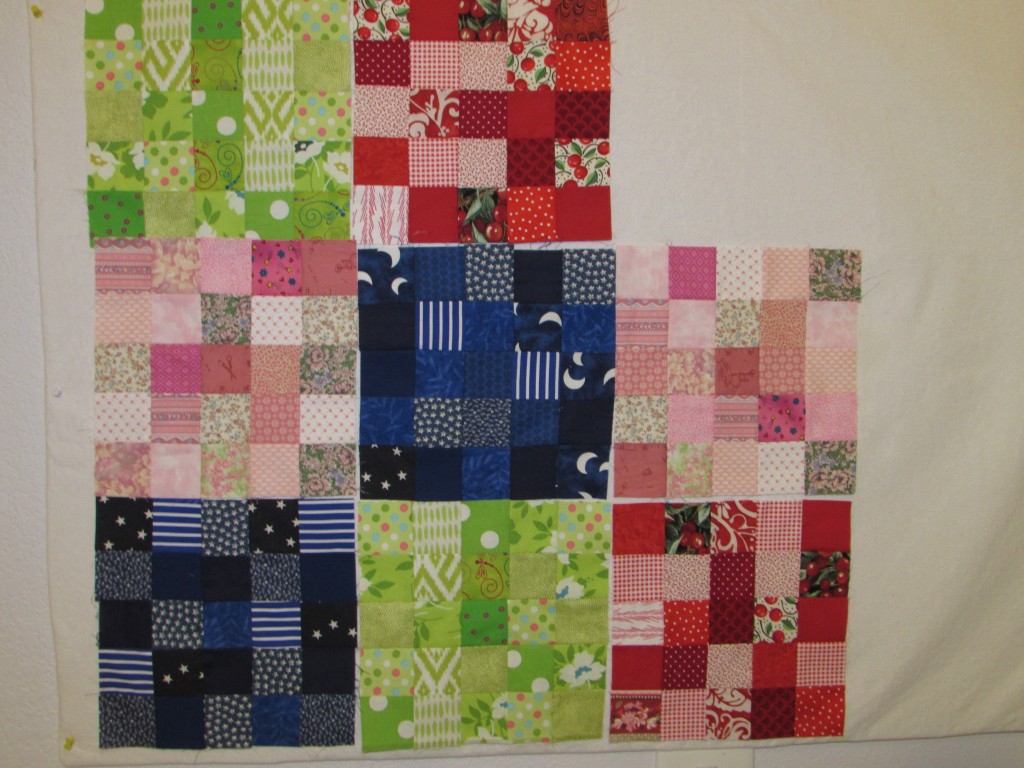 This weekend I am off with my sisters for our annual "sisters' weekend".  Cannot wait!! Hope you all are enjoying the tail end of summer.
Linking with Linky Tuesday @ Freemotion by the River, WIP Wednesday @ Freshly Pieced, Fabric Tuesday @ Quilt Story, and Let's Bee Social @ Sew Fresh Quilts.  Also to Needle and Thread Thursday, Crazy Mom Quilts' Finish It Up Friday, Can I Get a Whoop Whoop, and TGIFF which is at QuiltMatters today. Links to all of these are listed at the top of my page under the Link-Ups tab