I have two little projects to share with you. These were both gifted at Christmas and I thought I would wait to post until after they had been given to their intended owners. First is a small, fabric book that I made for my soon-to-be-born grand daughter.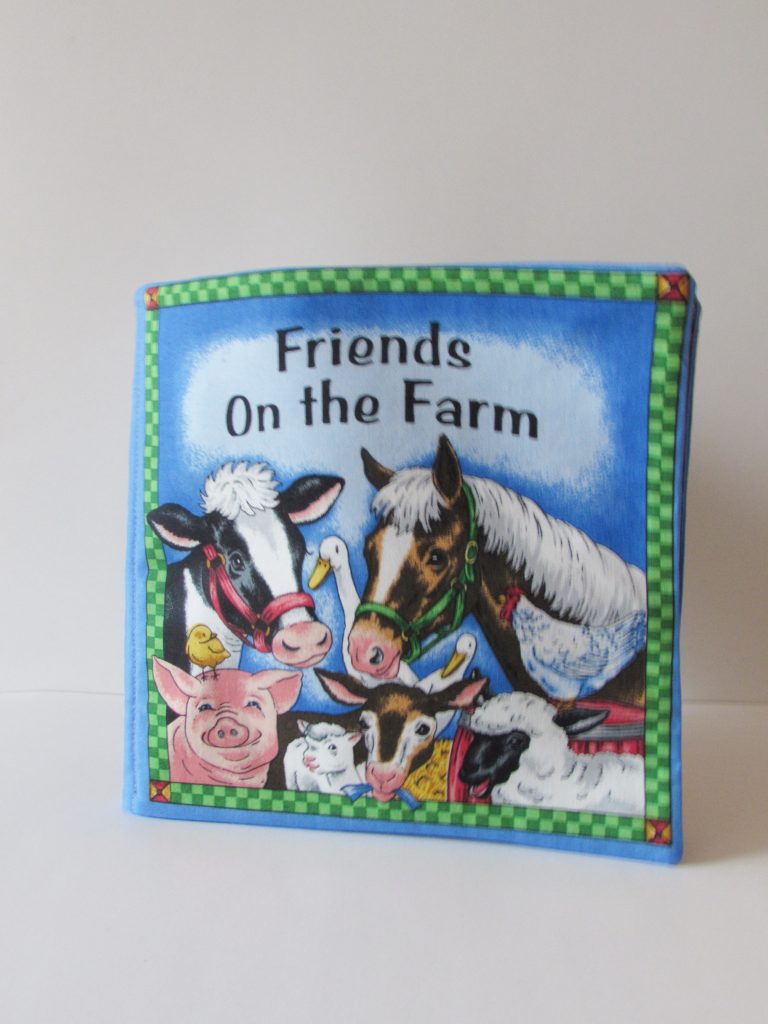 I have several of these panels, in two different flavors, that I purchased when a local fabric store was closing out, maybe four or five years ago? I thought it would be good to have them on hand as a fun gift to give. Then somehow I lost track of them or they went to the bottom of the pile in that closet of mine. After some digging, I found them.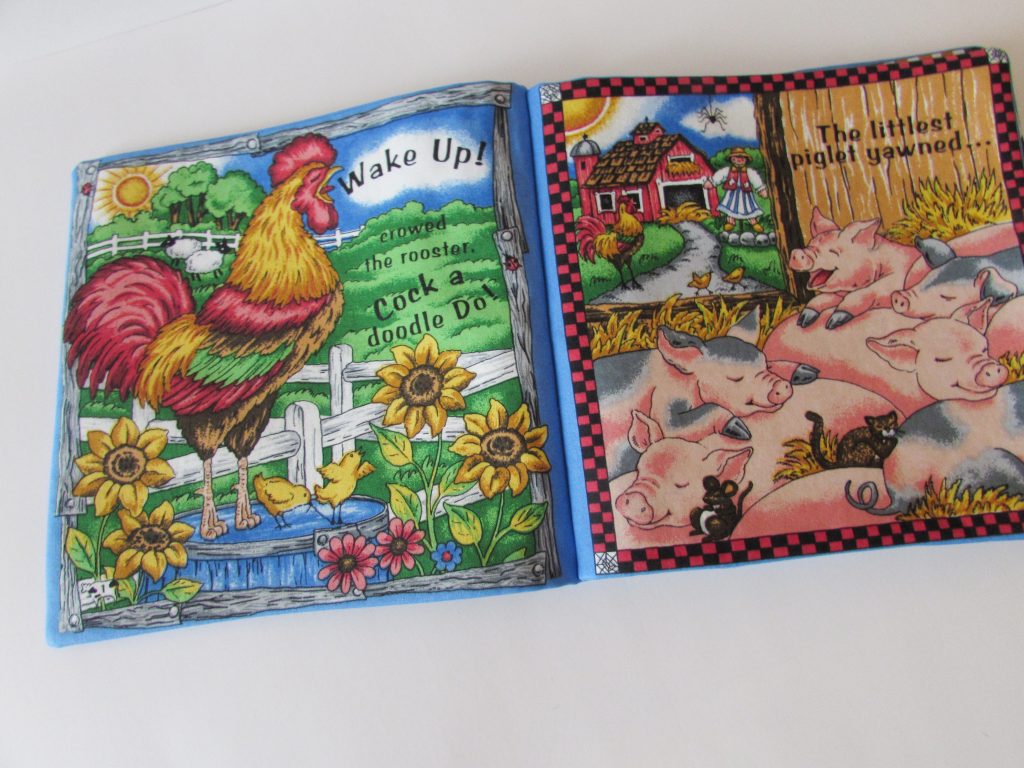 I think it is a sweet way to introduce baby to books. The pages are thick and easily grasped, bright colors and not a whole lot in the way of a plot. Plus it is washable which might come in handy.  😉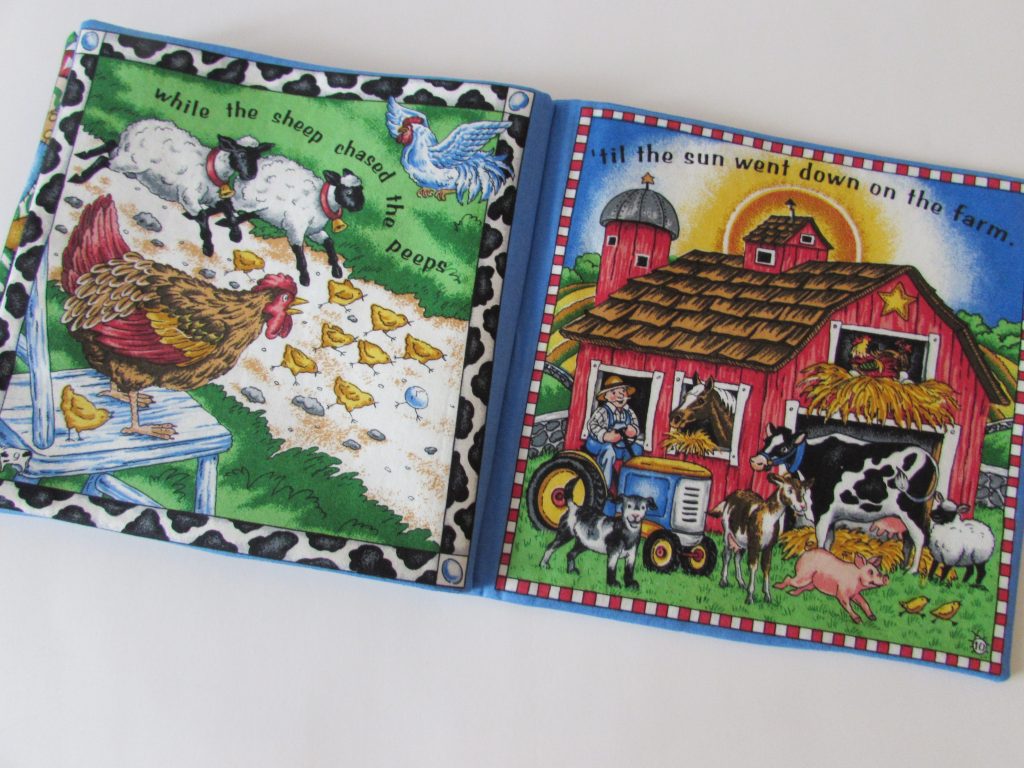 If you haven't made one of these before, it is basically a panel of rectangles. Once you cut them out, the panels are paired up to be sewn in a certain order so the pages are in the correct order. (This is crucial when the plot is as deep as these are!) The instructions said to fuse a mid-weight interfacing to one page of each pair. I chose to use fusible batting instead. It makes the book a bit softer. Each pair of pages is sewn, right sides together and then turned right side out. Press and sew up the little opening that was left to turn the book right sides out. Stack the pages and sew down the center to hold them together. Ta da! Your book is complete.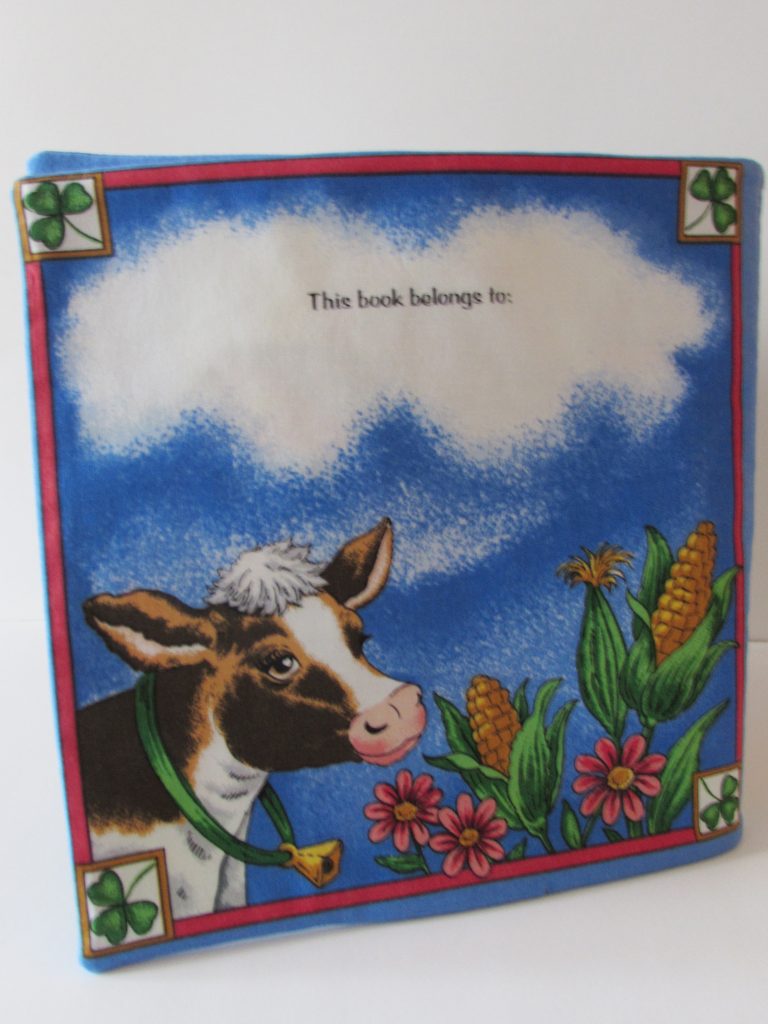 I didn't put her name on the book because it hasn't been shared yet. (Actually, I am not certain they have truly decided on one yet.)
The other gift I made is a scrappy Christmas pillow. I had cut lots of rectangles from a bag of Christmas scraps and decided to use a few of them. I stitched the rows and then when I sewed the rows together I offset the seams. It makes things a little bit more interesting. I love some of the vintage Christmas scraps in this pillow (especially the candy cane fabric).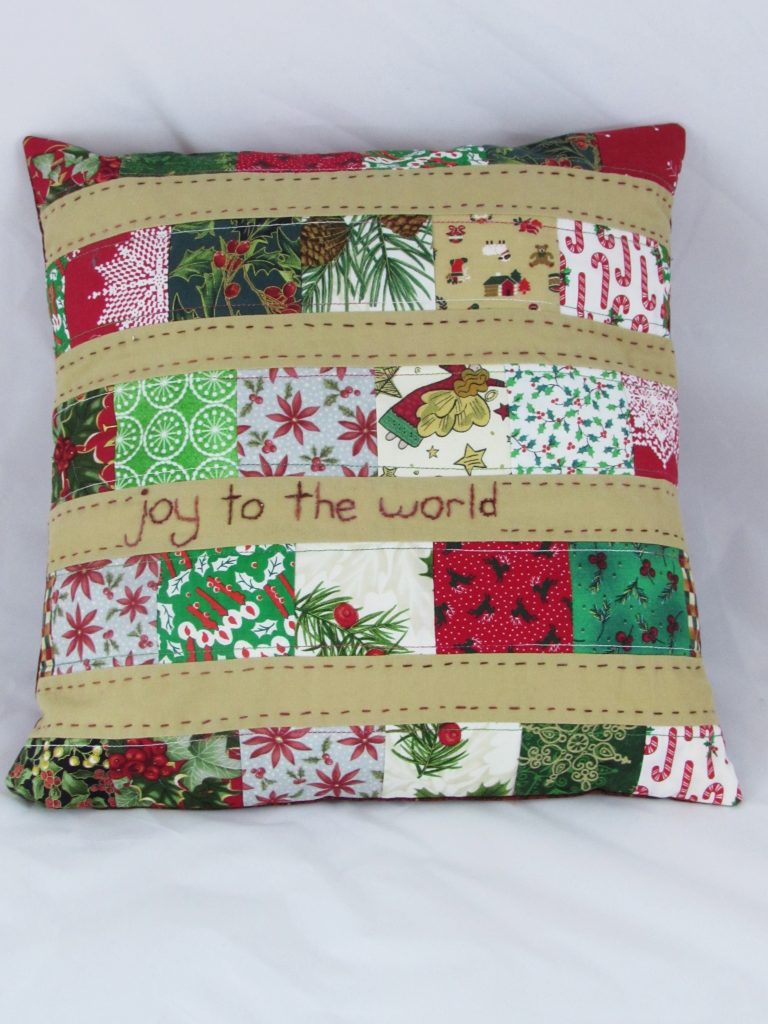 It looked too busy with the patchwork rows right next to each other so I took a solid khaki color scrap and cut some strips that were 1.5″ finished. At first I quilted the scrappy rows with my walking foot and a variegated Mettler thread in Christmas colors of red and green. That looked boring. I added the big stitch quilting on the solid rows and liked the way that was looking. (You may have seen some of this on Instagram – I shared a few pictures there along the way.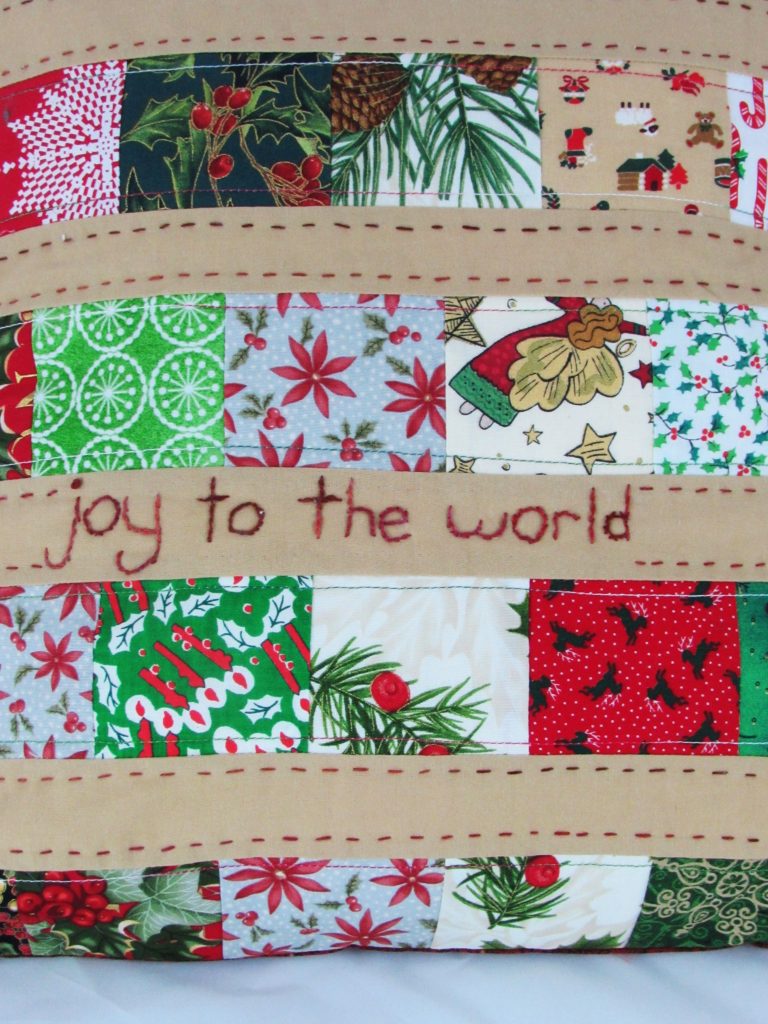 After doing the straight lines of big stitches (using Perle cotton thread) I added the phrasing. I think that finished it off nicely. A simple envelope backing and it was complete.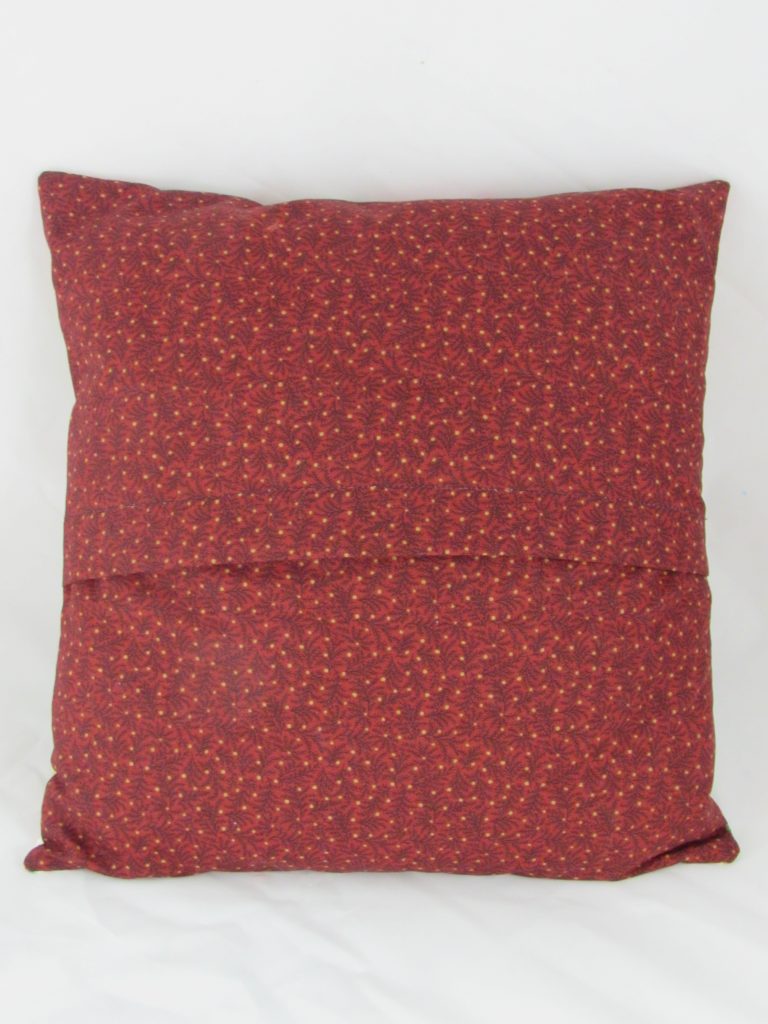 I didn't give as many handmade gifts as I sometimes do. Time doesn't always allow for these things! But these were very simple and fun to make.
I have been reading lots of great posts about everyone's plans for the new year. I am hoping to get to that soon. I didn't get it done ahead of time and now we are in the middle of lots of family time. Maybe next week when things settle down again. I do have some fun ideas for 2017 and am excited to share them. Stay tuned!
Happy New Year everyone! Wishing you all the best in 2017.
Linking to my usuals – find the links at the top of the page, under Link Ups. Additionally, I linked to Frontier Dream's linky party, Keep Calm and Craft On.