Today is the kick off of a blog hop honoring Paula B. Paula was a kind and generous quilter who blogged at Paula B Quilts for a number of years. She loved thrifting (we certainly had that in common), studying antique quilts and making quilts for charity. One of her favorite organizations was Project Linus. Our quilting community was saddened to hear of Paula's death on February 8, 2020 after a short and unexpected illness.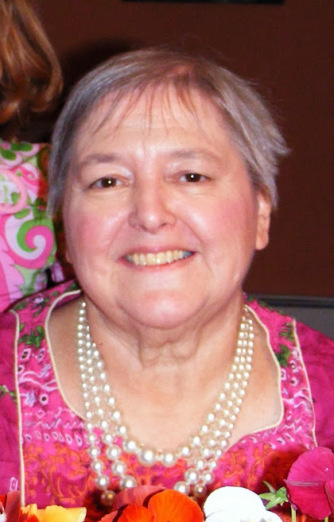 Some weeks later, I received an email from Kate of Smiles From Kate and Janice of Color Creating and Quilting, asking if I would like to be involved in a blog hop as a celebration of Paula's life. Kate and Janice thought it would be nice to have quilters make a quilt to donate to the organization of their choice. The hop is being held this week as Paula would have celebrated her birthday today, on May 6th. I can't think of a better way to honor the life of this very generous quilter.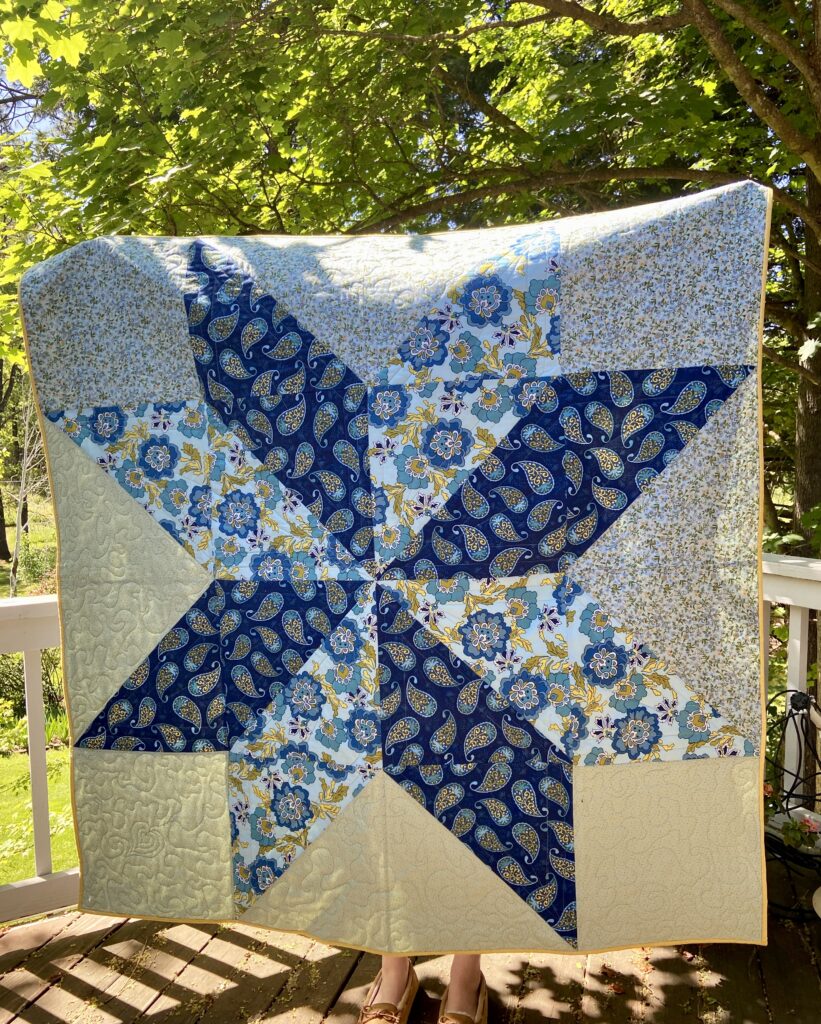 Ok – let's talk about the quilt I made. Some time back, I posted about thrifting some pretty blue and yellow fabric. I knew I wanted to make a quilt with large pieces so I wouldn't have to chop of the fabric. To this end, I chose to make a large star quilt. The tutorial is available here on In Color Order. I love this pattern and it can be made in an afternoon. It looks great with bold, large scale prints. This is the second time I made one. Years back, I made a smaller one which hangs in the shop downstairs.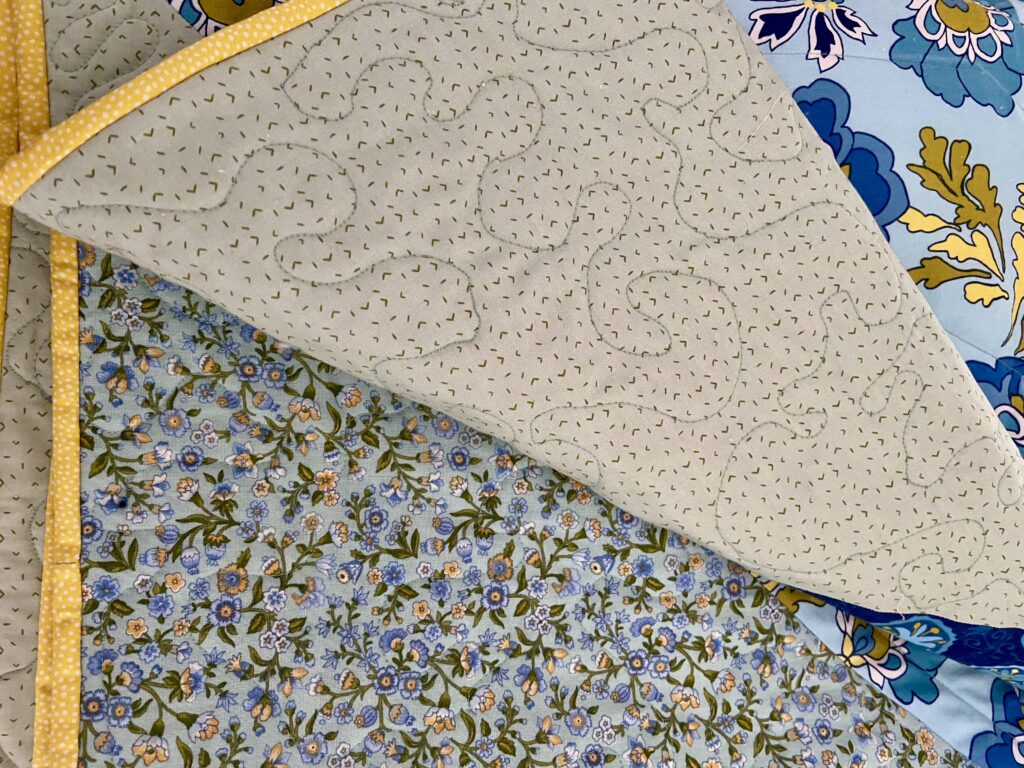 Quilting this up was enjoyable. I did straight lines within the star, echoing the shape of each point. I did a large, loose stipple over the background. My goal was a loose pattern to keep the quilt nice and soft after washing it. The bright yellow fabric used to bind it sets it off perfectly.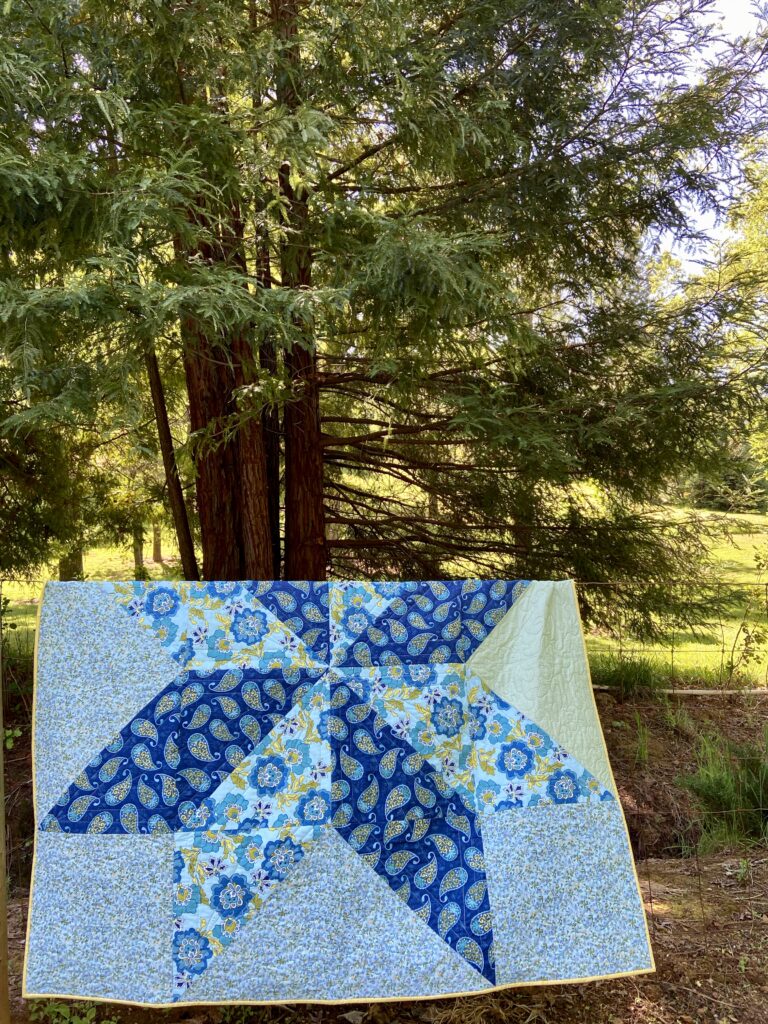 Finding a backing fabric was easy. I had a piece of sage green gingham in my yardage stash that worked nicely with this quilt top.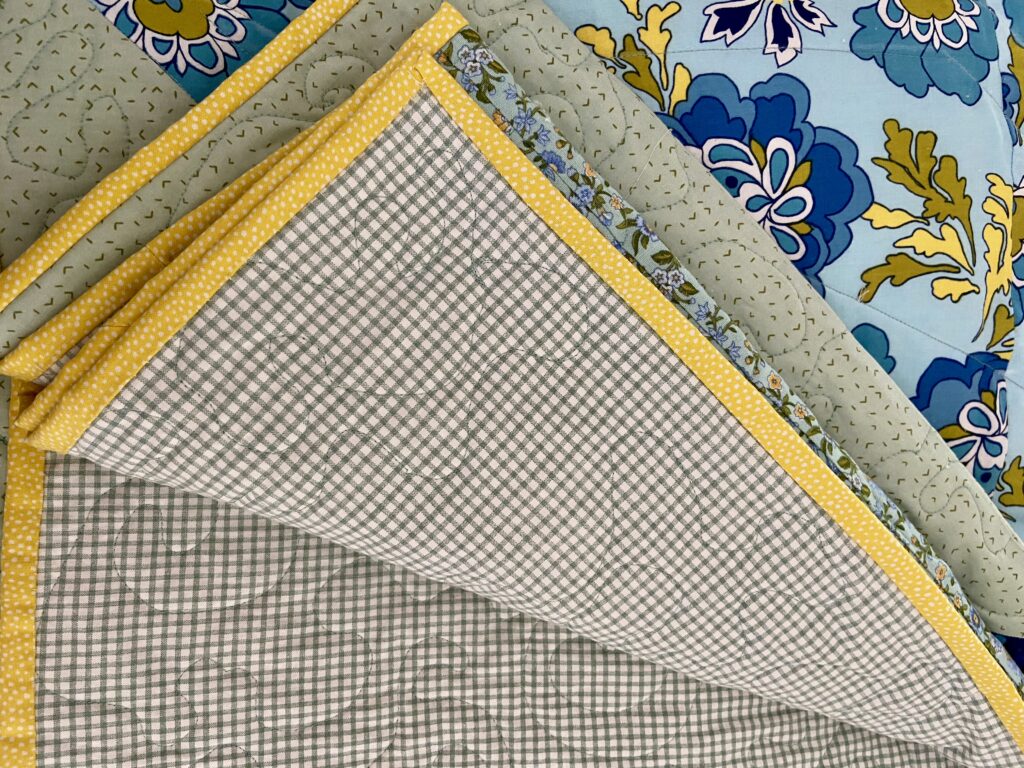 This quilt is destined for Mercy Hospital in Sacramento. I am still organizing Mercyful Quilts for them and I think this will be well loved by the family who chooses it. If you are not familiar with Mercyful Quilts, please read about it by clicking here and here. It is a wonderful opportunity to provide comfort for a family as they say good bye to a loved one. I have recently received a number of quilts donated on behalf of the 2020 Hands2Help event. I will share some of those in a later post.
Let's get back to the hop! It will be happening through the end of the week.Below you will find the schedule of the bloggers who are participating in this hop. I plan to visit them and see what each came up with and where they are donating to. I love finding out about organizations supported by other quilters. There are many and it is great to know who needs what!
Also a number of wonderful prizes have been donated. Each time you visit one of the blogs below, be sure to leave a comment. Each comment left on any of these posts is an entry into the prize drawing!! The giveaway is open until May 15th. Prizes will be awarded after that date. Enjoy and good luck! I know Paula would be just thrilled to know of all of these quilts being made and gifted in her honor! To see the prizes donated for this event, scroll to the bottom of this post!
Thank you for stopping by today. Enjoy the hop in Paula's memory – I know I plan to!
Wednesday, May 6
Wendy @ Pieceful Thoughts of my Quilting Life
Bernie @ Needle and Foot – You are here!
Thursday, May 7
Friday, May 8
Janice @ Color, Creating and Quilting
Prizes!!
Sew Fresh Quilts, $50 gift certificate for her pattern shop.
Quilting Jetgirl, 2 PDF patterns of choice.
Needle and Foot, $25 certificate for her shop.
Figo Fabrics, A fat quarter bundle
A set of quilty gift cards from Initial Thought by DMF Note cards set 1
Sugar Free Quilts, A pattern of choice
A $30 gift certificate for Doris, Cactus Queen Quilt Co
Canuck Quilter Designs – A PDF pattern of choice
$25 gift certificate to Fat Quarter Shop, donated by Janice Holton
The Enlightened Spaniel (Book 1 & 2) by Gary Heads