I have a fun finish to share with you all today. I have been doing a little collaborating with Carole of From My Carolina Home for the past couple of weeks. She is hosting her fabulous Autumn Jubilee which happens each fall season. One of her projects is a set of placemats which I supplied the fabric for. You can check those out here – they are really pretty. Carole does an amazing job creating tablescapes – whenever I see one, I wish I was sharing a meal with her! I love what she did for this festive autumn table. Below you can take a look at the fabric she used. The kit is available in the shop but in very limited supply. I suspect it will sell out quickly. It is a great bundle and she is supplying the tutorial for you!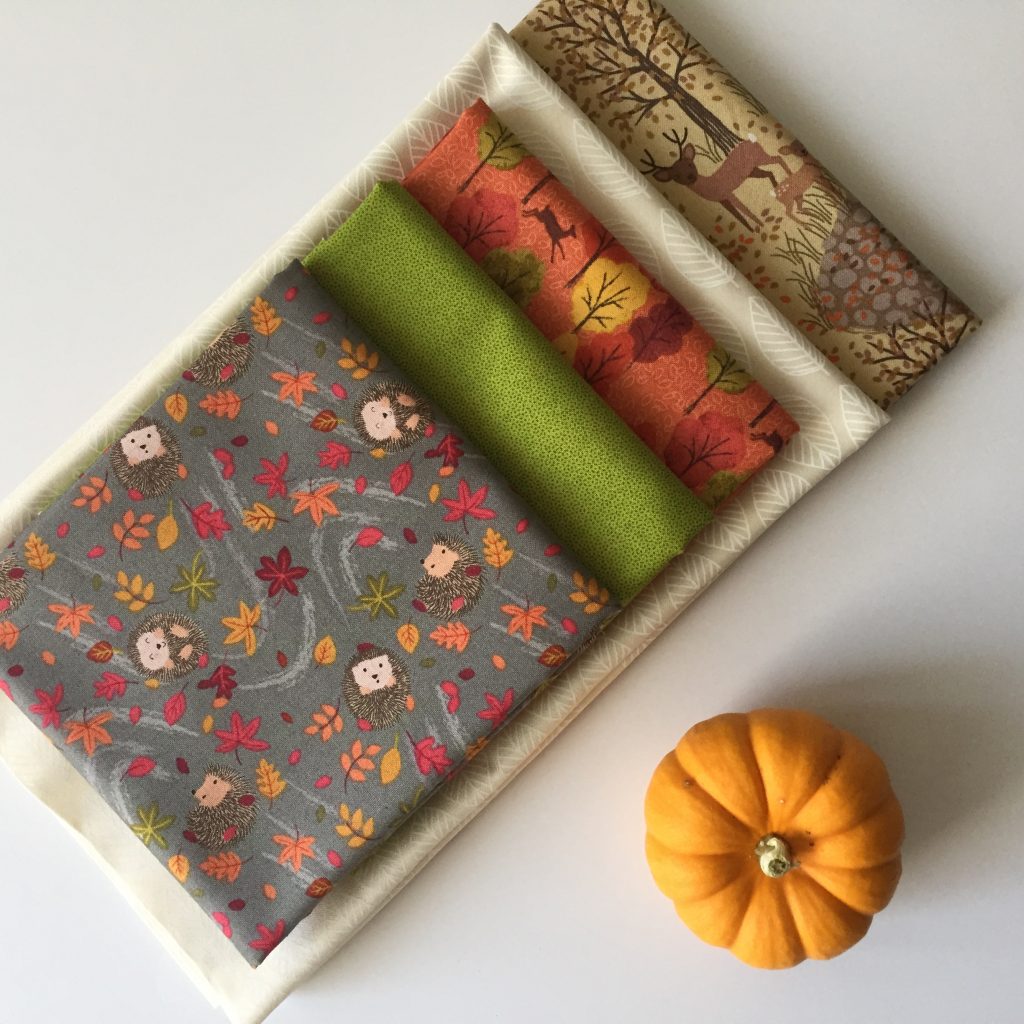 I wanted to make a scrappy project for my table as well. In return, I decided to try out one of her Scrap Dance patterns.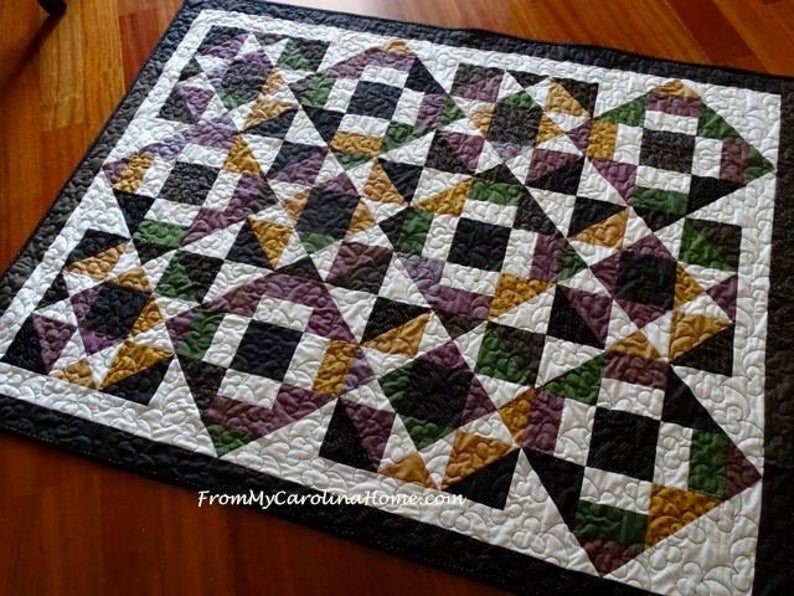 I chose the Scrap Dance Two Step pattern for my project. As you know, I like simplicity and this pattern has some great blocks that are really easy to piece. Just my style. Though it is intended for a larger quilt (which is really necessary for the secondary patterns to show up), I decided to use it for a table runner containing only three blocks. This is the perfect size for my table because the blocks finish at 12″ square.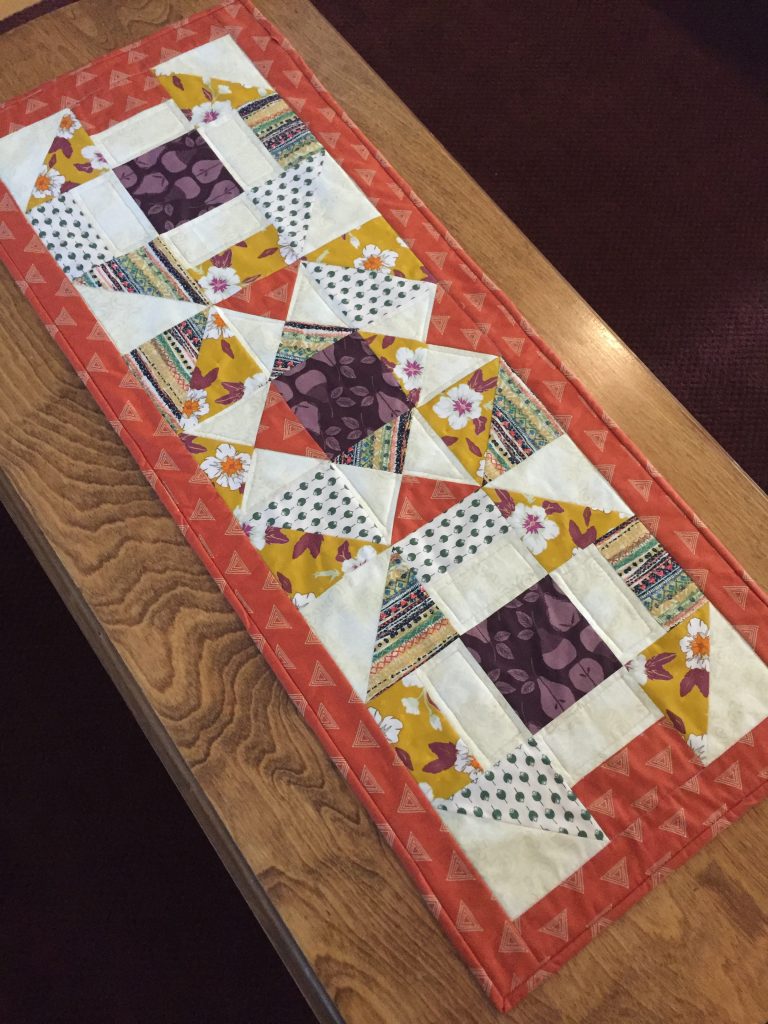 I chose pieces from a few of my scrap bins as well as a few fabrics in my shop. It is hard to resist using them, they are just downstairs! Can you blame me?? I cut a bit of Sweet Harvest for the centers of each block as I really love that plum color. Then I used scraps of other Art Gallery pieces for the remaining. The background is Natural Elements. Be it from the scrap bin, or the shop, I did use all Art Gallery Fabric for the top. A little Maureen Cracknell, Pat Bravo, Bonnie Christine and some Sharon Holland, are all put together for an autumnal scrappy look. I do think you could go scrappy on the background but only if they were the same values and the colors were super close. Otherwise the pattern might be lost.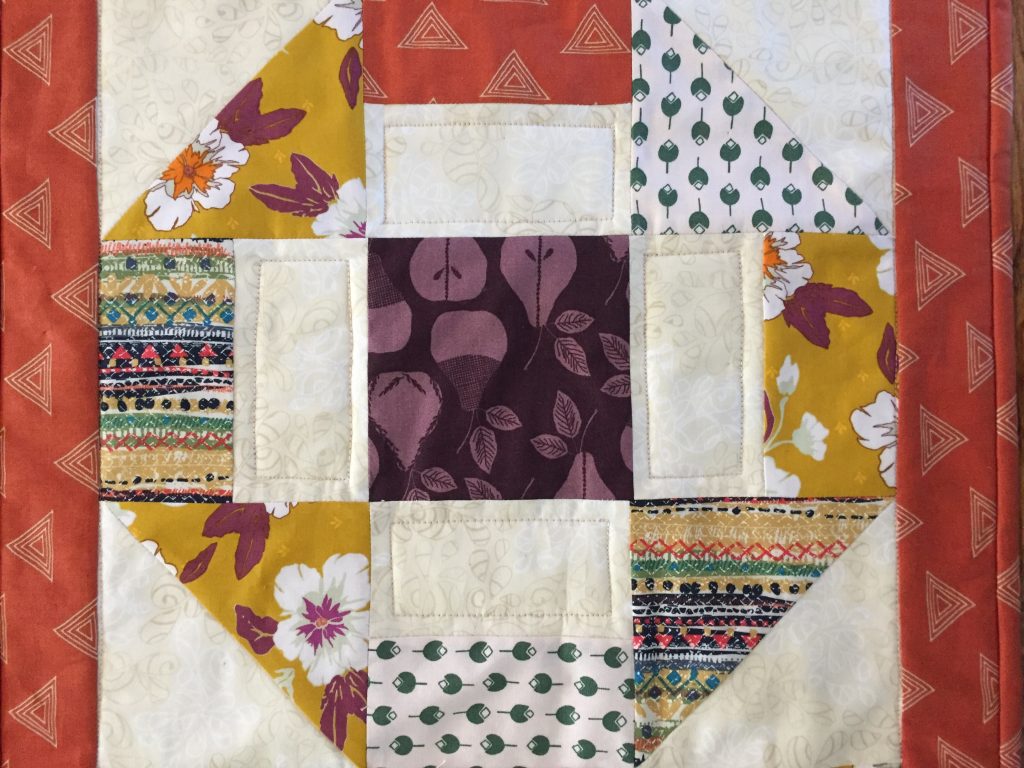 Because there is so much going on with the colors and patterns of the fabrics, I went very simple with the quilting. I did some ditch stitching first to hold everything together. Following that I only outlined some of the background pieces.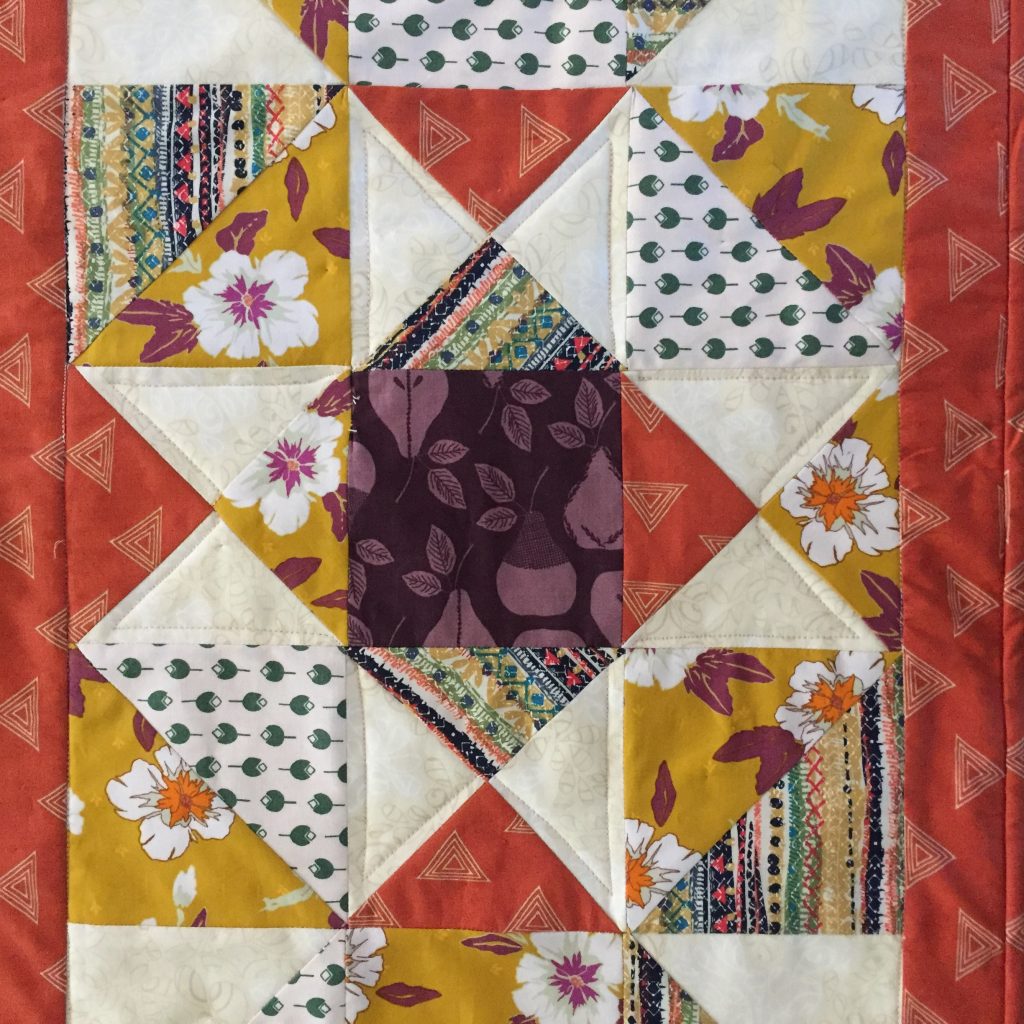 The rectangles on either end as well as the triangles making up the star in the center. To keep things calm, I used the same fabric for the border and binding.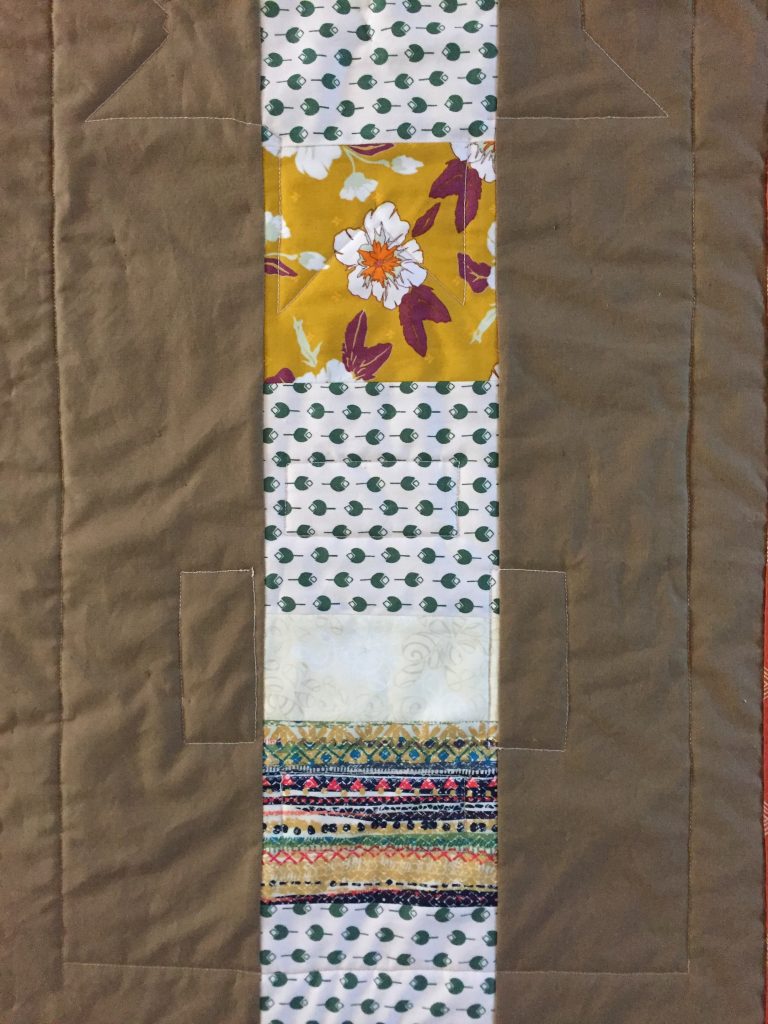 Originally, I had planned to make four blocks. However (after cutting pieces) I decided it would be too long for my table. This left me with some extra cut pieces to incorporate into the back. You can't see the entire back here but the pieced stripe extends the length of the runner. The brown solid was in my stash so I used that bit up.
I have to say, Carole's pattern was a dream to use. I think it would make an adorable bed size quilt. If you used solid scraps, it would be a bit on the modern side. With prints or repro fabrics you would achieve a very traditional look. I love that Carole includes so many sizes in her patterns. This pattern includes everything from table topper to a king size bed quilt. This gives the quilter many options and the math is all done for you! If you haven't yet made one of her patterns, go check them out here. She has a number of them to choose from and I know you will enjoy using her beautiful designs and easily understood instructions.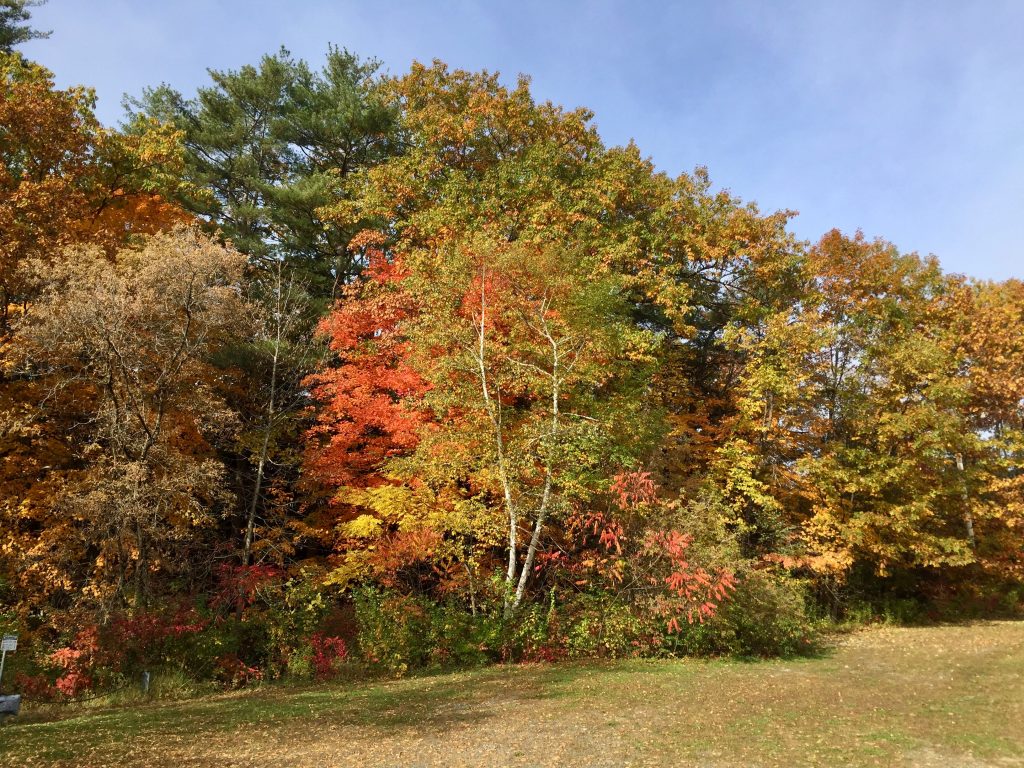 I am loving autumn here in the north east. We have had clear, gorgeous skies as well as some stormy gray days. Fall is my absolute favorite season so I plan to enjoy it regardless of the weather!
Linking up with a few fun places. Check them out at the top of the page, under Link Ups.