I have been reading posts that are linked up to a party hosted by Jen at Quarter Inch From the Edge this week and really enjoying them. (I also enjoy the name of Jen's blog, isn't it perfect?). She has been hosting a monthly link up where bloggers are sharing projects from earlier days and I love seeing how far everyone has come with their skill and creativity. Really interesting to read the posts and check out the pictures. Most of my earlier projects have been posted about already but I did think it would be fun to share the Tablerunner Craze of 2012.
The fall of 2012 was when the quilting bug really bit. I had recently finished a queen size simple patchwork quilt for my mother-in-law. I posted that story here. When I was finishing up that quilt, I had no clue how to FMQ so I stitched in the ditch along every block. Once that was finished, I really wanted to try some free motion quilting so I took a class at my LQS to learn the basics.  Table runners seemed like the perfect opportunity to practice this newfound love. Glad for the excuse to shop, I shopped for holiday fabric so I could make table runners for my family as Christmas gifts. If you have been a reader for any length of time, you probably know I have a huge family. I made eight table runners in about a month's time. One for each of my five sisters, one for my mom and my mother-in-law, and one for myself.
This was long before I started blogging and I am happy I thought to take a quick picture of some of them before giving them away.  Definitely last minute pictures. I remember I was about to wrap them and get them in the mail and I tossed them over the back of the couch and took a picture with my phone. (Hence the superb quality of the pictures!) Here are three of the runners.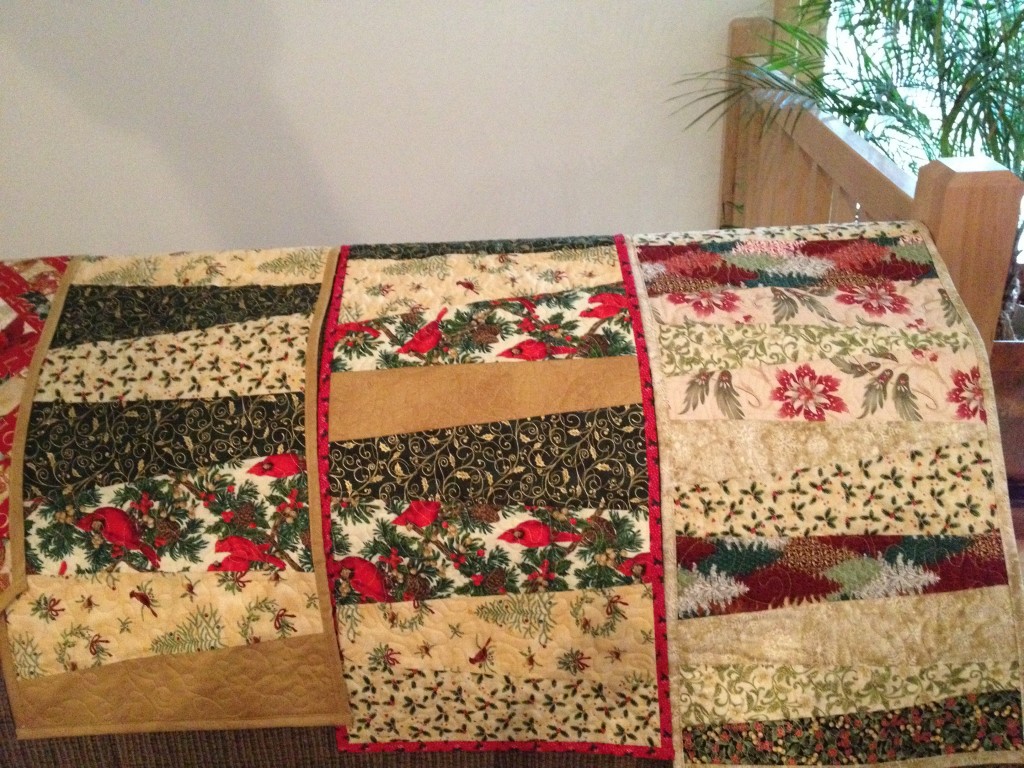 I did a basic, squiggly meander over the entire runner. Mitred bindings were not yet in my wheelhouse so the corners were just folded over and stitched (machine stitched to the front and hand stitched to the back? Maybe, maybe not….)
Here are three more.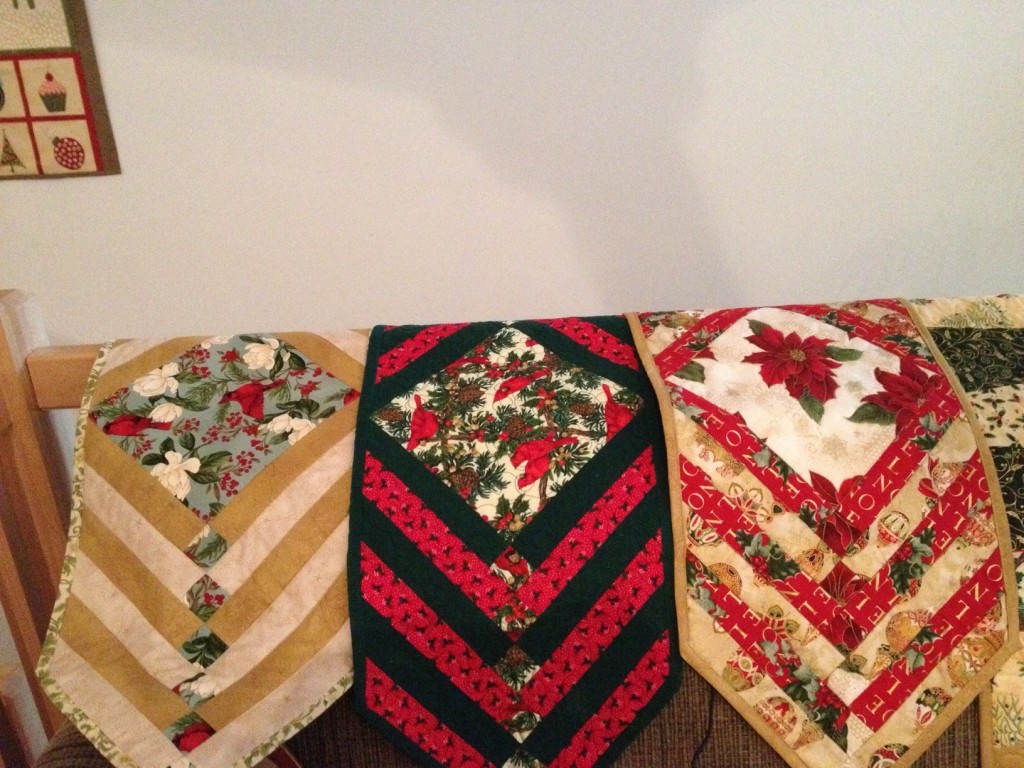 These runners are on the small side. They are probably 13″ wide and maybe 30″ long? They were pretty though and I enjoy looking back at them. They were definitely my first foray into free motion quilting.  Actually, it kind of amazes me that this was almost exactly four years ago. The time continues to buzz by.
We are spending the long weekend up at our Downieville house. It is gorgeous up here with crisp, cool air. If you live in California, you are probably hearing about this tremendous El Nino that is supposed to happen this year. Ray is cleaning all of the drainage paths and gutters this weekend. If it comes to be, then we could get some substantial storms this year. I am grateful that he is so good about preparing for this sort of thing. Our Downieville house is is a flood zone being so close to the river so we do need to be careful. At any rate, maybe this year will put an end to four years of drought. Here's hoping!
Linking to Quarter Inch From the Edge (for the very first time!)