Here is a post about one of the least exciting things I have made thus far.  Today I made a little mat to place under my dog's water dish. I hate the puddles that happen when she drinks (and more often than that, when I kick the dish as I walk by it – like every. single. day.)  It wasn't that I didn't try to control the issue. Look at this gorgeous set up I had going on.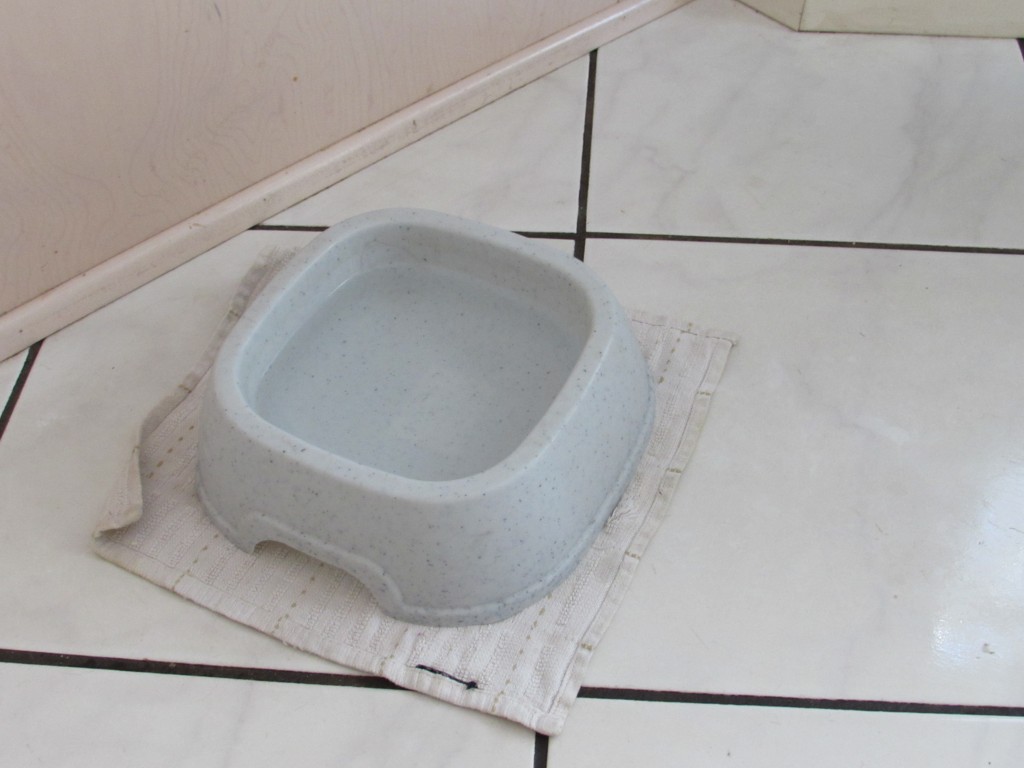 Classy, right? (Please avert your eyes from the dirty floor. Thank you.)
My true goal was to learn to quilt a basic "orange peel" motif. It is one that I had not yet tried and seemed like a good one to add to my limited repetoire. I didn't look for a tutorial and didn't sketch any first.  It just seemed so easy. Silly, silly me.  Drawing first has huge benefits as will become clear in a sec.
First I found a pile of 3 and 1/2″ squares that were left over from various projects. I added a few extra squares cut from puppy themed novelty fabric that was in my stash. I made a patchwork of five squares across and four down.  I found a scrap of french terry to back it with so it would have the absorbency to handle my constant kicking and splashing of the water. (One would think moving the bowl to another location would be much simpler!) I sewed the two pieces, right sides together, leaving a small opening to turn it right side out. After stitching the opening shut, I pressed it and pinned it.  Then I just dove in with the quilting process.
The problem was I didn't really think about how to travel along with the orange peels. Mostly I was listening to music and not focusing on the exciting task at hand. I began by moving around the inside of each square. This doesn't work and I was almost immediately stuck in the corner. Ahh… of course. The pattern is supposed to be stitched along the length of each row of squares and then again along the opposite edges of the squares (e.g. along the vertical rows and then the horizontal rows – or vice versa.) Very basic and had I sketched for just a few minutes first, this would have been apparent right away.  No big loss though. This was easily remedied and I finished up by stitching along the edges. Once I figured it out my curves looked (somewhat) better.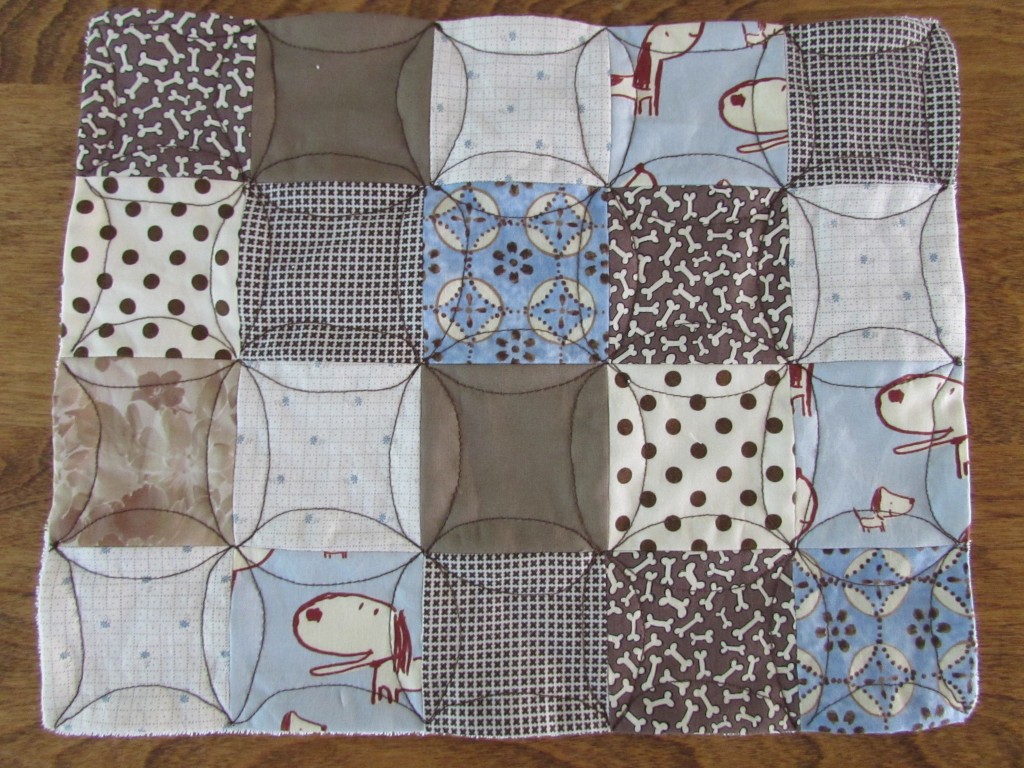 The quilting on this is mediocre at best.  Fortunately I have a rather undiscerning dog when it comes to quality of the FMQ on her water mat. It does look better from the back (because there isn't the point of reference of the squares to look at next to my stitching.) Quilting along the perimeter was really tough because there was no edge to hold on to (since I had just made this "envelope style".)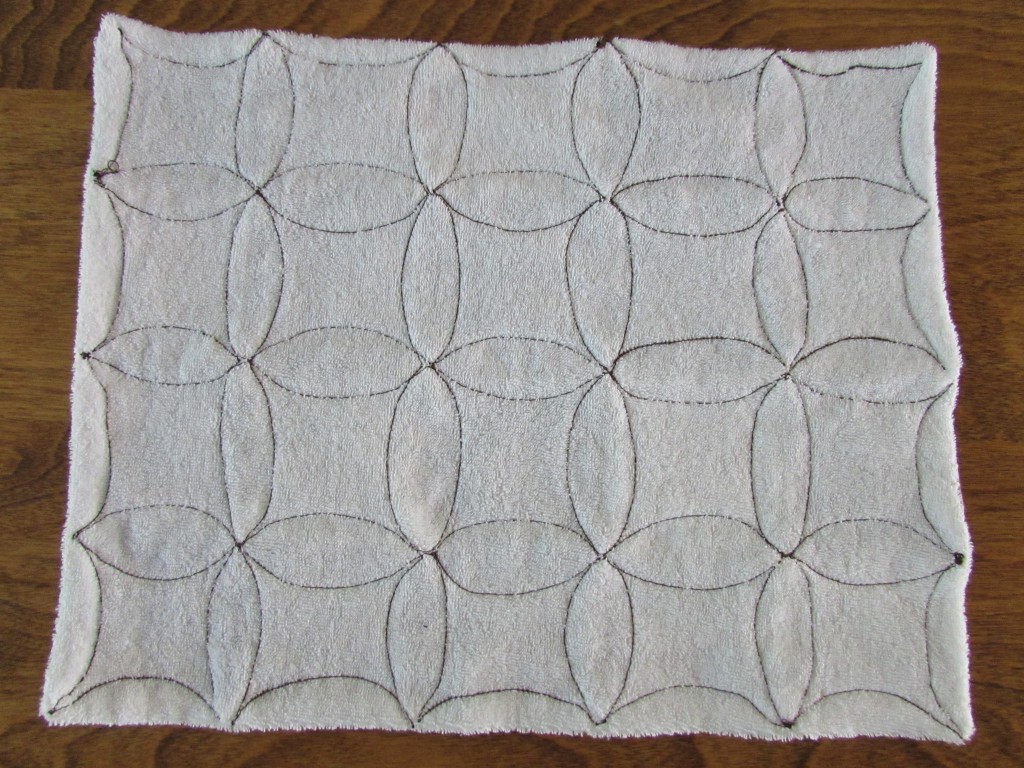 I really love how the orange peel motif looks (when done well!) and plan to practice it further. It would be very easy to quilt a larger project with this pattern. I would want to have a better handle on it first though. This little mat certainly improves the look of the water station in the kitchen though! Very classy. I am sure the dog is grateful.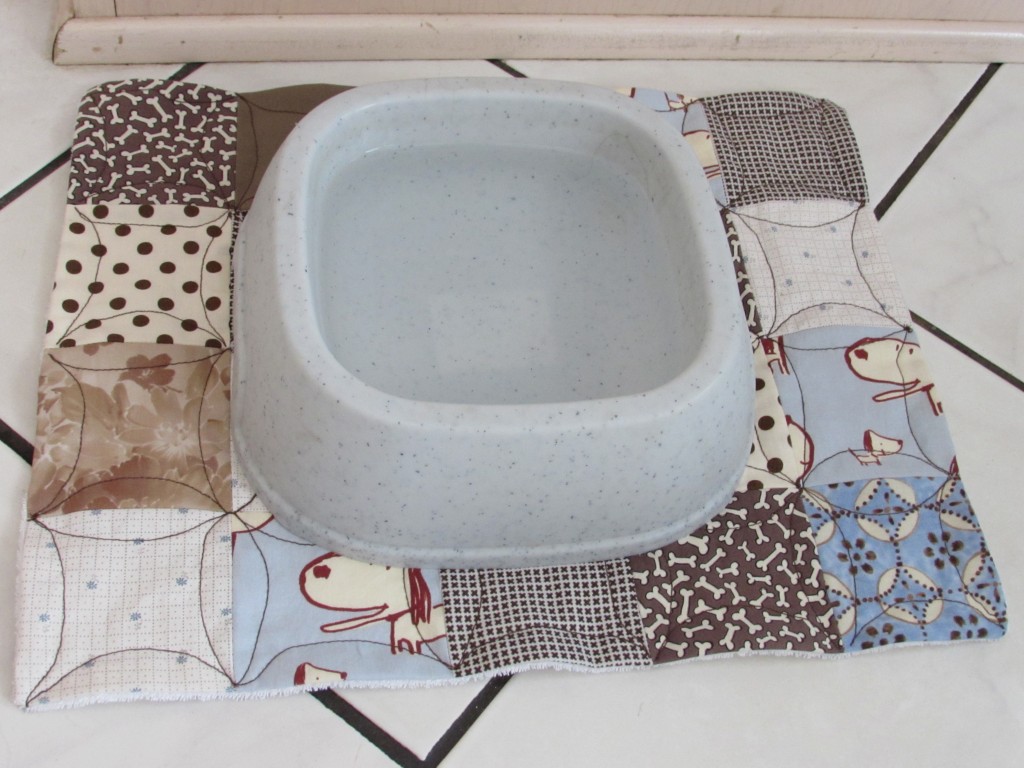 Have you been enjoying the Fabri-Quilt New Bloggers Block Hop so far this week? I have seen some amazing creativity out there. The hop continues through Thursday. The Tuesday group can be found over at Meadow Mist Designs with Cheryl leading the crew.
Linking to Freemotion Mavericks and Freemotion by the River.