About 18 months ago I finally finished a quilt for my daughter's bed. It was one of my first really challenging projects. I am happy with the way the quilt finished up, though it was harder than I expected. I used a pattern from Natalia Bonner's wonderful book, Beginner's Guide to Free Motion Quilting. This book has excellent information for those that, like myself, are trying to learn to FMQ.  I am not sure the pattern that I used was really one for a new beginner.  The piecing was a challenge.  Long story short, I bit off way more than I had thought but now that it is done, I am happy I did it. Here is a picture of the quilt:
The pebbling took roughly 1.5 billion hours.  Or at least, it felt that way  The spirals were really hard because I quilted this on a fairly old Janome that isn't equipped for FMQ. I couldn't drop the feed dogs and I was fighting the machine the whole time.  If you look closely at the quilting on this, it is painfully apparent that I was just learning. Again, glad I did this one and even happier that it is done!! (And happier yet that ,since then, I bought a newer Janome that quilts with ease!)
Once I finished this quilt I had amassed a huge pile of scraps. Cutting the lavender circles left a lot of waste. Here we are 18 months later and I finally used some of the leftover scraps.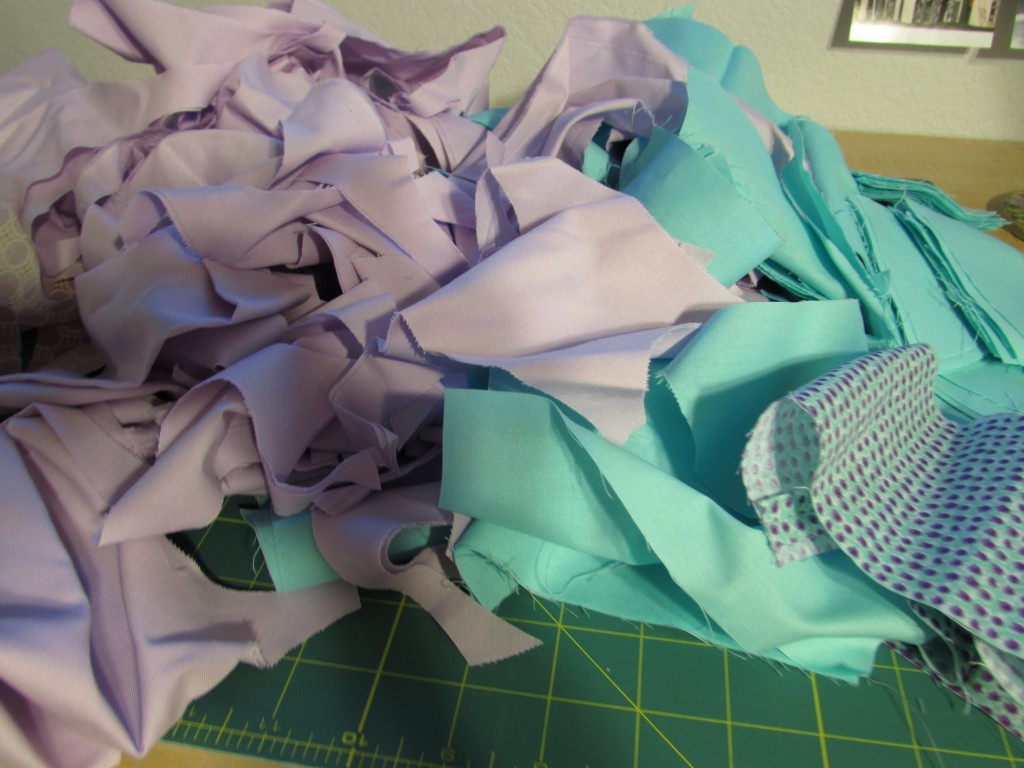 I decided to make a throw pillow for Julia's bed.  l created a checkerboard with some blue and lavender squares and then added some borders.  I love the floral print.  It is an older Kaffe Fassett print that I used for the backing of this quilt. To quilt it, I made a quick sandwich with a piece of leftover batting and some lightweight muslin. I quilted a cross hatch pattern and then added the back.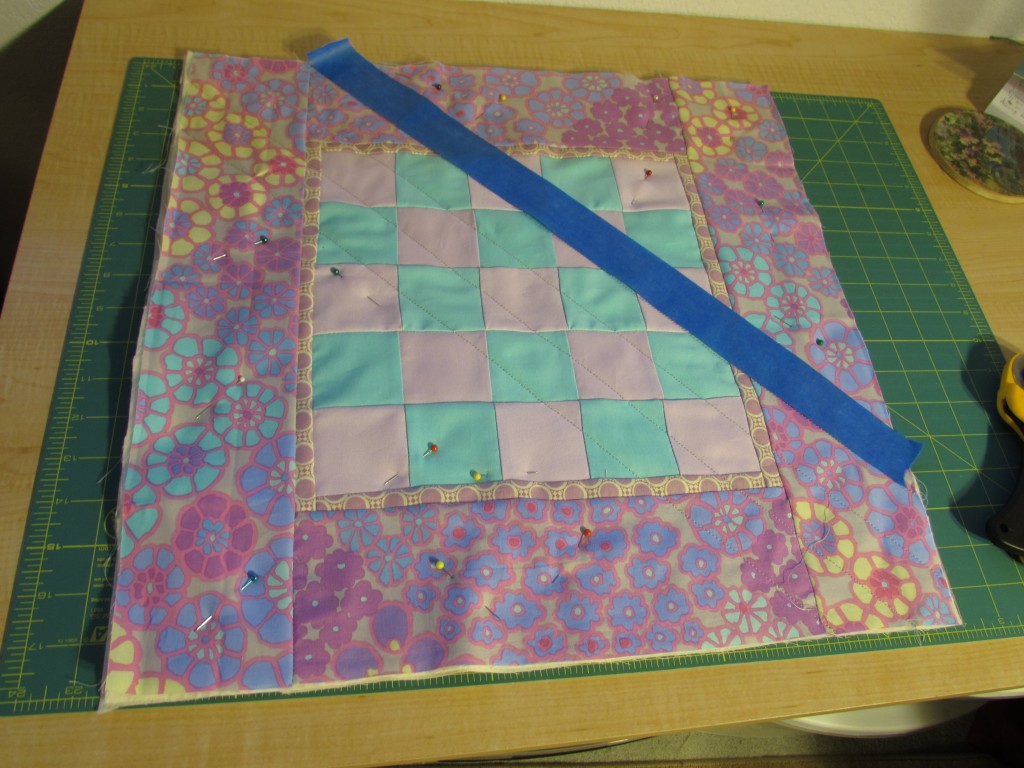 I made the pillow cover "envelope style" so it all came together quickly.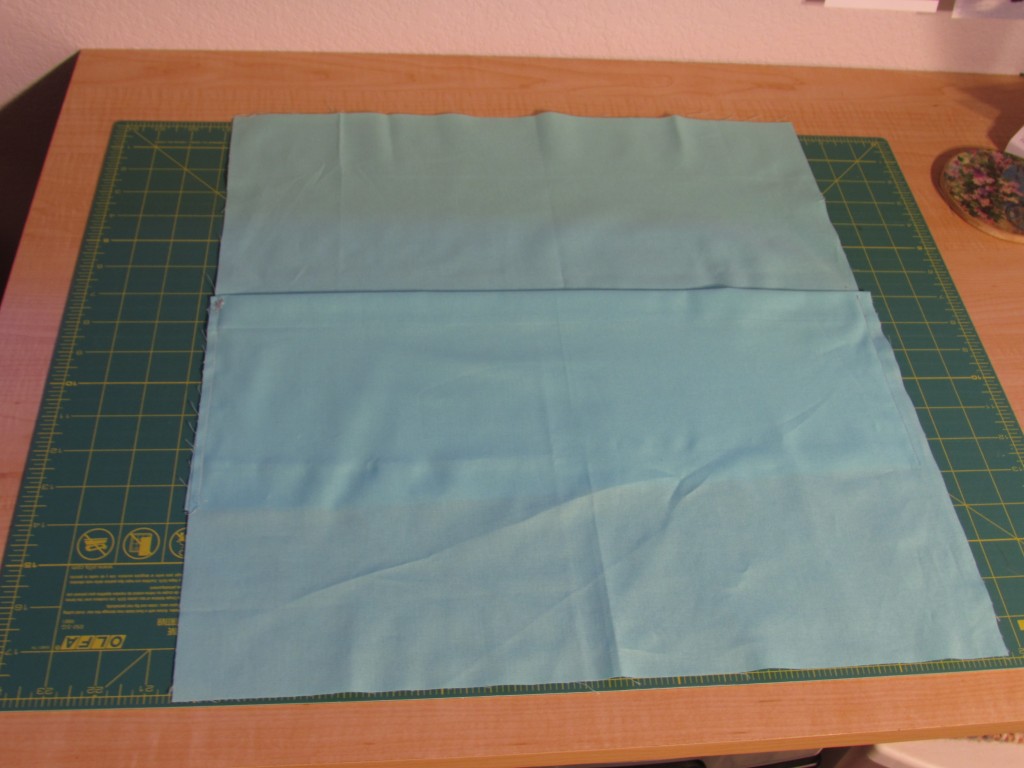 Pretty cute.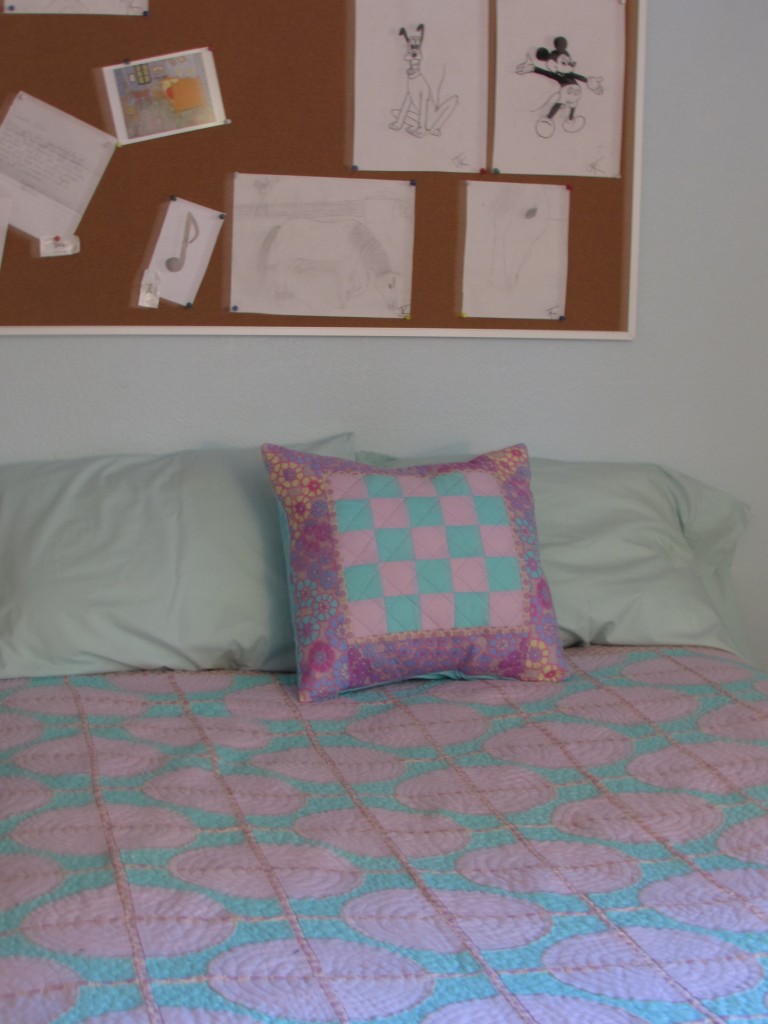 I also made a little mat for Julia's desk.  My husband made her a desk for her 12th birthday. It has a walnut top and Julia had been putting a couple of pieces of felt underneath her desk lamp and some other items so the top wouldn't get scratched. I made a rectangular mat (11 x 18″) for her to use instead.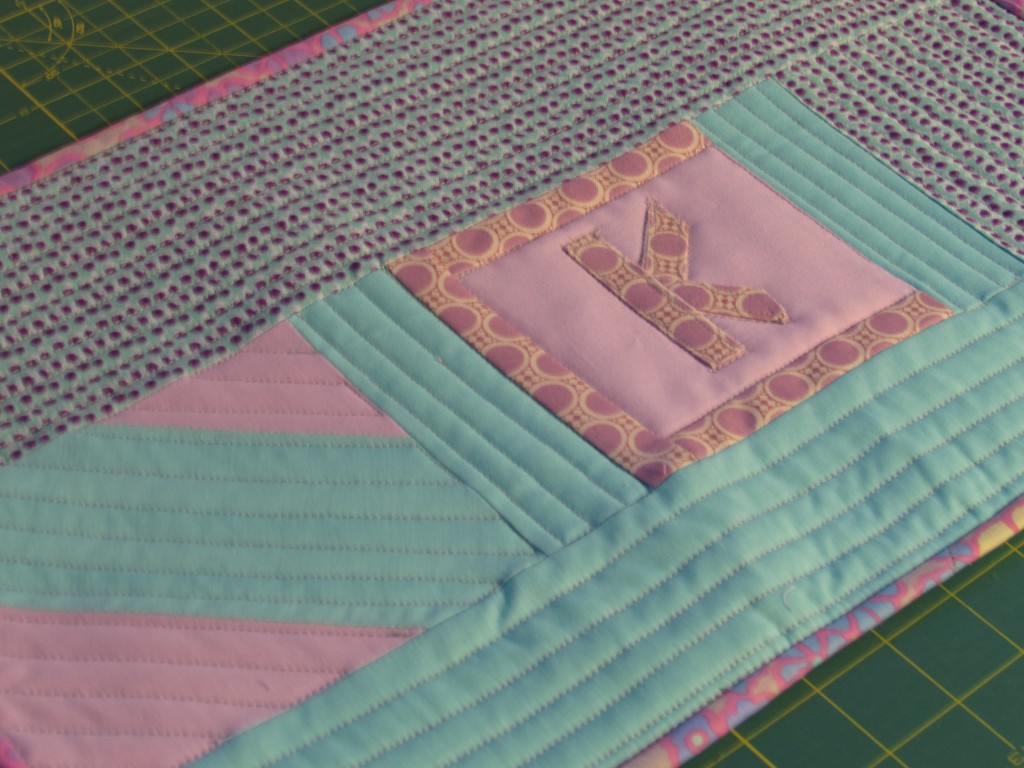 This was a fun little project.  I took an assortment of scraps and just played around with them until I found an arrangement that I liked. It was my first attempt at improv piecing.  Just slicing and dicing and moving things around instead of drawing a sketch and measuring each piece. I am not one for doing things without a pattern or direction.  I (usually) cook from recipes rather than just making things up as I go.  As a kid, I colored within the lines. Get it? So playing with the fabric and just moving the pieces around was a fun exercise.  As far as improv piecing goes, this is pretty tame.  None of the pieces are wonky – it all lines up. Baby steps, right?? I used straight line quilting and machine binding.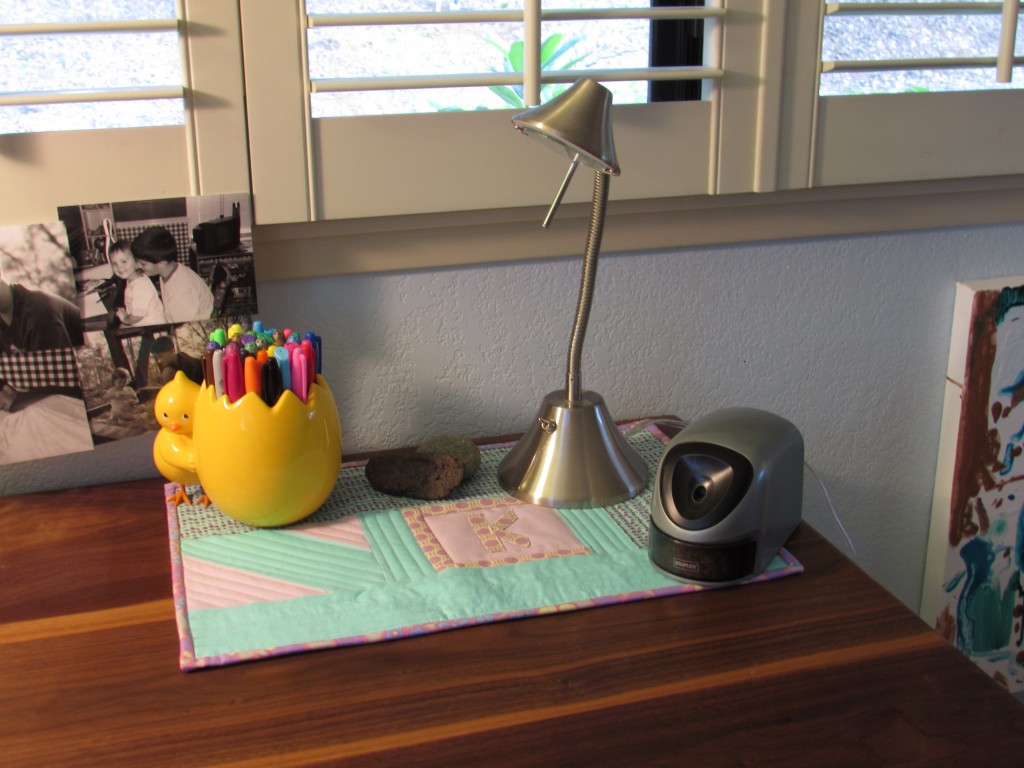 Two scrappy projects completed and they brighten Julia's room. (Honestly though, these two projects made hardly a dent in that scrap pile!)  She is at camp this week and these will be fun surprises for her to come home to.
Linking up with: Linky Tuesday at Free Motion by the River; Fabric Tuesday at Quilt Story; Sew Cute Tuesday at Blossom Quilts; WIP Wednesday at Freshly Pieced and Let's Bee Social at Sew Fresh Quilts.