Let it be known that I am a recycler.  I am not ok with the amount of plastic that is thrown away on a daily basis. Someday my (future) great-grandchildren are going to have one huge mess on their hands. In an attempt to minimize our household's contribution to this mess, I recycle everything, re-using as much as possible.  I am one of those who uses a zip lock bag until it no longer zips. (In case you haven't tried this, the bags can be rinsed, dried and used over and over.) My daughter and husband both take their lunches to work or school, as the case may be, in reusable, plastic zipper pouches. I buy them online at Blue Avocado. I bought four bags over two years ago and three of them are still in great shape. I can't even count how many zip lock sandwich bags that saved us from using.  (I know there are lots of people who make their own bags and I may give that a try as well).
Along with recycling, I have been trying to reuse, or upcycle, (a trendier term) items. This week I found a great use for the huge coffee bean sacks that I purchased a while back at our local coffee roaster. I knew they would come in handy and I was so excited to create something from them!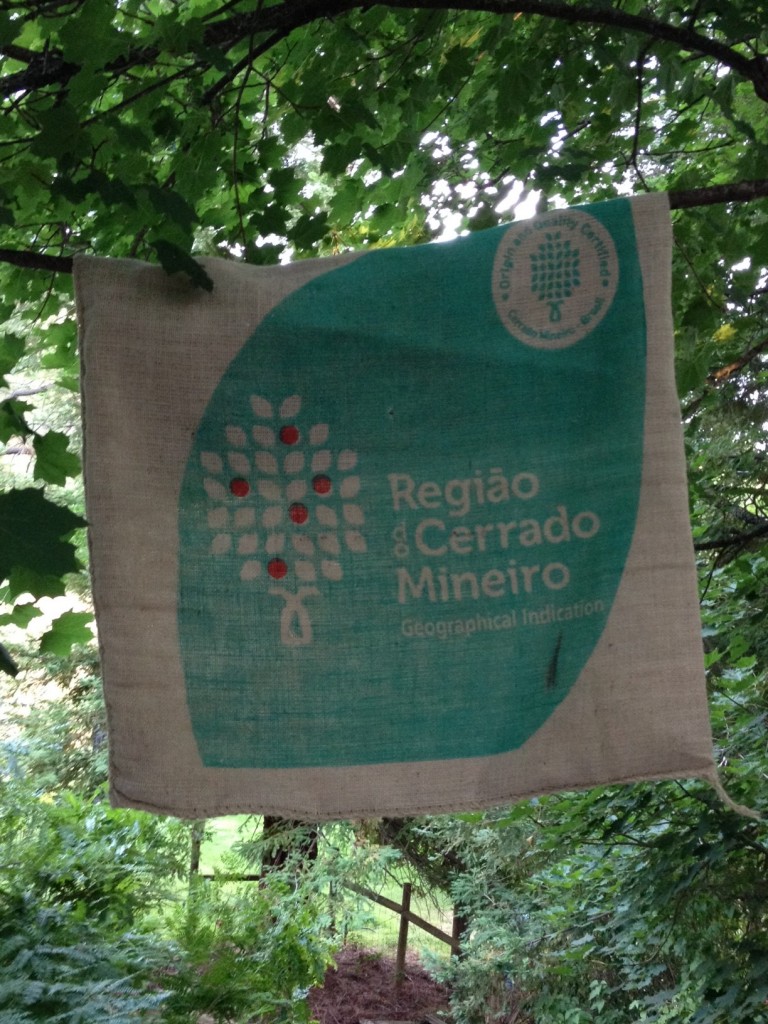 I was hanging my laundry on the clothesline (which I do quite often). It is so hot here in the summer and I don't like to run the clothes dryer if I can avoid it. It just heats up the house and makes our A/C unit run overtime. My clothesline is above our back deck and the clothespins are usually in this old basket.  See?  Not exactly gorgeous, right?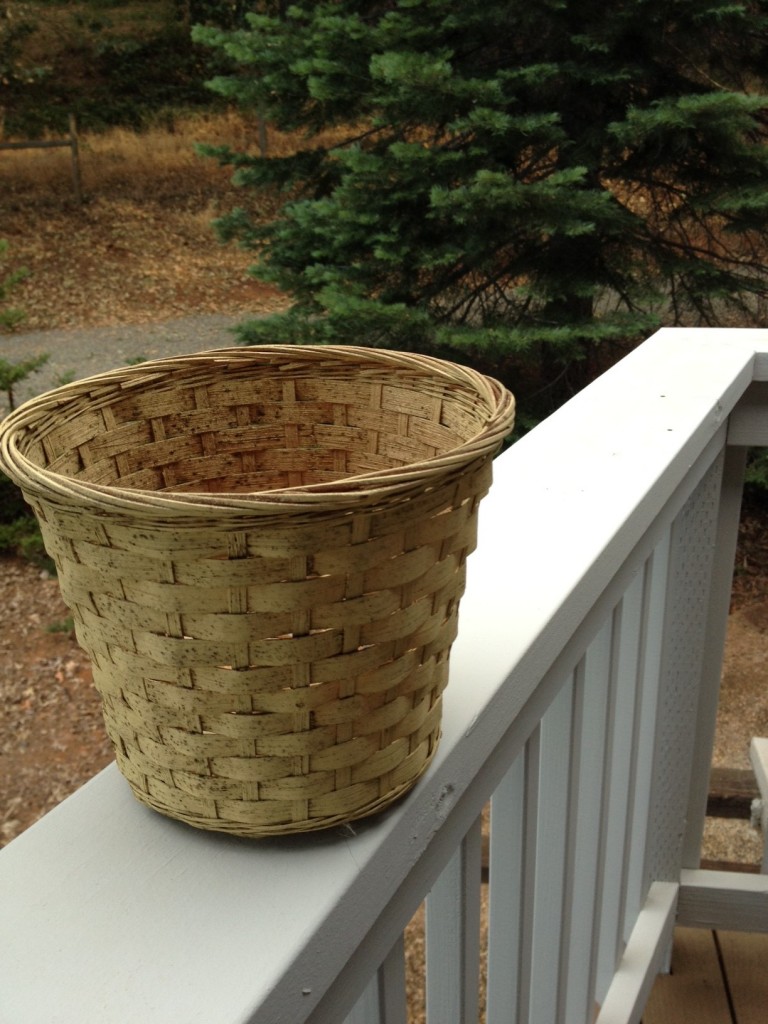 For the past couple of years I have set this old basket on the deck railing and hung the clothes.  Numerous times the basket has dumped and the clothespins scatter over the deck or, worse, they fall over the edge down to the ground below.  You'd think I would have fixed this critical life problem a long while ago.  But I just kept picking up the pins and muttering sounds of irritation under my breath.  This week I decided to make something for the clothespins.
I made a simple, lined bag with boxed corners and added a long tab off of the back. Next I created a small sack and filled it with dry, white rice. Sewed up that pouch and inserted it into the bottom of the long tab. The tab hangs over the railing and acts as a counter weight for the bag holding the clothespins. It looks so much nicer than that basket. I was filled with wonder as I hung the clothes with my clothespins staying where they are supposed to!  Simple pleasures, right??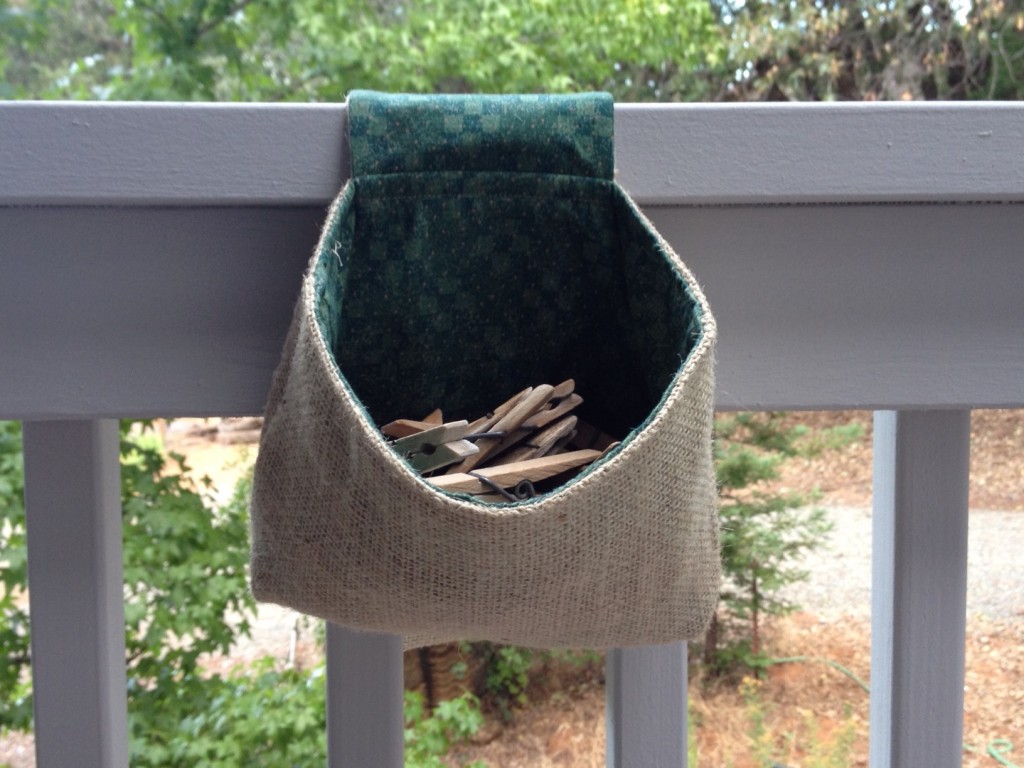 Here is the back to show the tab with the counter weight.  Not a great shot, but then I was leaning over the railing and hoping not to drop my phone……  🙂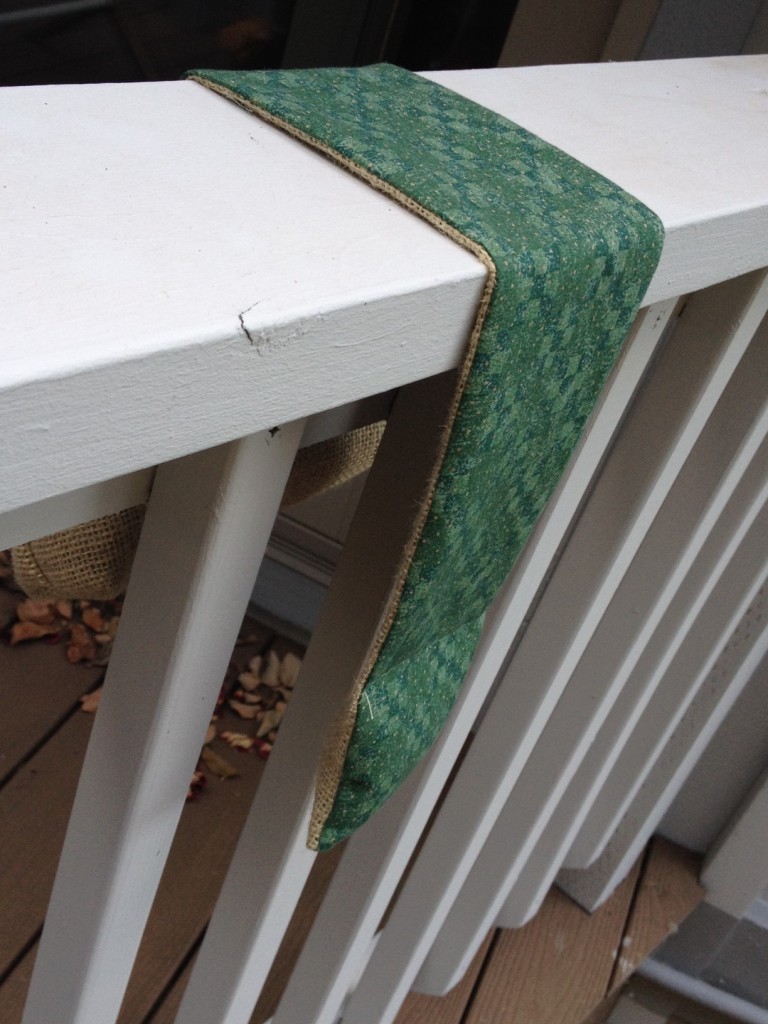 After I made one for myself, I decided to make a few more. I modified them such that the tab is much shorter and doesn't have the counter weight. I added some buttonholes and a button to the back. This way the tab can be looped over the clothesline and will just slide along as the clothes are hung.  Again, pure joy.  🙂 Look how cute this is: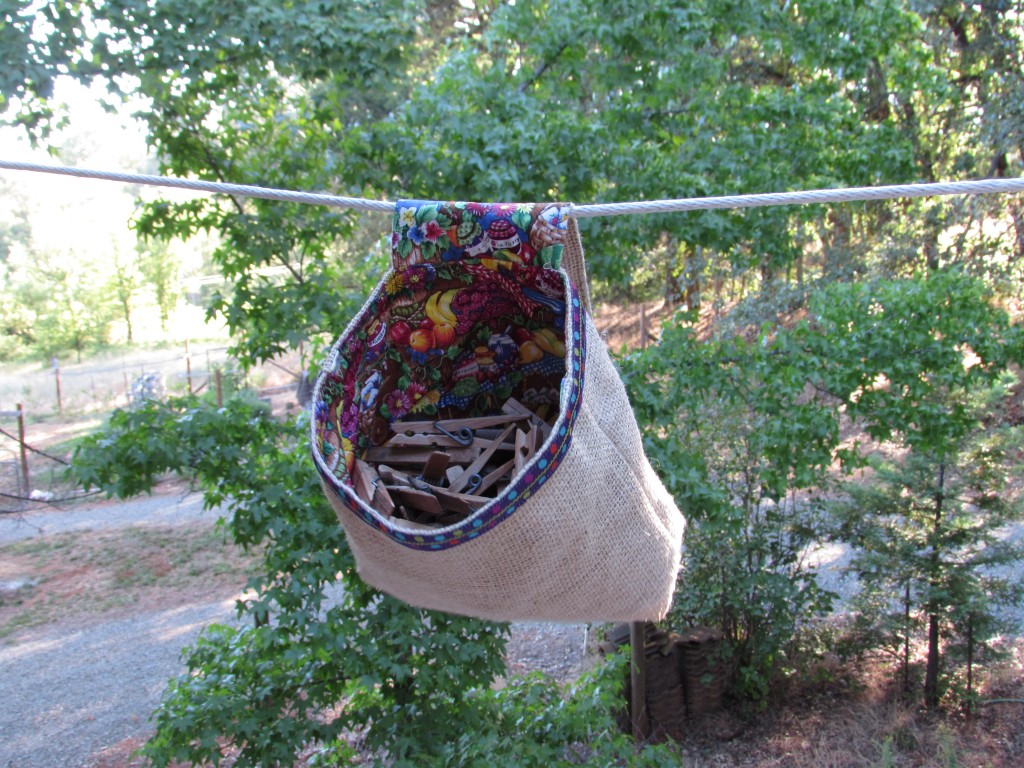 I love the burlap from those coffee sacks.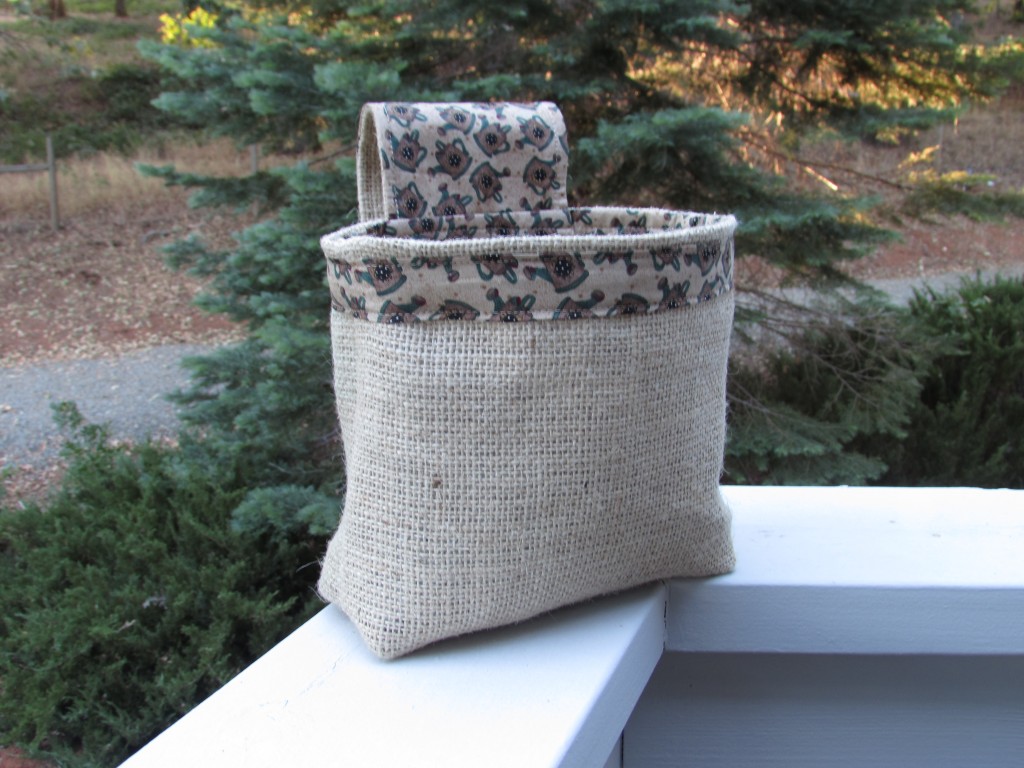 I put two different buttonholes in along the tab so the length can be adjusted as needed.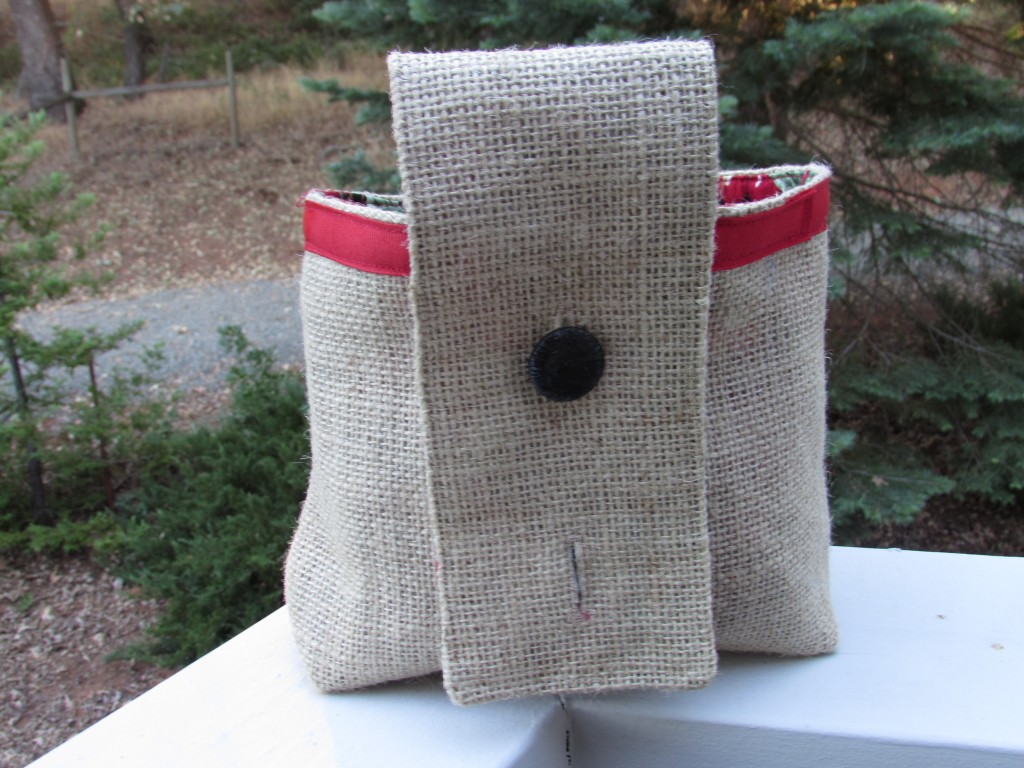 The burlap looks great and wasn't that difficult to sew with. I did reinforce the raw edge of each piece of burlap with a zig zag stitch to minimize any fray. I fused some heavy weight interfacing to the lining fabric. Various fabrics from my stash make up the linings and ribbon  accents were added. I opened an Etsy shop and these are my first items up for sale!  Check them out here.
Linking up with Crazy Mom Quilts, Richard and Tanya Quilt, also at Confessions of a Fabric Addict.