I was honored to attend a baby shower a few months ago.  The mama is a sweet woman that I have known since she was two years old.  Her mom (Susan) and I are dear friends and way back when, we were stay at home moms with our littles.  Each of our children were born within months of each other.  Sarah (the new mama) was born three months after my oldest, Andrew.  The kids played together all the time and Susan and I would watch each other's brood as needed.  When Sarah and Andrew were seven years old, we moved across country and their friendship didn't get to continue.  Luckily, as time went on, Susan and I ended up living back in the same area. Life is busy so even though we only live an hour's drive from each other we don't get to see each other very often. When I received the invite to Sarah's baby shower I was so excited.
Susan told me that Sarah was expecting a boy so I started to think about what sort of gift I wanted to bring. A short while before all of this, my sister made some adorable baby items to donate to a fundraiser for the Food Ministry that I volunteer for (I posted about the donation quilts that I have made for them here.) The items included some bibs, burpcloths, and little onesies with a necktie appliqued to the front.  The onesie was outstanding.  I loved it.  Before I gave them to the fundraising committee, I made a copy of the onesie on my copier so I would have the template for the necktie. It was clear that this would be an adorable gift.
I used an argyle print flannel for the necktie and also for some coordinating burpcloths. So simple yet so dang cute. I prewashed the onesies and the flannel because both are sure to shrink. After coming out of the dryer, I pressed the onesie nice and flat.  I cut out the necktie and then placed a (used and lightly ironed) dryer sheet on top of the right side of the necktie.  I sewed around the perimeter with a scant 1/4″ seam.  Leaving a few inches open on the side, I was able to turn it rightside out. After pressing this, I had a clean edge to applique. This is a great technique that was posted here by Christina at A Few Small Scraps. (If you haven't read her blog, I highly recommend it.  She had so many good, practical tips; especially with regard to free motion quilting). Back to the project….. after pinning it tight, I appliqued the perimeter.  I also quilted a few lines across the little tie, following the lines of the print.  Just wanted it to hold tight to the fabric when laundered.  For the burpcloths I used Gerber prefolded diapers.  I prewashed and dried those as well.  I took a strip that measured 1/4″ larger than the center strip of the diaper and pressed under the edges. This was then pinned tightly to the diaper and I stitched the perimeter.  Once again, I quilted the center of the flannel with straight lines, following the pattern on the fabric.
The gift was a hit at the shower.  See?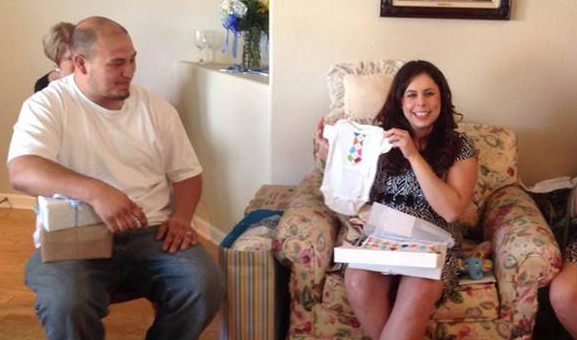 A few weeks after the shower her sweet boy was born.  Recently Sarah tagged me in a picture on Instagram.  Her sweet boy was wearing the little onesie.  So adorable.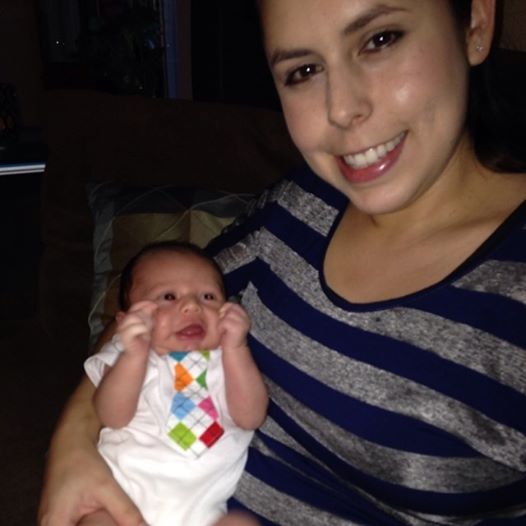 Don't you think he looks sophisticated for such a little guy.
These projects were so simple and fun to make.  I had some supplies leftover so I made another set.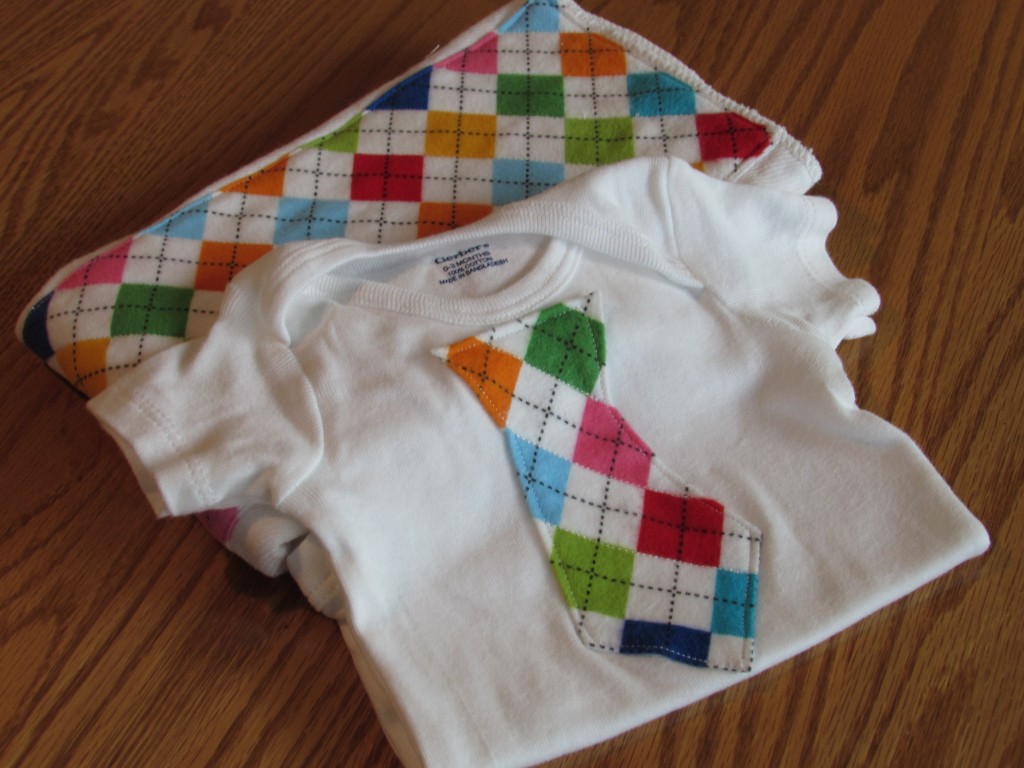 They are posted on Etsy here.
Congrats Sarah!!!
Linking to Sew Darn Crafty at SewManyWays.blogspot.com and Anything Goes Monday with Marelize. Another great link up at Fort Worth Fabric Studios too!