The day we were to leave for our vacation in Maine, I decided I really wanted to take a hand stitching project along with me as I was fairly certain Ray wouldn't be too keen on my bringing along a sewing machine. He can be so darn unreasonable. Ha ha. We were to be gone for two weeks which is far too long to be without needle and thread. I was searching through the closet in my sewing room and decided to change my plan for a UFO that I had.
Here is the back story. In July, 2014, I posted about a packet of scraps I ordered online. It turned out to be strips from the Moda line called Lexington, designed by Minnick & Simpson. I planned to make a string quilt. Here is a picture of some of the blocks. Side note:  wow, that is a horrible picture. I am happy to see that my photography has improved over time. 😉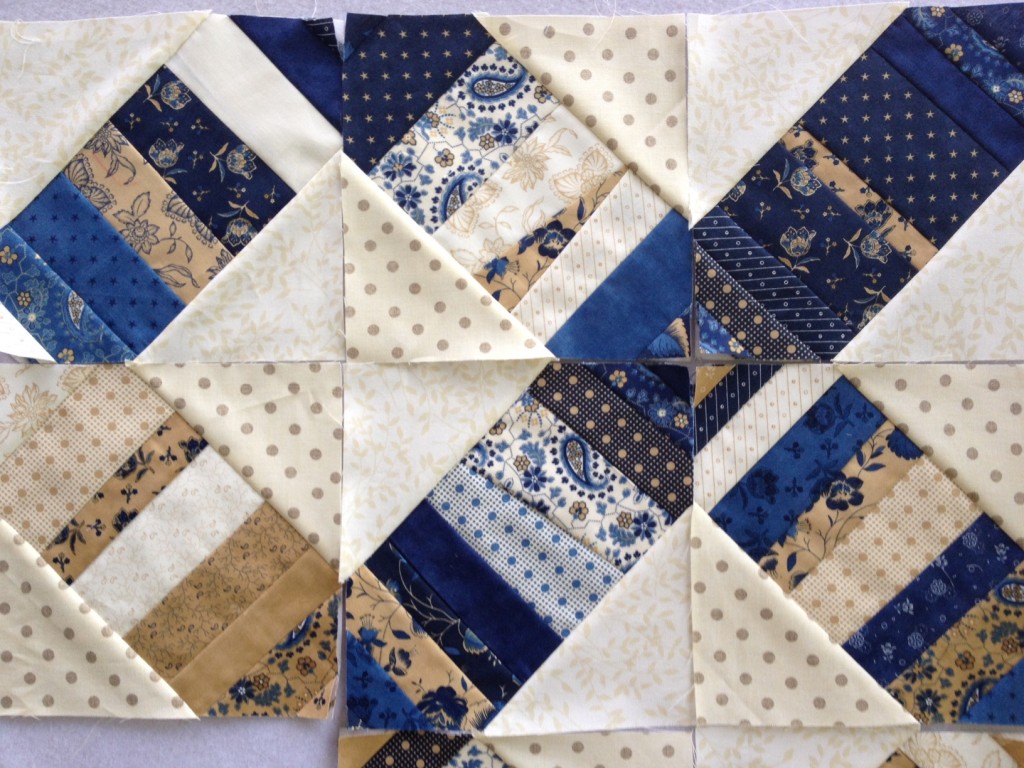 Each string block finished at seven inches. After making about 20 blocks I set it aside and have not touched it since. I am not sure why, but I lost interest in it. I really like the colors in the project though. I decided to repurpose the blocks that were made and quickly sewed twelve blocks together to use as a table runner. Using twelve blocks gave me a runner that was about 13.5″ x 40″ which is a nice size for my table.
I cut a piece of batting from a bag of batting scraps that I had and also a piece of backing. I love the backing – I purchased it a couple of years ago at a quilt shop in the bay area. My sister, Cathy, found it on a sale table for me.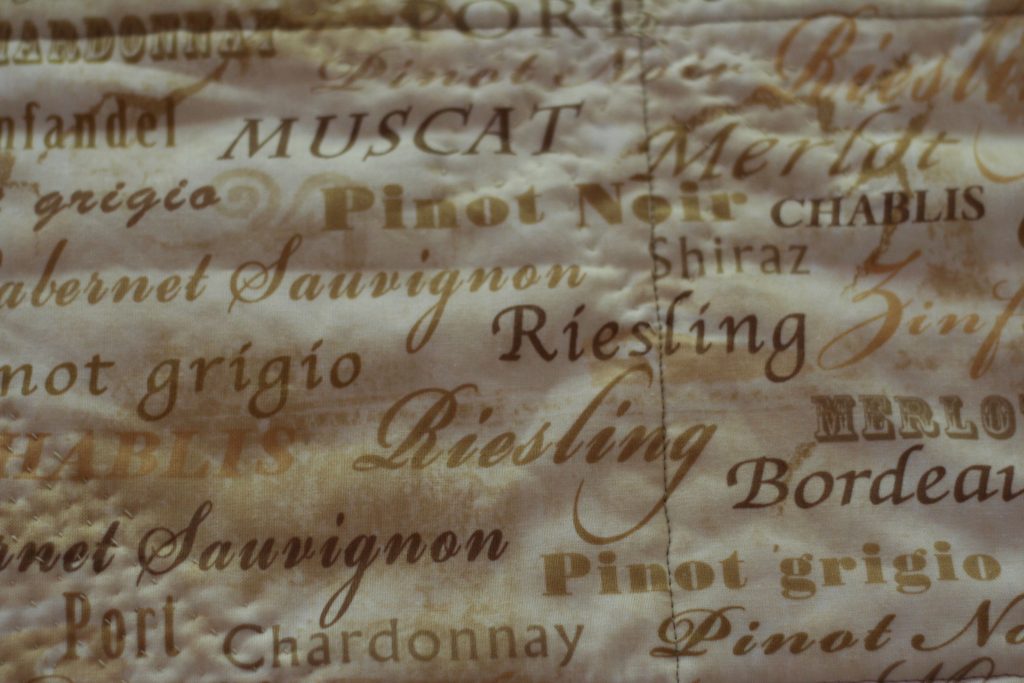 It has been on the shelf for a bit and I was happy to find a project to use it in. After stitching up the blocks, I quickly sandwiched everything and ditch stitched it down the center and across the width at each seam. I didn't want to pack a hoop to quilt it and if it was stitched already, I knew it would be stable to hand stitch.
This was such a nice way to practice hand quilting. I have not done a lot of handwork. I did quilt a pillow last spring but since then, not so much. I brought my Hera marker and a square ruler with me, hoping I could figure out some sort of design once I got going. I also brought some basic hand quilting thread as well as Perle cotton.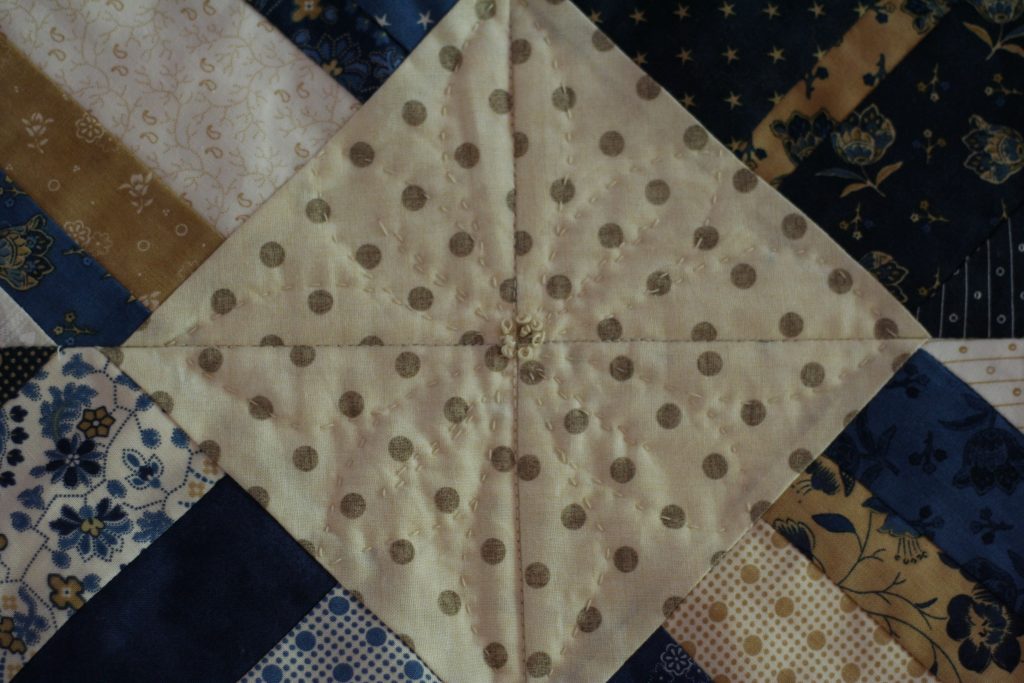 There are three centers and on each, I stitched a flower. In the center I placed a cluster of french knots. To create the flower petals I used my Hera marker and traced around the top of a coffee cup. Once I got going, I could just freehand them but I needed a guide to get me started.
In each triangle I echoed the lines of the triangles with straight lines. I like the simplicity of the quilting. While we are looking at this picture, let's all ignore the fact that the point isn't even close to matching properly. Thank you kindly.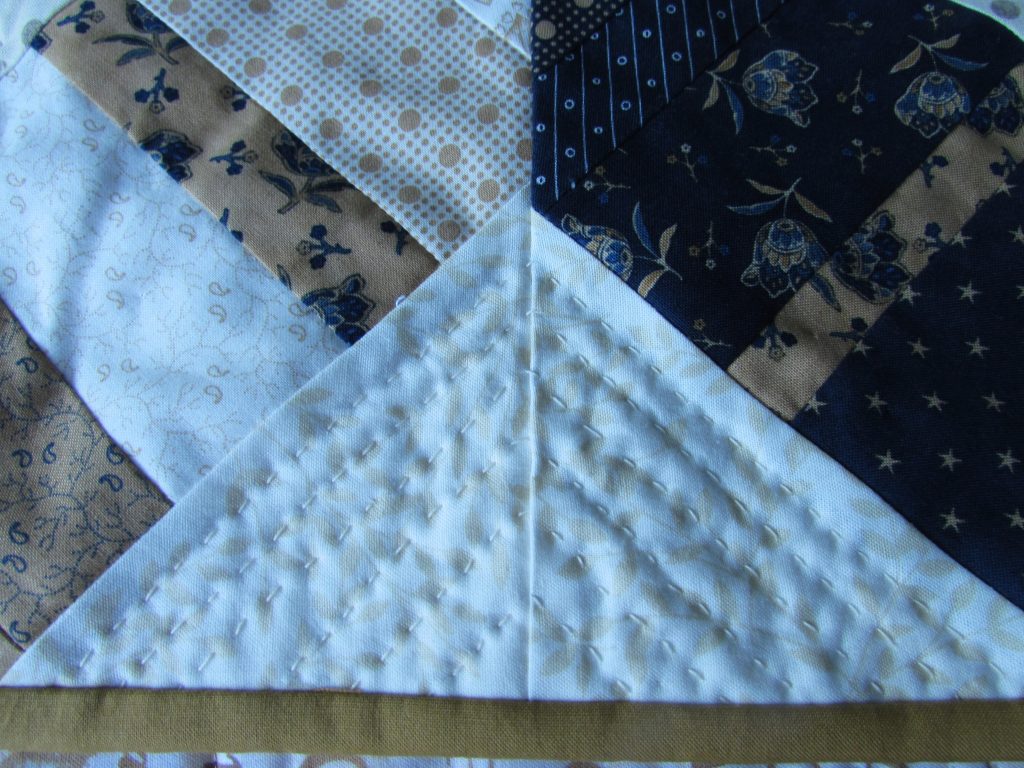 The  table runner is very pretty and I look forward to using it later this fall. It feels autumnal to me. I love the binding. This bit of fabric was in my stash and works perfectly. I definitely enjoyed the hand quilting and will continue to practice my stitching.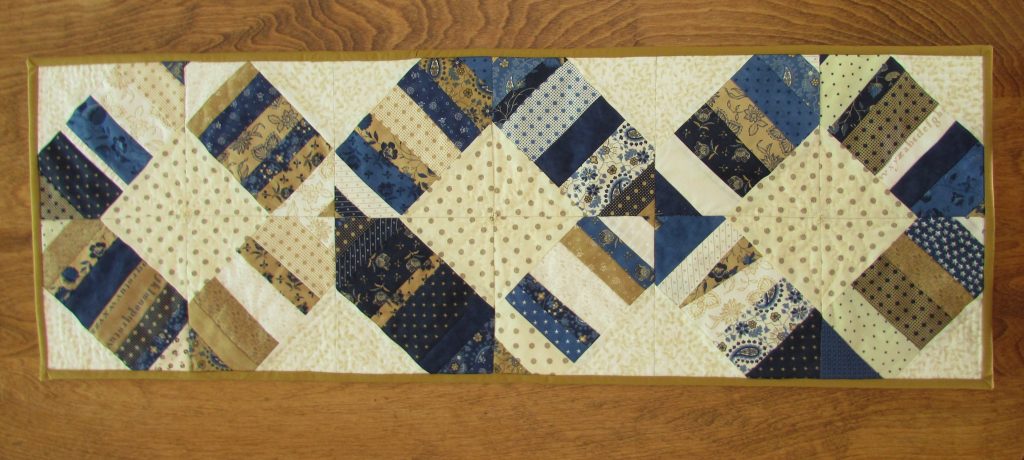 I still have a few more of these string blocks which will likely sit in that lonely pile where orphan blocks go until I find a use for them.
Hope everyone has a lovely weekend which involves at least a little time in the sewing room. Linking to my usual favorites. Find them at the top of the page, under Link Ups.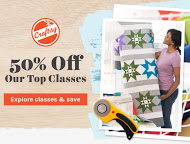 In case you are searching for that perfect class to take on Craftsy, there is a sale running this weekend on their most popular classes. It's a good time to take advantage of a great deal and learn something new.
As a Craftsy affiliate, I will earn a small portion of any sale made by clicking through the links on my page. If you choose to make a purchase, thanks a bunch!