It all adds up, right? I have had a lot going on but each is a small-ish project. Somehow this has filled my days over the past week or so. It's all good though – creativity takes many forms and, for me, it is always quite satisfying.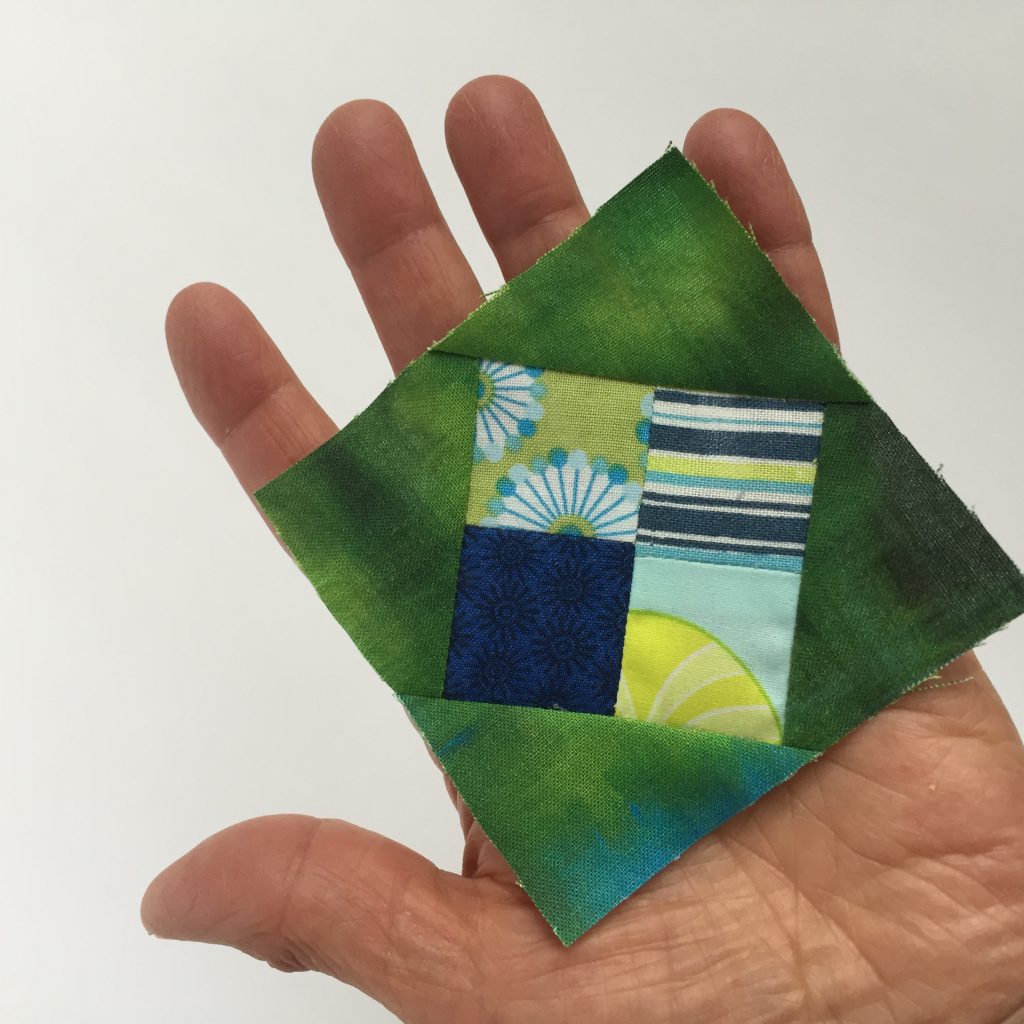 I am working on a project for an upcoming book review. You'll see the review and more of the project in a couple of weeks or so. But these little scrappy blocks are a lot of fun. The four patch blocks are 2″ finished. I don't usually opt for small piecing (and for many, this isn't very small at all!).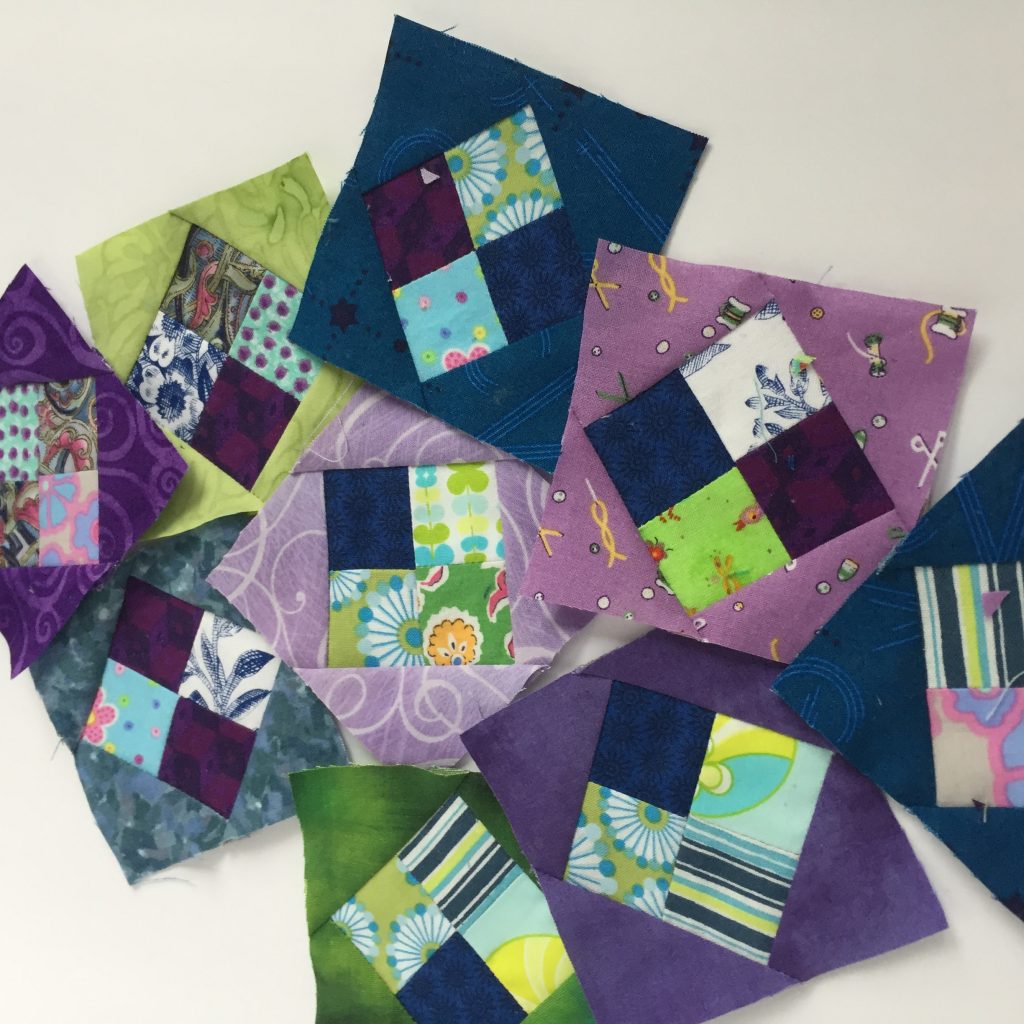 They are fun to make and I think the project is going to look really good. Plus I am using up a few scraps. I have not touched my scrap bins in many months so this makes it extra satisfying!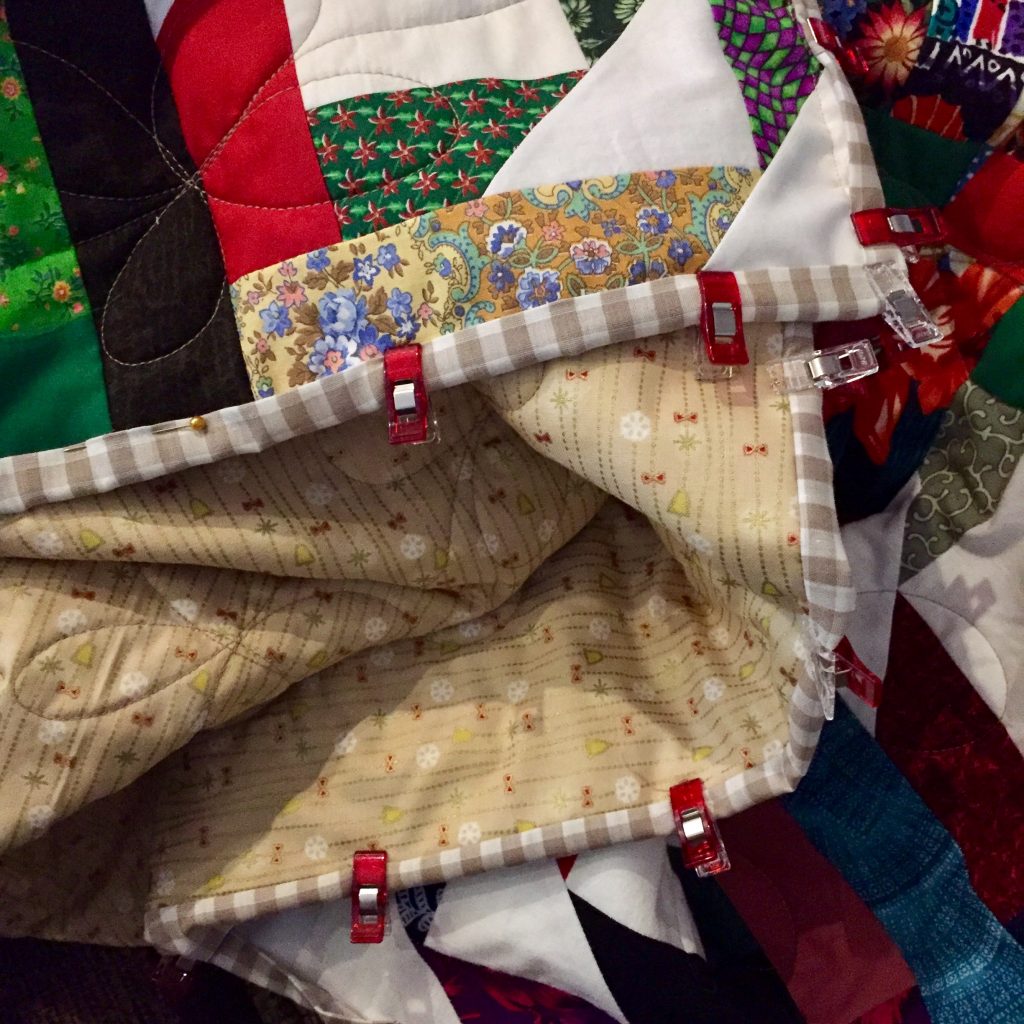 In our local quilt guild, there are many ways one can help with the community service projects. My usual choice is to bring home quilted pieces and machine bind them. Very quick to do and it enables me to contribute. Since we have a guild meeting a week from today, I thought I should finish this one up. That way I can bring it in and grab another one to take home.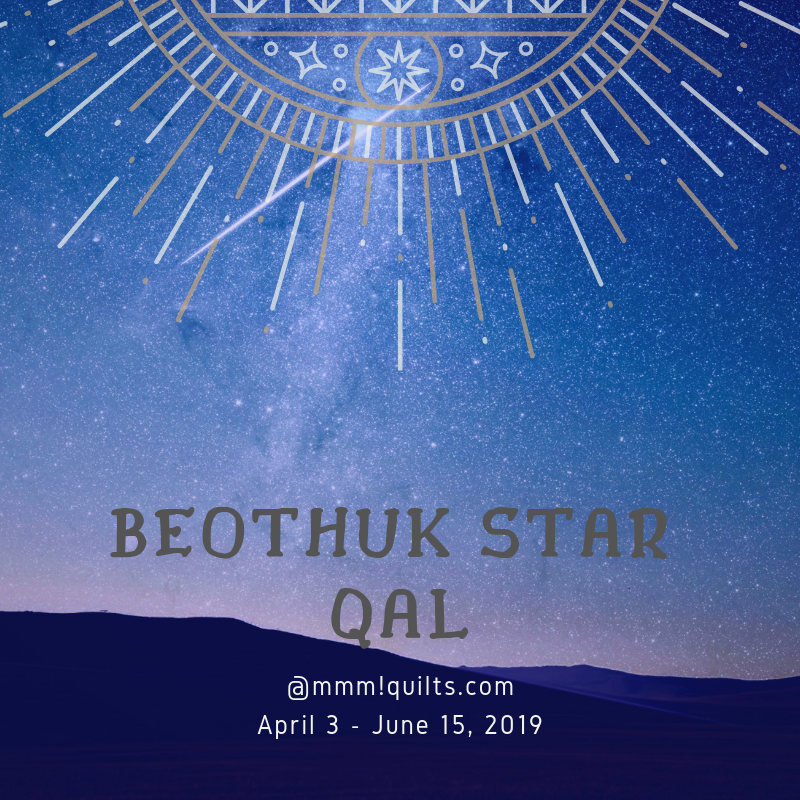 My friend Sandra over at MMM! Quilts is hosting her 3rd annual QAL. She is so much fun – which I am sure you already know. She had curated a blogger bundle for me last year (the November bundle). Some of her readers asked if she would do a QAL using the bundle. She graciously agreed and this Beothuk Star the resulting event. Because there are only five or so of those November bundles left (should anyone else want to make it with those fabrics) she and I decided to create a second bundle for the QAL. Sandra curated this one as well and it is so bright and cheerful.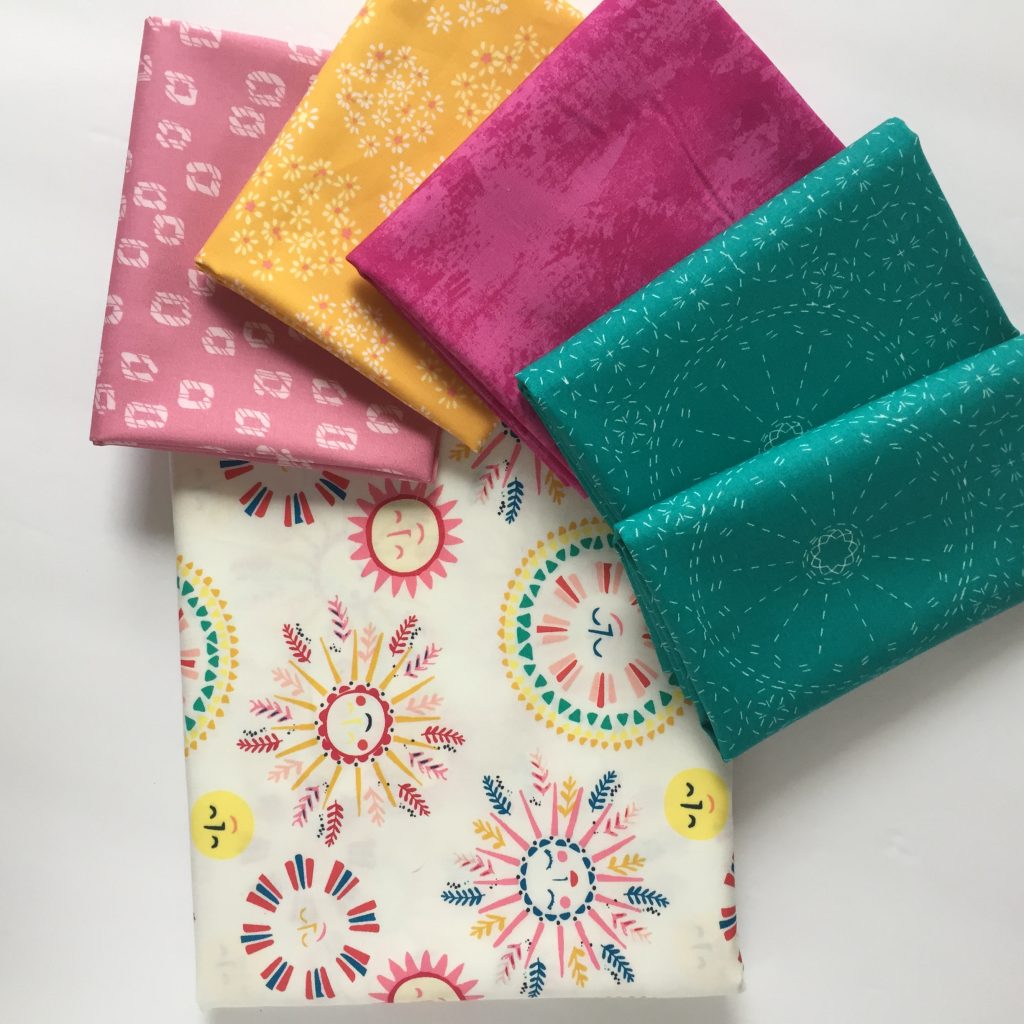 I really love this bundle! The reason there are two of the teal pieces is because one is used as the binding. If you are curious to see it close up, it is available in the shop now.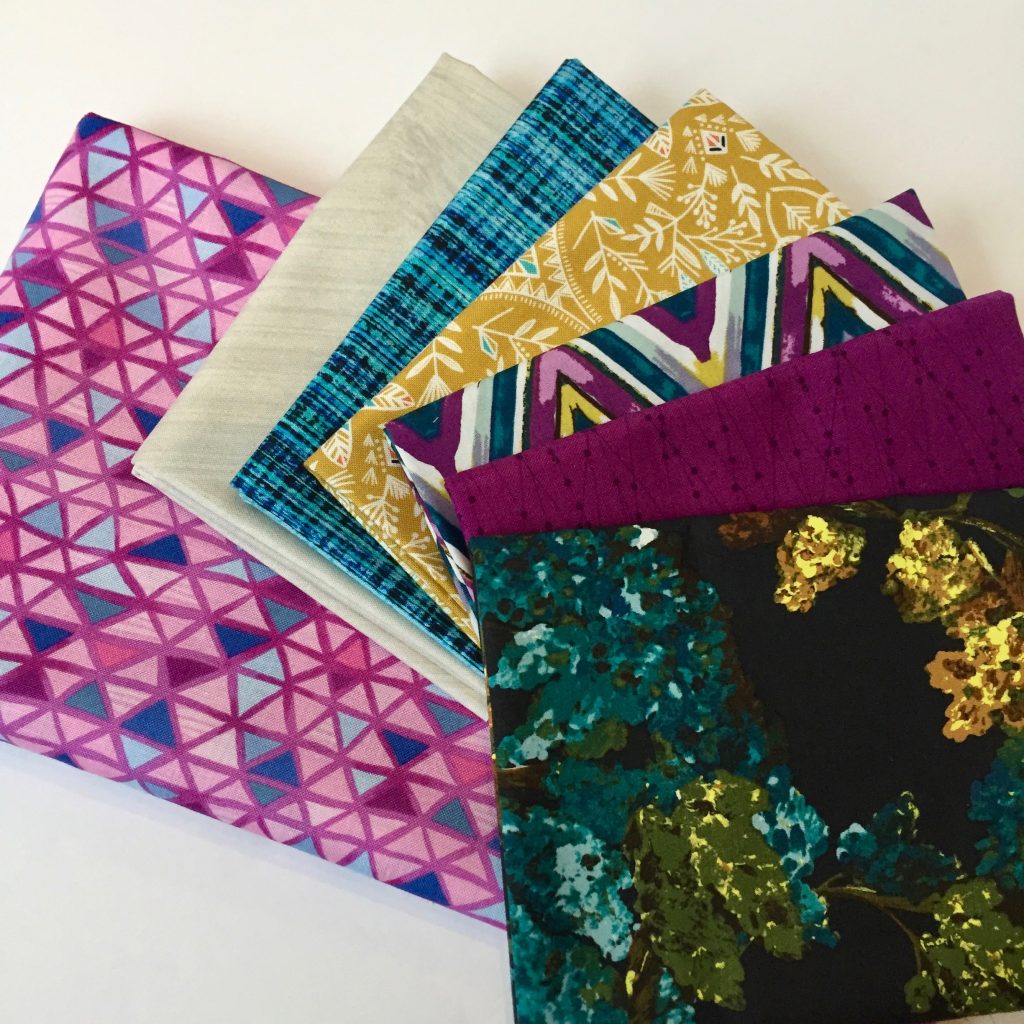 Above is the other kit being offered for this QAL. It is based on the November blogger bundle but with two changes.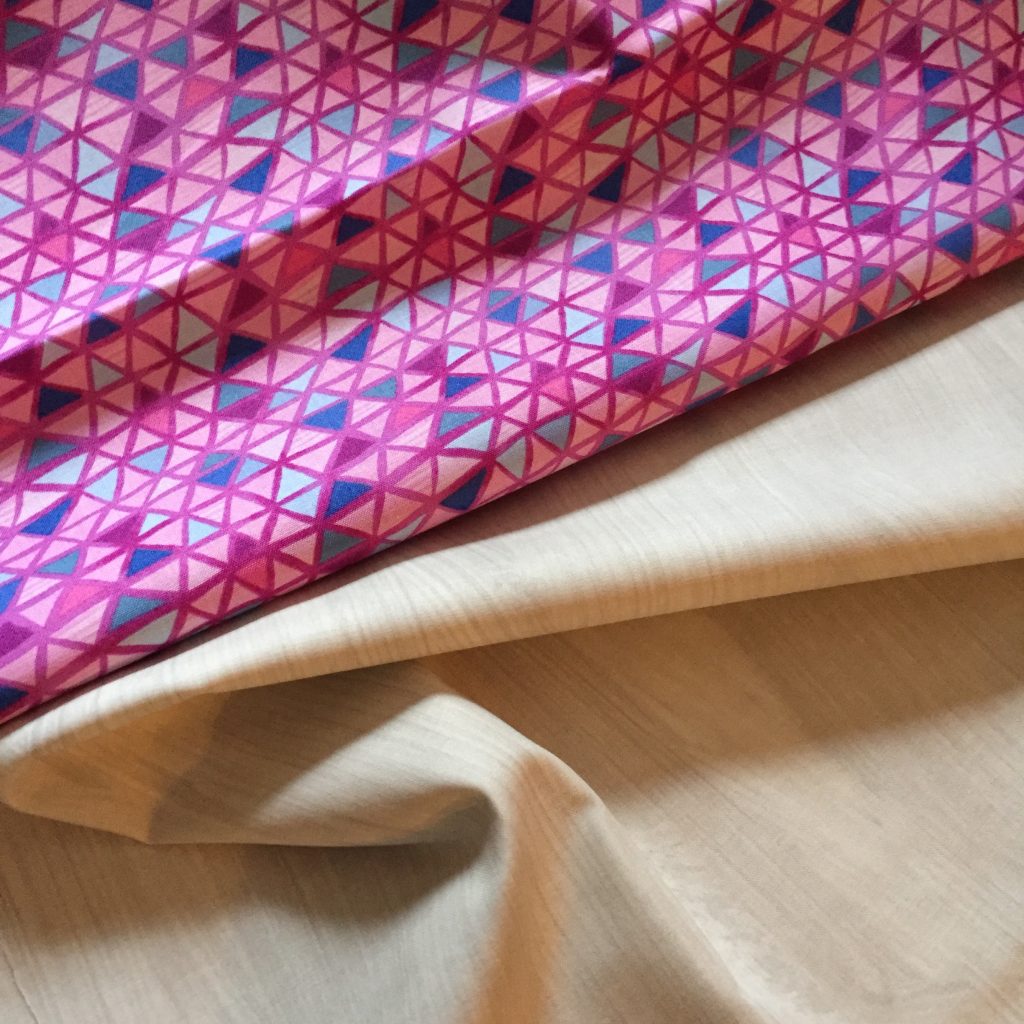 She needed another fat quarter so the pink and blue triangular print (Mosaic) was added. To have enough for the background, the amount of the sandy off-white piece was increased. This means if you have the bundle already, you might choose to purchase the kit extension for that original bundle. It is available here. Of course it isn't mandatory. You could certainly use a different background if you have one you prefer. You could also add one complementary fat quarter of your choosing.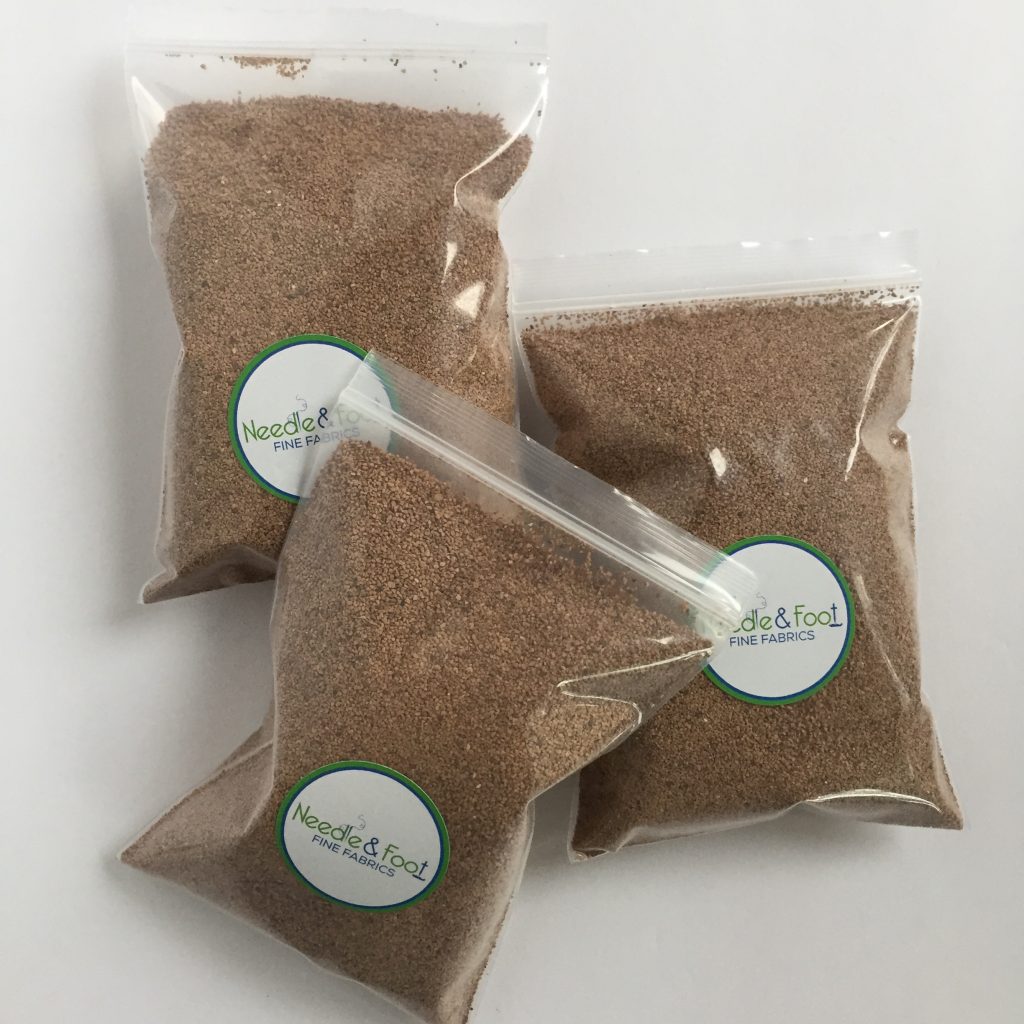 I have been adding a few different notions to the shop lately too. Most recent are these bags of crushed walnut shells for filling pin cushions. Yesterday I bagged up a number of them so they are now available too! Each bag holds six ounces and each order will be for two bags (so twelve ounces total).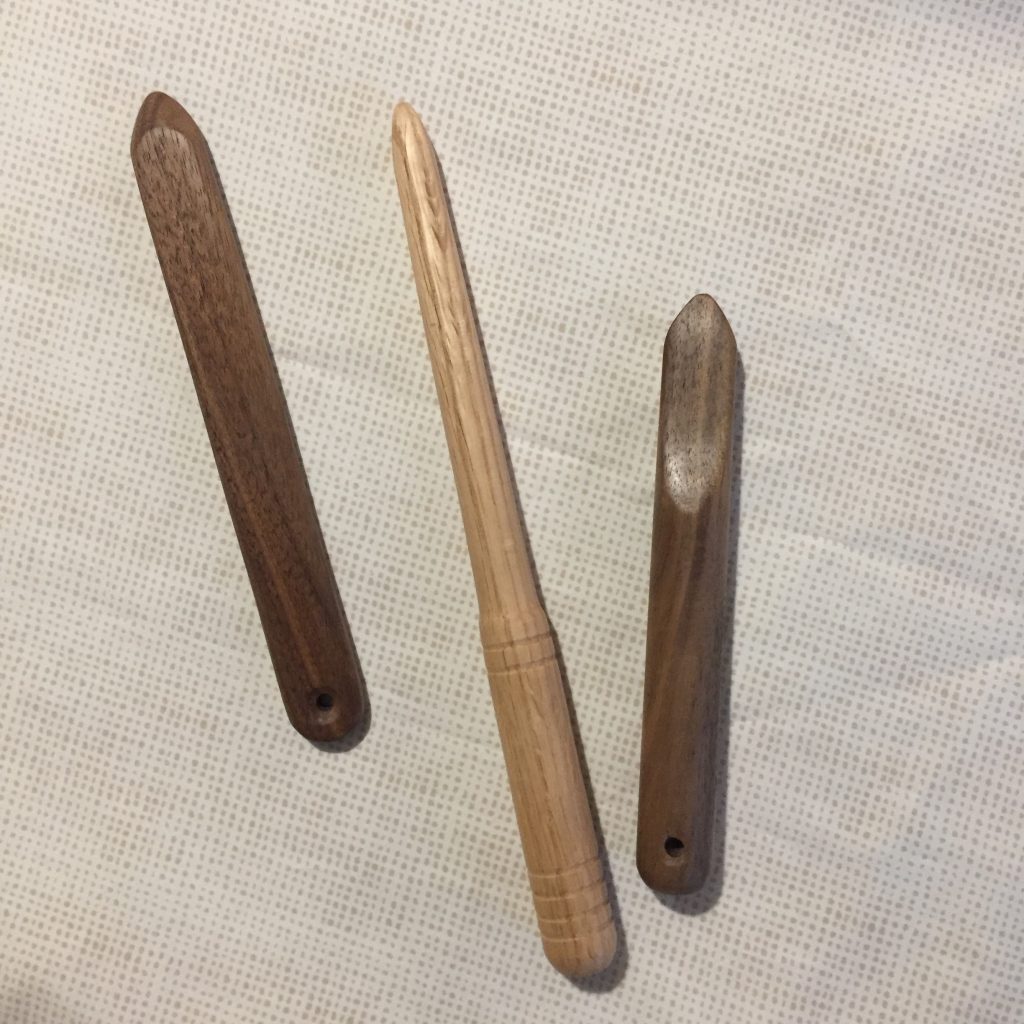 These are not yet available but I am excited to show them to you. I asked my woodworking spouse to make a point turner for me. I have seen them and thought maybe I could be using something more effective than the chopsticks I currently use. (Chopsticks are a reasonable choice but the ends of mine are more square than round so I can't obtain as sharp a point as I would like. He asked me what I thought I wanted and I described the one on the far left. He said ok but when he made that one, he also made two more so I would have something to compare. His designs are so much better (why doesn't that surprise me???) I like using the fully rounded handle of the middle one. The piece on the far right has a nice point to it but the handle is flatter and it isn't quite as comfortable to use. So, I am going for the one in the middle. I also like the extra bit of length on that one. They are really pretty aren't they? Do you use a point turner? What works for you?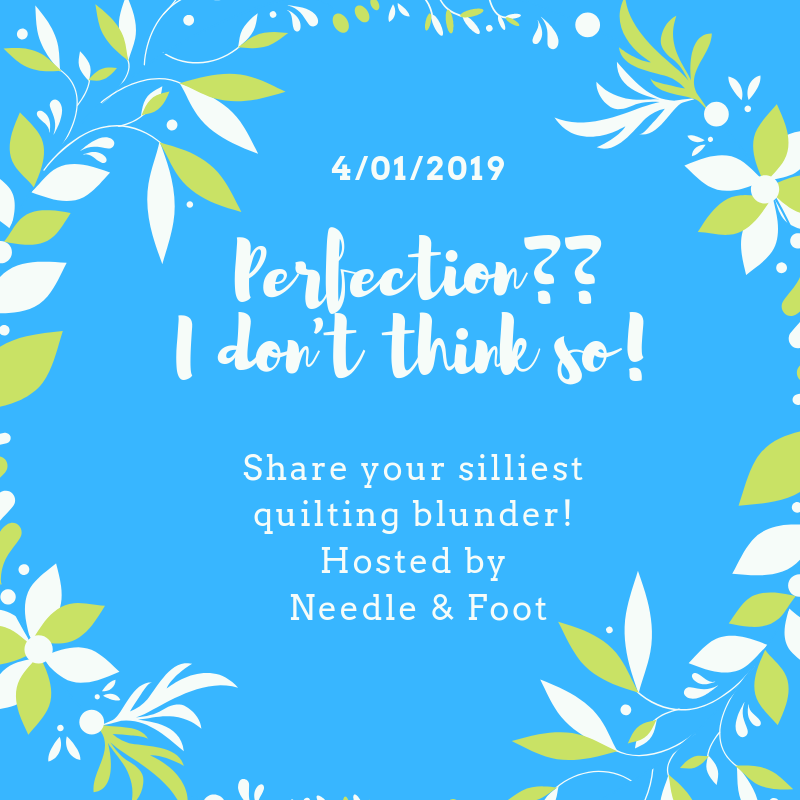 Last, but certainly not least, I have a fun event coming up next week! I have written before about the issues with a lot of us using social media for inspiration. Sometimes it is great to see all of this amazing work out there. Other times, it is kind of a downer and leaves us feeling 'less than'. I know we are not 'less than' but it can feel that way seeing so much amazing work and then looking at our progress and feeling a little bit defeated. In an effort to show the real side to all of us, let's share some of the ridiculous. We have all goofed. We have all made a project and thought, 'nope, I'm not sharing this.' Here is the chance to get real. What better day to open the event than on April Fool's Day!! Think about this and write a post sharing a mistake or misunderstanding you might have had about our craft. Mine is quite ridiculous and I am sure it will entertain you. Share it next week and link up with me. Prizes will be awarded – just by a random drawing – no judging here! I think it is a great way to all get on the same level with our art by sharing these imperfections. If you have questions, leave them in the comments. Hope you will join in!!
Linking up with my favorites. Check them out at the top of the page, under Link Ups.