Good morning everyone!  You are in for such a treat today.  I am so excited to share the November Blogger Bundle with you.  This is the eleventh and final bundle for the year. In a grand finale sort of way, this bundle has it all.  Saturated jewel tones, florals and plaids, the magic of BariJ and the sweet fantasy of Bethan Janine.  But I am wayyyy ahead of myself.  First let's meet the curator of this very special collection.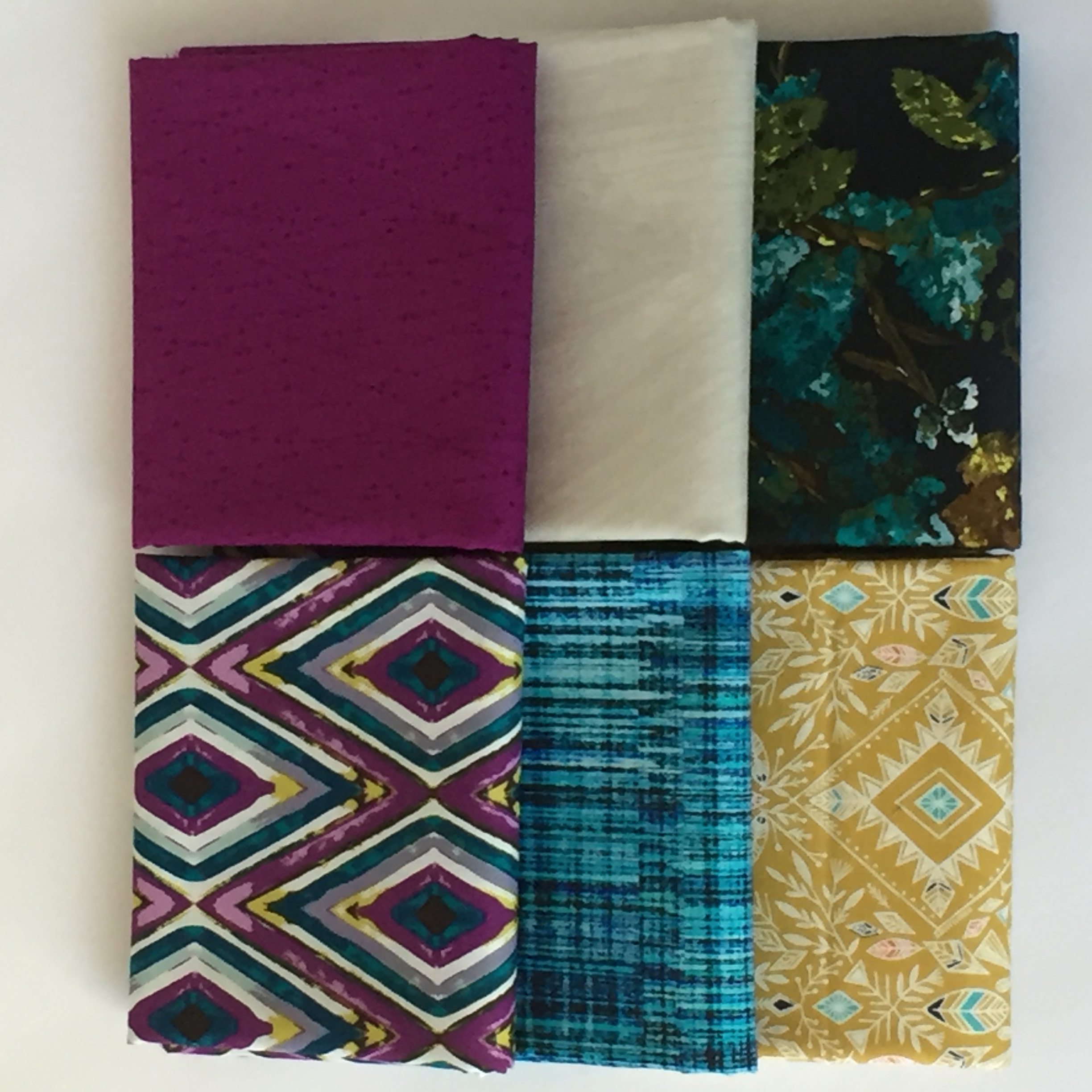 Sandra Walker is the blogger behind, Musings of a Menopausal Melon, or MMM! Quilts.  I remember specifically clicking through to her blog after seeing the title somewhere in this blogging world (how could I not, with a title like that!?!)  I also remember she and I mentioning we were the same age (basically?) and both newly retired and trying out this blogging thing. It is one of those things where you chat with someone and just hit off right away. A few things I love about Sandra – her energy appears to be boundless, she is genuine and I can say this without ever having met her in person.  But her blog posts are the real deal. Sandra is passionate and sometimes feels the hurts in the world almost too intensely.  She is a wife, former teacher, mom and grandma to a sweet little guy as well as blogger, quilter, pattern designer and Island Batik Ambassador – Yikes!!!.  She is into yoga and will share a blog post describing a good pose or stretch now and then.  I love those posts. She has been designing patterns for a while now and has them available on both Etsy and Craftsy.  Also, Sandra has hosted some really popular quilt alongs – you can see the patterns if you click here.
Back to the bundle now!  By starting with the two pieces from Virtuosa by BariJ, Sandra developed a dramatic feel with this bundle. She then added the mustard yellow piece from Boho Meadow by Bethan Janine which was really interesting to me.  The BariJ fabrics are so feminine and there is a definite boho southwest vibe to the dark yellow piece.  But you know what? It works.  The yellow now popped on the Cinese Mystery floral and those bits of turquoise in the Boho Meadow fabric became that much brighter! Pulling in the plum and the sandy off-white tone on tones was an easy move after that.  It was the blue that was challenging.  Sandra looked at many blue pieces in the shop and when the blue plaid was suggested, we both knew it was perfect.  It has just the right dark and light blue hues to work with both the BariJ prints.  Such a great bundle!!
Sandra made a pretty tote with her bundle.  Be sure you hop over to her blog and check it out.  I just love it. Also, this month there are two bundle giveaways!!  Because Sandra lives in Canada, she is hosting a giveaway for Canadian readers.  I am hosting a giveaway for US readers. I apologize to the rest of my readers – if only postage wasn't so expensive. :-(. So – Canadian readers, please be sure to go enter Sandra's giveaway for a bundle of fat quarters!
As with all of the other monthly bundles, this one is on sale for 20% off.  Sale begins today and runs through the end of the day on Friday.
To enter the giveaway for US readers, please leave me a comment telling me how you might choose to use the bundle.  Also, extra entries for followers – leave a SEPARATE comment telling me how you follow.  You can follow me on Instagram and Facebook. Hope you will join the fun!
I have just love working with so many special bloggers creating these specially curated bundles. Please be sure to come back in December for a really fun event to celebrate all eleven blogger bundles!  I promise it is going to be a lot of fun!
Newsletter!
Have you signed up for my newsletter?  It is published every month or so and is full of information about my shop, new arrivals, sales, and events.  Click here to sign up!