The quilts are arriving and I am overjoyed!!!  I want to share the stack that have accumulated thus far.  They will be picked up by my friend Patty in a few days to bring to Mercy Hospital and I want to journal this event on the blog before the quilts are gone.  So far I have received thirteen quilts!!  Amazing, right?  Patty has been sharing the progress of this quilt drive with her co-workers at the hospital and they are stunned by the generosity of our community.  It is very satisfying to call myself a part of this on-line quilting tribe. I couldn't ask for a sweeter group of people to inspire me to be a kinder person and better quilter!
The quilt above was the very first quilt to arrive.  This is Axel's Quilt from Preeti who blogs at Sew Preeti Quilts and lives in Washington DC.  Thank you Preeti!! Fantastic color, I love the combination of gray and yellow.  This is a gorgeous quilt.
Above you see three gorgeous quilts.  Each one was sent to me by my friend Shirley Bruner from Missouri. Her blog is called The World According to Me and she pieced and quilted each of these.   The blue and green quilt in the middle is flannel backed making it extra cozy.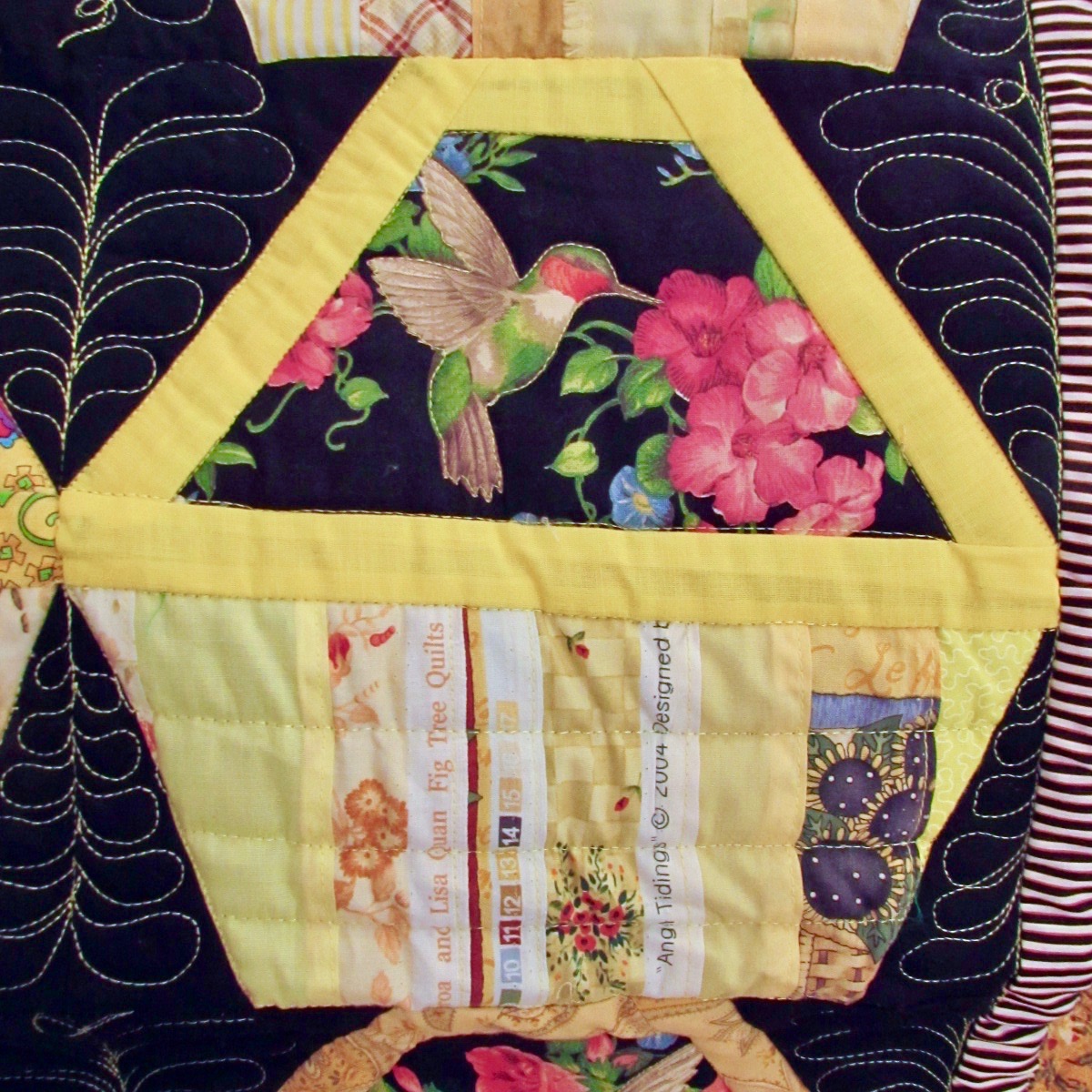 A few things of note – I love the outlined hummingbirds, they appear to be in flight and did you notice she constructed the flower baskets with selvages? Very creative!! Thank you so much Shirley!
These two quilts came all the way from Metairie, Louisiana!  Adele D. sent them to me.  I don't know Adele very well (yet!) but I did peek at her Flickr account, @bayougirlquilts and she is very talented!! There is so much color and lots of fun patterns to be seen on her page!! Both of these color combinations are wonderful.  I love red with aqua and the green with cheddar yellow is so pretty!
This bright, cheerful quilt was made by my friend Sophia.  She used a black, white and brights combination to make this wonky triangle quilt.  I love that she echo quilted some straight lines within each of the triangles.  Sophia and I have been friends for over twenty years and belong to the same guild, of which she is president this year.  Thank you Sophia!!
Here is a quilt top that arrived from Jill M, a blog reader who splits her year between Canada and Arizona each year.  She was about to leave on a month long trip and wanted to contribute so I told her I would finish the quilt for her.  I will keep you posted on this one.  It is a lovely jelly roll race quilt using stunning fabrics in jewel tones.  I look forward to working on it!  She even made a scrappy binding for it which is wonderful.
Finally, there are six quilts donated by Yvonne of Quilting Jetgirl  This clean, modern style is uniquely her own.  I posted a video yesterday on Facebook taken of me while I unboxed these beauties.  If you missed it, click here!  I was thrilled to see these in person after having read about many of them on her blog.
One of the quilts above was made by another quilter.  Yvonne won it at a silent auction in support of a fundraiser that happened on Instagram last summer. This is the quilt is on the far right. (If one of Yvonne's quilts intrigues you, I just want to let you know that the patterns for several of them are available in her shop.)
All of these quilts are spectacular and I know the nurses and patients at Mercy Hospital will be comforted by these gifts. These quilts will be taken to the hospital on Monday.  Thank you so much for all who donated or are in the process of making a Mercyful Quilt.  You are bringing comfort to a family when they need it most. When I talked with my friend Patty she estimated that they use 8 – 10 quilts each month.  At this time, I have about 35 quilts promised for this drive so that means we are fulfilling the need for three to four months.  Amazing!!!  There are a few quilters who have said they would like to contribute more over time which is awesome.
I will share more of the Mercyful Quilts as they arrive.  There is quite a bit of sharing going on over on Instagram.  If you share your donations or your work in process for Mercy, please tag it #mercyfulquilts and tag me @needleandfoot so I can find it!  Thanks everyone!  Have a wonderful day and be sure to find time to enjoy a bit of stitching.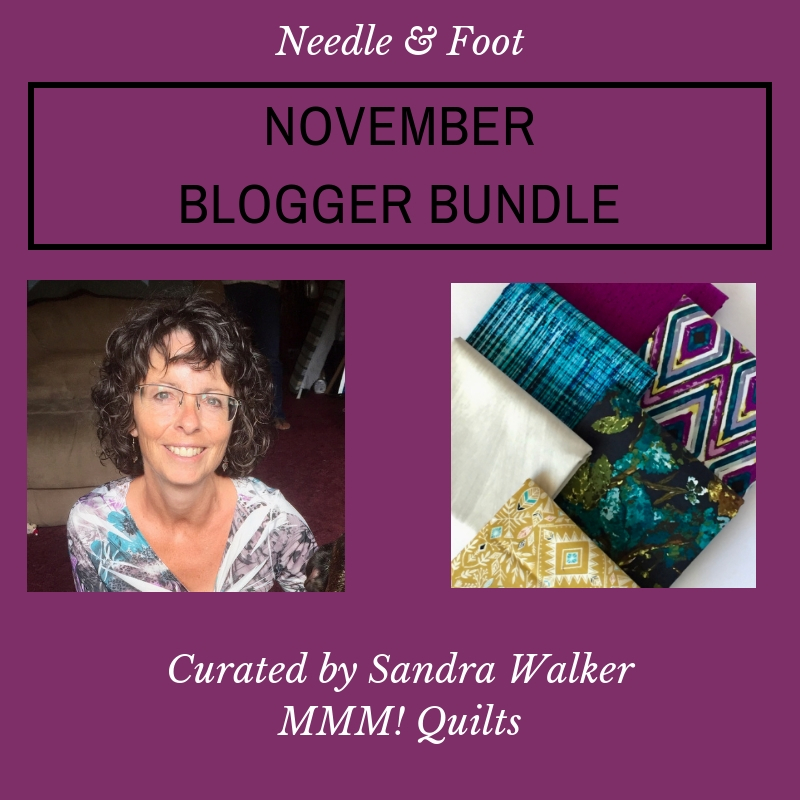 Last but not least, have you entered the giveaway that is happening for the November Blogger Bundle?  If you are in the US, please click here to enter.  For international readers, head on over to Sandra's blog to enter!
Newsletter!
Have you signed up for my newsletter?  It is published every month or so and is full of information about my shop, new arrivals, sales, and events.  Click here to sign up!