August is here. That's crazy. Summer is buzzing by and we are trying to cram as much as possible into these last few weeks.
With the new month, I am looking at what I want to create and complete for August. The list is long, maybe too long?
The main goal is to finish the vintage nine patch quilt. I have the quilt top and backing ready to go. I ordered batting on-line because I don't feel like the 75 miles (round trip) to Jo-Anns. I won't buy batting at the local store, it's too expensive. Anyway, it should be here this week and then I can get the quilt pin basted and start quilting it. That is the goal I am submitting for August for ALYOF.
I also have a project that came my way via the New Quilt Bloggers Bloghop. Fabri-Quilt has sponsored an activity for the group. We are each to work with a set of solids and create a block that is of our own design.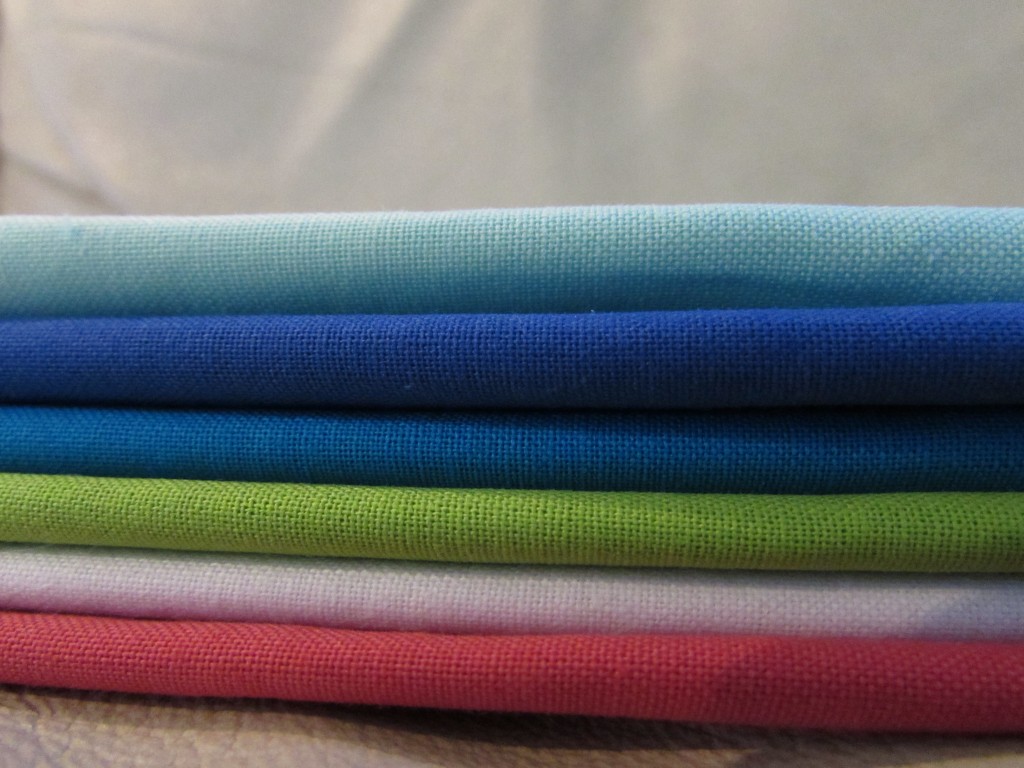 These are the fat eighths that I received this week. I have been cutting and sewing mock ups and so far don't have exactly what I want. It needs to be original. What exactly does that mean? I can't really think of a block that hasn't been used in some way by someone else. Truly, there are only so many ways I can visualize HST's, squares, triangles and rectangles. So, I am trying to take a regular block and put my own spin on it. That is about as original as my brain gets.  At any rate, this is certainly forcing me to work beyond my comfort zone. In addition to making the block, we will all be writing tutorials for the blocks. That part will be fun and I am really curious to see everyone's block tutorials. Could be a fun project to make a selection of the blocks and come up with a sampler quilt or wall hanging. Stay tuned for more on this.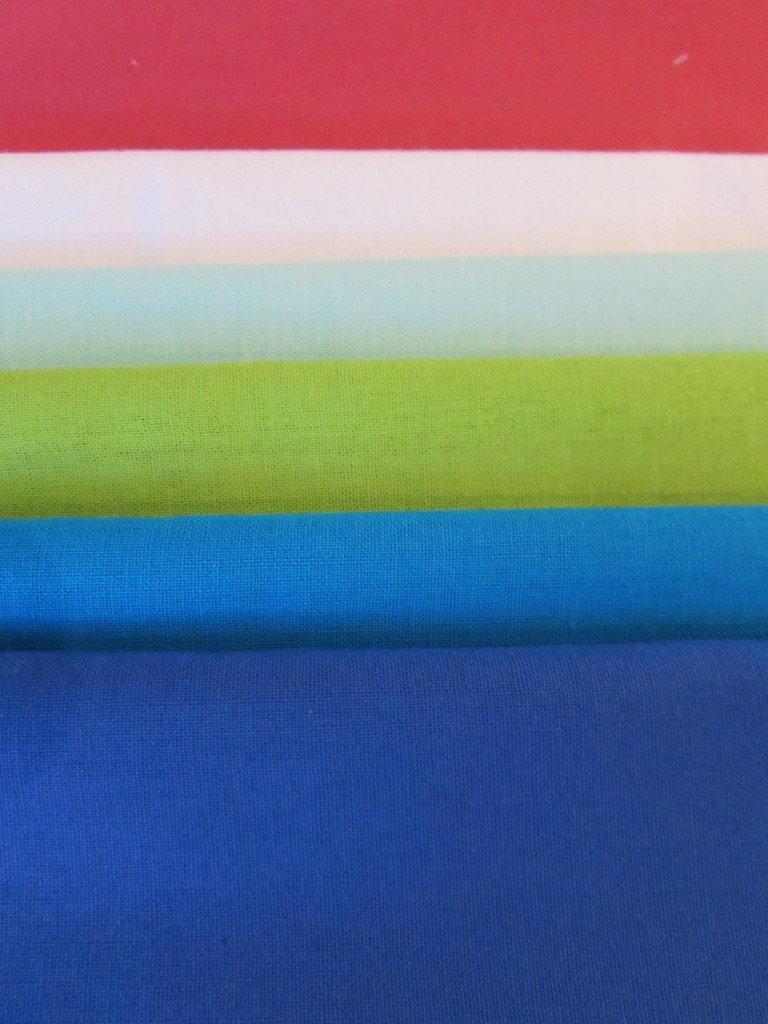 Next on the list, as always, is my RSC15 row quilt.  Last month I veered from the Classic Stitches block but this month I plan to go back to Mari's monthly block. She wrote up an easy block for this month and the color is indigo, black or gray. I need to look at the quilt so far and choose either indigo or gray, either of which I have plenty of scraps to choose from.
Lastly, if I get around to it, I am going to start making two twin quilts for the beds up at Downieville.  Ray saw me looking at comforters on-line and raised those eyebrows of his – like, really? You are always looking for a reason to sew and you want to buy two comforters?  I shook my head and came back to reality. I painted the room a pale sage green. There are cute curtains (that I thrifted) with a floral pattern of green and violet on a tan background. (Sorry, I don't have a picture for some reason.) I was at the store last week and they had  a deal where if you bought the end of the bolt, it was 40% off. The tan bolt (I think it was a Bella Solid) was perfect so I bought the remaining six yards. Then I bought a piece of violet and a print.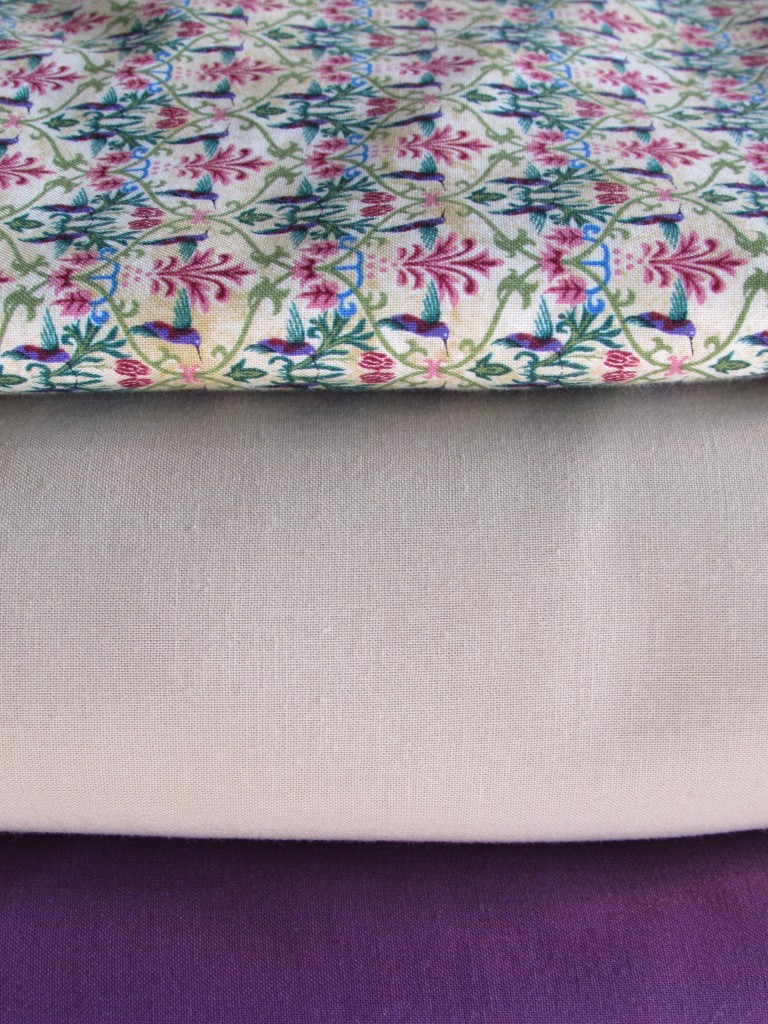 It is a good starting point. I don't know exactly the design yet, but I do know I want it to be big, oversized blocks. I started a board on Pinterest for inspiration. I think with big chunky blocks, both quilts will come together reasonably fast. My hope for this month is to settle on a design and get the pieces cut.
The bedroom will look much better with normal bedding. Right now there is a hodge-podge of linens that I had stashed away. Not exactly pretty. I really love this little hummingbird print. It is called "Windsor Woods".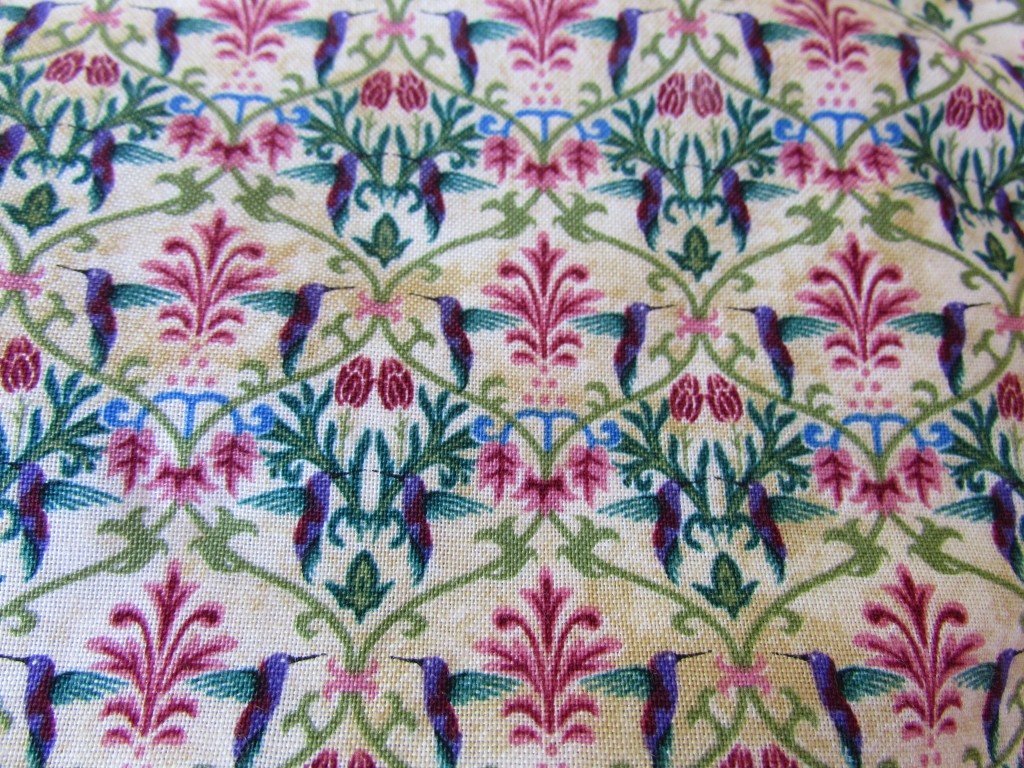 Somewhere in all of this, I need to start working on Etsy items. The holiday season will be here soon. I hope to have plenty of items posted by fall. Last year I was new to the game (actually, I still am!)  I didn't have enough items listed and sold out quickly. Hope to boost the quantity this year.
Lots of the list. I better get to work!
Linking to Sew Cute Tuesday, Freemotion by the River and Let's Bee Social. Links to all of these sites are available at the top of the page, under Link Ups.