Yikes. I think it has been a week since I wrote a post. My routine got all turned around and all of a sudden a week passed by. (Were you sitting and waiting anxiously for another amazing read on Needle and Foot? My apologies for the wait!)
As things often do, one project led right into another. I have been making blocks for the eighth row of the Classic Stitches BOM (led by Mari over at Academic Quilter). The color for this month is either indigo blue or gray. I went with gray. We have already done two rows in shades of blue and I didn't want to add a third. I am loving this gray row. For August, Mari wrote a tutorial for a quick block called "True Blue". She explained that it was a block which dated back to the Civil War years (on the Union side, hence the name True Blue.) It is a really simple block utlizing four patch squares and HST's. I chose to make the blocks in the 7 1/2″ size. This is the second row of 7 1/2″ blocks for the quilt, the rest are 6″ blocks.
I don't know how everyone else does it but I am sort of ADD when I am making blocks. I cut for a while, piece a whole block, cut some more, piece a few more. It is really inefficient and makes me crazy. I end up cutting more than I need of one fabric and not enough of another. (I know, It is so silly. I highly doubt that my methodology is taught in any of the billions of quilting books out there, due to the inefficiency of it.) I vowed to make a change with this project! For these eight blocks, I cut the pieces for all of the blocks, stacking them in nice orderly piles. Then I made the four patch blocks. (I used strip piecing, sewing long strips and sub-cutting them into pairs, which were then joined into four patch blocks.) Next came the HST's. Doing it in this amazingly organized manner, I had my HST's all prepared. It was so much better – the best part of piecing is putting the actual block together, right? Once all of the tedium was done, those blocks went together in  a snap. It was much better than my usual "a little of this, a little of that" method.
Plus, when I had that stack of HST's, I started playing with them. I spent some time laying them out in different patterns, which is pretty fun with HST's. (It's kind of like playing with Tangrams.) I found a design that I really liked and decided that is what I would use for my New Blogger Block Hop project. (Remember, I posted last week about having to make a block with a tutorial for the project sponsored by Fabri-Quilt?) This made me so happy. I have been playing with fabric and mocking up blocks (a version of a Herringbone block and a version of a Plus block, neither of which I liked.) Seeing this simple little pattern (which, as far as I know, isn't some really common pattern?) was the perfect inspiration.
Back to the row of True Blue blocks. Take a look. Here they are before sewing them into the row. I enjoy playing with them and getting an idea of how the blocks would look as a quilt of their own. These blocks are fairly busy. I don't think I would do a whole quilt with only these. It makes my eyes go a little crazy. 😉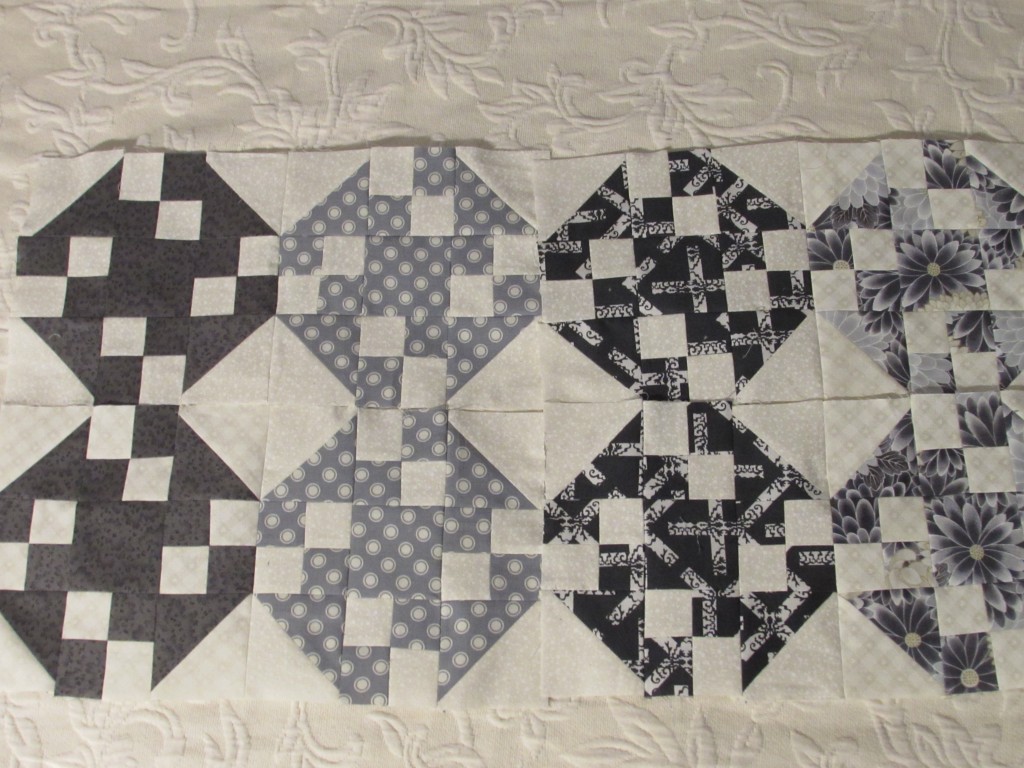 And now a row of True Blue blocks (that are gray instead of blue!)  The pasture behind the blocks is looking a might dry, right?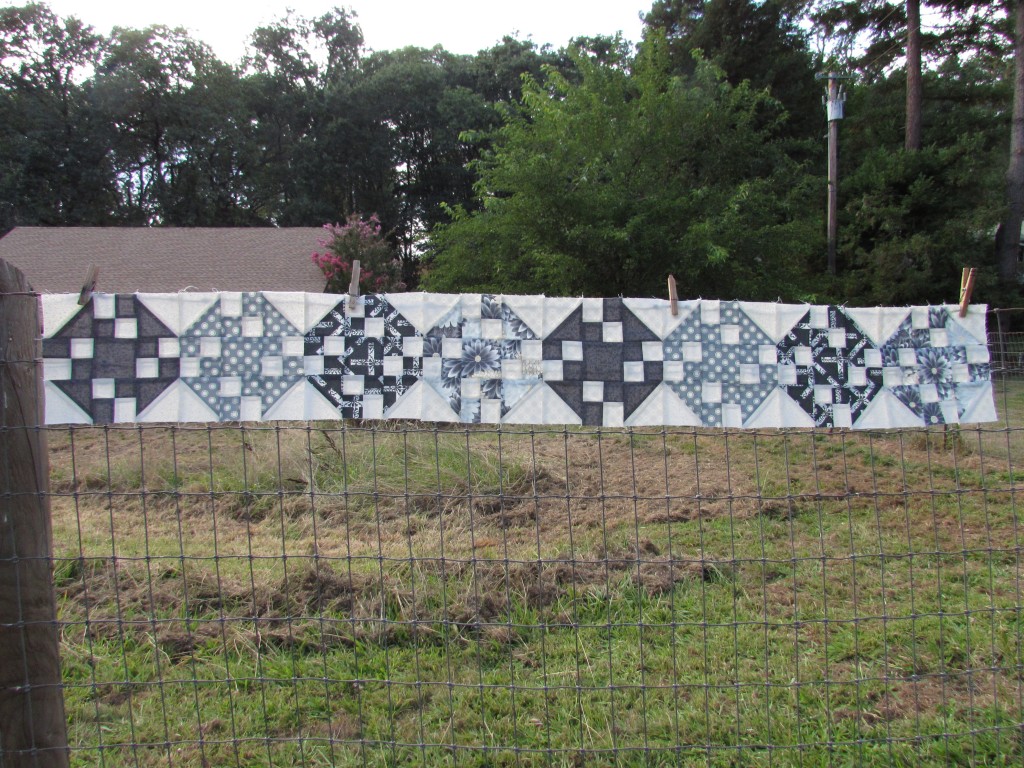 I hung a few of the other rows with this newest member of the family. They all look great together.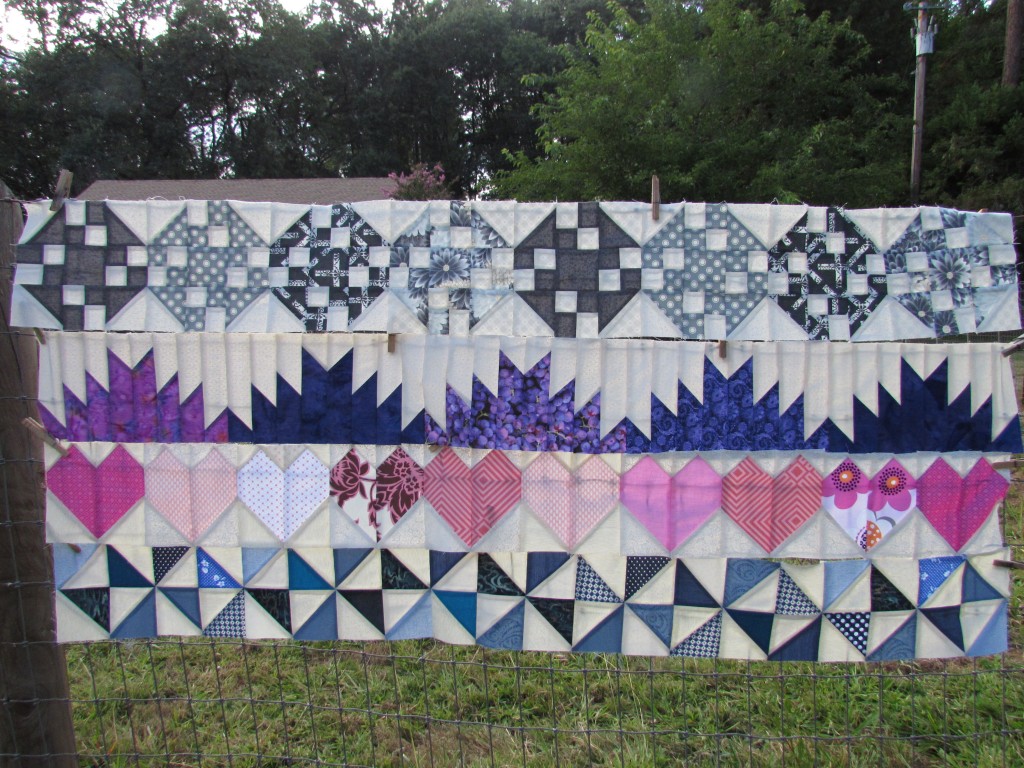 It is amazing that eight rows of this project are complete. Summer is ending, fall is on its way.  This is very apparent in our garden these days. The squirrels are making a huge mess each day, eating the pinecones and dropping the pieces all over the deck. The apples on our tree are growing and it looks like, for the first time, we will have apples. The tree is about three or four years old and hasn't really produced any apples yet. These look great though.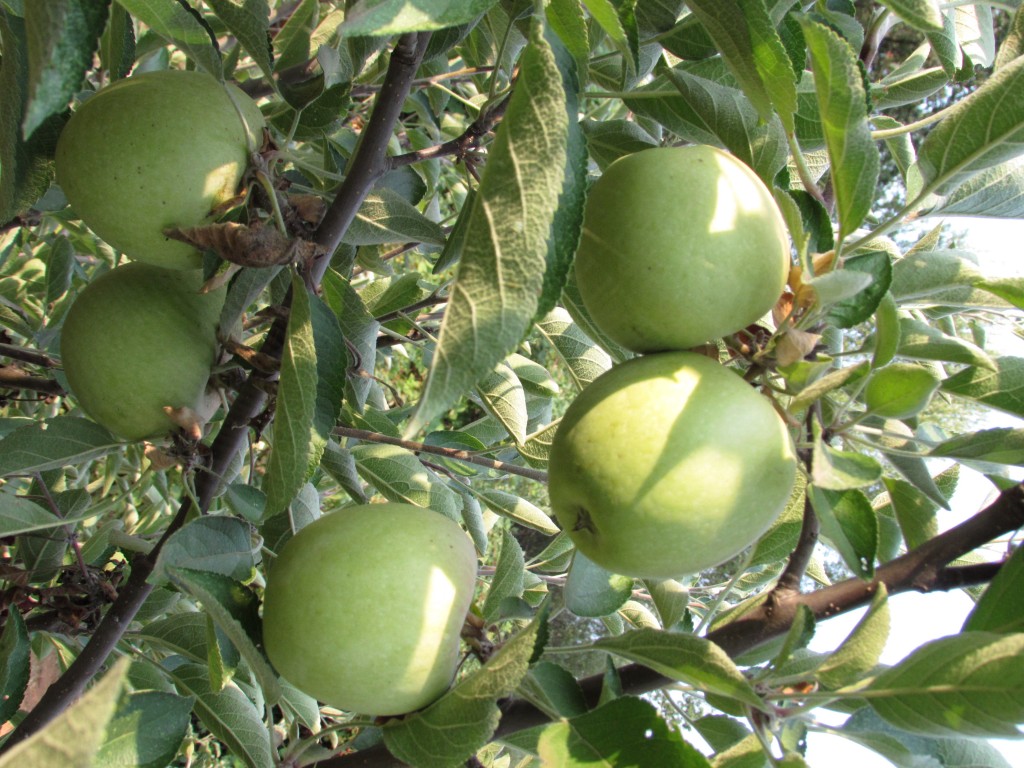 I have mentioned before that we didn't put in a vegetable garden this year due to the drought in California. We had a volunteer plant come up though and Ray couldn't resist watering it just a little. We were very negligent and only gave it a drink every now and then. The foilage looked like squash and it was in a bin where we had spaghetti squash last year. We figured that was what it would be. What a surprise to see these growing on it.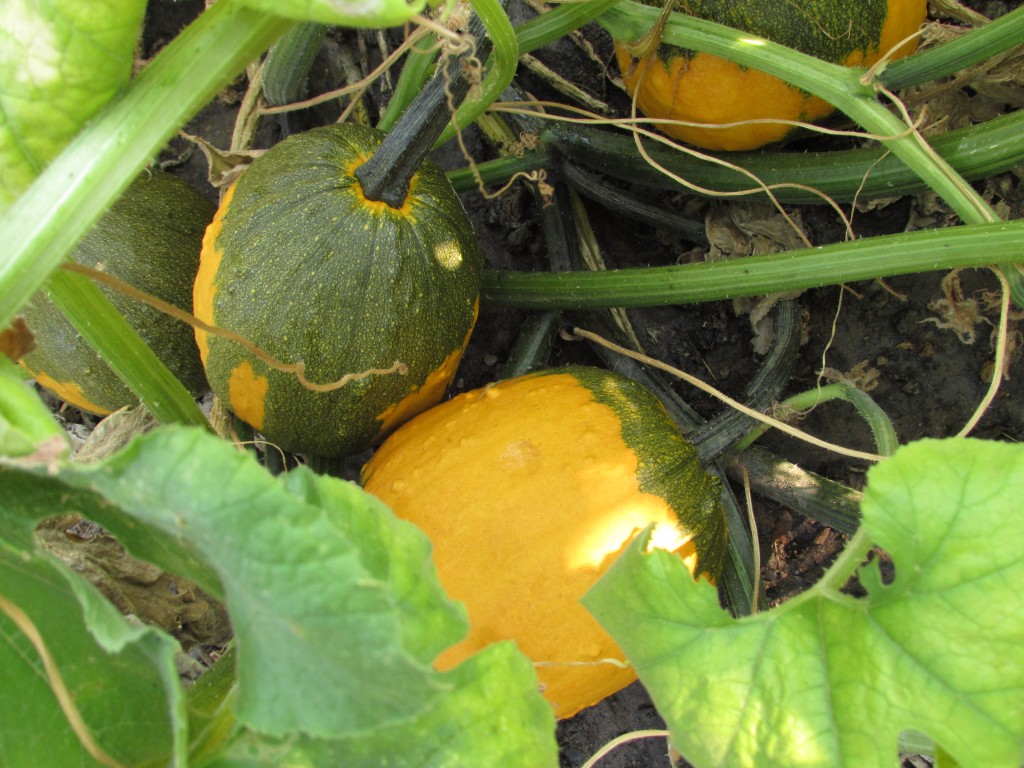 In the next bin over, we had planted decorative gourds last year. They were so much fun and we had tons of them. Apparently there was some cross-pollination going on and we now have a plant bearing some weird combination of spaghetti squash and decorative gourd. They are hard, bumpy and dry, like a gourd, They have that cool coloring of a gourd, but the shape and larger size of the spaghetti squash.  We had so much fun trying to figure out what they would be. (Doesn't take much to amuse us.) I am fairly sure they are not edible but they look pretty.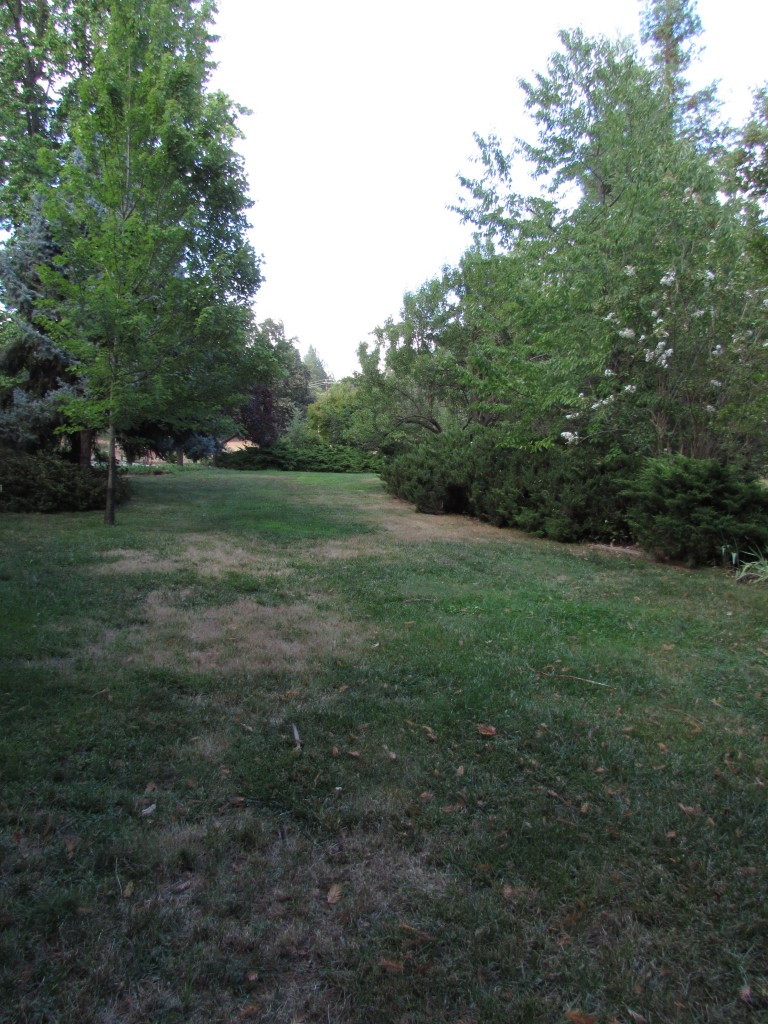 Finally, I leave you with this gorgeous picture of our front lawn in all of its droughty glory. (I know… I made that word up.) It is criminal to waste water on growing green grass so we are only giving it enough that it doesn't totally die on us. This is the year though, right? Rain all winter long. (Please?)
Linking to a new linky party over at What a Hoot as well as Freemotion by the River, Let's Bee Social, and Crazy Mom Quilts. Links to the last three sites are available at the top of the page, under Link Ups.