I don't know that I have ever made the same quilt twice. Wait, maybe that isn't entirely true. I have definitely made the same quilty gifts in multiples. Like the Christmas table runners I made for my family one year. Or the zip pouches I made for gifts last year.  But not full quilts. Those have always been different. There are so many amazing quilt designs out there and I haven't yet repeated one.
Clothing patterns? Those I will repeat. Time after time after time. When my kiddos were tiny I would make flannel pj's for them, using the same pattern until the pieces were so pin marked I would have to tape them together. My Washi dress? Just repeated that one and I am so glad I did. Here are my thoughts on why.
The first time I use a pattern I have to learn the pattern. Even though I have been sewing for so many years (44-ish years?) it takes a minute to just look at the pieces, read the directions and figure out the process.  Using the pattern a second (or third, or fourth) time that process is complete and doesn't need to happen again.
Of course, the cost of the pattern. I think I paid about $12 for the Washi pattern, I am not sure. So why not distribute that across a few garments? Kind of like dollar cost averaging in the stock market. 😉 Make it once and you have spent $12 plus the cost of fabric and notions for the one garment. Make it three times and you are at $4 plus fabric and notions for each garment. Might as well get as much bang for your buck as possible.
My confidence level increases with each garment. Going in the second time, I knew where the problem areas might be and already had solutions for those. For instance, in the first Washi dress, I found that the elastic bobbin used while shirring the back would need to be reloaded with each stripe of shirring. I still don't understand why but at least, this time, I didn't have to fool around to figure out a solution. It makes for a more peaceful sewing experience.
 With the extra confidence in the pattern, I can challenge myself in other ways. For this dress, I chose a knit fabric. I wasn't sure what it would mean to make a pattern designed for woven fabrics with a knit but I felt good about trying it because I was already familiar with the pattern and how it fit me. I would not have done this the first time using the pattern because I wouldn't have felt confident in the result.
There are so many variations to be had. For the second dress, I chose not to cut the dip in the neckline. I was concerned that with a heavier fabric (knit vs cotton) the neckline would not lie flat with that cut out. I used the scoop neck version instead. Also, I tried it without the sleeve cap, didn't like it and put the little sleeve on in the end.
Here is the finished Washi, version two!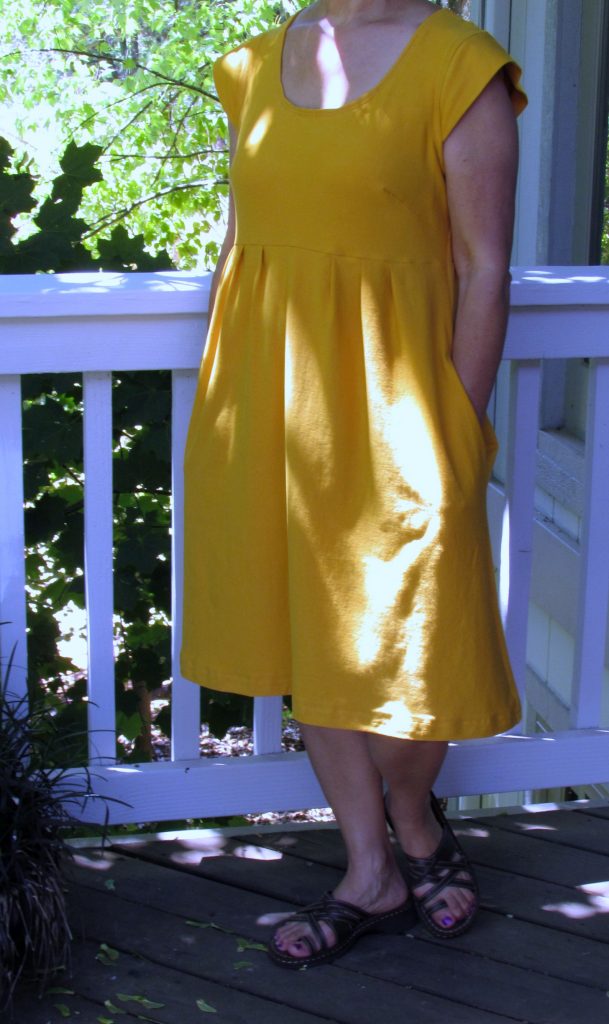 Just as I hoped, it is very comfortable. (For me the goal is almost always comfort.) The knit washes well. (I did prewash it as knits have a strong tendency to shrink.)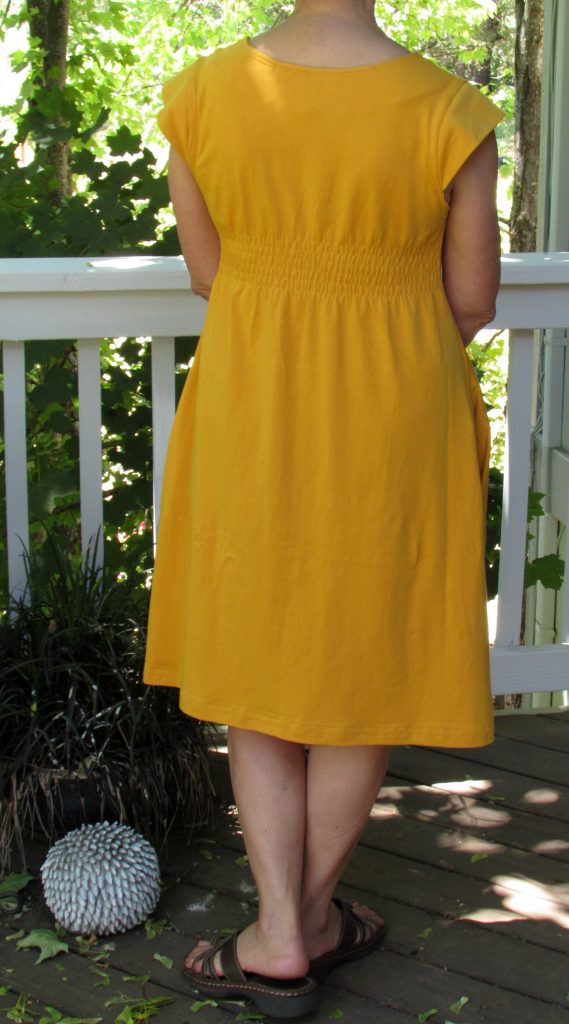 The drape is very soft. After washing and drying it, there was no issue with wrinkling.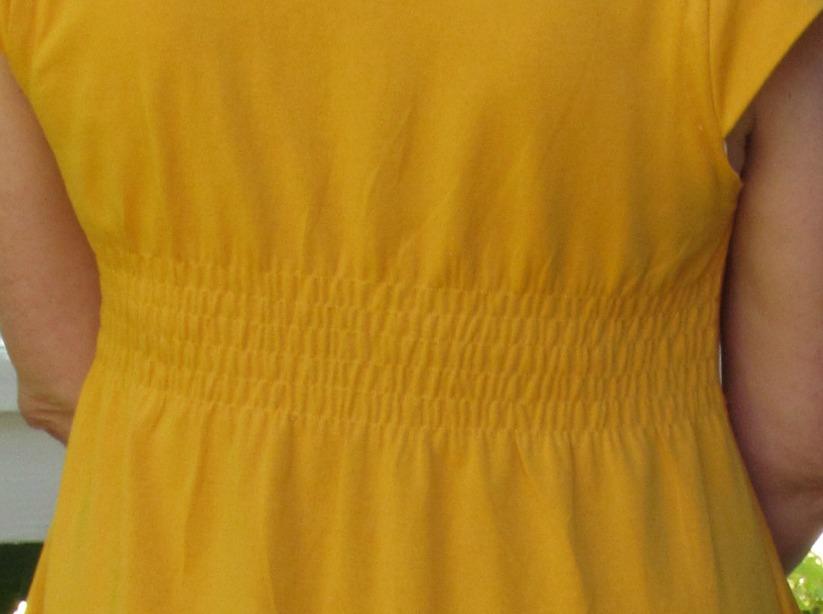 The shirring wasn't as tight with this version. I suppose that has to do with the knit vs cotton issue but I am not sure? If I make it again with a knit, I would play with the stitch size a bit while shirring it. Also, with the stretchiness of the knit it feels a bit too big. So if I do a repeat, I will cut it down a bit, especially in the bodice.
I also learned a bit more about sewing with knits. I wasn't sure how to finish the seams since I don't have a serger machine. Looking through some great garment sewing websites, I found one that instructed me to use a tiny zigzag stitch on all of the straight seams (like the side seams.) This sort of intimidated me but it worked out wonderfully.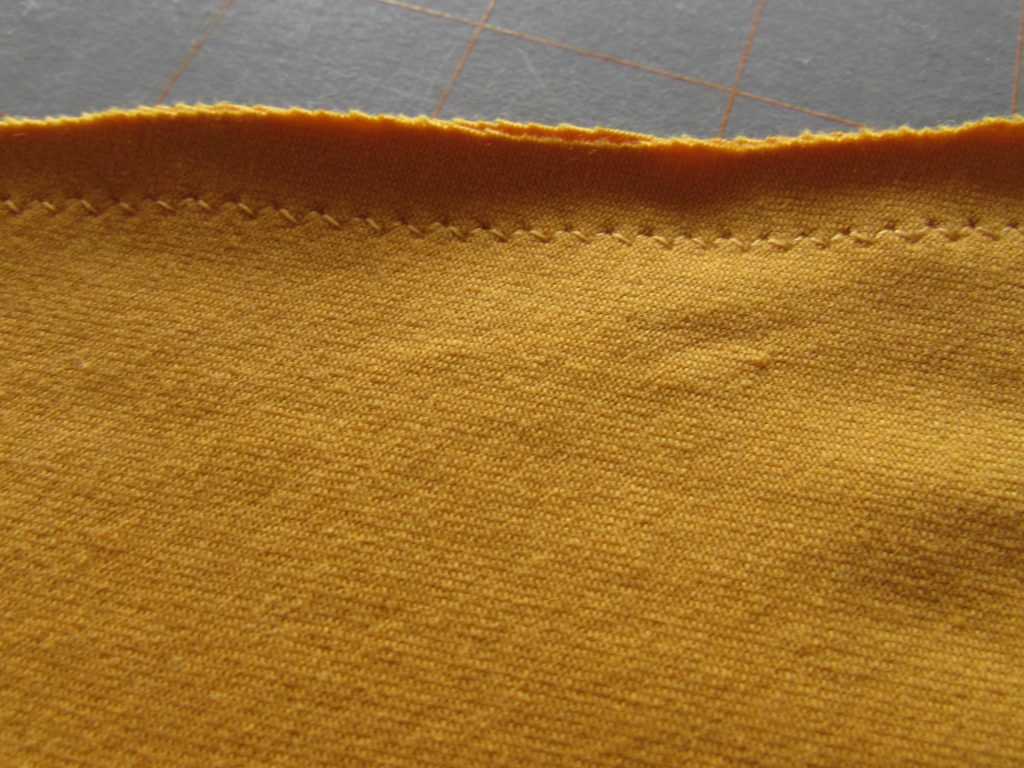 This tiny zigzag stitch made a big difference in how the dress hung. The seams didn't get wavy because the zigzag stitch allows for some movement with the stretch of the knit. Also, I sprayed the hemline with starch before hemming it. Adding that extra structure made for a nice flat hem.
Besides finishing up the dress, I also finished painting the caps of the deck railings. I am so happy because it is supposed to really heat up over the next week or so.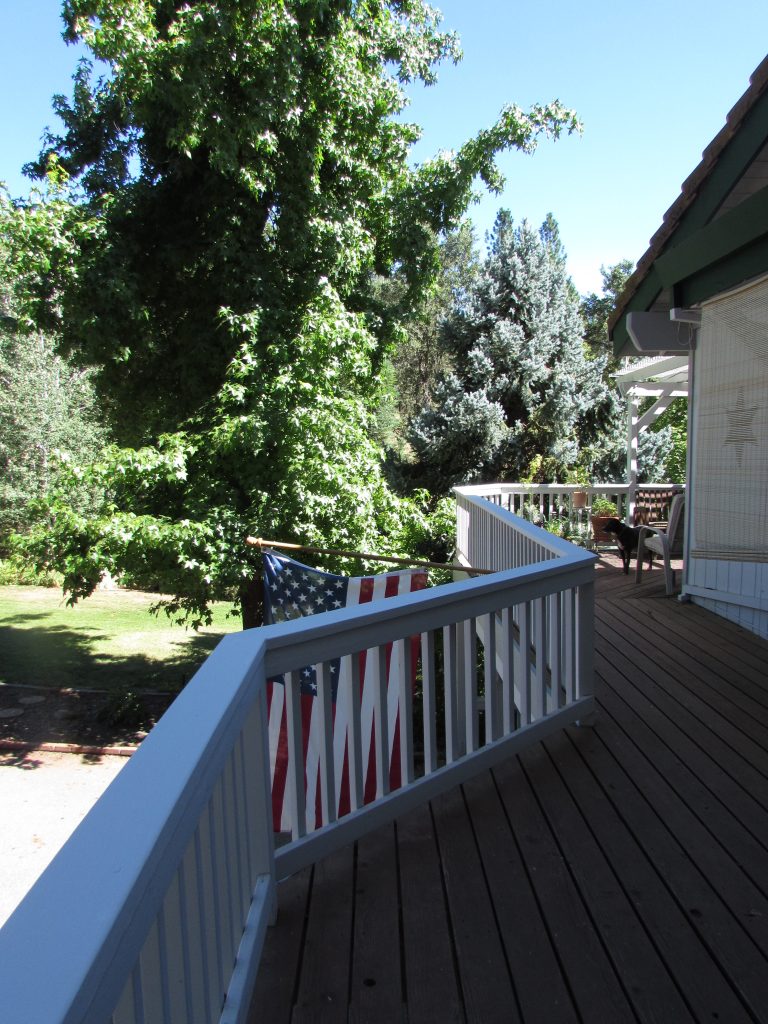 Lots and lots of painting!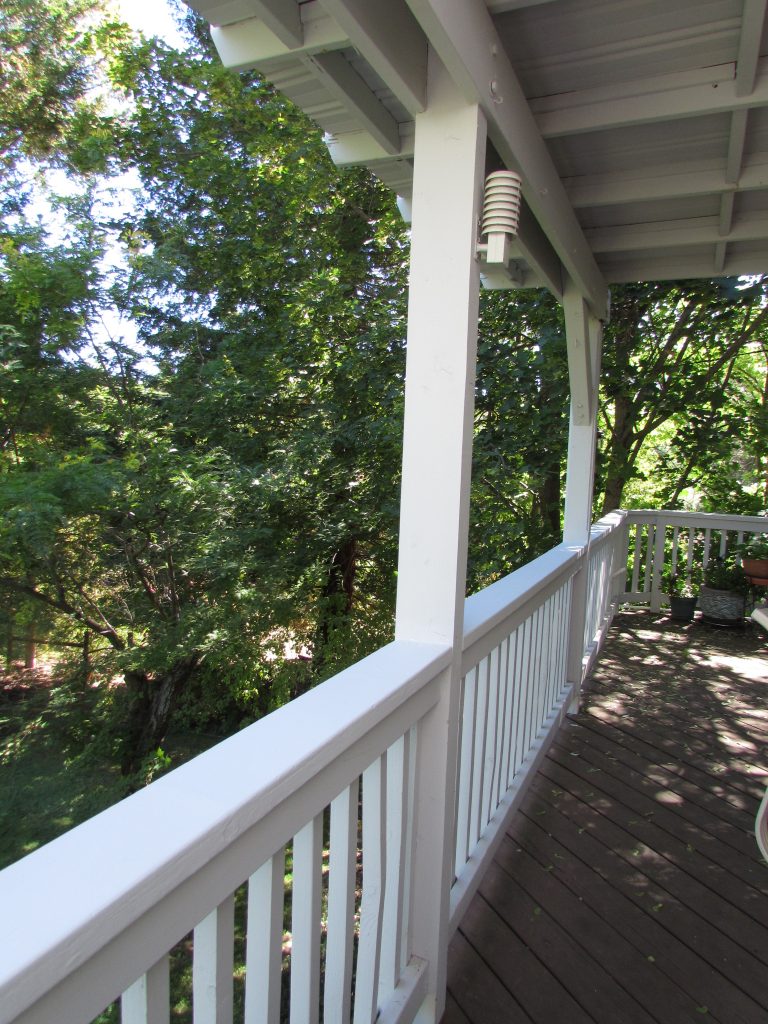 For now, the painting project is a finish and it looks so much better. Don't you love checking something off the list? Especially something you really didn't want to do in the first place?? Me too.
Have a good weekend everyone. Stay cool during this oh-so-hot part of July.
Linking up all over the place. See the links at the top of the page, under Link Ups.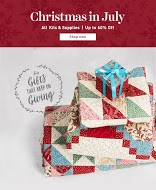 In case you are wondering what is going on at Craftsy this weekend, here is the latest. It is Christmas in July at Craftsy and they are offering great deals (up to 60% off!) on kits and supplies so you are able to start working on holiday gift items ahead of schedule. You'll be ready when the season rolls around. Sale begins today, 7/22/16 and runs through Sunday, July 24th. Check it out!
I am a Craftsy affiliate! Thank you for any purchases made via my blog as I will receive a small commission.