This week I am helping out by hosting the To Do Tuesday Link Up.  This is a weekly link up that many quilters use to organize their time and better accomplish projects (both quilty and otherwise) during the week. Sometimes it is a matter of organizing and planning all of the other things life requires in order to carve out a bit of time in the sewing room. This link up is usually hosted by Christine over at Stitch ALL the Things.  She is a bit overwhelmed as she works on one house in Oregon and plans her transition back to another house in Arizona. Somehow I don't think time in the sewing room is in the cards for her right now. In fact, I don't know that a sewing room exists yet in her Oregon house!
Let's see. There is always plenty to be done each week but here is the short list.
Work on quilting and binding the vintage sheet patchwork quilt that I showed you on Sunday. I really want to get this one on the bed in my sewing room. It has such a summery feel to it and I don't want to set it aside, finish quilting it on October and then not use it until next season. So, this is numero uno.
Cut out another Washi dress.  In June I finished my first Washi dress and I love it. It is such a comfortable dress. I want to try making it with a piece of deep goldenrod yellow knit fabric that I have. I am almost certain that when finished, it will be akin to wearing jammies all day. The pattern is that comfy and made in a knit, it will be even more so.  At the very least, I hope to get it cut out. If I spend any time sewing it, so much the better.
Pick out the book for the Fall Book Share here at Needle & Foot.  I recently wrote a review of Vinegar Girl and invited any interested readers to sign up to share the book this summer. There are six of us sharing Vinegar Girl. This is how it works – I sent off the book to the first person after writing a tiny blurb on the inside front cover of the book. I included three fat quarters of fabrics chosen because they are somehow related to the story. The person that received it has four weeks to read and then send it on with their opinion written in the book and three more fat quarters that they feel are related to the story. On and on it goes until the last person has it and returns it back to me.  I am happy with the response to this idea and will host it again beginning in September. I haven't yet picked out the book but I better get going so I can read it first and then gather a group of readers for the next round. If anyone has a suggestion for a good (fiction) book I would love to hear about it. Leave ideas in the comments.
OK – that is it for this week. The quilting is a big one (literally, queen size) which will take most of my sewing time. How about you? Are you feeling overwhelmed? Need to get organized? Let us know what you have on your plate this week.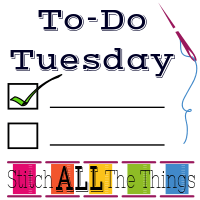 Rules:
Link up to this To-Do Tuesday blog post using the InLinkz linky below. Don't forget: you can link up Instagram photos! The link up is open all week, and you can link any post for the week even if it's written on the prior Sunday or Monday. It simply needs to be related to setting, working on, and/or completing your weekly goal(s).
Try to visit at least one or two other blogs and leave a nice comment.