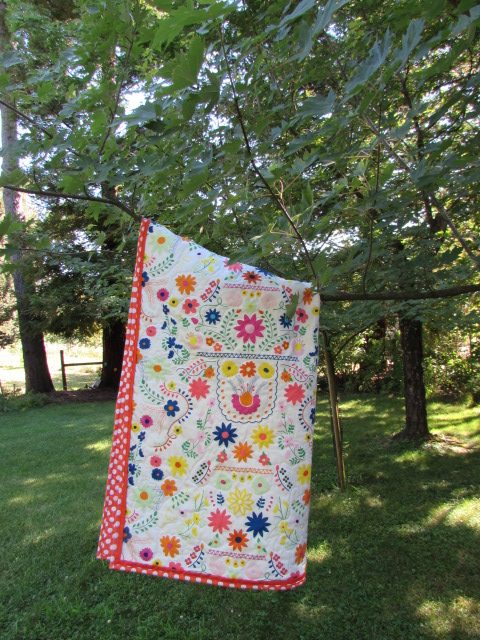 I have such a bright, cheerful quilt to share with you!  This is the second time I have made a whole cloth baby quilt for a customer. The first time was last fall, when I did the elephant quilt.  Check it out here for the details. I very much enjoy making these. This quilt was a simple project because there is no piecing involved. My customer really loved the Mexican Dress fabric from Art Gallery Fabric's Fiesta Fun line. This is actually the second time I have used this fabric line in a baby quilt.  The first time was when I made the Knock Knock quilt while pattern testing for Sarah Goer. The colors in this line are a fantastic mix of brights and pastels against a pure white background. It is a lot of fun for a baby quilt. There is much for baby to look at!
My customer and I emailed back and forth numerous times one night as she selected the backing and binding fabric. After having two boys, she is expecting a girl.  She wanted bold and bright colors so she went with a Ta Dot polka dot fabric from Michael Miller.  The polka dots were used for both backing and binding. I really think this was an excellent choice.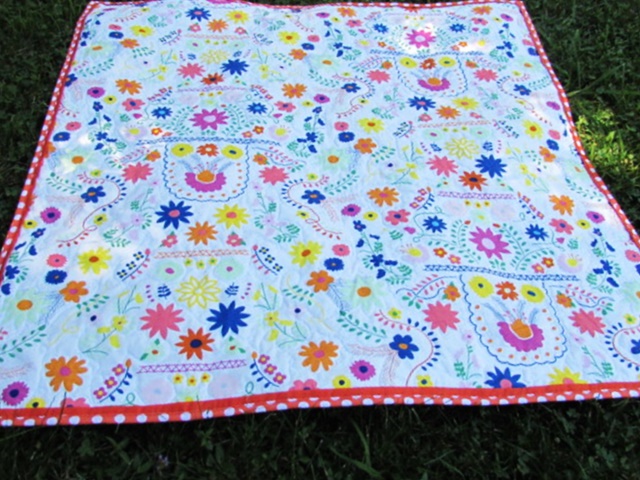 Rather than put the dots right up against the floral fabric, I suggested using a flange in a solid deep orange (Pure Elements in Tiger Lily from Art Gallery also).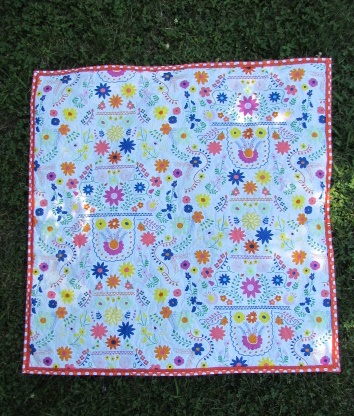 I think it is good to have a break between the bold orange dots and the busy floral fabric.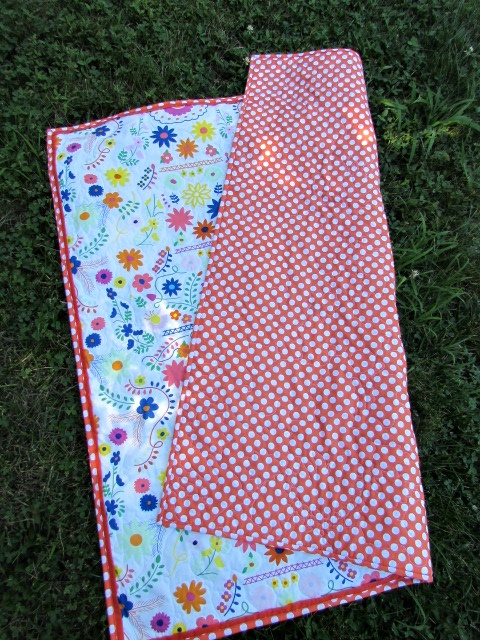 Quilting this was a lot of fun. For the most part, I outlined bits and pieces of the floral design. As I moved from one part to the next, I would add a loop or two.  Having this busy print was like having a stencil for the quilting. I didn't outline everything though. For a baby quilt, I like to have some space between the quilting to keep the quilt soft.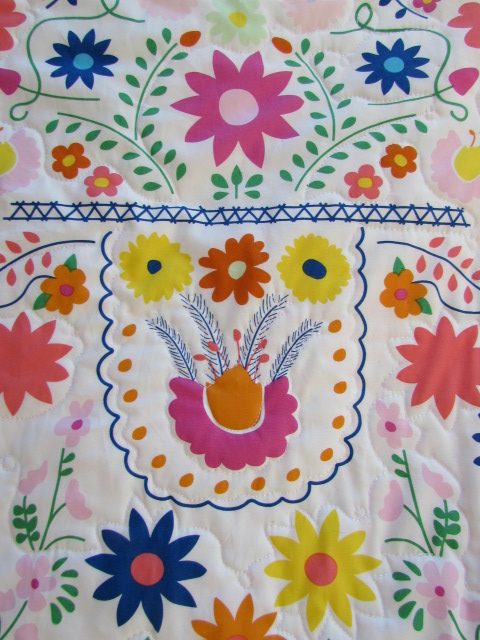 The quilt finished at 40″ x 40″ and I gave it one trip through the wash before packaging it up to send to Texas. Hopefully Baby Camille will get lots of use out of this quilt for a long time to come!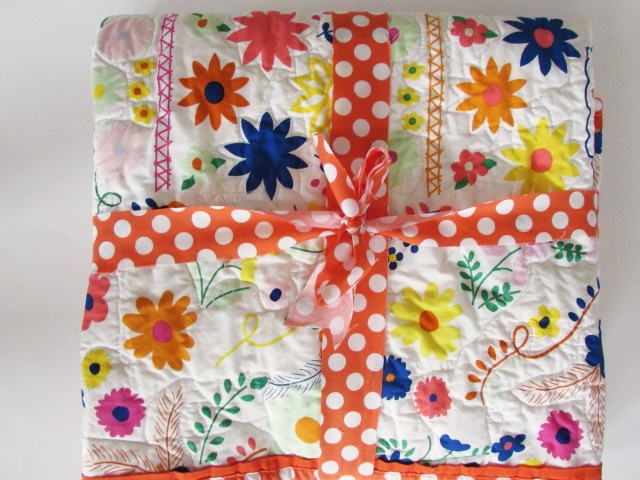 Just in case you are in need of some gorgeous color in your sewing room, I do have all of these fabrics in stock in the shop.  🙂  I will be linking up this week with a few of my favorites. Check the tab at the top of the page for links!
Also, I want to let everyone know I drew two names for the giveaway of Carrie Bloomston's book!  Congrats to Susan S. and Nancy H.  Here are their comments:
Susan S. said: "I would like to design a house that perfectly fits my life style and compliments it's surroundings."
Nancy H. said: "Great interview, Bernie. At one time, and not too long ago at that, I would have said that my one wish was owning a cozy, welcoming quilt shop where people felt as though they were home. Now, it's a tough choice. The simple answer would be to finish my quilt in time for the show in two weeks! But I think it should be more substantial than that. You've really stumped me!"
It was so interesting to read the responses to my question, " what would you try if you were guaranteed success?" There were lots of interesting ideas put forth.  Thank you for joining in!