I was fortunate enough to meet my husband back in 1997.  We were set up on a blind date by a good friend that we both worked with at the time. It was just a lunch and as blind dates go, it wasn't bad! I was a single mom with three small children under the age of 11 years and it was a busy time.  My blind date called me a couple of times and I didn't return the calls.  Mostly because dating as a single mom was just a pain. Somehow we did go out again about a month later.  And that was it.  We were engaged six weeks after that, married six months after becoming engaged. A whirlwind romance, to be sure.
I can't say that I heartily recommend becoming engaged after six weeks of dating but it worked well for us.  Both of us joke about it often.  We have decided that the universe somehow knew that if we spent any length of time dating and/or deliberating marriage, we would both chicken out.  It was his first marriage and he hadn't any children.  He was inheriting my three boys with no kid experience at all (he did however have a huge dog, which was a big score for my dog-less children.) It was my second marriage, after having been widowed four years earlier.  Things were still rough as the boys and I continued to grieve the loss of their dad. Step-parenting is an absolute challenge, as I am sure many of you know.  Both for the step-parent and for the natural parent overly-possessive-mama of the kids being step-parented. However, we worked through all of it and life is grand.
On to the quilty part of the story.  After the wedding we honeymooned on the island of St. John in the Virgin Islands.  It was blissful. Heavenly! One of the many things I learned about my new husband on that trip is that he takes millions of sunset pictures and they are really good.  This just looks heavenly, doesn't it? (This was before digital was available so scanning this photo doesn't really do it justice.)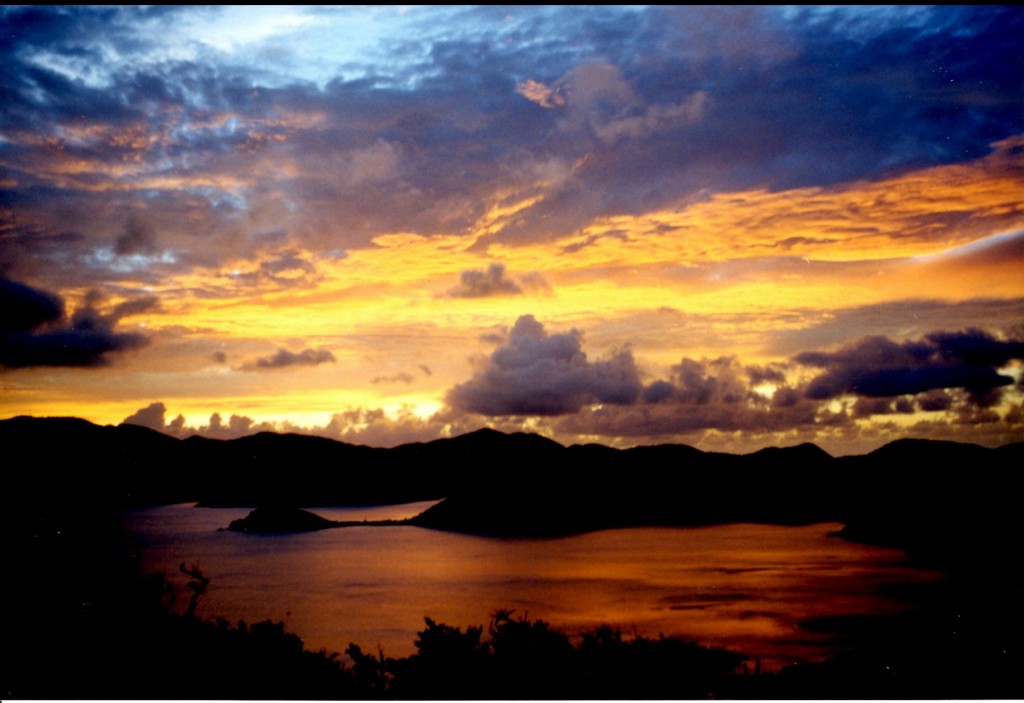 While we were on our trip I picked up a piece of batik fabric, maybe 1 and 1/2 yards.  It was so pretty.  It sat on the shelf with my other fabrics and waited patiently for me to figure out what to do with it.  Sat there for sixteen years! I looked at it now and then but didn't want to cut into it.  I couldn't figure out the best way to use it.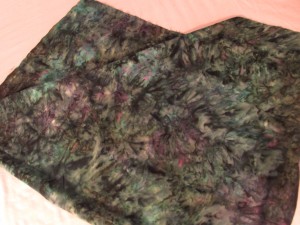 Last week I finally decided what to do with it! About a year ago I purchased three charm packs of Moda's Dancing In the Rain batiks. I bought them for a great price from Judy Madsen's on-line shop, Green Fairy Quilts.  Quick, unsponsored, plug here – This shop is awesome.  She has good prices and often has great sales.  There is no shop (that I have used) that ships as fast as Green Fairy Quilts.  I swear they must ship the order the day it is received.  She ships out of Utah and it hits my California address within a matter of a couple of days.  Wonderful!  Anyway, I purchased these charm packs and added them to the proverbial shelf.  When I was looking for a project last week, I pulled these out.  I chose to make a nine patch quilt.  Something simple, mainly for the satisfaction of sewing and finishing something without any fuss.  As I was laying out the charm squares and deciding how to use them, I remembered that batik from St. John.  Perfect for the border!! I was so excited. I knew it was the right place for that fabric.
I sashed the nine patch blocks with a bit of black to set off the colors.  I think it lends a look of stained glass to the quilt.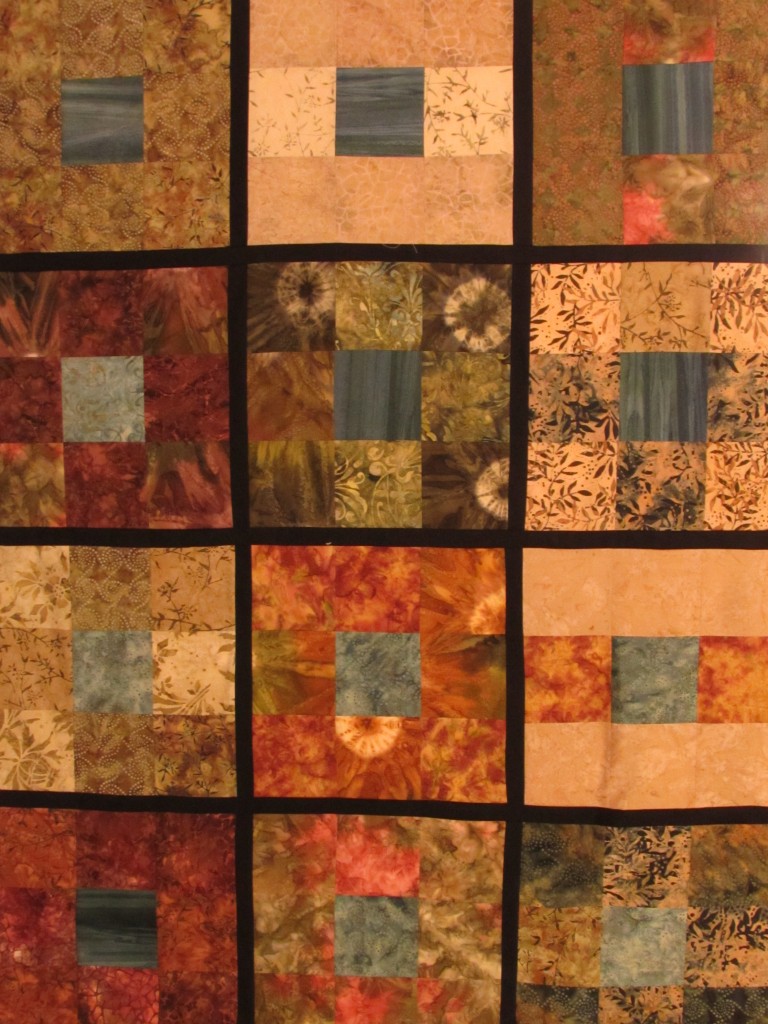 I decided to use the blue batik charm squares as the center of each block.  It lends continuity to the colors. After I sashed the blocks, I made four cornerstone blocks.  I just diced four extra charm squares into four squares and made small patchwork blocks with them.  I cut my precious honeymoon fabric into strips for the border and added the cornerstone blocks.  Hurray, my quilt top is finished!!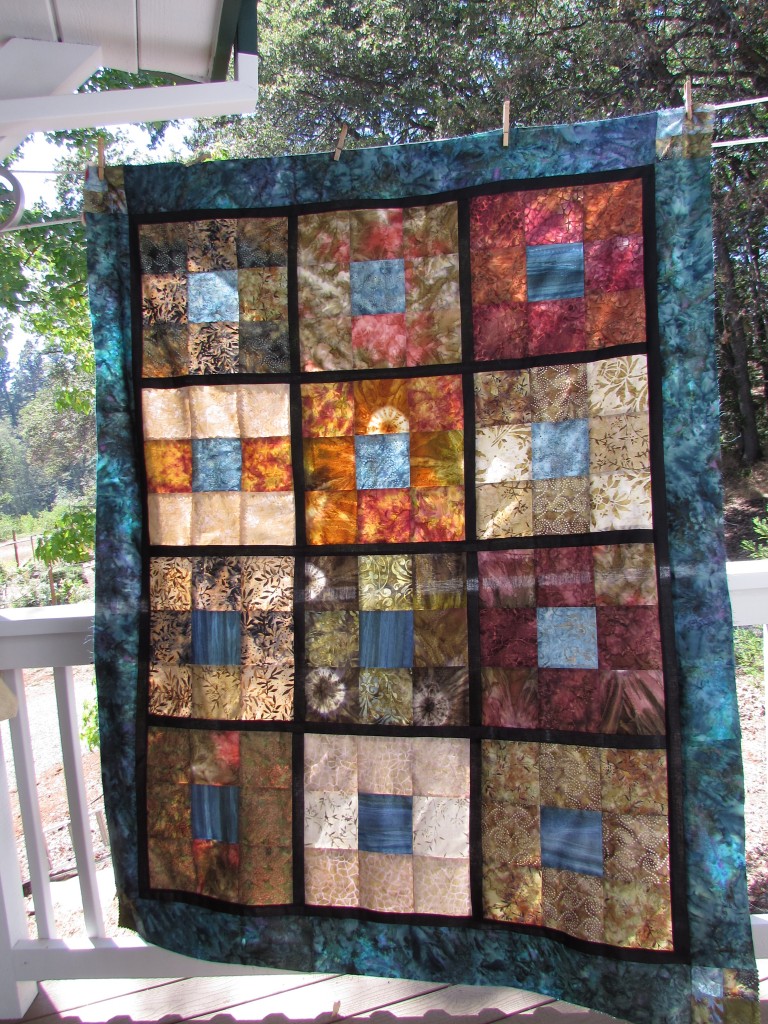 The sun was shining hard through the quilt top which makes it even more reminiscent of stained glass.  Love the pink square at the upper right corner.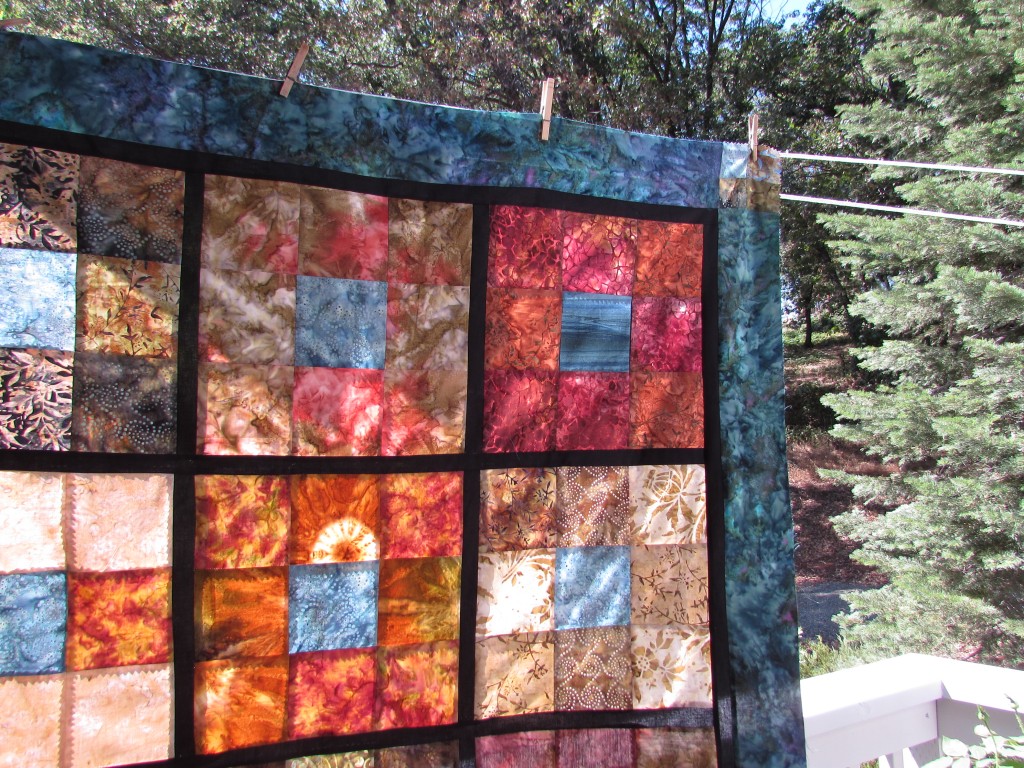 I keep looking through my fabric trying to come up with something that works for the back.  Alas, I have not found anything I like which necessitates a trip to my LQS.  How unfortunate for me.  😉
I am so happy with this quilt top.  I love the batiks.  I haven't ever made anything with batik before and it is really pretty.  I plan to add a black piping or flange to the top and then bind it with the honeymoon batik against that black flange.  I will post a picture of the finished quilt when it is actually that, finished!
Happy weekend all!
Linking to: Freemotion by the River, Sew Cute Tuesday, Let's Bee Social, NeedleandThread Thursday, TGIFF, Finish It Up Friday.  All of these wonderful sites have a link listed in the Link-Up tab at the top of my page.