Yay!! Got my second UFO of three finished up this week. Completing these three quilts is on my list of 2015 goals. Going well so far. I'm very glad to be done quilting this one. It didn't take long either. I don't know what the deal is. I think I get bored about 1/2 way through the quilting process. It looks great though. It was a bit narrow so I added a green border to each long side for width.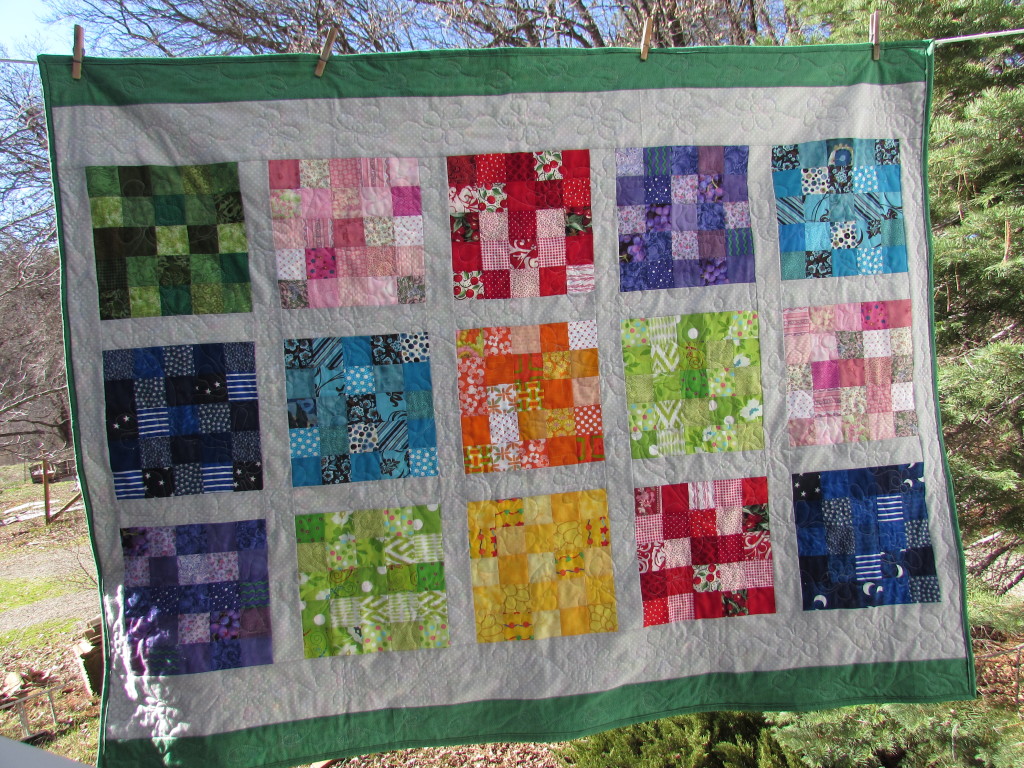 To quilt it I free motioned large, loopy flowers all over the top. They reminded me of the flowers girls would draw in the margins of the notebook when you are supposed to be taking notes in junior high but your mind is wandering. Anyway, I mean I'm pretty sure I saw the other girls doing this…..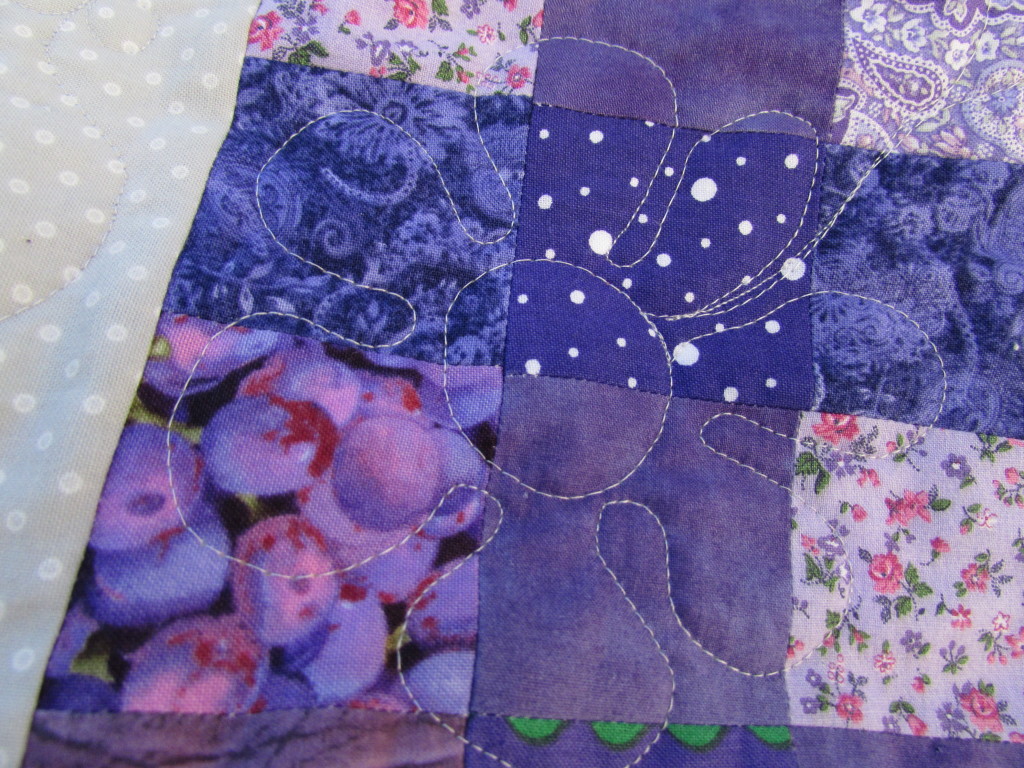 Oddly enough, the flowers also brought to mind a weird memory of this PE teacher I had when I was probably 8 or 9 years old (so we are talking 1968 or 1969 here – hippy days). I went to a parochial school through 8th grade. Mostly we had nuns for teachers and usually the classroom teacher/nun was also your PE teacher. But for a while, we had a young woman that as our PE teacher.  I bet she wasn't more than 21 or 22 and I thought she was SOOO cool. For one thing, she wasn't a nun and she was young. (To me, the nuns seemed old no matter their age since I couldn't see their hair.) For another, her name was, get this…. Flower!! Looking back, I'm guessing that wasn't her legal name but that was what we called her.  Shocking, right? It sure was to me. Ahh… the 1960's.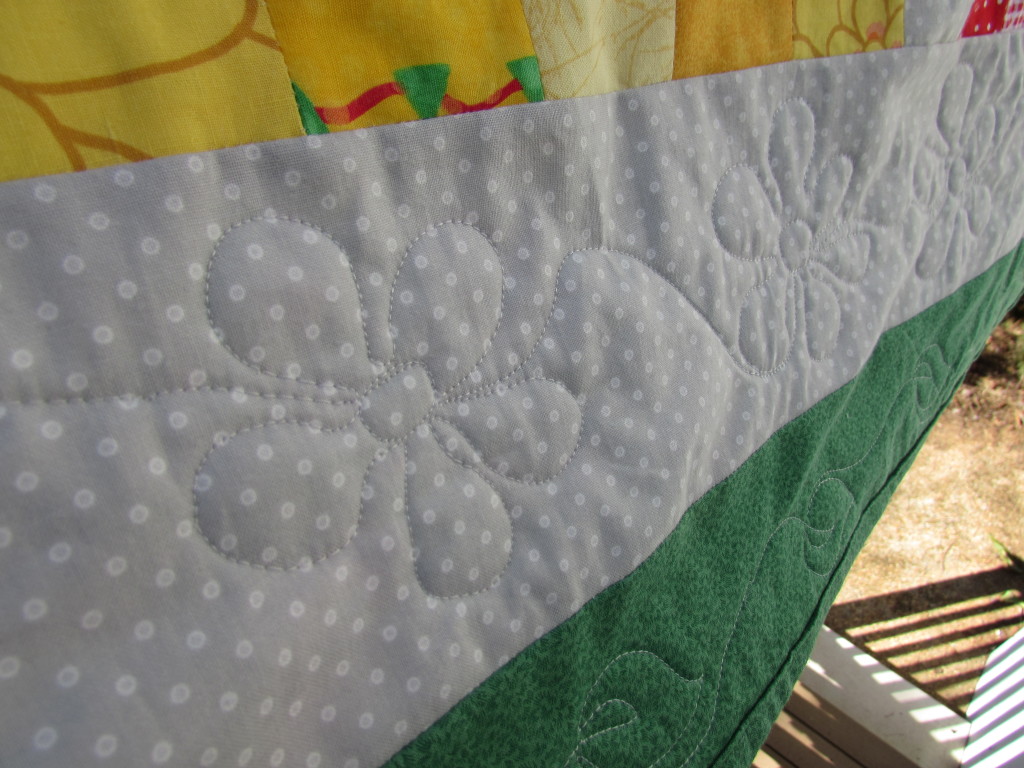 I also quilted flowers along the gray borders. Once I got to the green, I switched to a medium sized leaf. Kind of wish I had switched to green thread when I quilted that portion. Oh well. I also attached the binding by machine on both front and back sides. Not sure I like that as well but I gave it a try.
In my on-going resolve to upcycle, I used a duvet cover for the backing. I found it at a thrift store for $7.00 and it is huge. I will easily back a couple a quilts with it. One side of the duvet cover is a green stripe and the other is a green floral print. I had the green binding sitting in my stash so this quilt is all scrappy and used a good portion of my stash. The only piece I purchased directly for this project is the gray print that I sashed the blocks with. Not too shabby.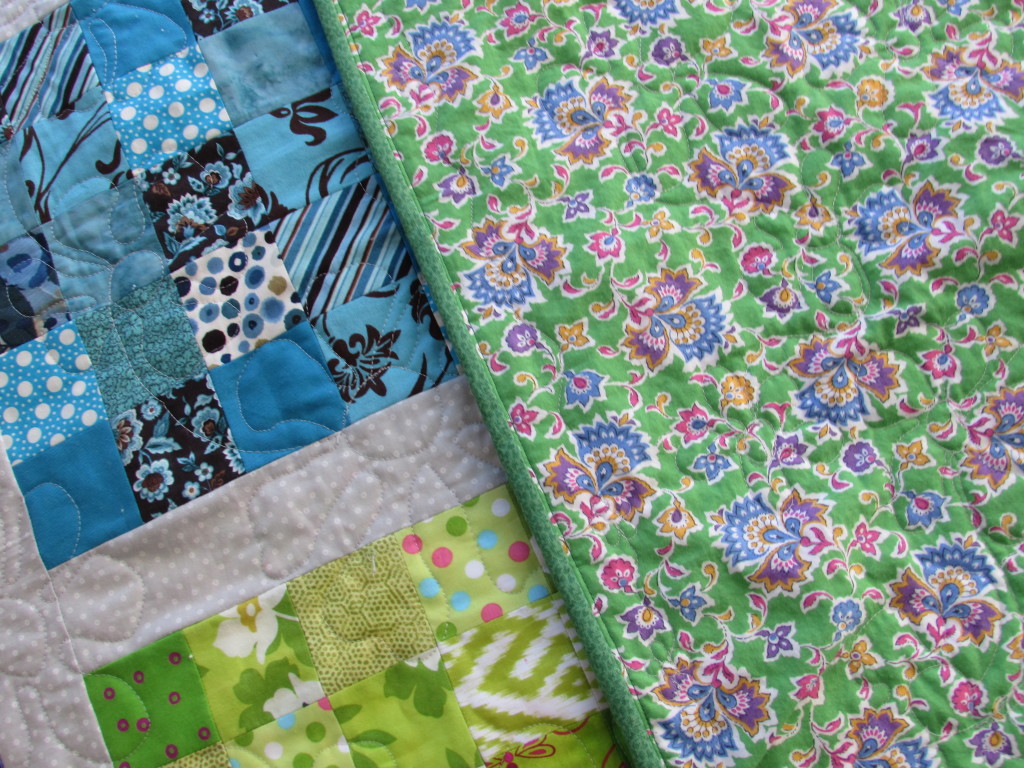 Trying to start the new year out right with better scrap management habits. (Wow, "scrap management" sounds so quilty-dorky!) But really. When I trimmed the excess off around the perimeter of the quilt I actually trimmed the scrap into usable pieces. This is definitely a first for me. Three inch and 2 inch strips plus a stack charm squares!! It hardly took any extra time and it's done.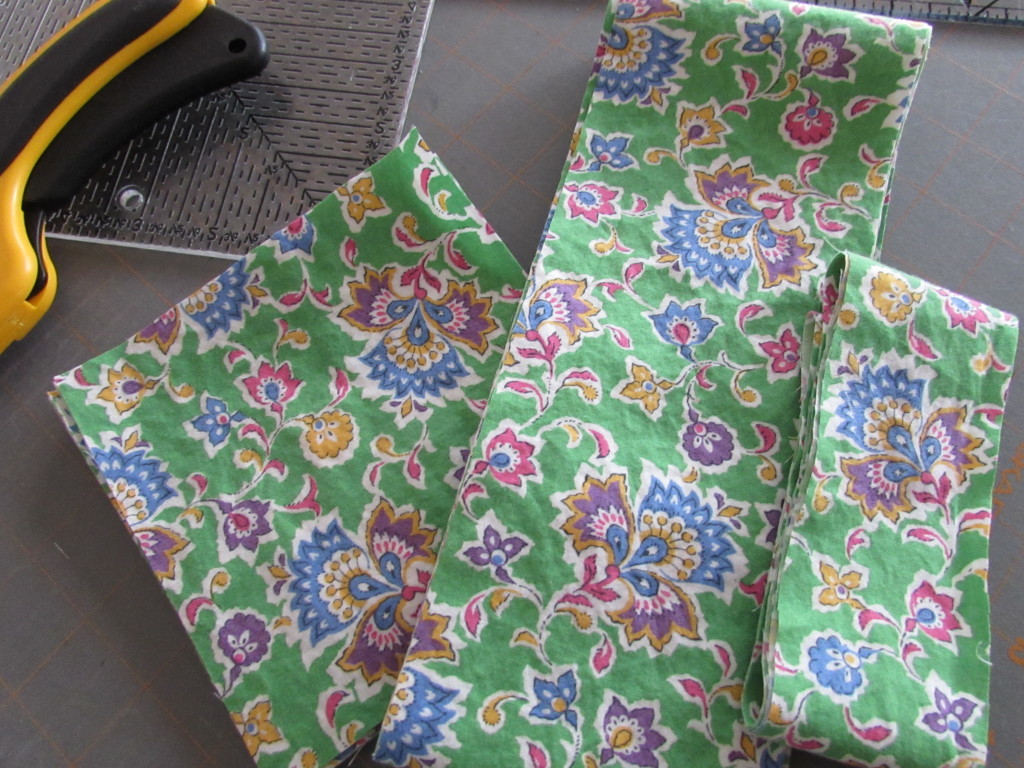 Not exactly sure what I will work on next. I want to do some piecing. I need a break from quilting for a while.  I have some blocks that have been sitting around for a while. I don't love them, know what I mean? I think I am going to create a quilt to donate to a fundraiser at my daughter's middle school.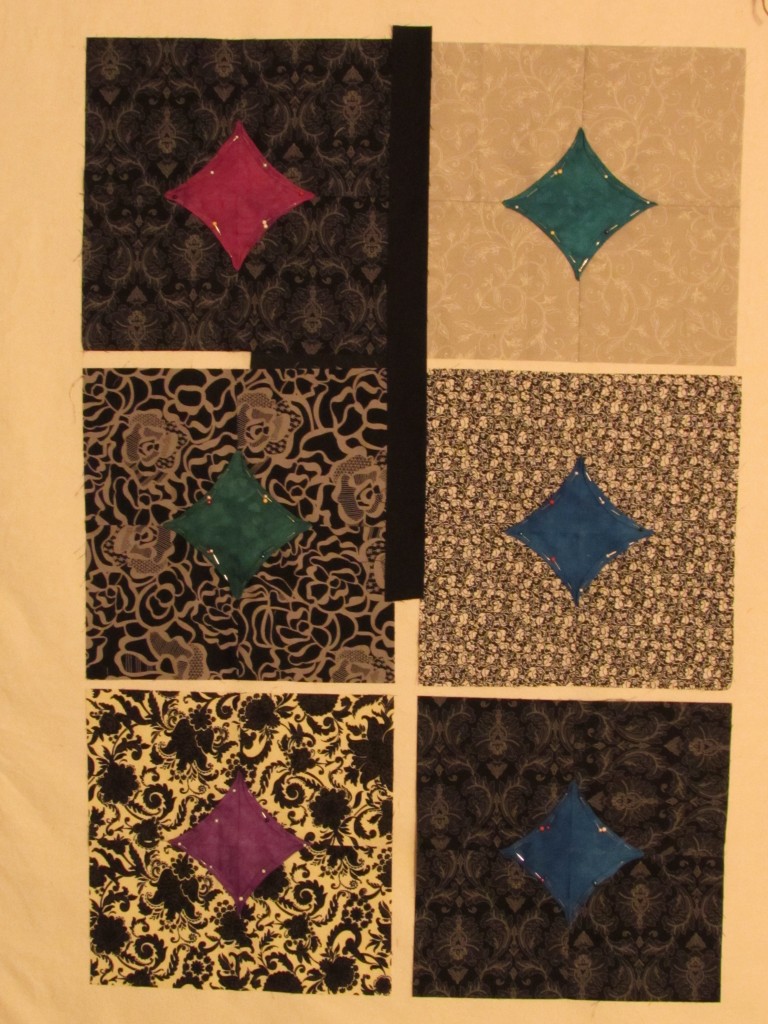 The lighting on this picture is horrible. (I took it at night with my phone.) I think I will set the blocks on point and sash them with black. I have a cute black and white print for the backing and maybe I can find a jewel toned batik to use for a border and binding. Hopefully that will jazz this up a bit.
Linking to Freemotion at the River, Lorna at Sew Fresh Quilts and Amanda Jean at Crazy Mom Quilts. Links to these amazing ladies are found at the top of the page under Link Ups.
Will also be linking this post to A Lovely Year of Finishes as this completes my January goal.  Hurray for that – three days before month end.