We are in the middle of a vacation, visiting my son and daughter-in-law. They live in Delaware and we live in California so we don't see each other too often. We are having a blast.  So far, we have checked out Chesapeake Bay, the Longwood Gardens (the DuPont family), Philadelphia, and – best of all – Lancaster County for my own personal quilt shop hop!
Before our Lancaster day I posted a query on Facebook. I belong to a group called the Nighttime Quilters which has the nicest people in it. I asked which quilt shops I should check out and was given several suggestions. I also checked out some forums on line which gave additional suggestions. Armed with a list of places we headed out.  My son was the chauffeur and my daughter came along for the trip. (My husband conveniently caught a horrible cold the night before. Coincidence? I think not! He stayed behind for the day.) It was a gorgeous drive. I lived in Pennsylvania for a couple of years in the early 1990's and had forgotten how pretty the rolling hills of PA are. With the colors turning it was just spectacular.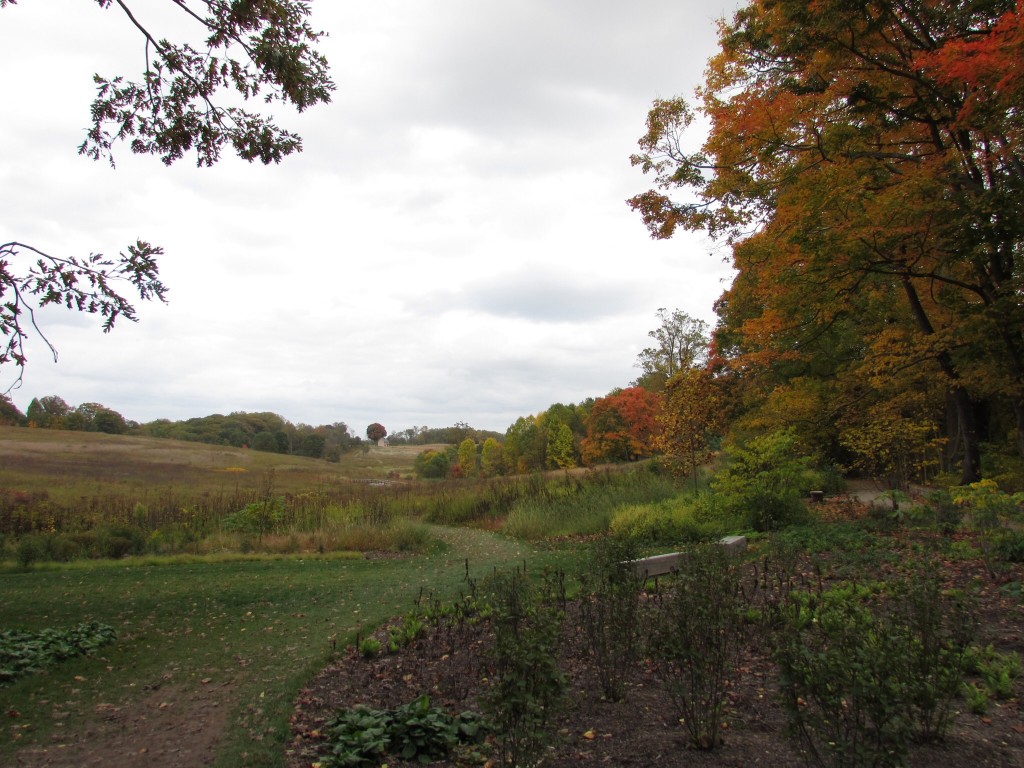 First place on my list was Obies's  Country Store in Goodville, PA.  I had read a few sites that claimed it was 'jammed with fabric'. When we pulled up to it I couldn't believe what I saw. After checking out the front of the shop we decided to go to the next place on the list. It didn't look particularly inviting.  See?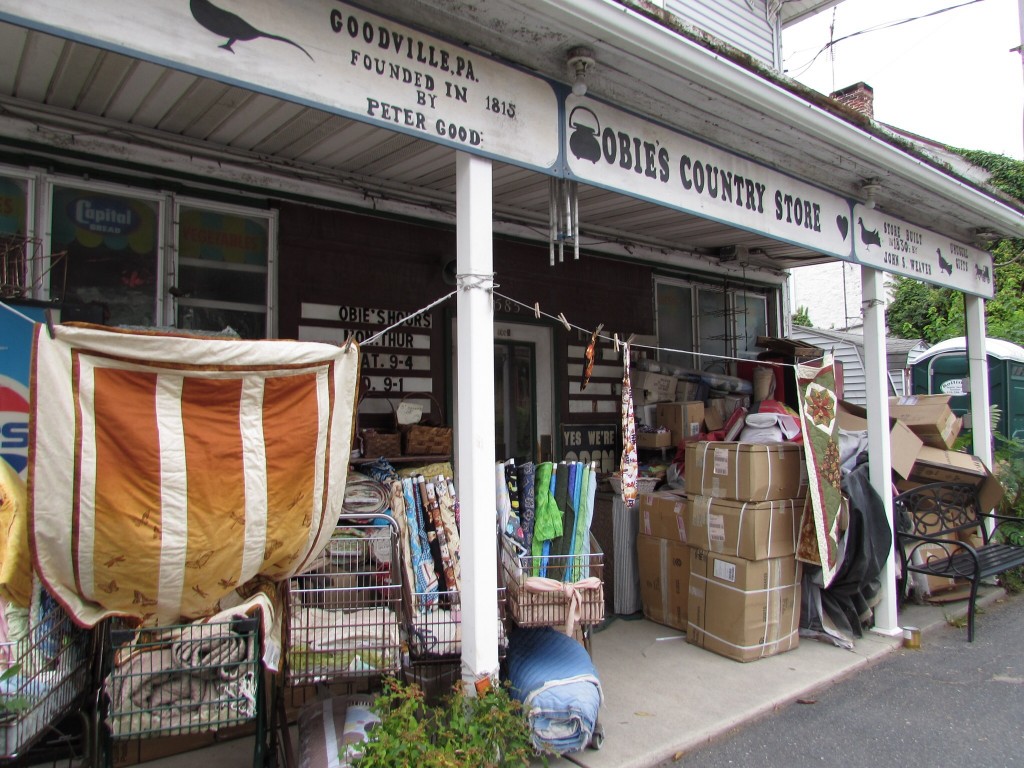 After seeing the front we moved on to the Goodville Fabric Outlet which was just around the corner from Obie's. This store was quite large and had all sorts of fabrics, not just quilting fabric. However much of it was not first run fabric. It was interesting to see the variety though.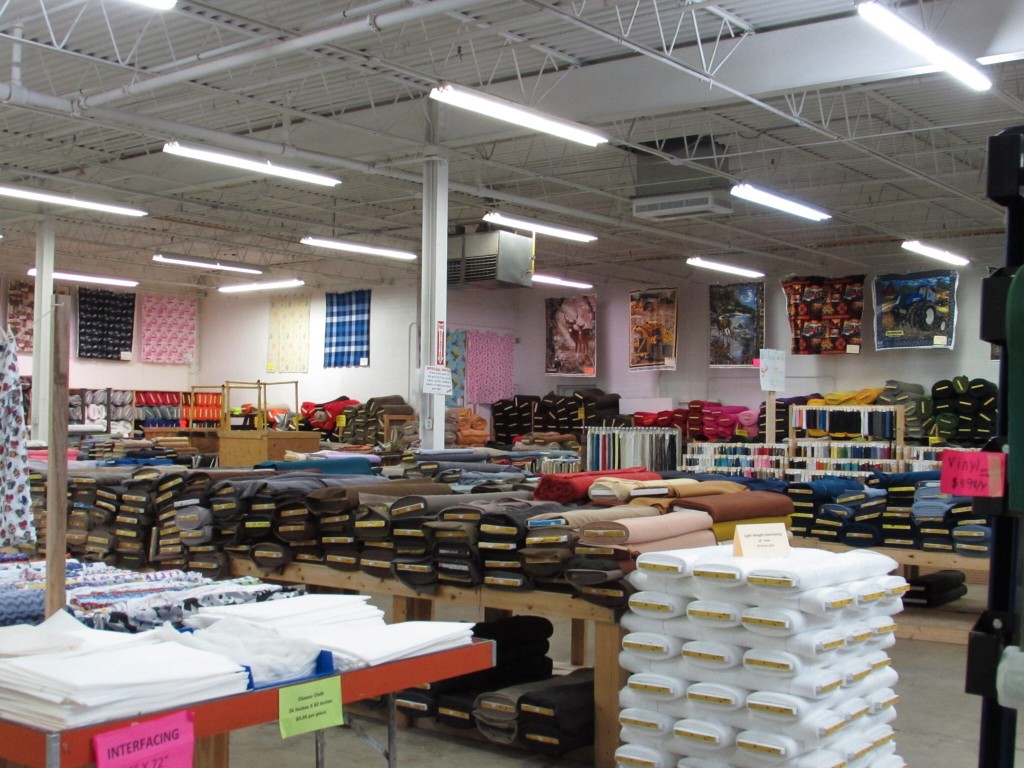 I dug around a bit and did find a few choice pieces though.  I collected several neutrals for a quilt that will be shades of cream, tan and brown.  This photo shows the pure joy of purchasing fabric for $4.99/yard which is petty much unheard of in Northern CA. (Photo credit to my daughter, Julia.)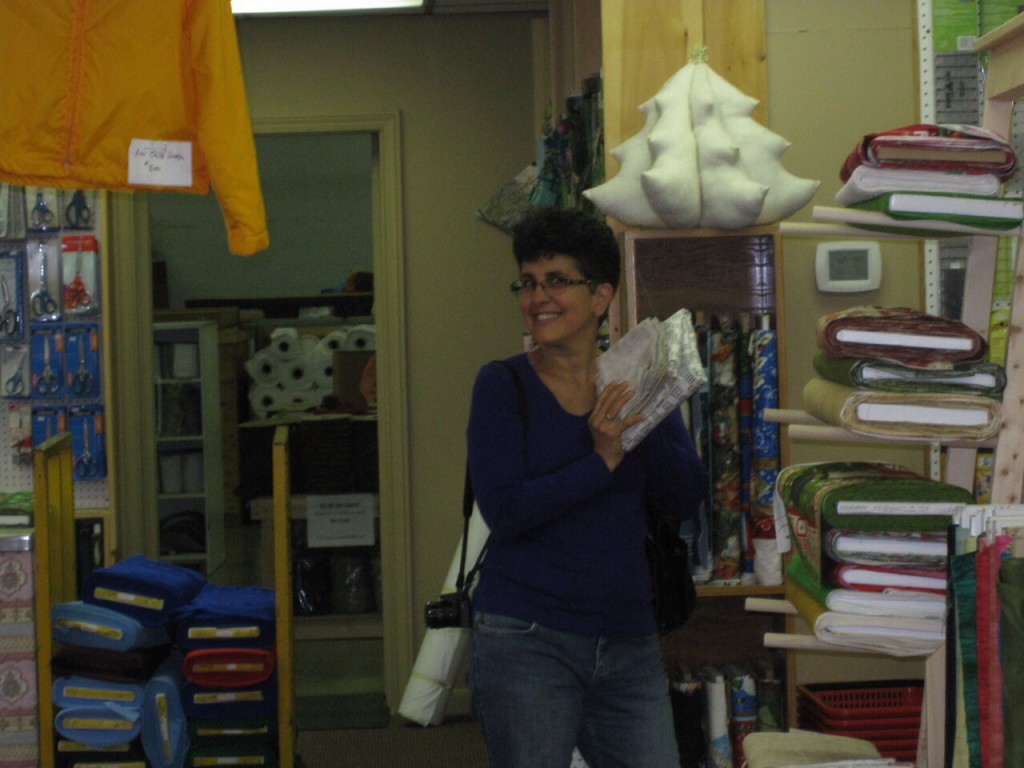 When I was paying for these little treasures, I asked the clerk about Obie's. She smiled and said that 'while it wasn't necessarily safe, it was a sight to see.' That intrigued me. We went back around the corner to Obie's. Oh my gosh!! It was incredible. Fabric was stacked along the walls from floor to ceiling in this tiny shop. You can see by the floor tiles that the aisles were maybe two feet wide and it made it hard for two people to pass each other.  The fabric was somewhat organized by color and theme (for the novelty fabrics at least.)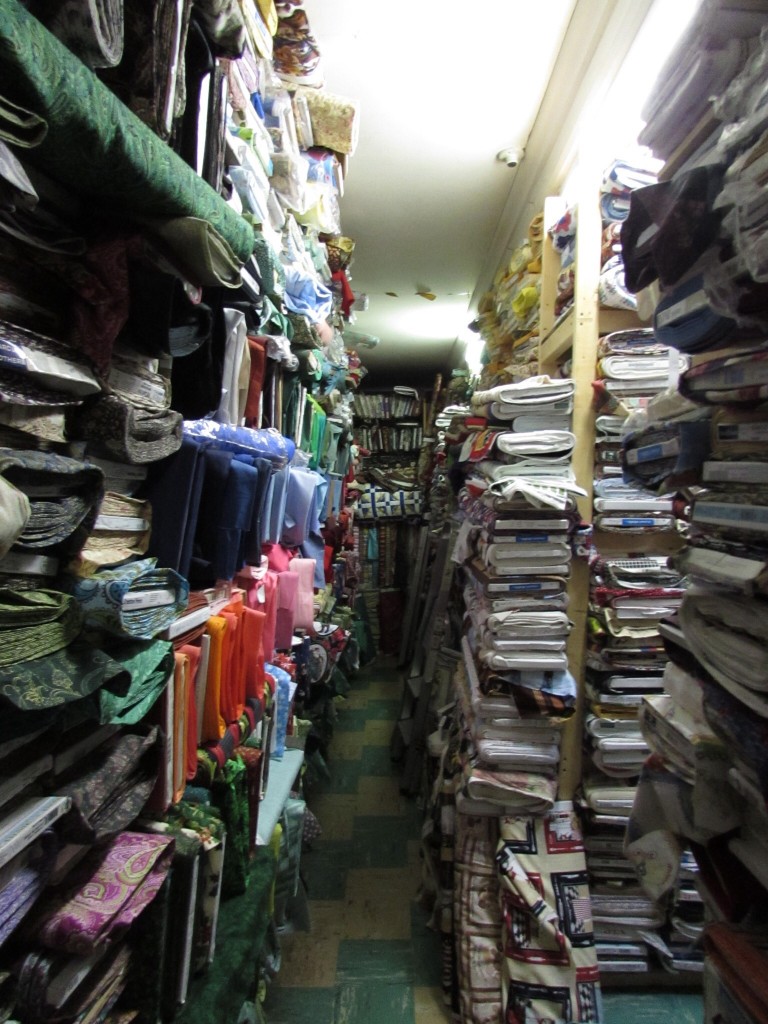 We went upstairs which was crazy. There were quilts everywhere. They were definitely hand quilted but I think some were machine pieced.  The quantity of quilts was overwhelming. They were hanging over the stair railing and folded up and stacked on the shelves along the wall. Digging through the flat folds proved to be fruitful. I found two prints that I loved and both were a mere $3.99/yard! Loved the bargains!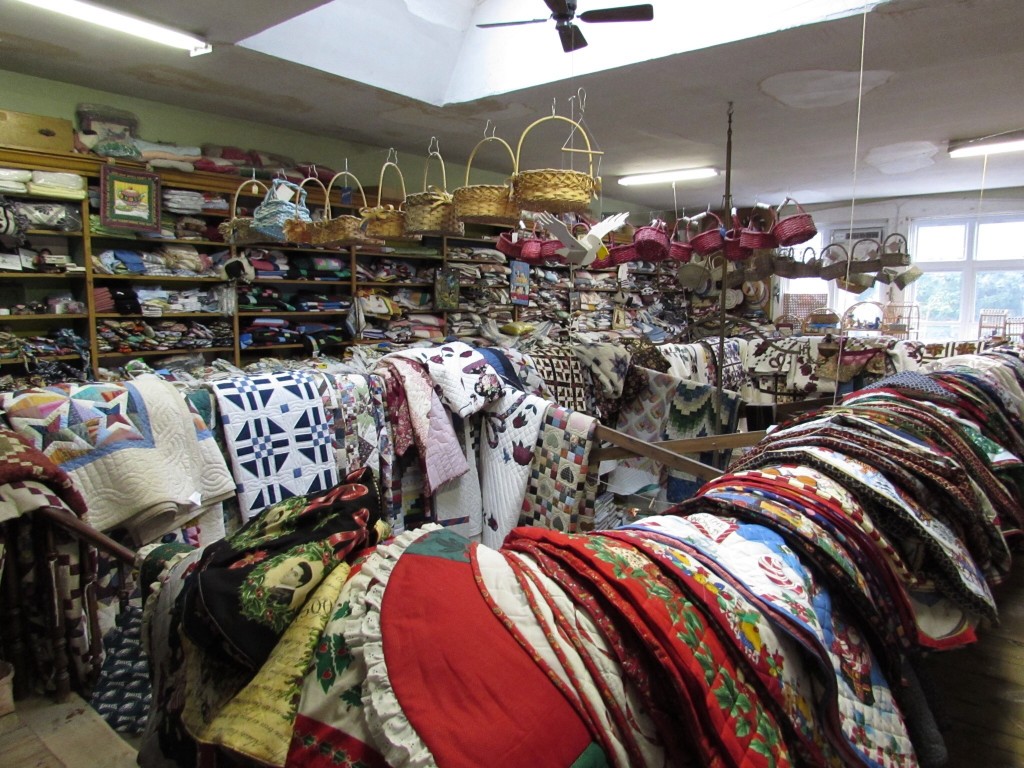 After this experience there was still one place left on the list.  I wanted to go to Weavers Dry Goods in Lilitz, PA. This shop was amazing! The selection and the prices were over the top.  It was really well organized and she carried all the best brands (Moda, Michael Miller, Benartex, Henry Glass, Alexander Henry and Hoffman to name just a few).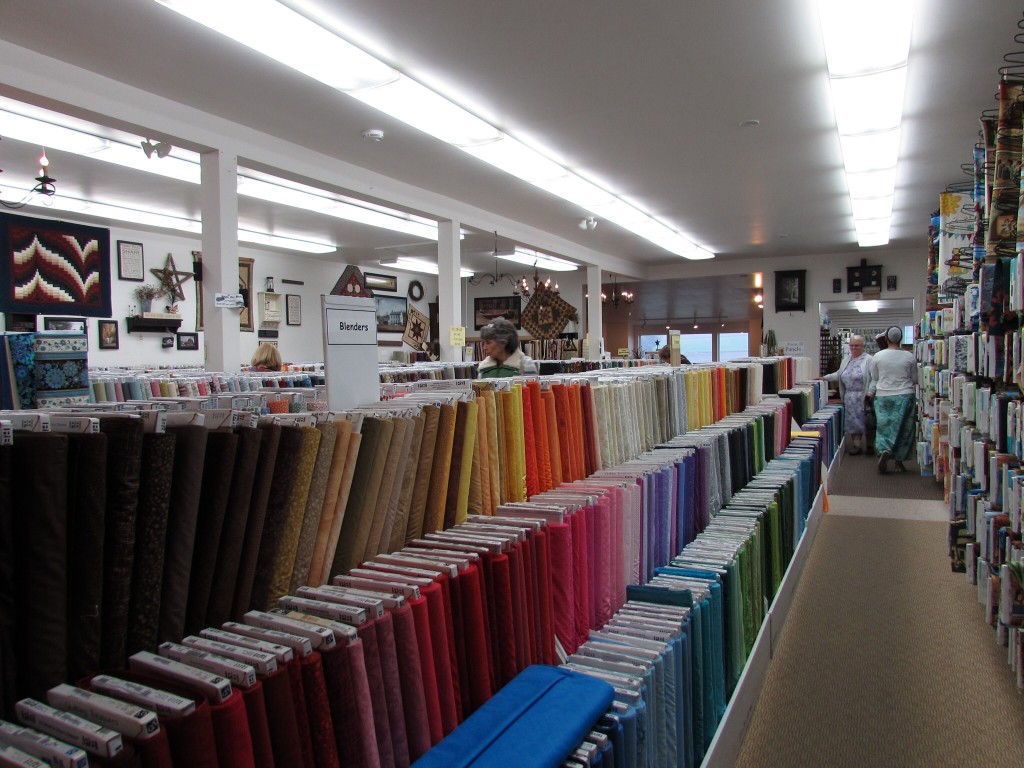 She had a large room full of novelty fabrics and they were beautifully sorted and labeled by theme. Lots of really cute lines.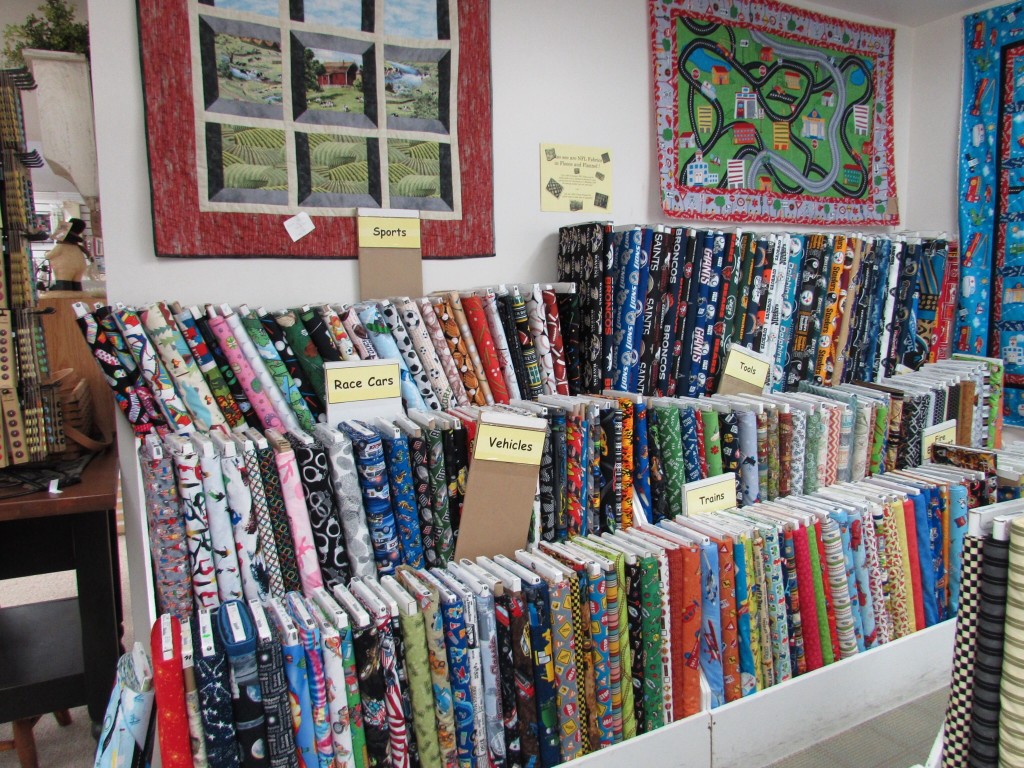 I found a lot of fabric here – A pile of fat eighths and three different pieces of yardage. Again, the prices were great. California pricing is just ridiculous. I was happy to discover that Weaver's has an on-line shop as well. I will definitely use them in the future. This was a top notch quilt shop.
Three quilt shops, three totally different experiences. It was a great day. Have you been to any of these quilt shops?
Linking to Freemotion by the River, Let's Bee Social, Needle and Thread Thursday. All of these wonderful sites have links listed up at the top of the page under Link Ups.