This afternoon I was checking out some of the blogs I follow.  One of which is Kati's blog, www.fromthebluechair.com. Her latest post talks about making some autumn decorations for her house.  I liked the idea of the little Halloween bunting she made up.  It was so cute and clearly a quick project to whip up. I bought some Halloween fat quarters for 50% off last year after the holiday was over. (I will almost always grab some novelty fat quarters after each holiday. They are always a bargain at that point. That way I have some if I need – read want – them.) Already having a bunting template from the holiday banners I made, it was a breeze to cut these little flags out.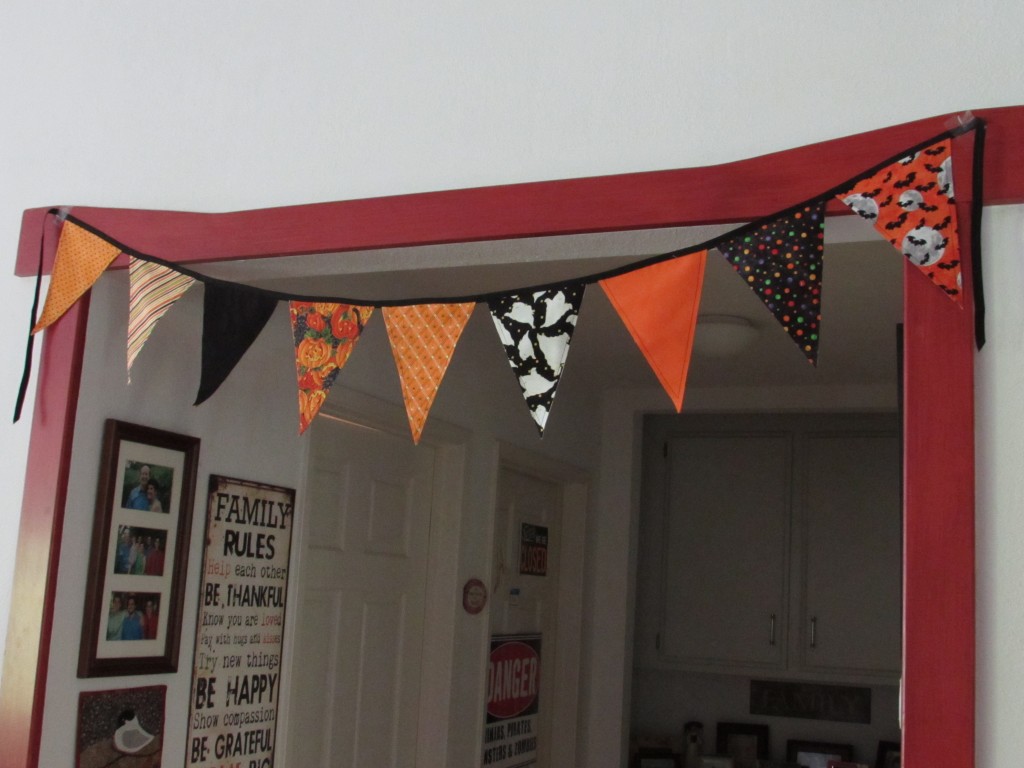 I stitched the flags wrong sides together and then just encased them with a piece of double fold black seam binding that I had in the sewing junk drawer – where you will find a plethora of old ribbon, hem tape, seam binding and elastic.  Never know when it will come in handy, like today. (The door with the 'DANGER' sign and the 'Sorry we're CLOSED sign' is my 13 year old daughter's.  Need I say more?)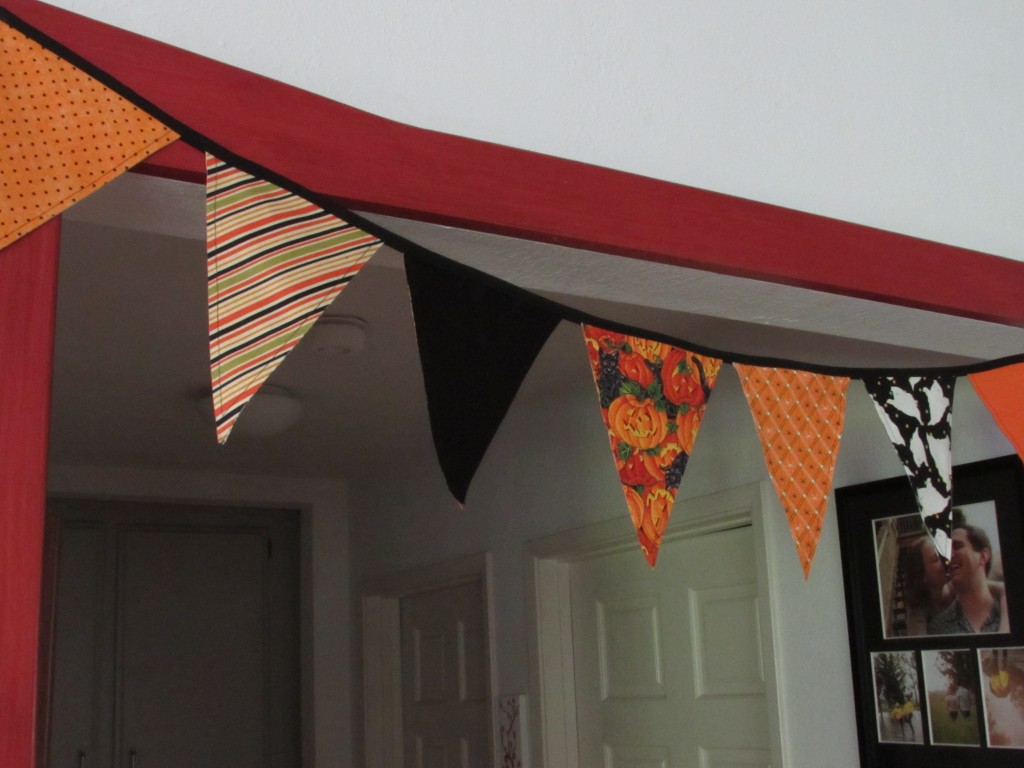 The points curled after I sewed the two sides together. I starched the heck out of them which helps a bit.
I am not big fan of orange but it's October.  October is all about orange.  Last year I made this little flag.  I love it.  I intended to give credit to the website that I copied it from but I can't remember where I found it. I know it was through Pinterest but somehow it is not on any of my boards any longer. So, whomever had this posted, you get the credit. I certainly didn't make this one up. I like it though – even if the rick rack isn't as straight as it could be between the two "o's". I had made this days before Halloween last year so it was only hung for a couple of days. Halloween decorations are usually taken down by about November 2nd.  They aren't my favorites.  😉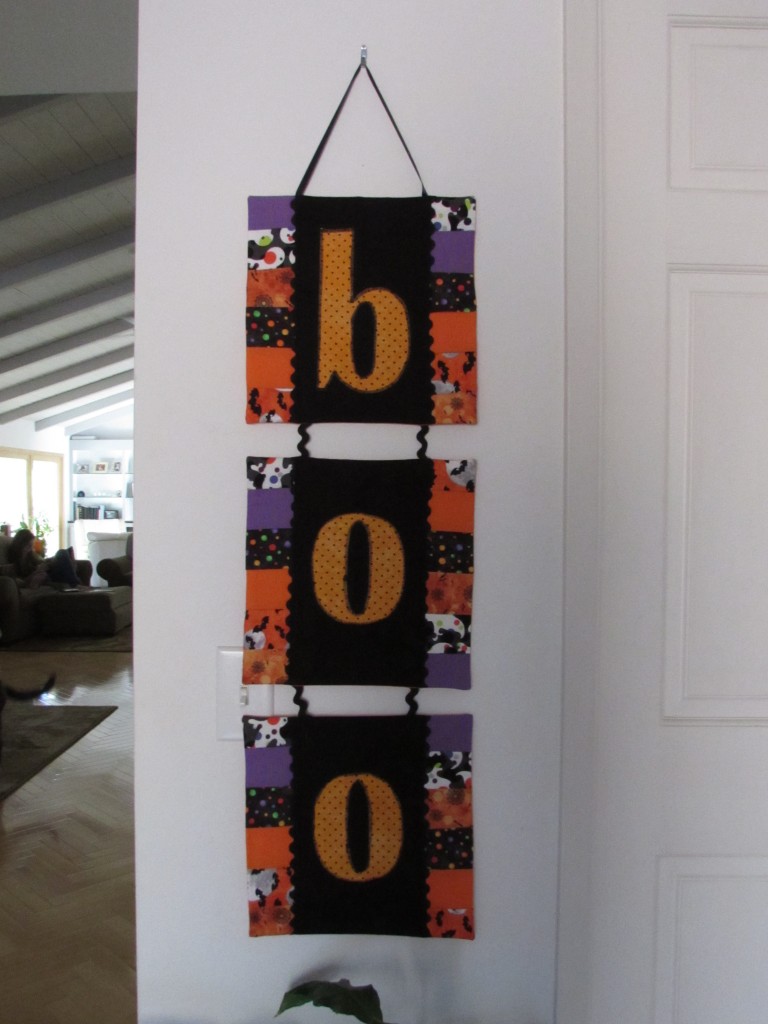 Except for the pumpkins.  I do love the pumpkins.  We grew these out in the garden this year.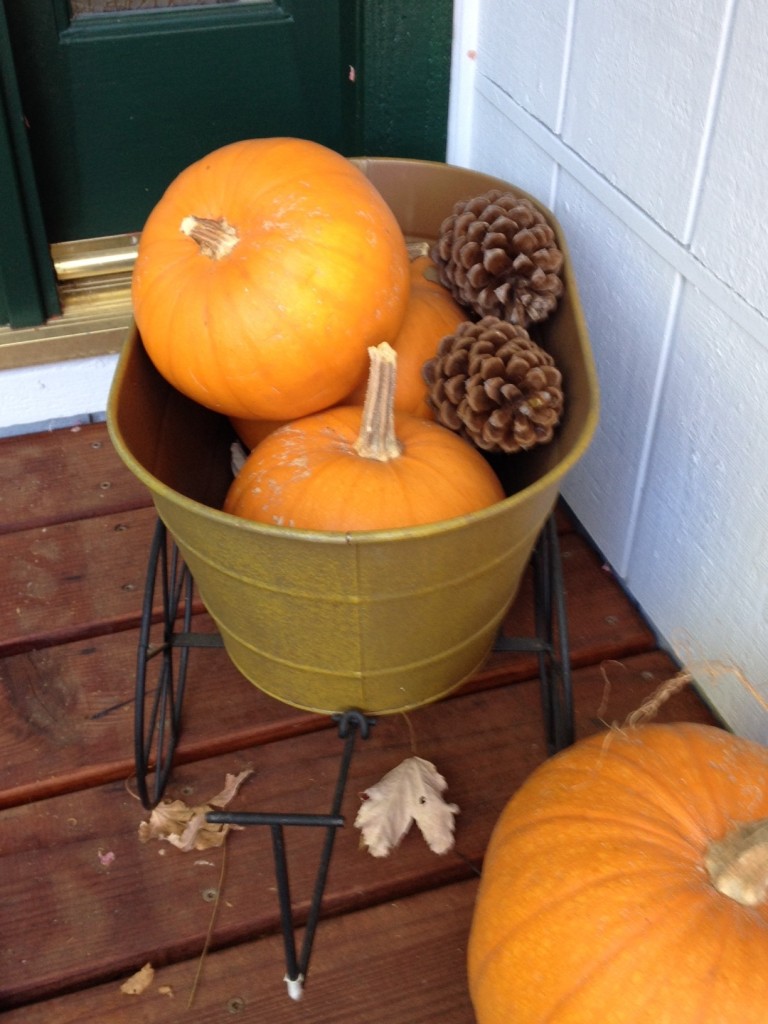 Linking to:  Needle and Thread Thursday, TGIFF, Finish It Up Friday at Crazy Mom Quilts, Confessions of a Fabric Addict – all of these wonderful sites have links posted at the top of this page, under Link Ups.