It is my hope to be a bit more mindful this year.  Maybe sew with more intention or planning.  Time is precious and I want to use it wisely.  To this end, I have been looking at the myriad of quilt alongs and block of the month programs popping up in our community.  Just search on 2018 QAL and you will get approximately 16 million hits.  (Truth – when I did the search, I got 16,200,000 results. Of course many are duplicates or things that don't totally match my search criteria, but still – you get the idea.) But after checking out many of the opportunities I have decided on two.
My criteria were to have one scrappy project to use up some stash and for any program to be a monthly one.  I did the Sewcial Bee Sampler this year which was great, but a block a week sets a different pace. I want to make a monthly plan this time around.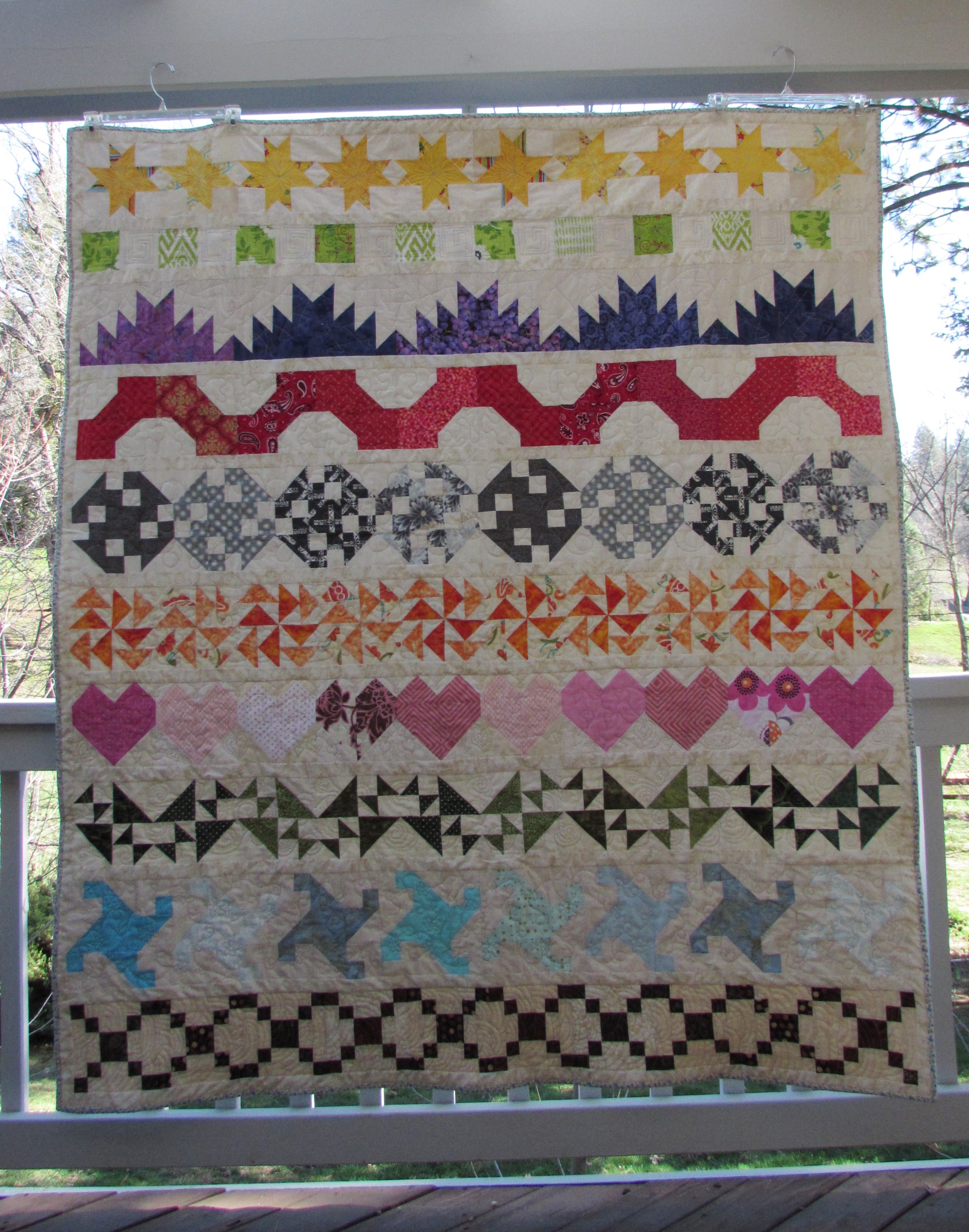 Classic Stitches Row Quilt, February 2016
First on the list is this. Mari of Academic Quilter has hosted a quilt along/block of the month for the past three years.  I joined in with her first one which was a row quilt. (Above is the finished quilt from the Classic Stitches QAL.) She coordinates her QAL's with Angela at So Scrappy and uses the monthly colors for the annual Rainbow Scrap Challenge.  I didn't participate in the last two QAL's because the blocks were more challenging than I was comfortable with.  But this year, Mari assured me the blocks were based on squares and not very fussy. (I am not a fussy quilter who likes to deal with 9 billion tiny pieces.)  This will be a block of the month and begins in January. I am happy to, once again, follow along with Angela's RSC 18 plan and use my scraps. I sort of missed that interaction last year and my scrap bins hardly close so I clearly need to use them.  I know Mari well and she writes an excellent tutorial. Probably due to her long time teaching career, she is able to clearly explain the process and when I had questions she responded quickly. Per a recent post on her blog, Mari plans to announce the details for the 2018 QAL tomorrow, Saturday, December 30th.
Next on my agenda is the Aurifil Design Team's annual QAL.  Each year Aurifil sponsors a fun QAL with a team of creative quilt designers.  Wonderful boxes of Aurifil thread are given as prizes each month.  Maybe this year is the year I win one?!?  The last time I followed along with an Aurifil QAL was in 2014.  I made the colorful quilt shown above using (mostly) Malka Dubrowsky's fabrics.  It is one of my favorites because of the bold color scheme.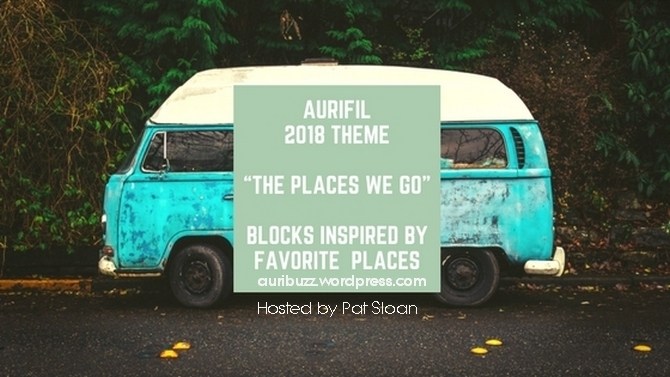 Hosted by Pat Sloan, this year's event will be themed "The Places We Go" and blocks will be inspired by places the quilt design team has been.  I am curious to see how the blocks created by this team relate to the theme.  So many talented quilters are on the team this year.  Take a look:
2018 Aurifil Design Team
Jan – Katja Marek from Katja's Quilt Shoppe
Feb – Scott Hansen from Blue Nickel Studios
Mar – Jo Avery from My Bear Paw
Apr – Yvonne Fuchs from Quilting Jetgirl
May – Minki Kim from Minki Kim
June – Kerry Goulder from Kid Giddy
July – Sherri McConnel from A Quilting Life
Aug – Rebecca Bryan from Bryan House Quilts 
Sept – Sharon Holland from Sharon Holland Designs
Oct – Sheri Cifaldi-Morrill from Whole Circle Studio
Nov – Sue O'very from Sue O'very Designs
Dec – Amy Sinibaldi from Nana Company
The designers are using black and white with a splash of color.  I am not sure if I will follow along or if I will change the pallet.  I do plan to use my scraps though so my colors will likely be based on which of my scrap bins are overflowing the most! I will need to make a decision soon though so I can get started in January.
These two monthly events should be easily integrated into my ongoing sewing.  I find interesting how after looking through the numerous events that are starting up, I ended up choosing two that I have already done.  Is it because I was successful and enjoyed them that I choose to do them again?  Or because I am timid and not wanting to venture out and try something different? Either way, I am looking forward to these. If you are planning to follow either of these QAL's, let me know.  I would love to sew along with you!!
I am off to the sewing room.  Last night was a migraine night so I am running at half speed today.  But I have a bit of quilting left to do on a baby quilt and really hope to finish it before we turn to 2018.  Maybe I will have another post this year sharing this finish.  Wish me luck!!