It's all about flexibility, right? After setting my goals for this year I started thinking about the best way to achieve them. I want to make some progress with my quilting skills and also need to spend time on my Etsy shop to keep it growing. I decided to make a schedule of sorts. My nature is to hop from one thing to another and that is usually inefficient. I start something, sew and then move to something else. No real plan. So, I decided I would earmark some time twice a week to sew on my products for the Etsy shop. Any other sewing time that was available would be used for quilting projects.
Ahh…. the best laid plans. The week just didn't allow for a schedule!  If you are a local reader you probably remember we had some pretty crazy winds last week.  Which led to this: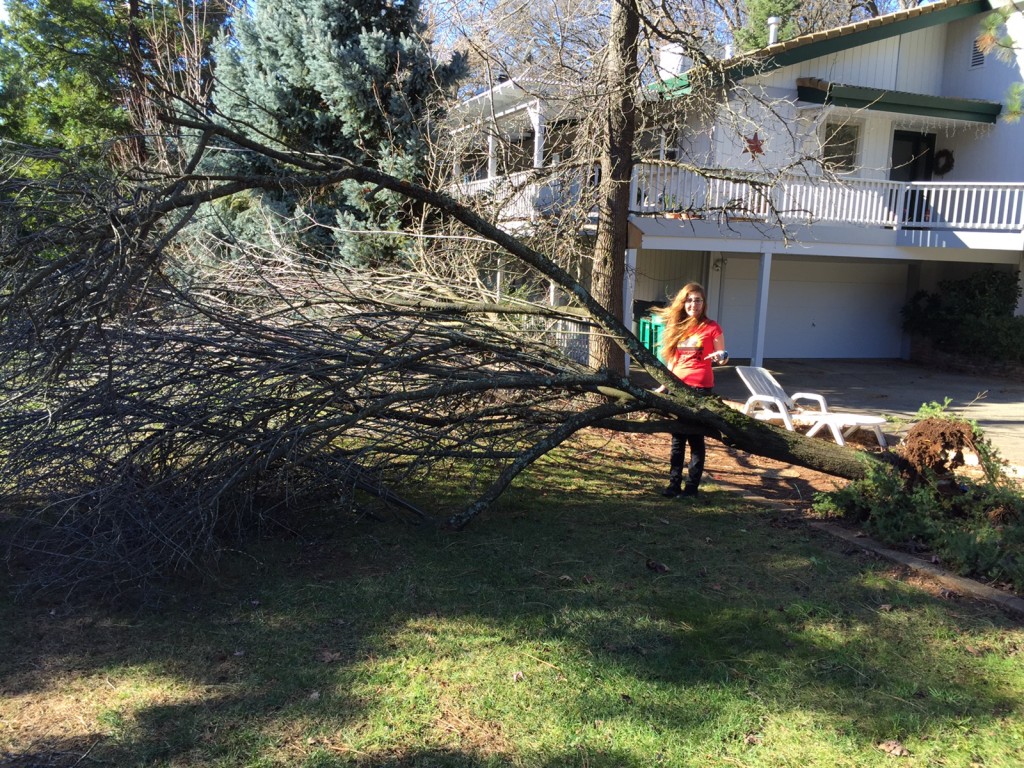 I wasn't home when this tree fell over but my kids were and they texted me this picture. Yikes! So, with a tree that size on the ground, we had to call the tree guy to come deal with it. One thing led to another, as so often happens, and we ended up with this: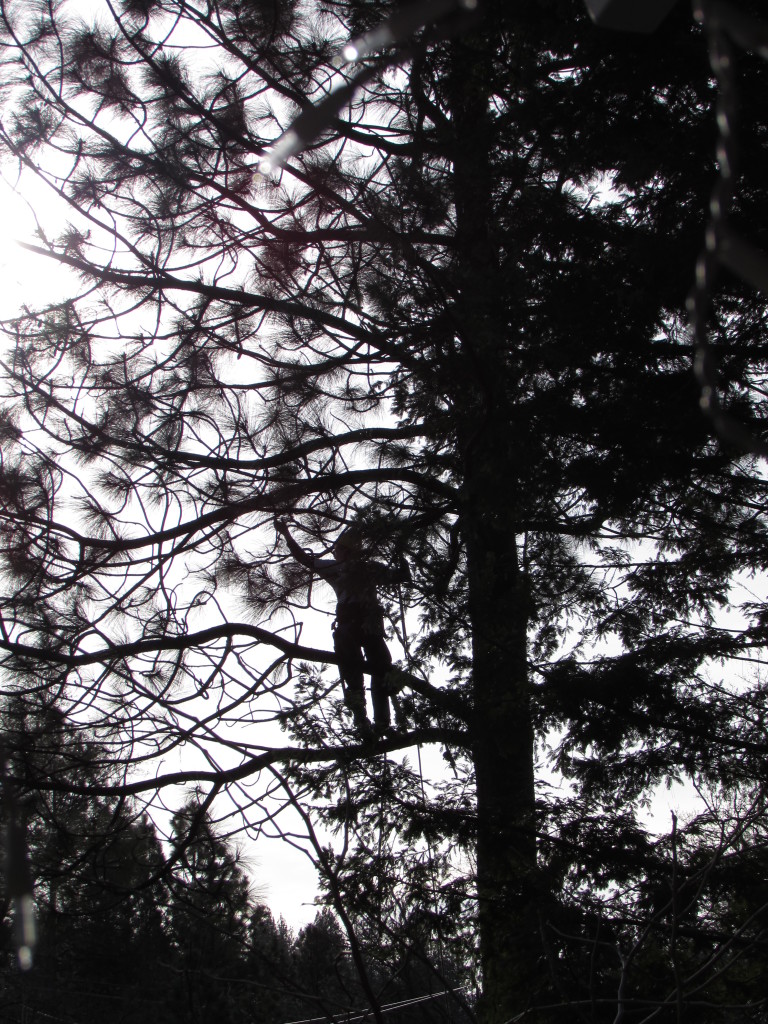 No point having the tree guy come out and only clean up the fallen tree.  He took out another tree, cleaned this pine you see above and topped two more trees. Might as well get it all done. So this created activity around here and I was distracted from sewing the first day or so.
Woke up with a migraine on late Monday night. I get lots of migraines…. not very fun. I have learned over the years that the day after a migraine my brain is frighteningly similar to a plate of scrambled eggs. I cannot focus or think straight and driving is not even an option. Cutting fabric is such a waste – might as well just throw it away because it won't be straight, accurate or even close to the right size. If I sew it is highly likely that I will stitch something wrong sides together or upside down. Don't ask me how I know, but trust me, I do. So instead of sewing that day I sorted scraps.  I had been tossing my scraps into a paper grocery sack under my sewing table for the past 8 or 9 months and it was full.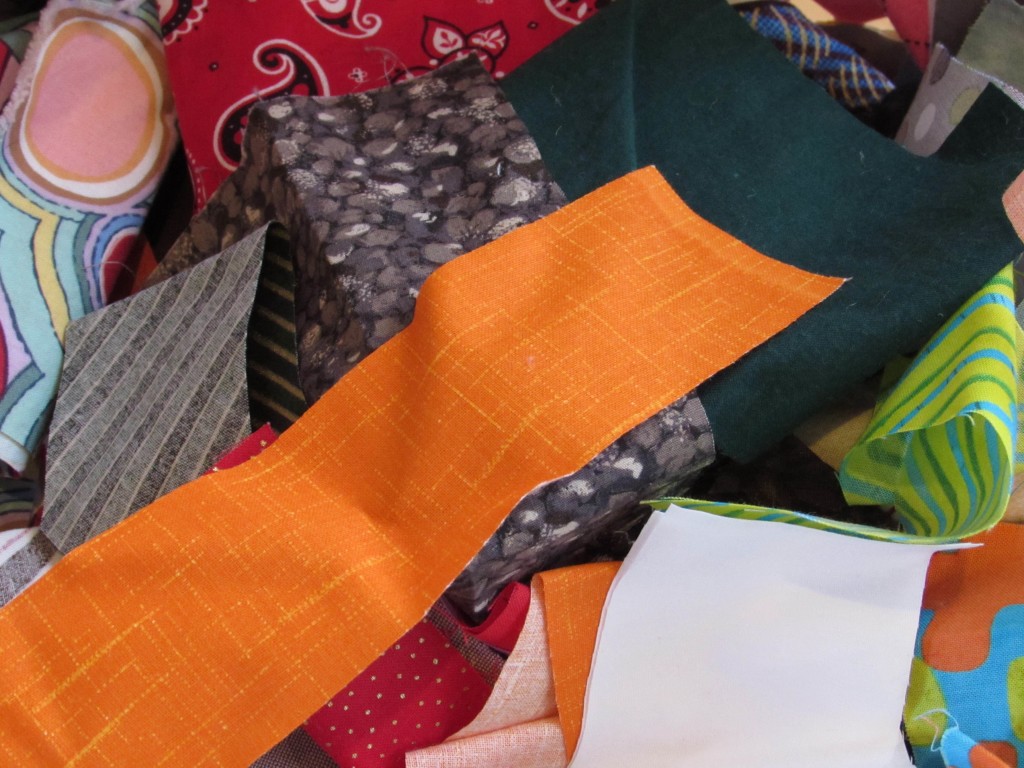 It was fun to look through all of it. Remembering all the projects that I had made over the past year or so. Didn't take me long to get it sorted into little piles by color.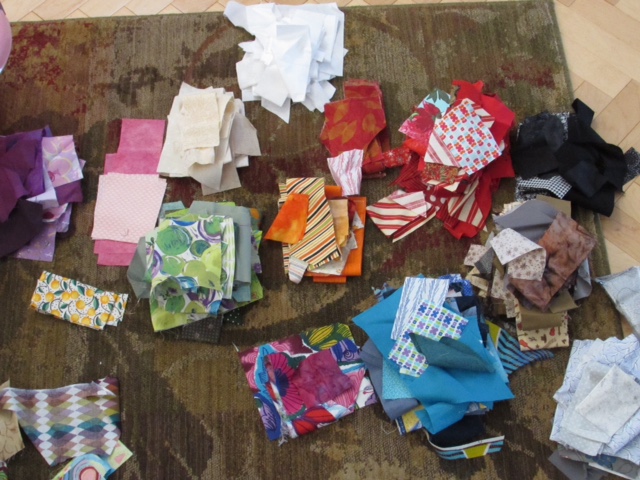 Apparently red, green, blue and brown were mycolors for last year. Very little pink and only one tiny scrap of yellow. Kind of funny to see it all sorted out. I found some jars that I had in the basement which held about 1/2 of this and the other 1/2 is sitting in Ziploc bags until I figure something out. Anyone want to make me some of those cute fabric boxes that other quilters use for scraps in their adorable, organized sewing rooms? That would be great, thank you very much.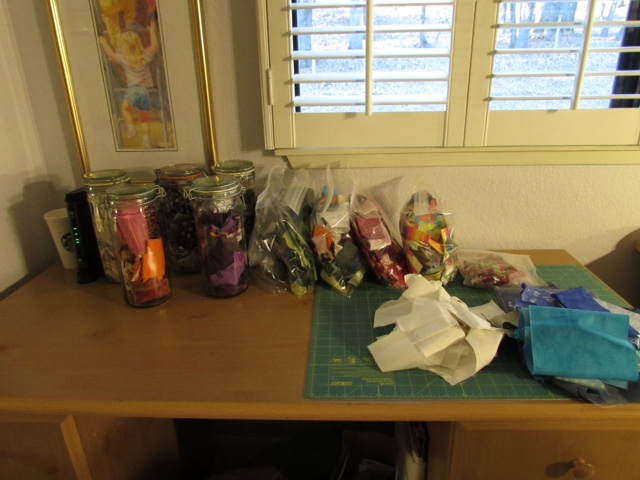 I left the blue and white scraps out as that is the January color for RSC15. I took a quick peek at the first row for Mari's Classic Stitches BOM at Academic Quilter and plan to get started on that fairly soon. The block is a Broken Dishes pattern using lots of HST's. It will be fun to get started on those. She has several options for block size with each row so I need to figure out a plan before I start cutting.
I do have a couple of finishes for this week. Sunday I got the RSC14 quilt top assembled. It is so pretty. I sashed it with a light gray polka dot fabric.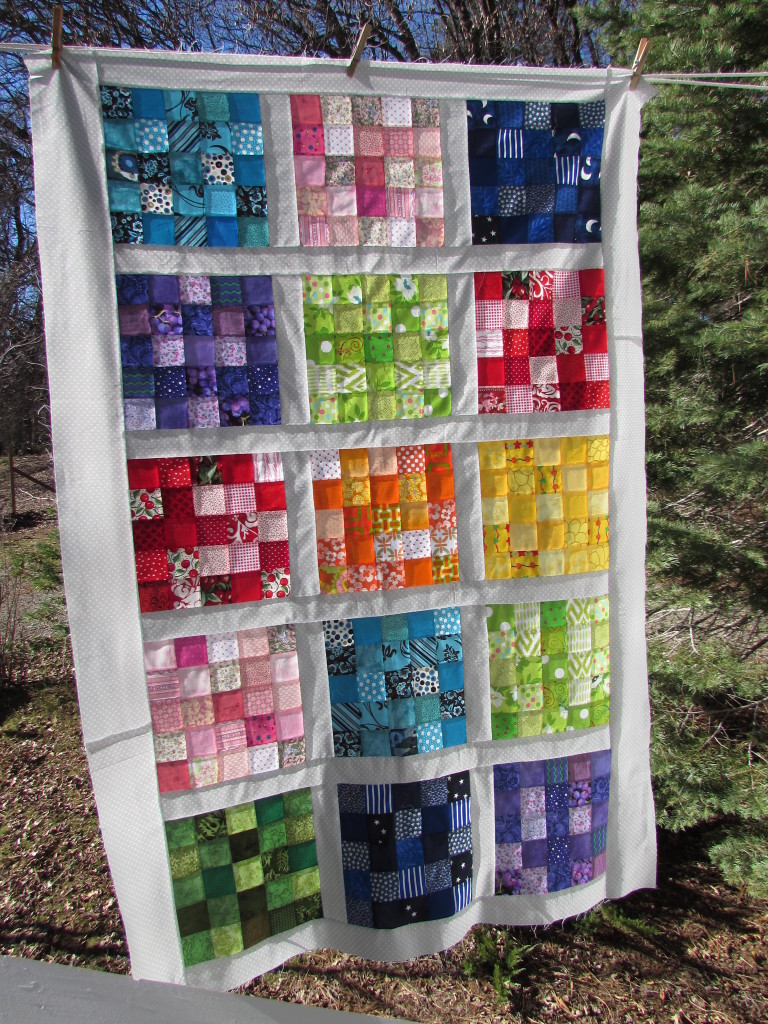 I'm very happy with the way this one turned out. I wanted to add some width so the border on each side is 4 inches rather than two like the top and bottom strips.  At this point I am making good progress on this one and should have it sandwiched, quilted and bound by end of the month. (I hope, I hope!)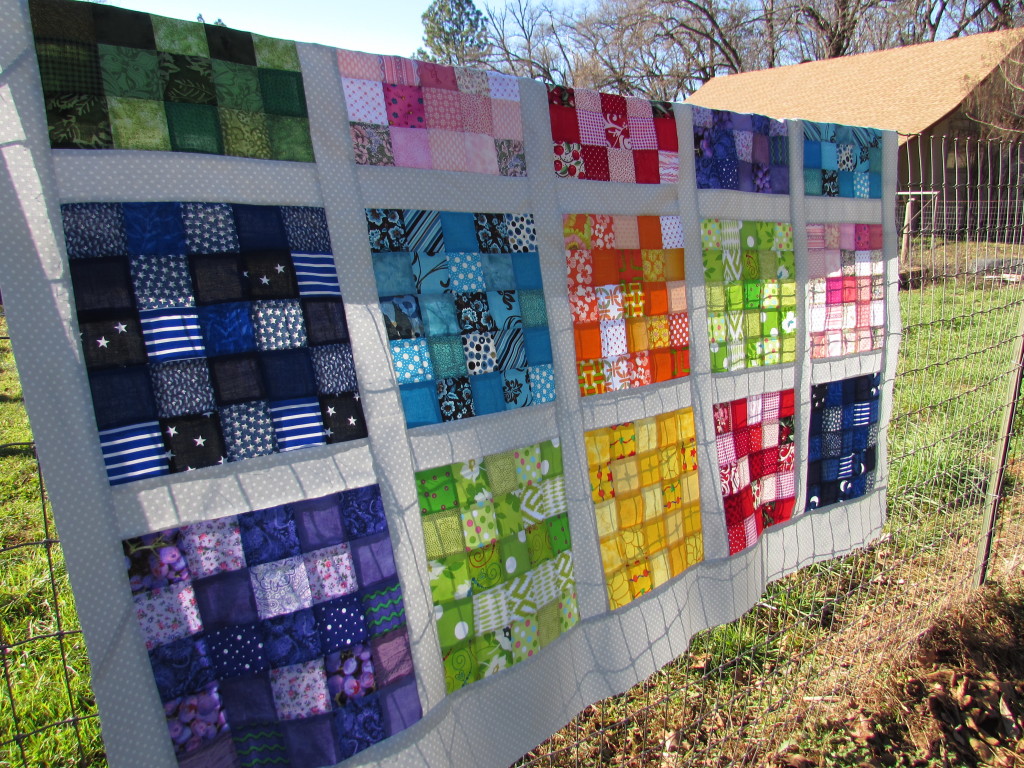 I also managed to finish up a couple of Chemex Coffee Pot cozies for my Etsy shop. This one is my favorite for the week. The fabric is from an Alexander Henry line (Dia De Los Muertos). Most of the line was a little weird for me but this piece is so fun. I wish I had bought more of it.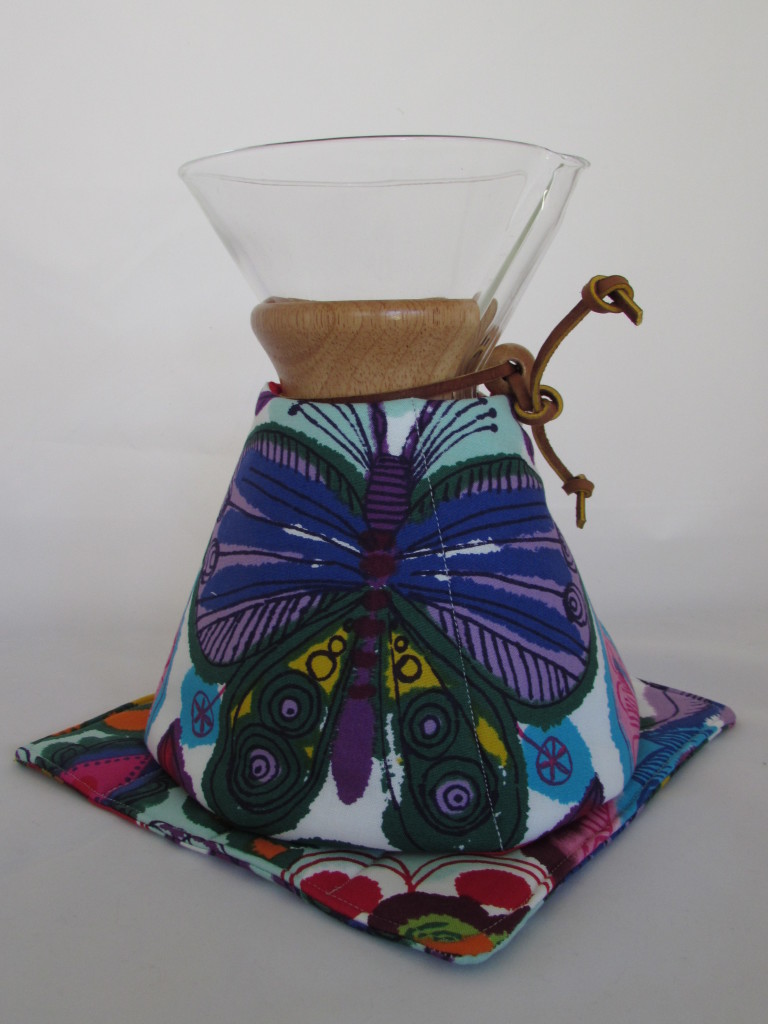 So the week was kind of crazy. I wasn't really able to work to the schedule that I had planned on. It's ok. There's always next week. Hope all of you are working on something fun!
Linking up with sweet Lorna at Let's Bee Social, Connie over at Freemotion by the RIver and Amanda Jean at Crazy Mom Quilts. What a talented trio. Pop over and check out all the work that is linked up with these blogs. The links are posted at the top of the page, under Link Ups.