Ahhhh, personal weakness! Remember the post I wrote at the end of the year where I laid out a few quilting goals for the upcoming year? My second goal on the list was to sew from my stash and avoid buying any new fabric for a while. Hmmm…. how does one really define "a while"?  For me, I am thinking that means a week. That is exactly how long my "fabric fast" lasted. Ugh!! Where is my will power? Ok, it isn't that bad. Totally explainable and I hardly spent any money.
There is a local shop called Humble Fabric and Crafts located in Grass Valley. A very sweet woman owns it and she specializes in "pre-owned" fabric. She scours estate sales and sometimes people will bring in pieces they no longer want and receive credit for their fabric to be spent on others' fabric. Another example of recycling that makes total sense. Really it is a great idea and helps contain the cost of sewing. I usually go to this shop for smaller pieces or just to look for unusual fabric. You won't find a collection or a new release here. But, it is a mecca for the bargain hunting seamstress (which would be me). Roxy sells the smaller pieces (less than a yard) by the ounce. The price ranges from 30 to 60 cents per ounce. Weighing one yard of quilting cotton I usually end up with 4 or 5 ounces. Do the math and you'll see this is a steal. I am on her email list and she sent out a note saying that she is moving the shop to a bigger location and was going to have a sale. What? A sale on fabric that is already a total bargain? All of the 'pre-owned' fabric was 1/2 off. Crazy. How could I resist? I didn't even try to talk myself out of it. I did think to myself, be reasonable, you don't even need anything, etc.  I was pretty restrained, if I do say so myself!  Here are some of the pieces I picked up.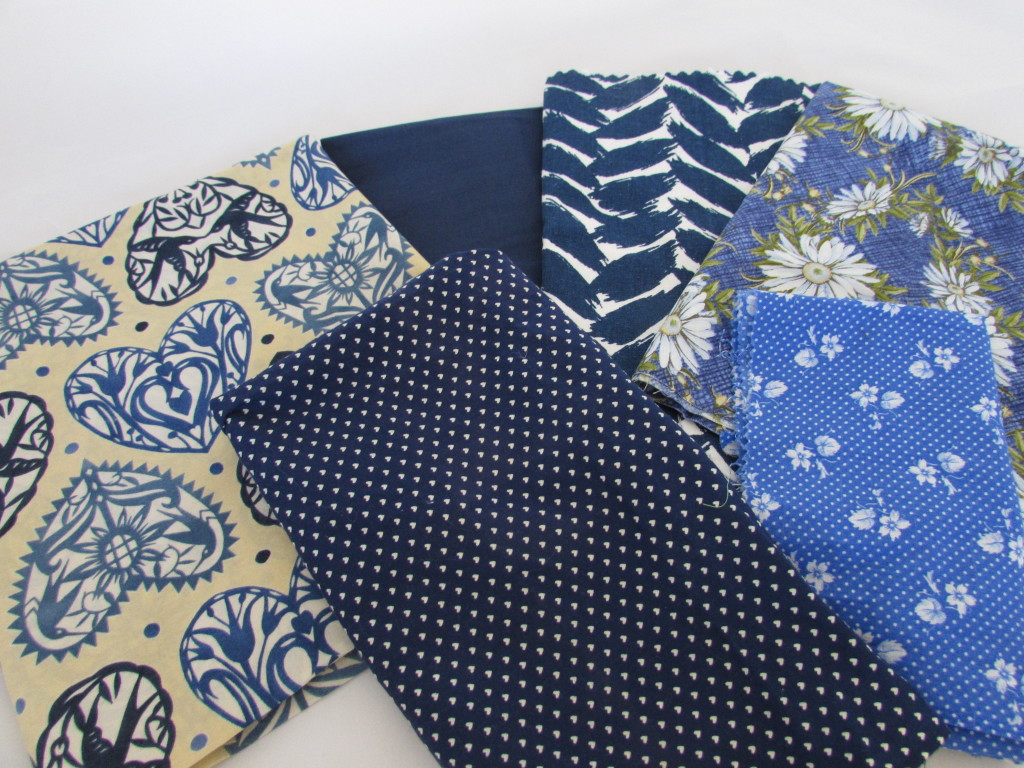 Some were tiny and others were multiple yards.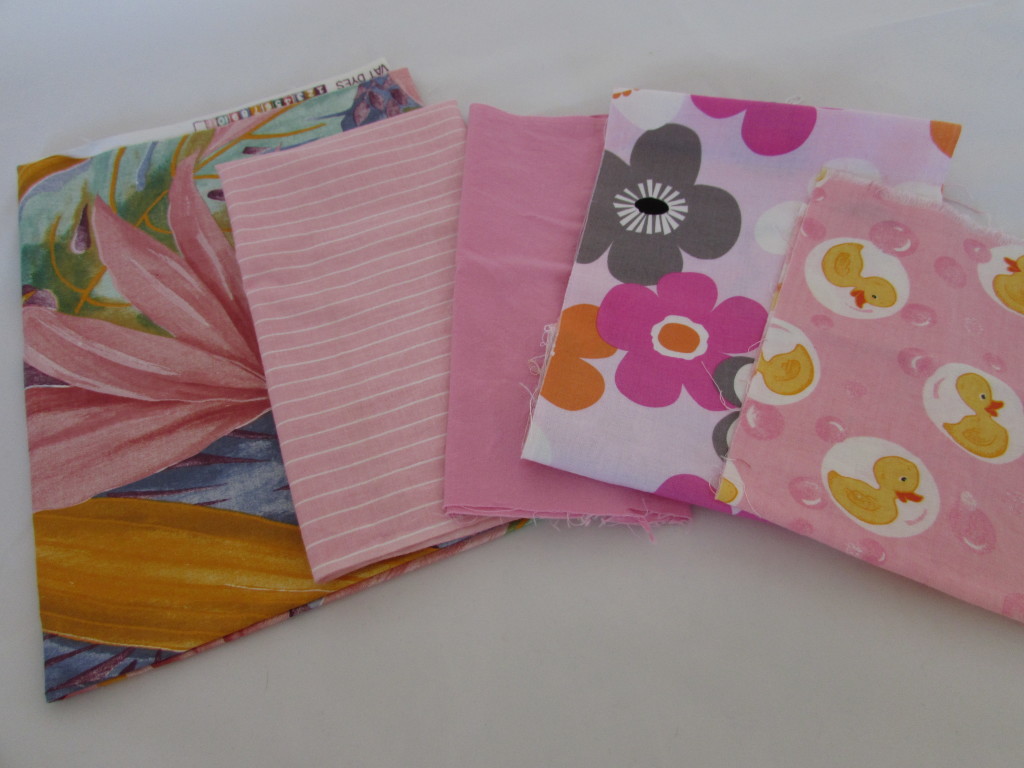 The fabric on the far left features a tropical floral, including Birds of Paradise. It is a home dec cotton and I will use it for the Chemex Warmers that I sell in my Etsy shop.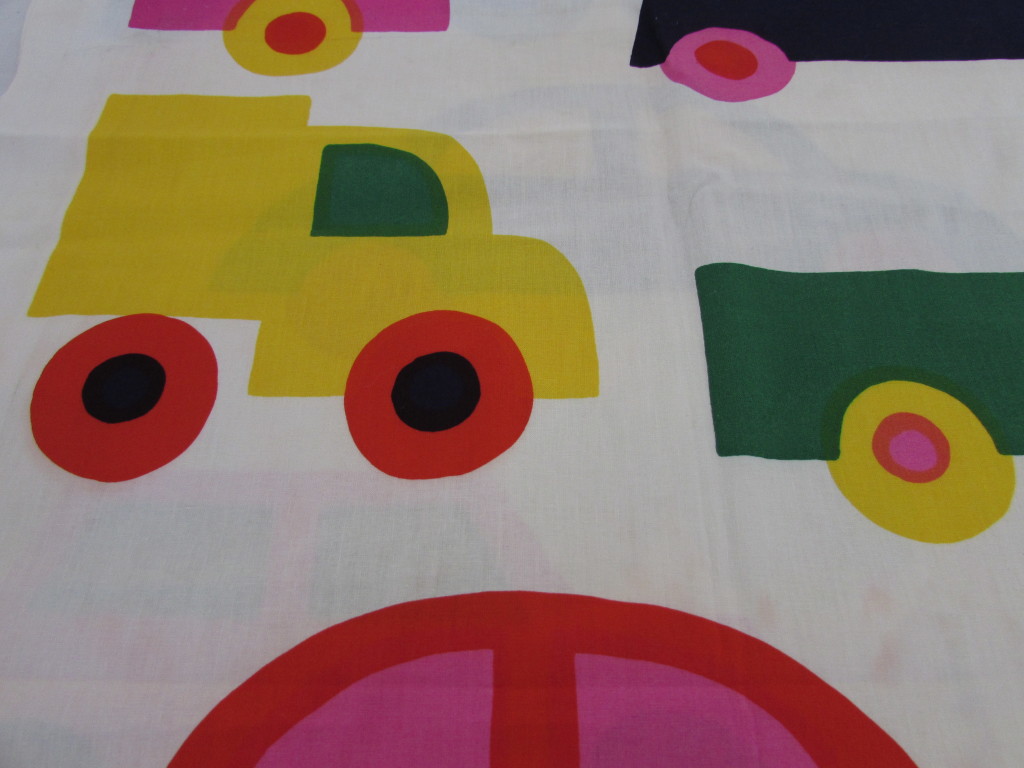 This is a Marimekko print that I think will end up as the back of a child's quilt. I love the bold colors. The large scale print will be fun to use as a backing. It will need to be framed with another fabric as this piece isn't quite large enough. I think I will use a green polka dot that I already have. The dots are really big so it should work well with this.
Finally I also grabbed a large piece of cotton batting that was 36″ by 108″. Perfect for the Etsy projects that I make.
OK, so I didn't last but a week. That doesn't mean that I am going to drop the goal that I had set. Kind of like when you start a diet and then have dessert the next day? I wouldn't know, but you hear of that sort of thing happening….  Just have to re-focus and start over. So, I haven't bought any fabric since January 8th.  Now how long can I last?  Hoping for more than a week!
Linking to Sunday Stash at Molli Sparkles as well as Let's Bee Social at Sew Fresh Quilts