I am loving having all of these gorgeous bolts of fabric downstairs. I like to look at them, rearrange them, sell pieces to my wonderful customers and best of all, make stuff with them. I know, it probably isn't the path to becoming rich – using up my own inventory – but it's all just sitting there, taunting me, calling out to me. My willpower only goes so far. I am human after all.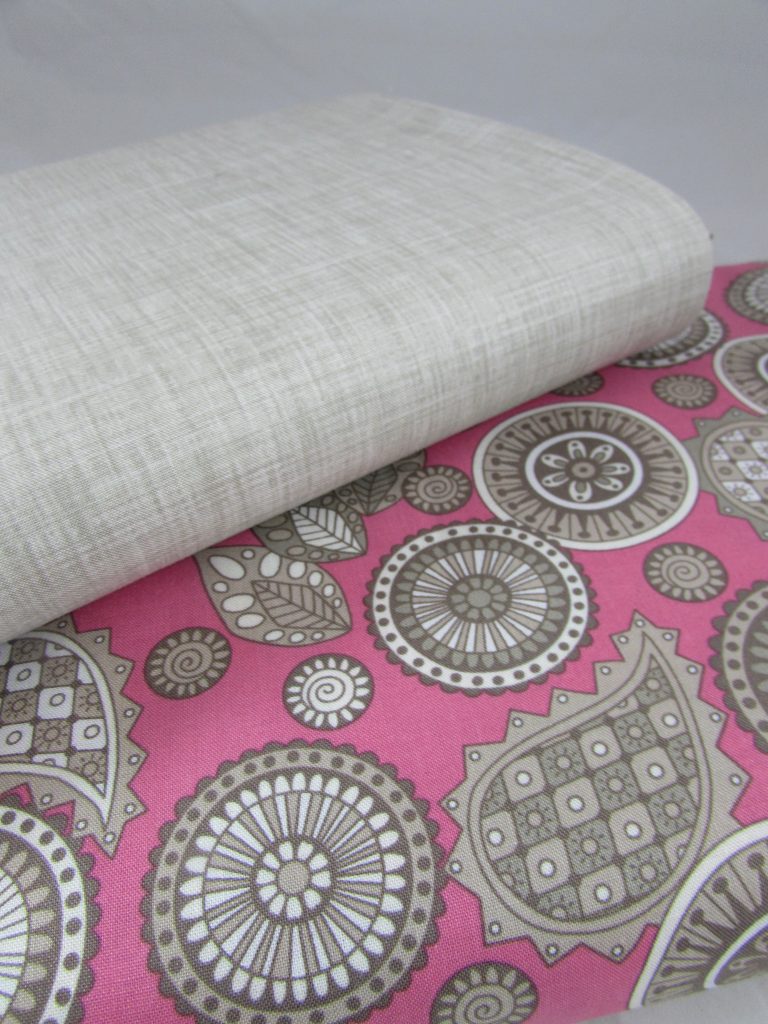 When I was in the process of selecting this first round of fabric purchases, I tried very hard to make sure that the lines I bought were able to intermingle. I like offering choices and having pieces that work well together. This pink paisley print is actually from the Modern Tykes line (from Henry Glass). The line is a set of adorable juvenile prints. But this paisley holds its own. It is a deep pink with gray and taupe accents. Pink isn't usually my color but I like this one. I also carry a selection of Color Weaves – a textured solid made by PB Textiles.  The gray piece works perfectly with this paisley print.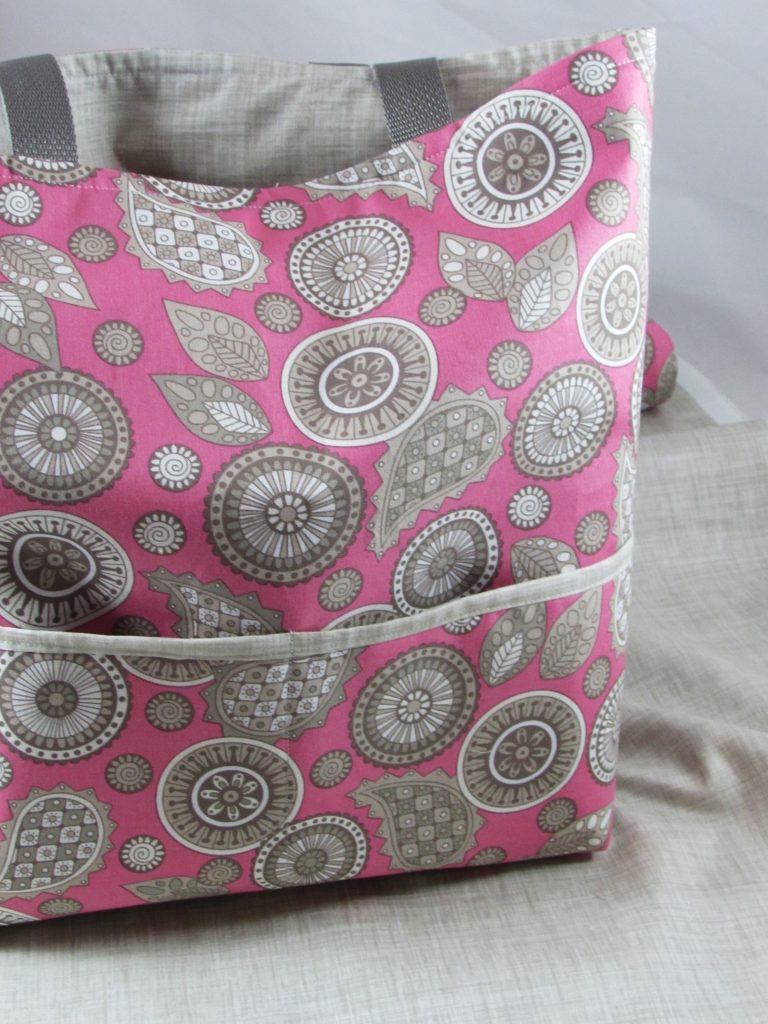 I love both of these fabrics together and thought they were a good choice for a springtime tote bag.  I used (for the second time) the tutorial,  Summer Madras Tote by Anna Graham (Noodlehead.com). (Here is the first one I made, in case you want to check it out.) It is a very simple bag that takes maybe an hour to put together. The tutorial is very easy to follow. I like the outer pockets finished with a bit of trim.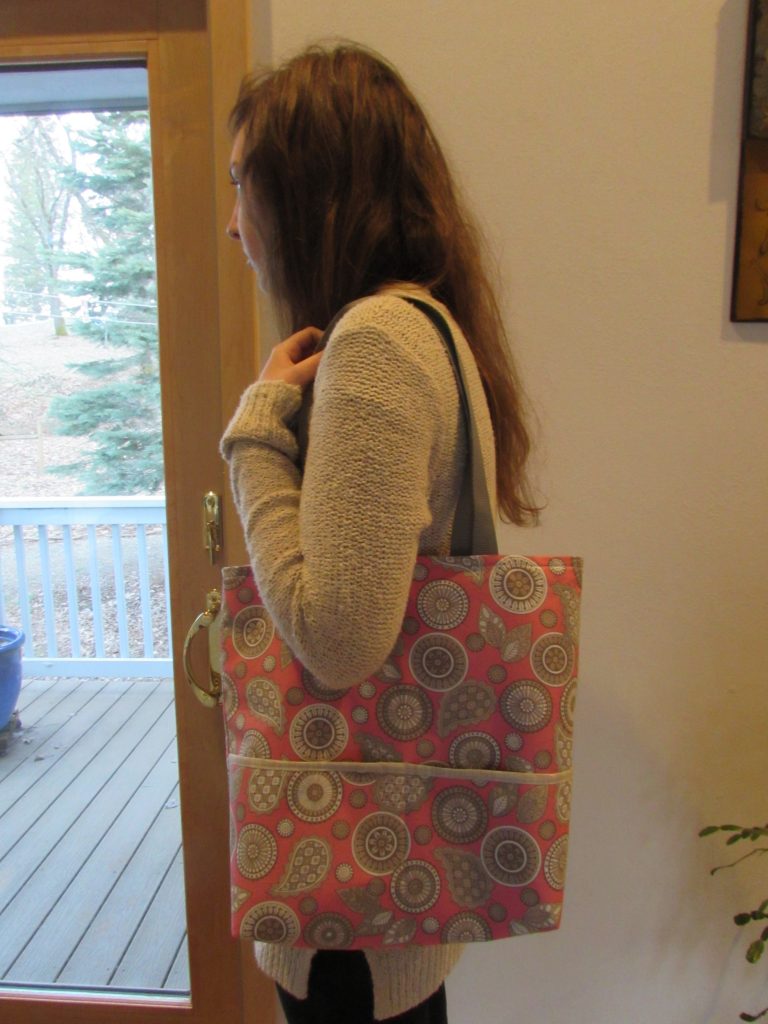 This bag is roomy and will be perfect for shopping or filling with fresh produce at the farmer's market. I have a feeling I will get plenty of use out of it!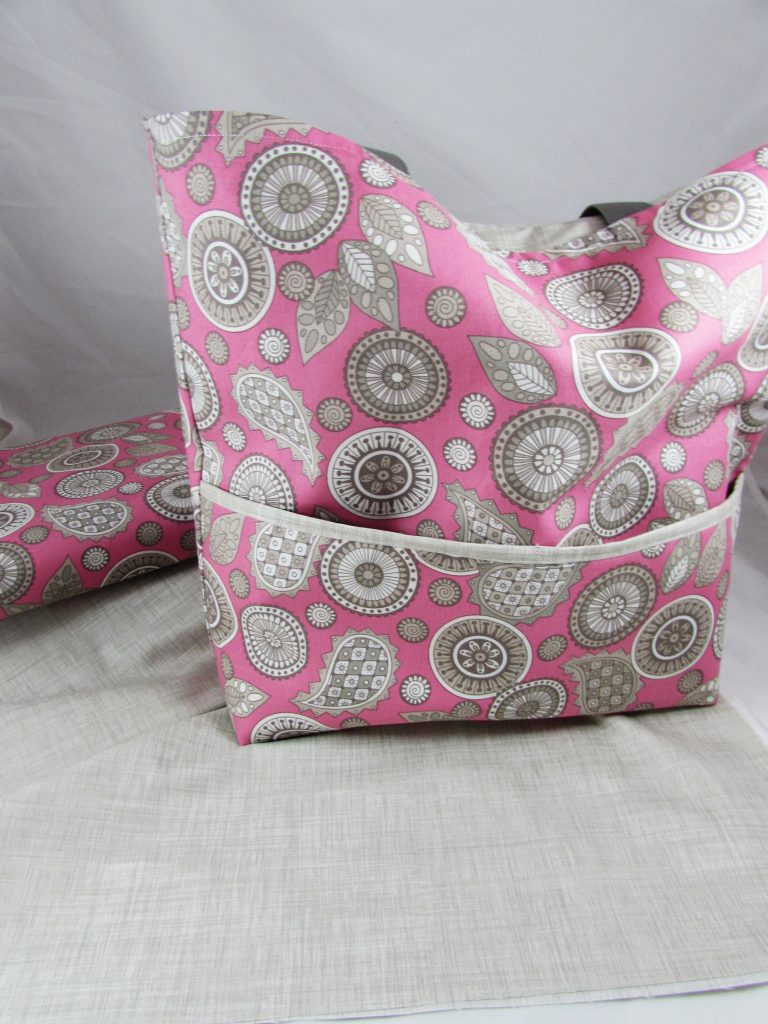 I have a second bag in the making as well. This one is based on a tutorial by Beth at Cooking Up Quilts. For this, I will use a piece of fabric from Maker Maker, by Sarah Golden.  I have been wanting to try a recessed zipper and her tutorial makes it look simple. That remains to be seen!
I also finished the baby's quilt this week. I sent it off to my kids and will share a post on that next week. The baby is due any day now.  We are all so excited to meet her.
Wishing you all a wonderful weekend. I am experiencing QuiltCon vicariously through all of the posts on Instagram. So many amazing quilts!!
Today is the last day for the sale on Maker Maker fabrics. I have each piece marked down by 15% – no coupon code needed.
Linking to my usuals – check them out at the top of the page, under Link Ups.