Remember the tale of the quilter who needed a piece of velcro and her ensuing trips to Ben Franklins? As happened with "If You Give a Mouse a Cookie", there is a sequel which must be shared. After the success of Laura Numeroff's first book , the sequels began popping up with regularity. There was "If You Give a Moose a Muffin" and "If You Give a Pig a Pancake" among others. Here is the next chapter to my story, If You Give a Quilter a Bargain.
At the end of the first chapter of this story, you might remember that this quilter had returned to Ben Franklin to pick up a piece of Allison Glass fabric to add to the pile being used to make a 241 totebag. While there, an amazing discovery was made where the whole Asuka line by Dear Stella was found on the $5.99 table. I thought that was where the story would end. But no, it was not to be.
Last week the May is for Maker's challenge was brought to the forefront of the quilty blogger community and everyone was joyfully diving in to buy patterns designed by individual makers (as opposed to those working for large companies.) This blogger happens to love a good cause. Especially a cause that is supported by shopping.
In my related post last week, I stated that I would buy a pattern to use to make a quilt with the Dear Stella fabric. It took a lot of shopping to finally settle on the pattern I wanted to make. There are endless numbers of gorgeous patterns to be had on Etsy and Craftsy both. So many great designs that it was very hard to choose. I started looking at the blogs of my favorite quilters who also sold patterns. I did web searches. I went to my lovely Etsy shopping app and my Craftsy shopping app. Finally I had to just put away my iPad to let my brain settle down, knowing that once I did so, the right pattern would rise to the top of the frenzy.
It did. Here it is; Courtyard Tiles by Kelly Young of My Quilt Infatuation. One of my parameters for choosing a pattern was that it have a large scale design because some of the Asuka pieces have large focus prints. Also, because I am making this for a queen size bed, I didn't want to piece something too fussy with loads of points to match, angles to cut, etc.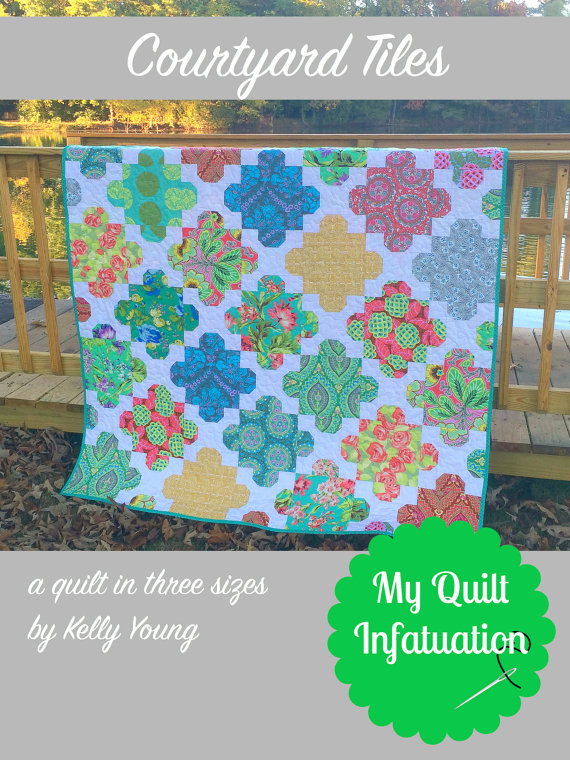 This pattern will be great from both angles – not a lot of fussy piecing, and plenty of room for the fabrics to shine. I love that the blocks give an impression of a curve but really they are pieced with rectangles and small triangles to create that curved look. Here is where the saga continues. Looking at the requirements for the queen size, I found I needed another 1.5 yards. Yep, I had to go back to Ben Franklin's.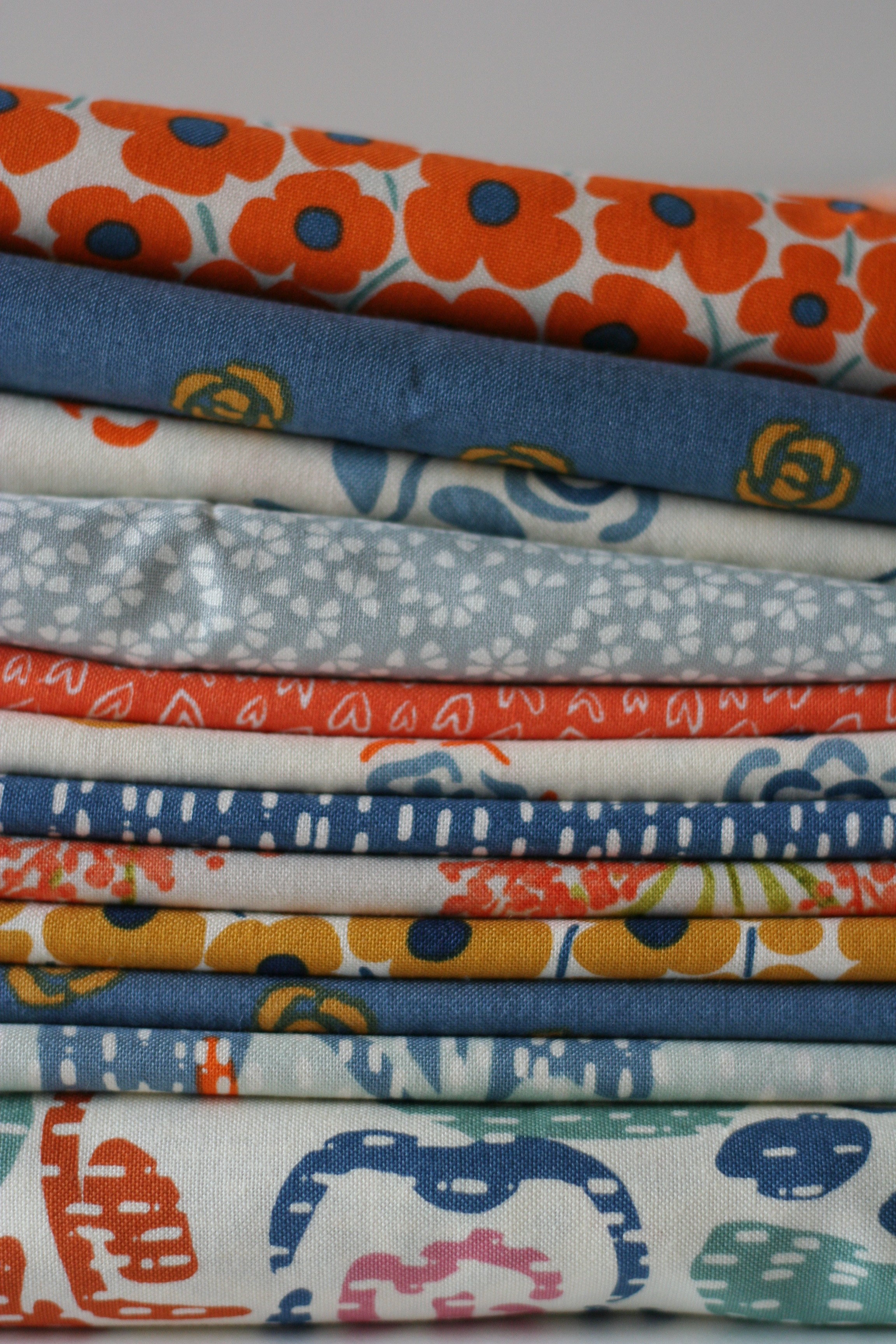 Fortunately for this shopper, there were still a few pieces of the Asuka line left. There were also a few pieces of Dear Stella that coordinated with the Asuka line. No longer were they all stacked together nice and neat. That's ok – the thrill of the hunt makes it that much more satisfying. I started searching.

I found several pieces that I had not purchased during my last trip. The orange flowers with the blue centers, the larger scale print (on the bottom to the far left) and the gray dot (on the bottom, middle of the row). I also bought a bit more of two pieces that I already had.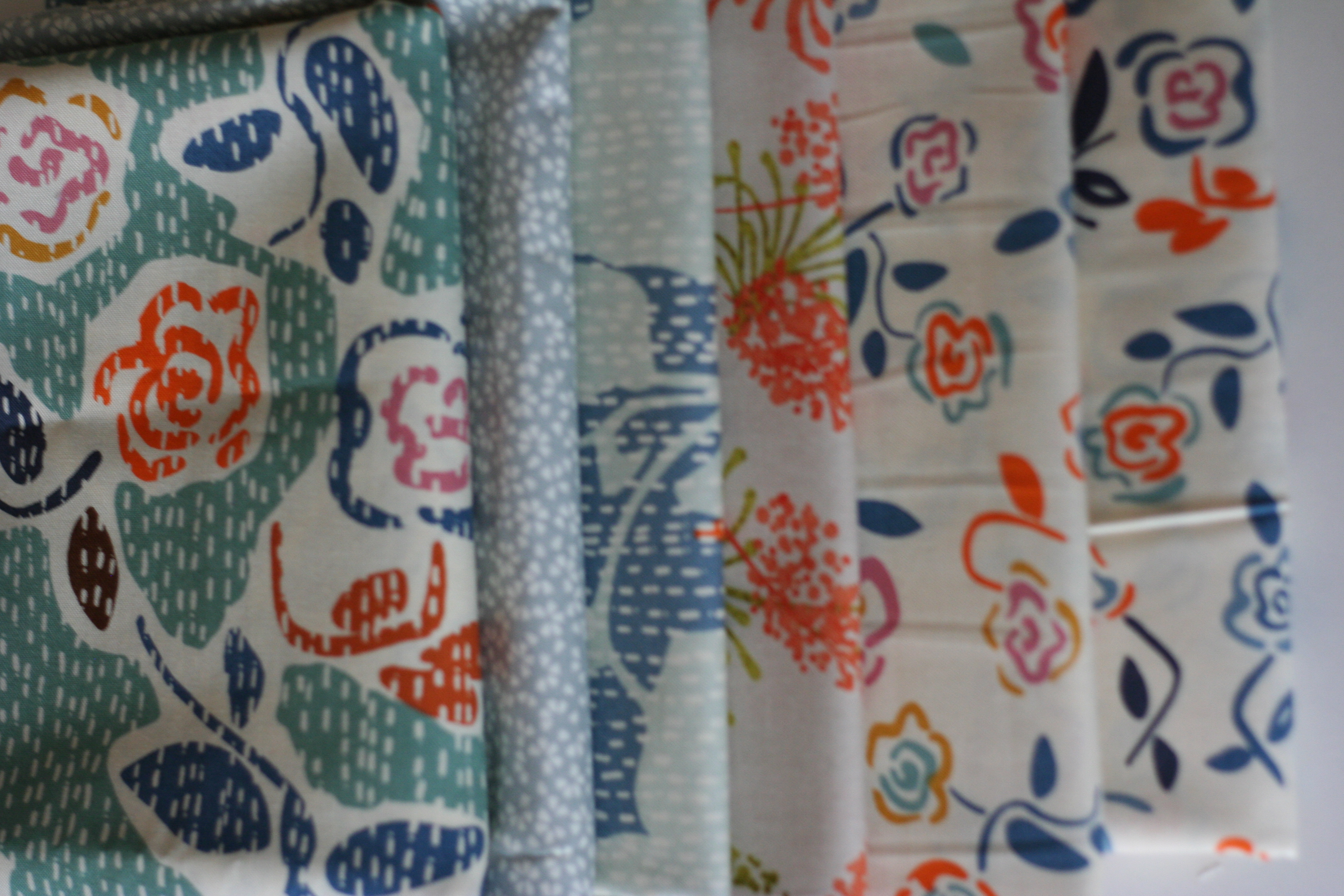 I have enough of the print fabrics to begin piecing the quilt. I have not yet purchased the background fabric. I can't decide what color I want to use. Currently, the choice is between a very pale gray or a crisp white. My decision is complicated by the fact that some of these fabrics show a creamy white and others have a very crisp white. Oh, how I struggle with color! If you have any input, I would appreciate hearing your thoughts.
Of course, I would be lying if I said this was the end of my story. Once the decision is made about the background fabric, there is still the backing fabric and the binding to be selected. No, this story has only just begun. I am excited to get going on it, but first I need to finish up a few projects that are close to completion.
Linking to Sunday Stash and Main Crush Monday. (You'll find these links at the top of the page, under Link Ups.)