Let's start off with the fun fact that this is my 200th post. That is sort of cool. 🙂
The last week didn't include as much sewing time as I would have liked. I lost a couple of days because I was down with a bug. I managed to watch a few episodes of Downton Abbey though so it wasn't a total loss. (I just discovered the show a few months ago and luckily, Amazon streams it. I have been devouring this soap opera lately, with the Dowager Countess being my favorite character.)
The days that I was able to spend time sewing were mostly productive. I made a few new French Press cozies for my Etsy shop. Beyond that, I started quilting my black and white Stepping Stones quilt. So far, I am quilting along the diagonal, following the black and white squares. I have not touched the tiny HST's or the blue strips. My thought is to finish the black and white charms and then decide what, if anything, to do with the other smaller parts.
I am using white thread and the quilting is coming along nicely. However, the white stitching doesn't show up well for pictures.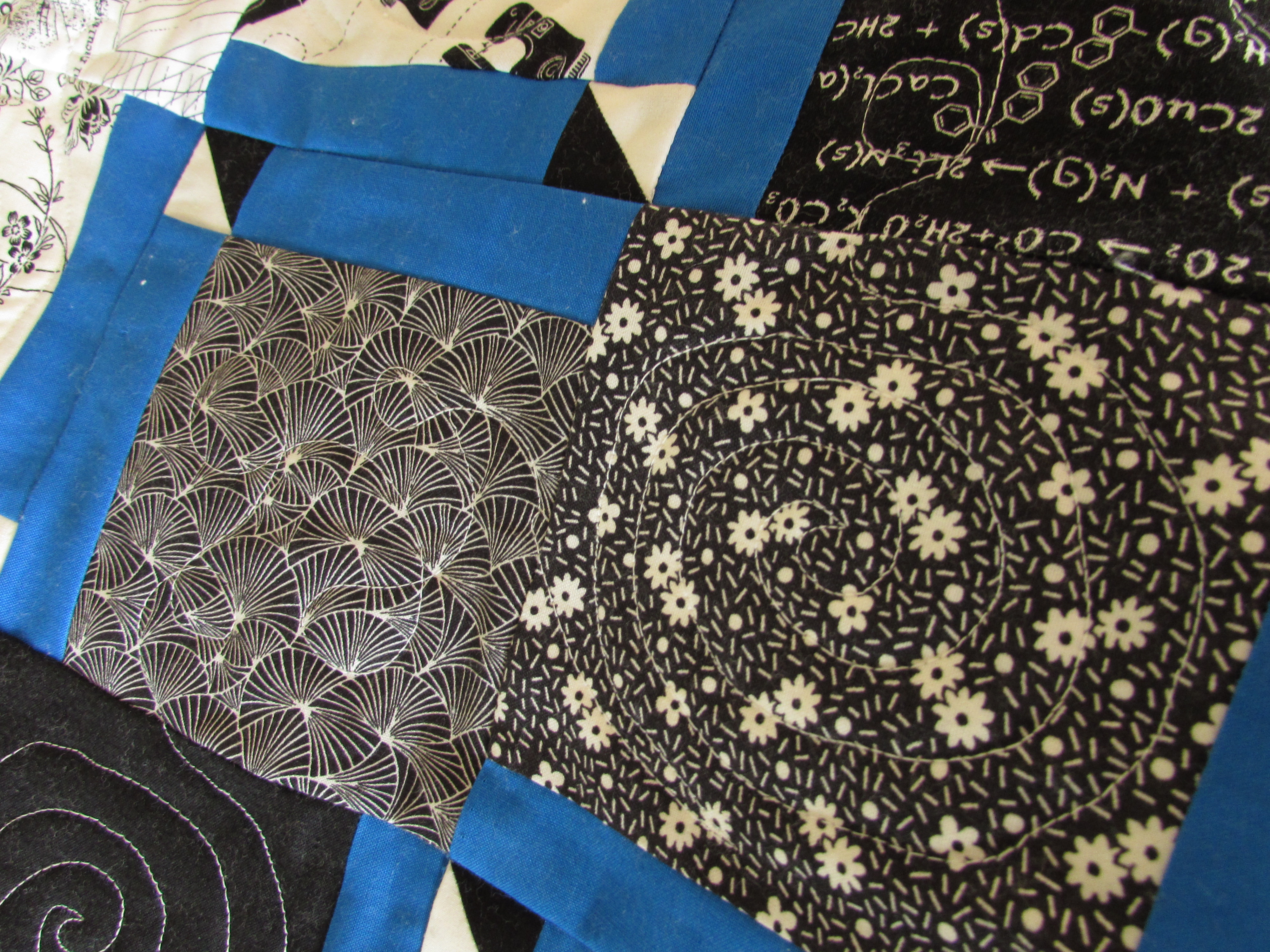 I have been alternating quilting a large spiral and then in the next square quilting a loopy design.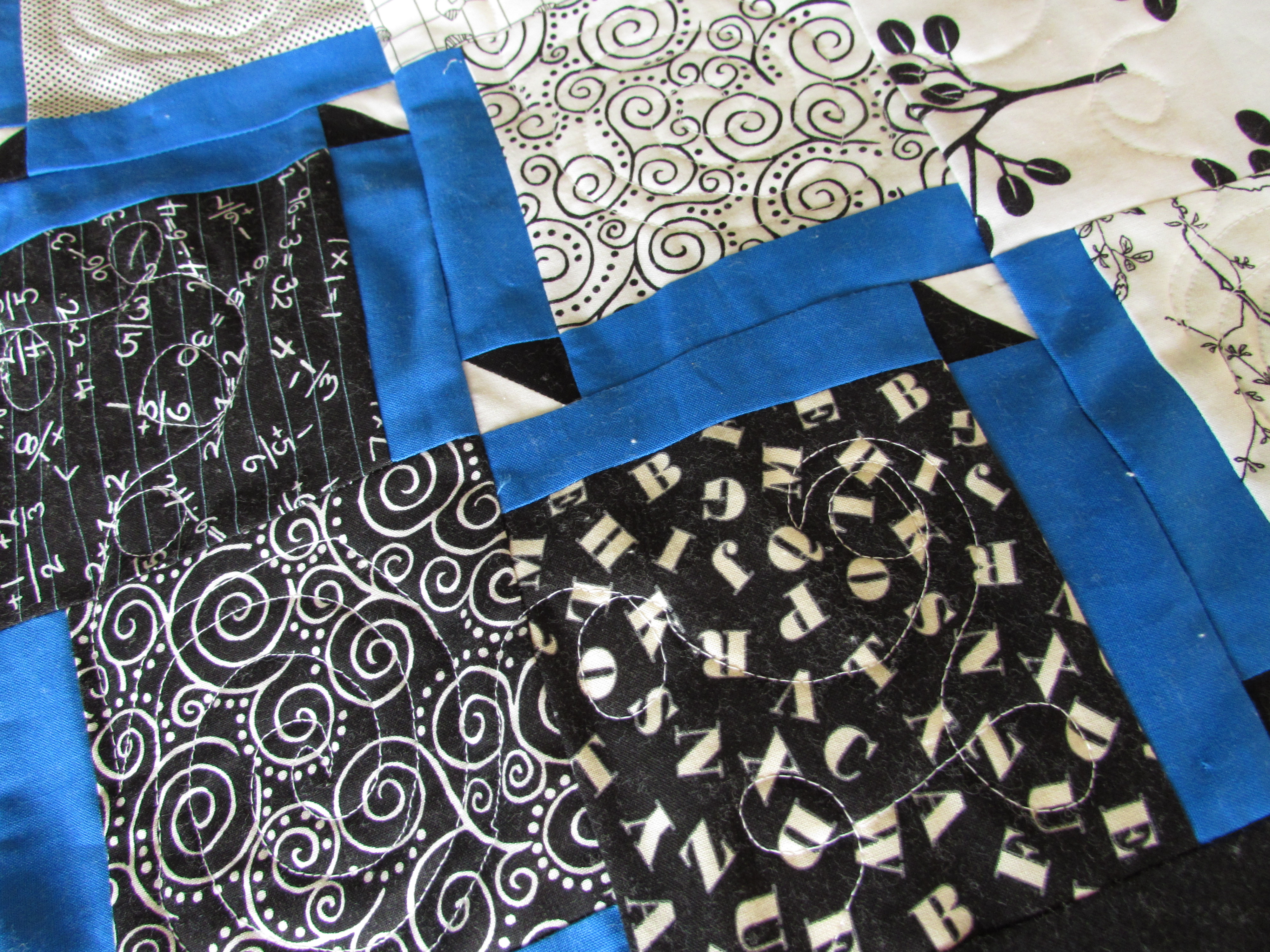 I have quilted about 1/3 so far. Other projects beckoned though and I set this aside for a few days.
I have been having a blast working on my sewalong with Tami of Sew Much for Free Time. Every time I make another friend via this blog, I am just blown away by the ease of the relationship. By now we have been emailing back and forth with progress pictures and ideas. It is so much fun. Our 241 Totebags are swiftly moving toward completion! Working with a friend has kept both of us on track and has somehow made the project seem to come together quickly.  This is my second project using a Noodlehead pattern or tutorial and the directions are just wonderful. So far, I have constructed the entire outer bag and have been working on prepping the inside portion.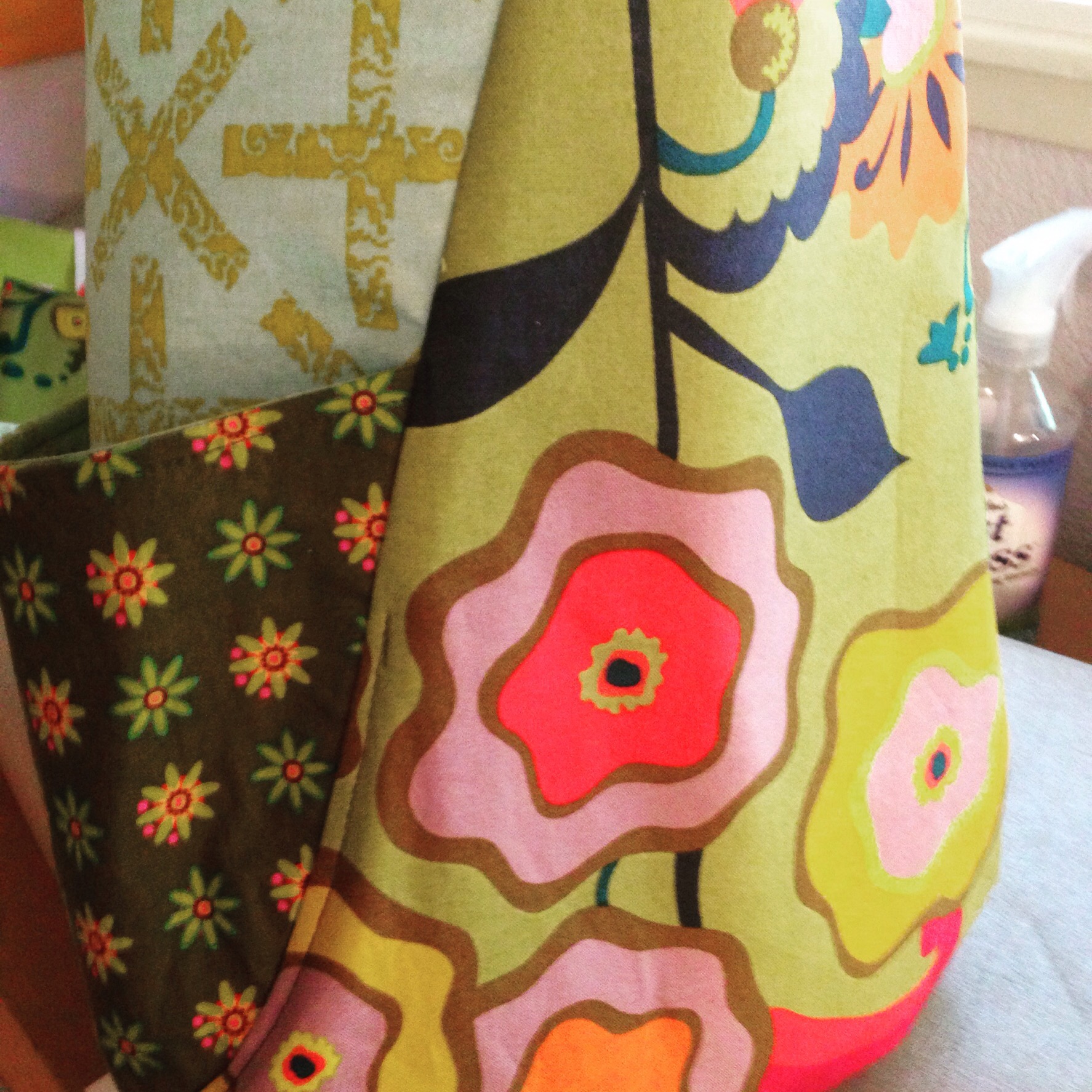 These prints are bright, fun and maybe a little wild but I think they are perfect for the intended recipient.
For the inside, I added one of my Needle and Foot labels. I have just a few left as I normally put these on product that goes into my Etsy shop.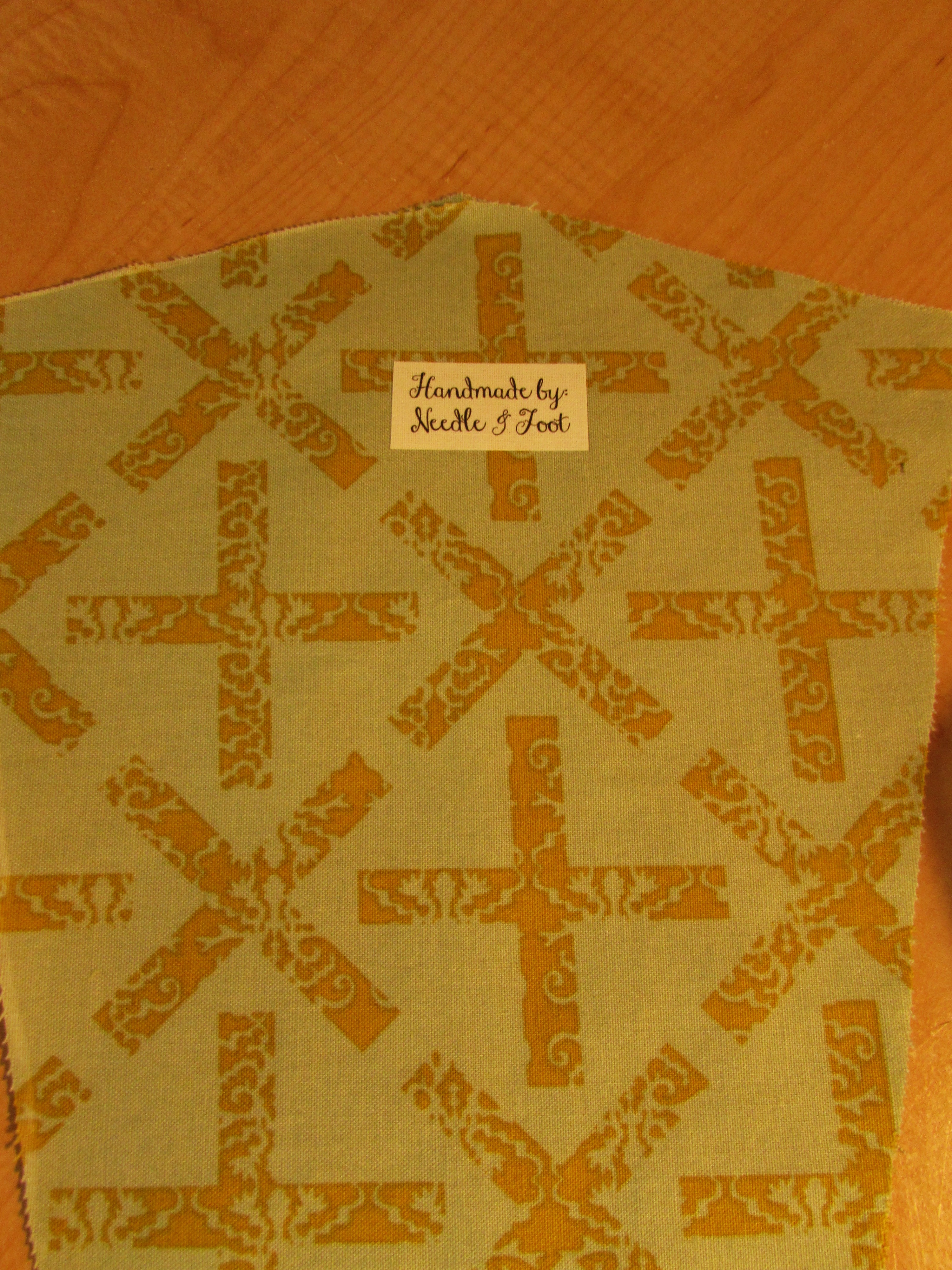 There are options for zipper pockets on the outer portion but I politely declined the option. (Read, I was too lazy to fuss with a zipper.) I did add a square of Velcro to the patch pocket on the inside (I was feeling guilty.)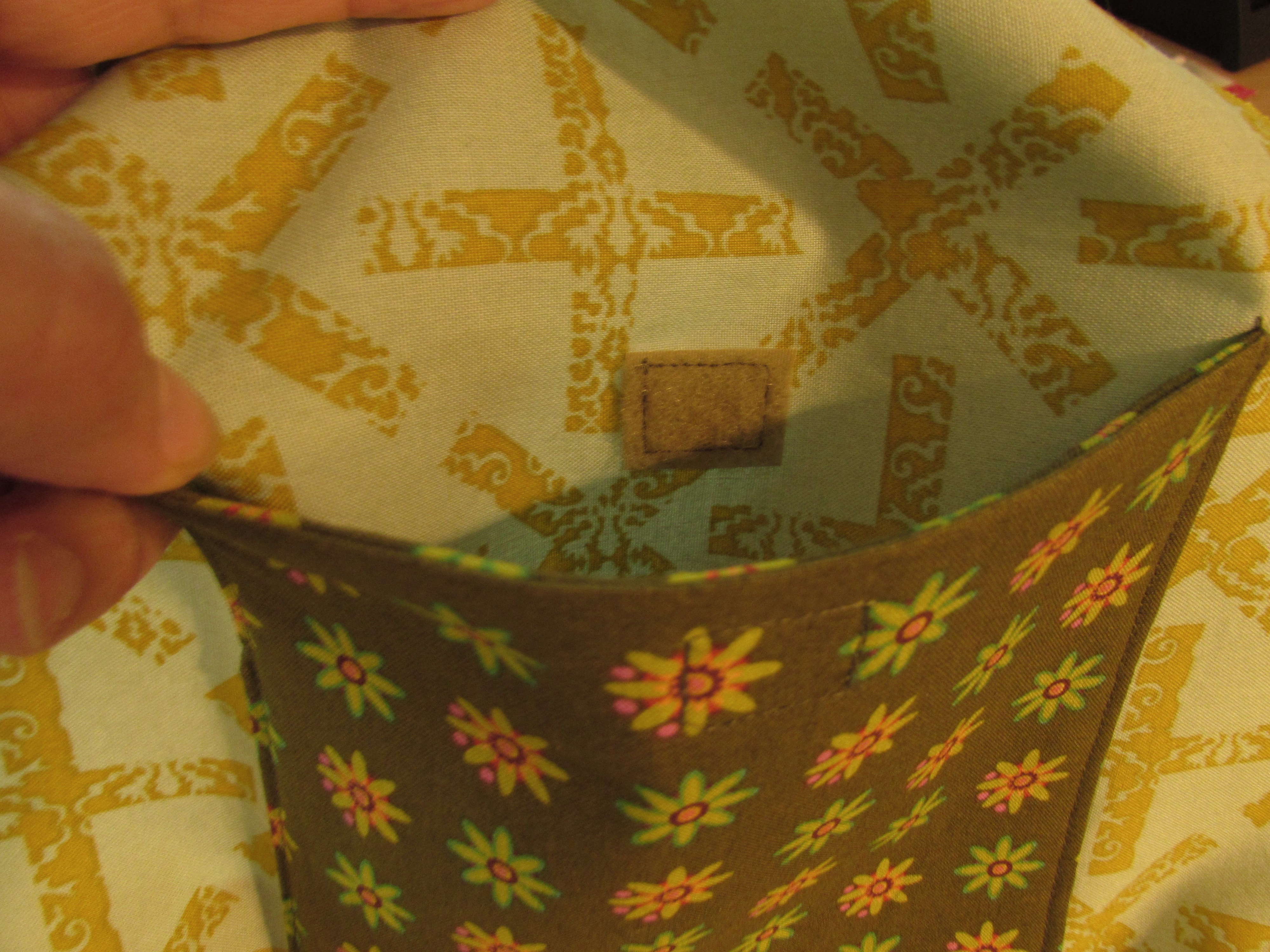 Finally, I made a little attachment to hang a  key chain holder. I love these little guys; saves so much time not having to hunt to the bottom of your bag to find your keys. There is a coordinating key fob in the works.
Because there will be a bit of tugging each time the keys are hooked and unhooked, I fused some stabilizer to the back for support.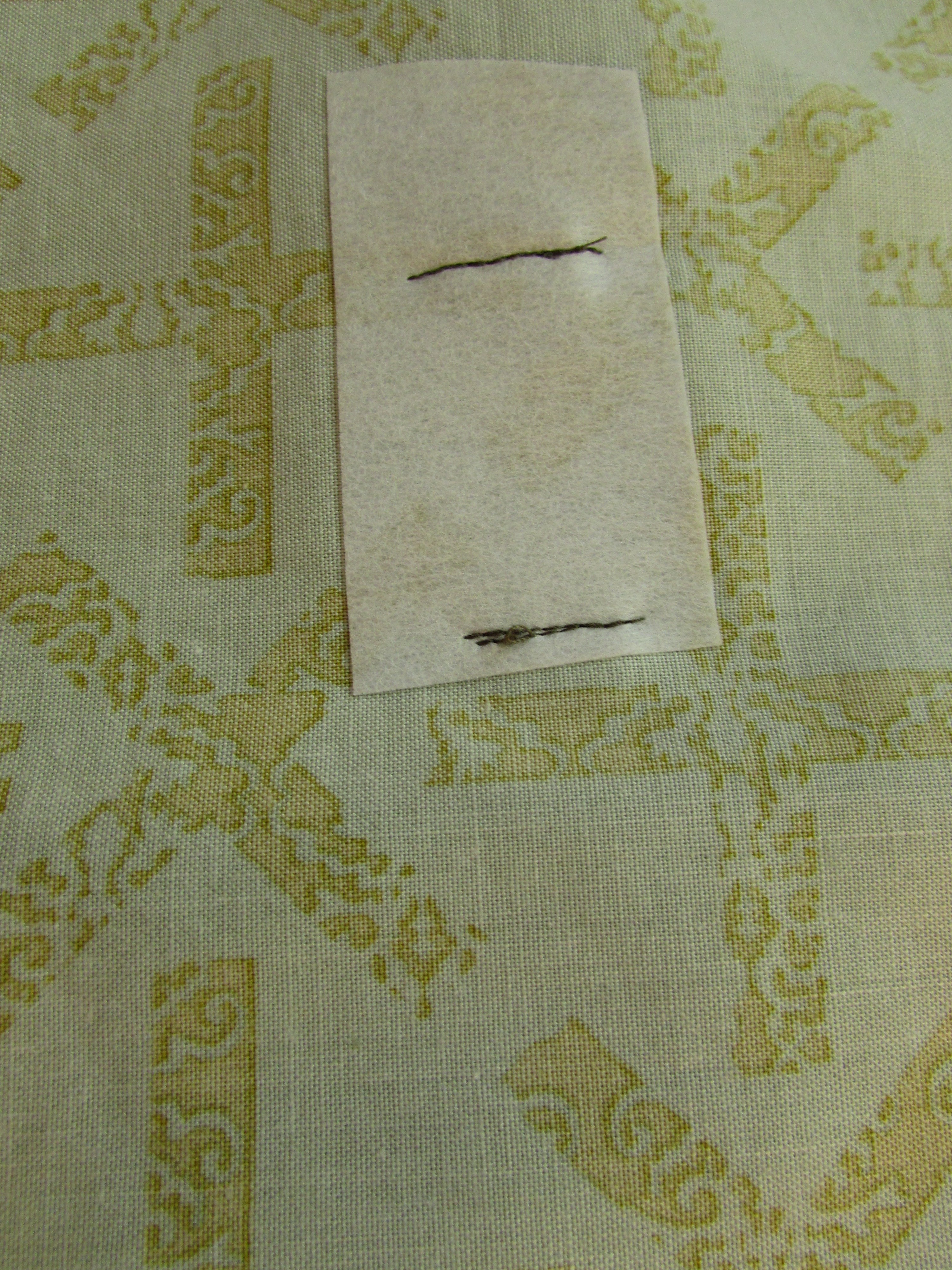 The lining portion of the purse and the shoulder strap should go together quickly. I'm pretty excited about the whole thing and have a feeling I will make another one for myself.
Yesterday I posted a progress picture on Instagram and guess who commented? Um, Anna Graham, from Noodlehead. Looks like we are sewing buddies now. 😉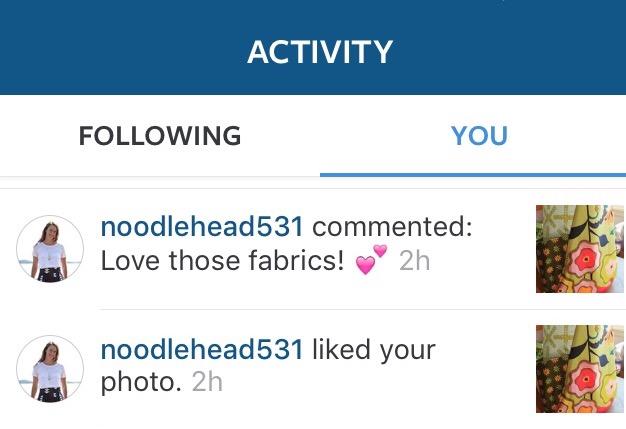 .What a great project this has been. I am going to have to find another fun sewalong/quiltalong type of activity after this. If you have a minute, check out Tami's progress. Seeing the same pattern come together in two very different colorways is very interesting. They each look very unique.
Linking to Linky Tuesday, Let's Bee Social and Sew Cute Tuesday! All links are found as always, at the top of the page, under Link Ups.
Craftsy Update:  In celebration of their 5th anniversary, Craftsy will hold a great sale of kits and supplies running May 12th through the 15th. Check it out here!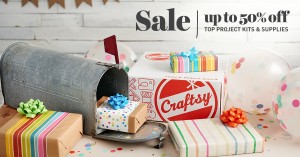 (I am a Craftsy affiliate and will receive a small payment for any sales that occur via my blog.)