Lots of progress has been made on a few projects this week.  I had some minor dental surgery done so I have been home taking it easy for most of the week.  Much of my time has been spent trying to figure out how many ways I can prepare a diet of oatmeal, smoothies, yogurt and scrambled eggs.  The ideas are running low though and it is lucky that I am able to chew things with a bit more substance today!
I posted last week about the Dresden plate table runner.  I got the quilting done on that and am so happy with it. I kept it simple and it works beautifully with the Dresdens.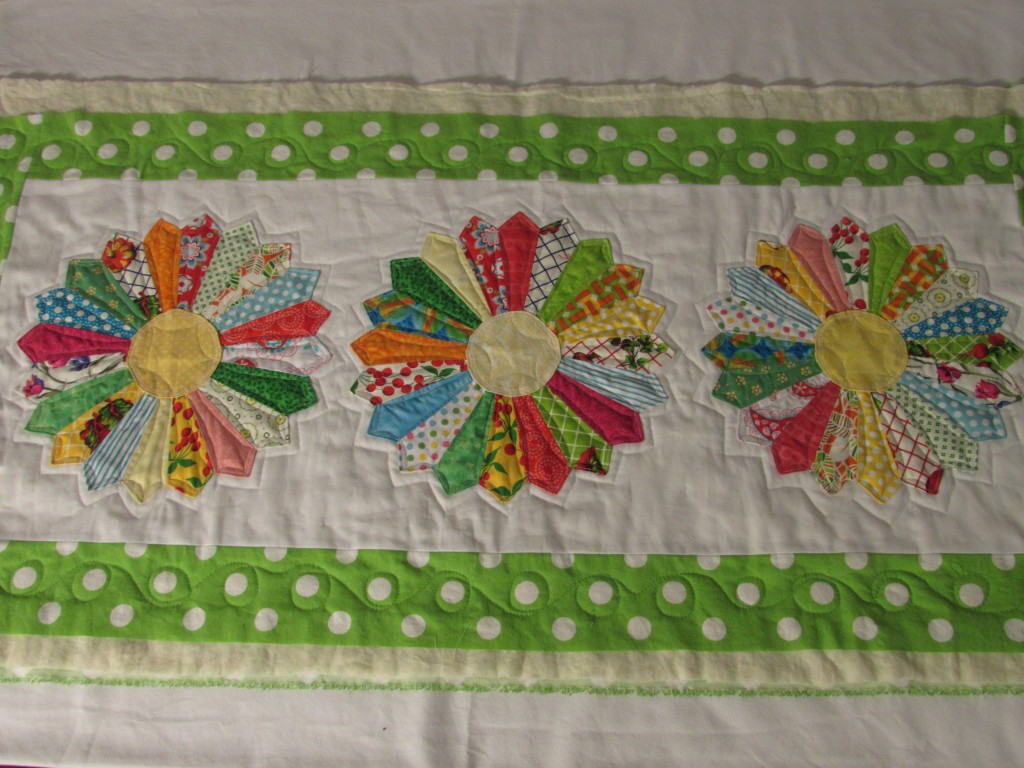 The back looks so pretty.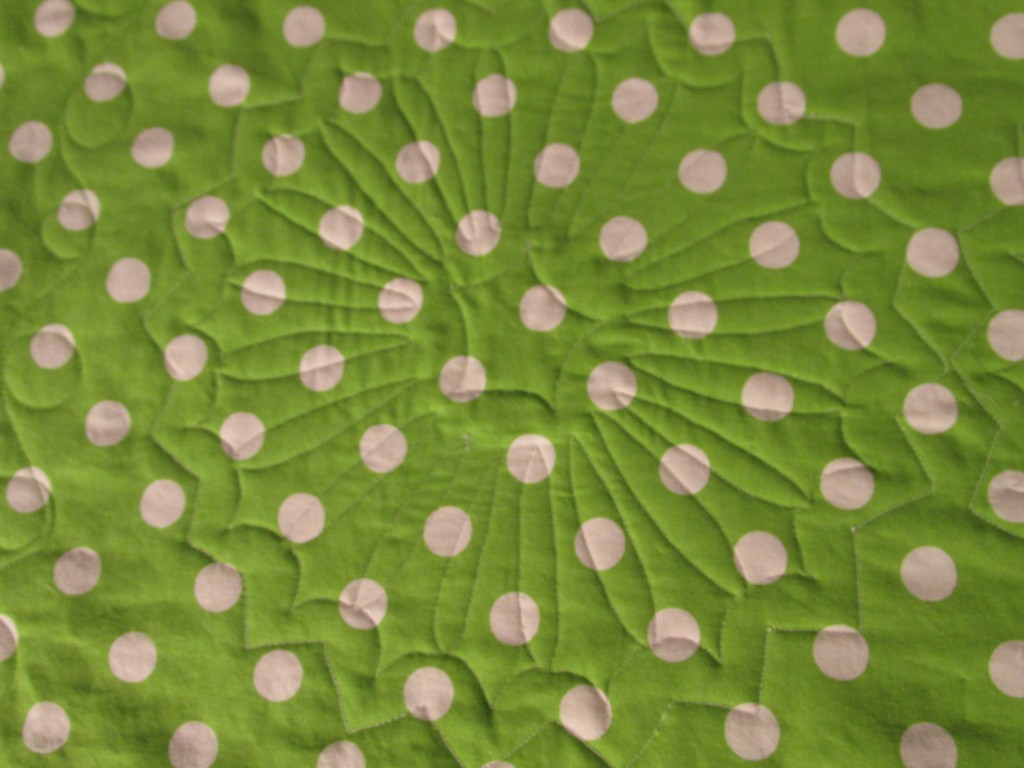 In addition, I started (another) Block of the Month project.  Recently, I came across Mari's blog, Academic Quilter .  As I was reading through some of her posts at Academic Quilter I saw that she is working on two rainbow block of the month quilts.  She has some gorgeous blocks pictured and I was intrigued.  As often happens, one thing led to another and there I was looking at (another) blog, So Scrappy.  (I swear I just get sucked in and lose all track of time when I start reading these quilty blogs.)  Angela, the writer at So Scrappy is hosting the Rainbow Scrap Challenge for 2014.  I decided to join in and start creating some rainbow blocks for myself.  Again, a little late to the party so I need to work to catch up.  My family was off and about on Saturday so I used the day to sew.  I got the January (blue) and February (pink) blocks done. I have the scraps collected and prepped for March which is teal blue. Because I am getting going on this a bit late, I decided to do simple patchwork blocks using 2 1/2″ squares, ending up with 10 1/2″ blocks.  I will sash them with white and put corner blocks in. Making two of each color will provide 24 blocks, enough for a quilt at the end of the year.  It has been fun using up all of the strips that I have been so faithfully sorting and saving. Also interesting to see what colors I have an abundance of and which I have very little (the dark blue for example…. not too much of that available).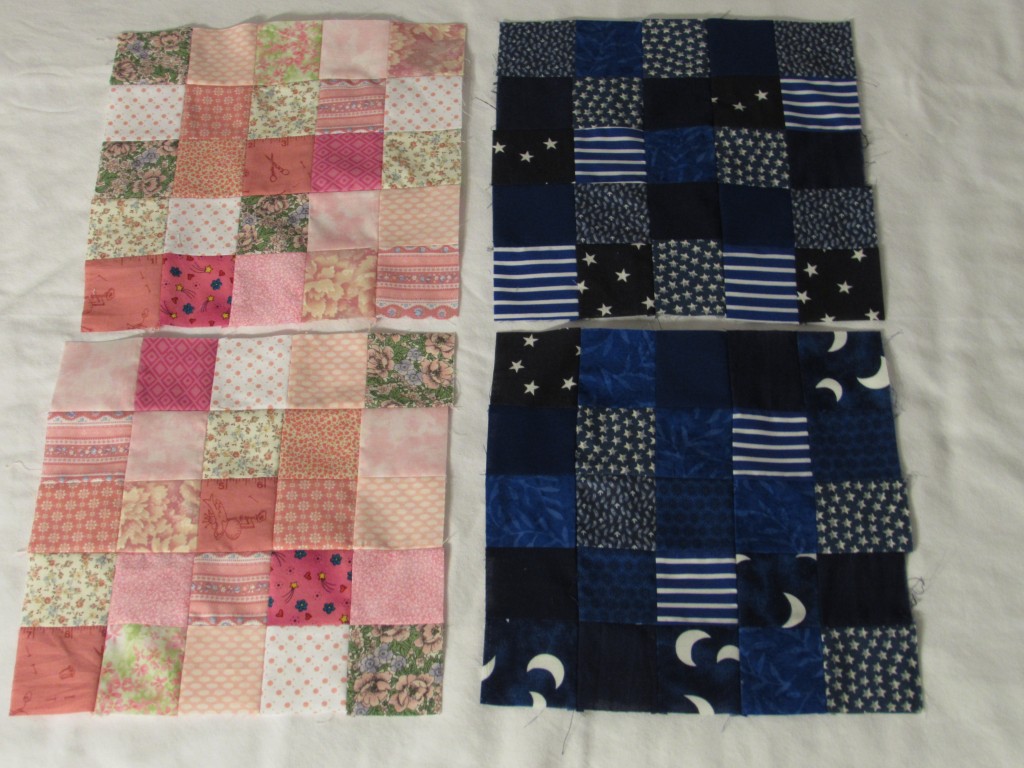 The other block of the month that I am working on is sponsored by Aurifil.  I posted about this earlier this summer.  I am just about caught up on this one.  Two more blocks done! The bear claw took some time…. When I finished it, the block was only about 10 inches square.  I stared at it for what seemed like forever, wondering why it was so tiny. I left out the interior border strips. So I had to spend a little time with my seam ripper and fix that up.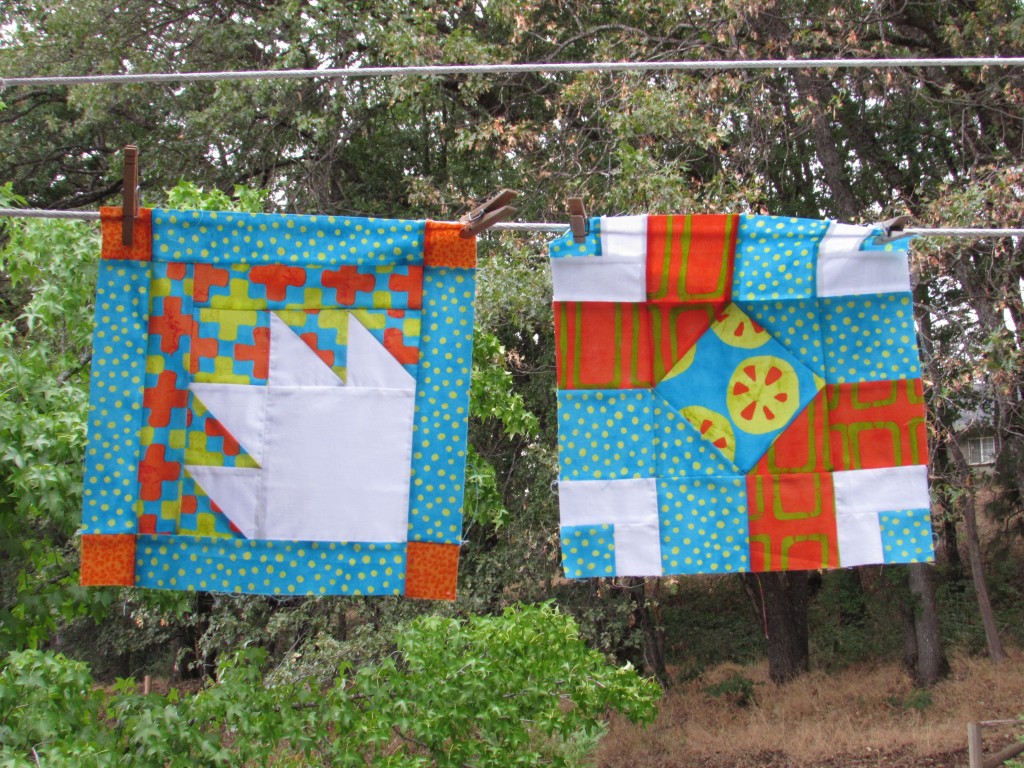 Here are the six blocks: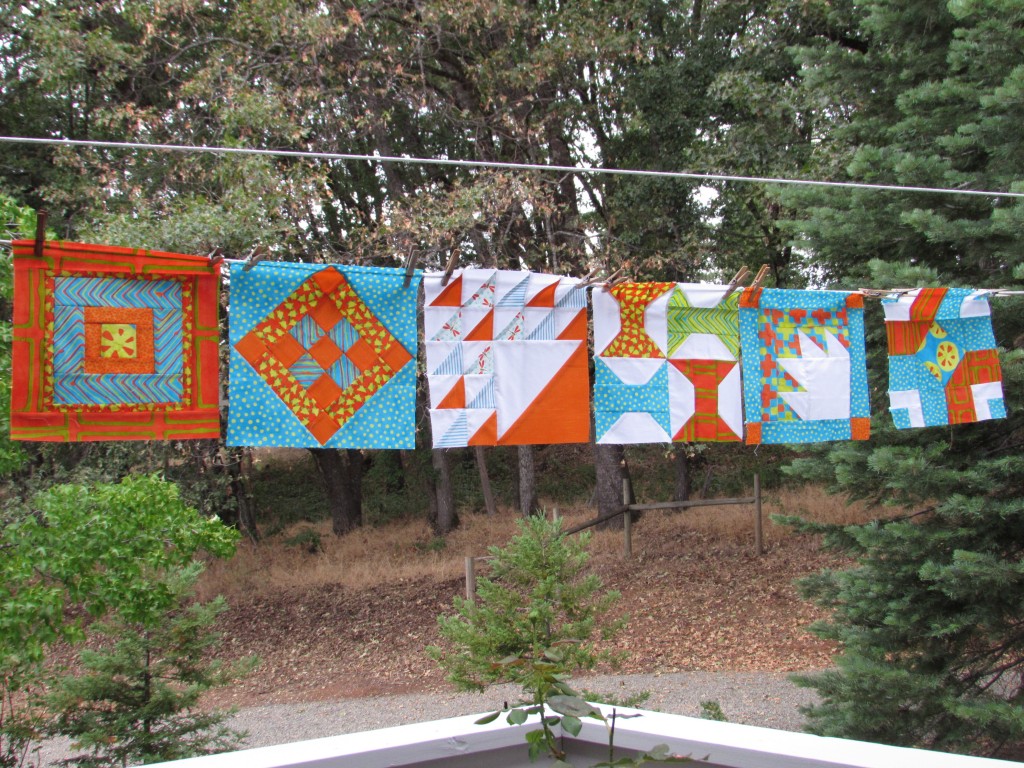 That is my quilting week in review! Summer is already more than half way through for us.  My daughter returns to school on August 14th!!  It's going by way too fast. Hope you are all enjoying your summer!
Linking up with all of these lovely blogs:
FreeMotionbytheRiver, FabricTuesday, ShowandTellTuesday, and BlossomHeartQuilts. Also with NeedleandThreadThursday hosted by the lovely Kelly @ My Quilt Infatuation.