I have a finish to share with you!  It was actually my last finish of 2017 and I just barely made it.  I stitched the binding down on December 31st!  This fun quilt was made as a test for a new pattern designed by Sarah Goer, of Sarah Goer Quilts.  This is the second pattern I have tested for her.  (The first was Knock Knock and you can check that out here.)
Scattered Squares is a modern pattern designed with the idea of floating the smaller squares on a solid background.  It could be done any number of ways though.  It might be a challenge to use a directional pattern in the background though as one might lose the intended solid, floating appearance.
Sarah did a wonderful job with this pattern (as with her Knock Knock pattern).  I am absolutely sure this is due to her background as a middle school math teacher.  She knows how to provide clear and concise instructions. This pattern will be released soon.  I suggest signing up for her newsletter so you hear when it is published! Click here and the newsletter sign up form is at the top of the page in a purple rectangle.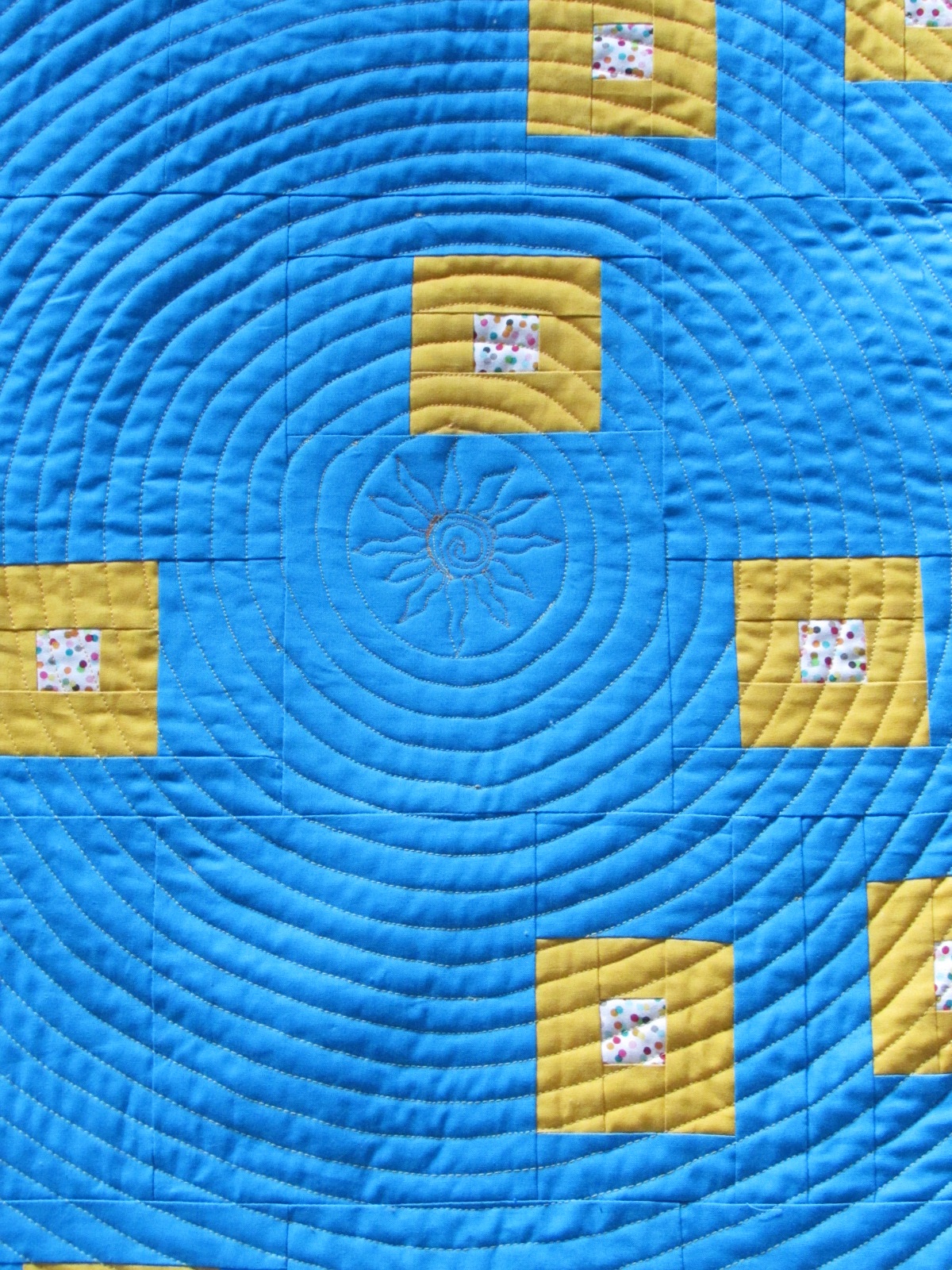 This pattern is a great one for a beginner quilter.  The piecing is basic and there are no points to deal with.  It is also a fun one to quilt up.  The baby quilt finished at 30″ x 40″ which is a very reasonable size to quilt.  I decided to stitch concentric circles and I am really pleased with the look. This is only the second time I have quilted spirals like this and I couldn't really remember how to get started.  I took a look at the tutorial written by Jayne, of Twiggy & Opal, for a refresher. Really after the first two circles or so, it is a breeze to do.  I used the walking foot and the distance was set by the width of the foot, probably a 1/2″ or so.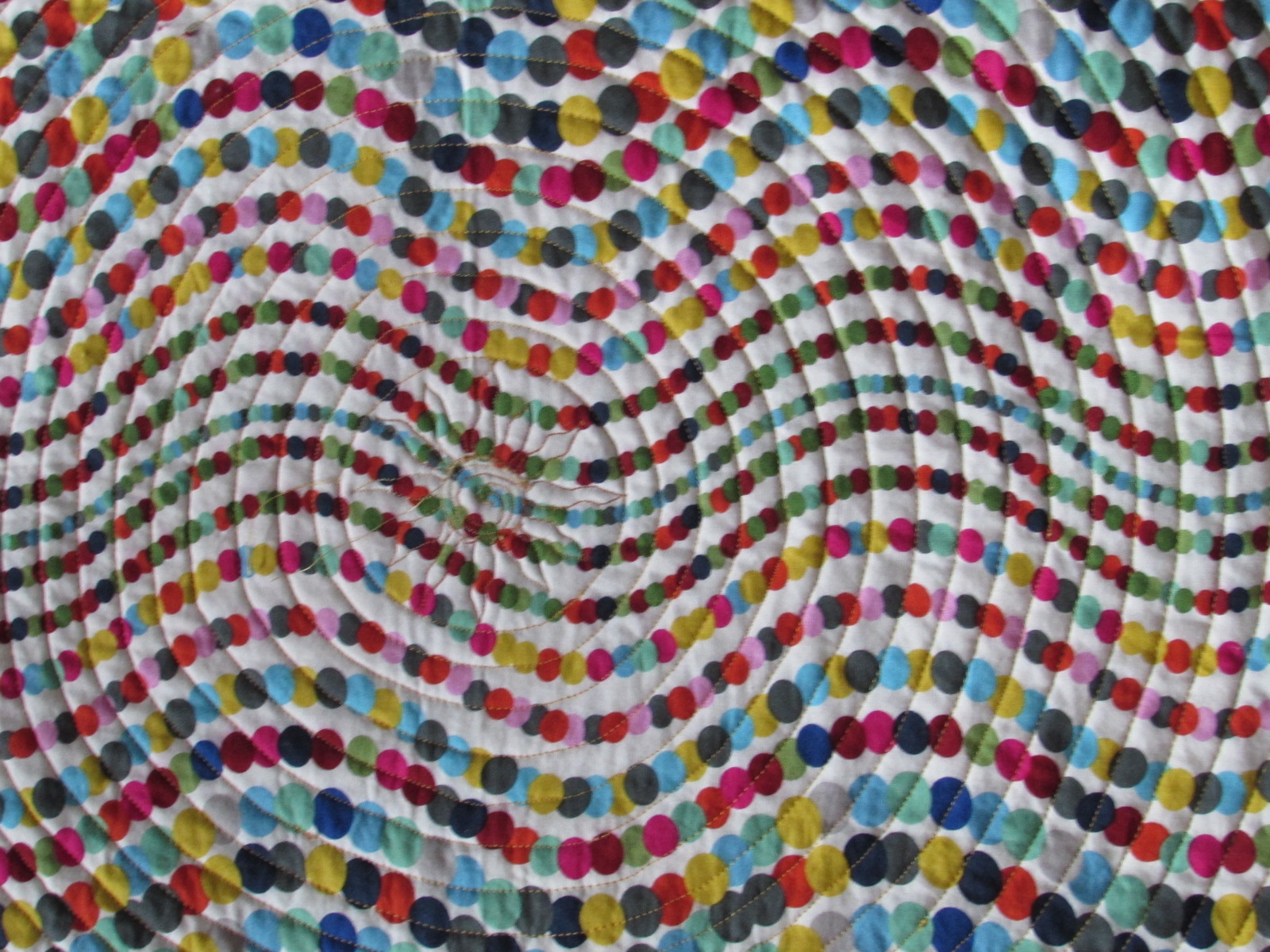 The spirals create crazy movement on the back of the quilt!  I had this brightly colored print in my stash and was happy to use it up.  I do think the baby using this quilt may get dizzy looking at this side though!  😉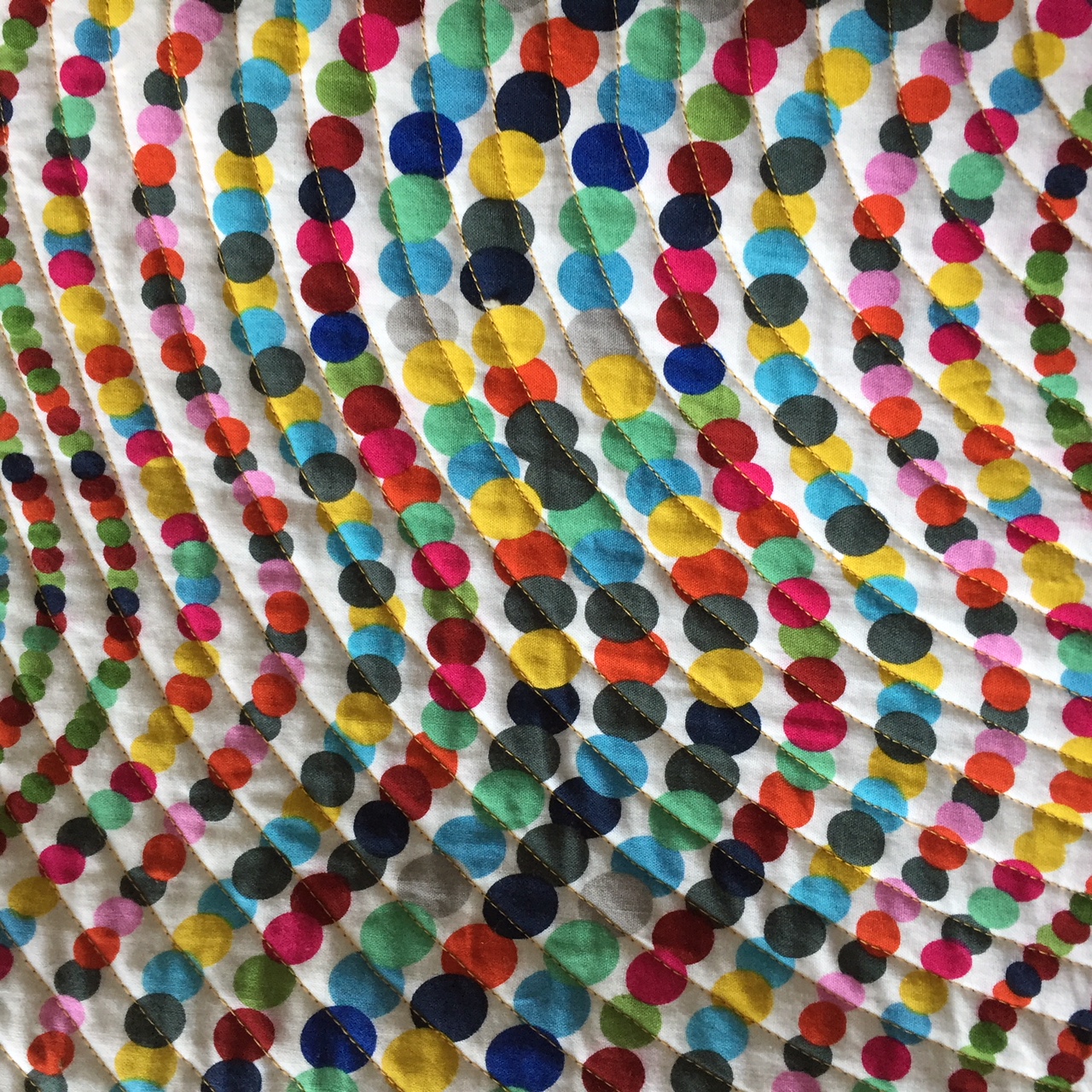 When I started to quilt the circles, I used my Hera Marker to trace the top of a canning jar for the first circle.  It was nice to have a reasonably large circle to start with.  But that left a blank space in the center that seemed to need something when I was finished with the circles.  To complete the quilting, I free motioned a little sun in the center to fill it.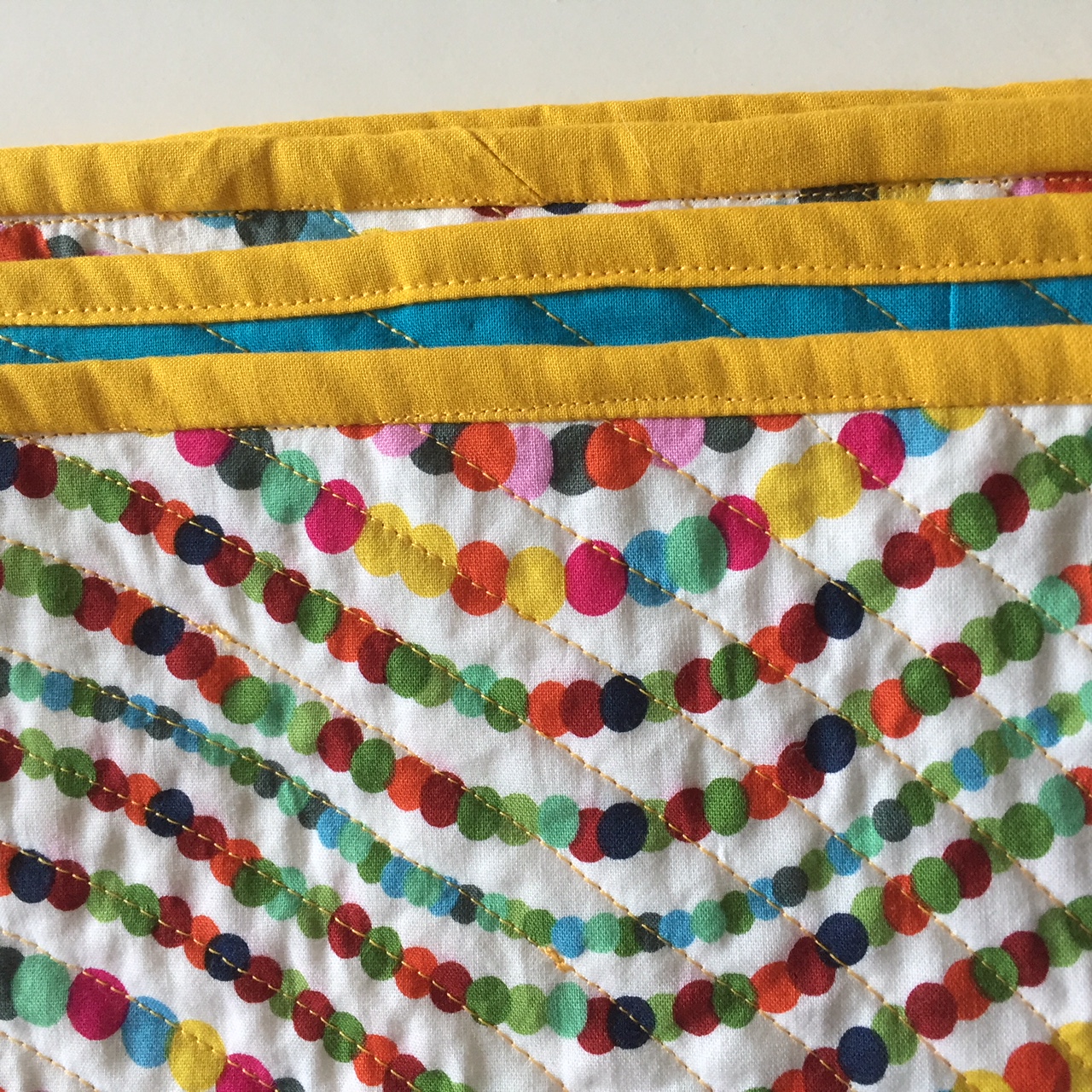 Binding was done by machine with the same yellow as the squares in the quilt.  Machine binding is something I continue to work on.  I feel like this one looks ok, but not great.  I like it for kid's quilts though. It seems like it will stand up to lots of laundering.  Plus, it is much quicker than hand stitching the back.
This was a fun project and would be great for a baby gift as the quilt comes together easily.  I think I will donate this one to Project Linus.  I have a small stack of baby quilts and would love to have them be used rather than sitting on the closet shelf!
Linking to Finish It Up Friday as well as Finished or Not Friday this week.  For more link ups, take a look at the Link Up tab at the top of the page.