This week we have been reading and talking about the idea of supporting all of the Indie pattern designers that are working so hard to design and release original patterns. Besides purchasing these lovely patterns we can also offer our time as pattern testers.  Two weeks ago I was reading a couple of posts by Mihaela of A Beautiful Day. She blogs from Romania  (don't you love the ease with which we are able to befriend quilters from all over through this blogosphere.)  Mihaela is working on a new pattern she calls Urban Folk Quilt. In one of her posts she asked for some testers that would help to verify that her English all translates correctly. I happily volunteered. It is hard enough to design patterns, figure out the measurements, draw up the instructions etc. But to do this in a language that is not your primary one must be very challenging.
You can be sure, language isn't an issue for Mihaela. Her English is just wonderful and I did not  find even one problem with her pattern and/or the translation to English. She includes every detail of instruction and sometimes more than one would expect. She discusses how to confirm that your blocks line up correctly, how to properly bind a quilt, and suggests ways to avoid block distortion. Overall, this pattern is complete and a great tool for the beginning quilter. I loved making it and would happily make another (and probably will!)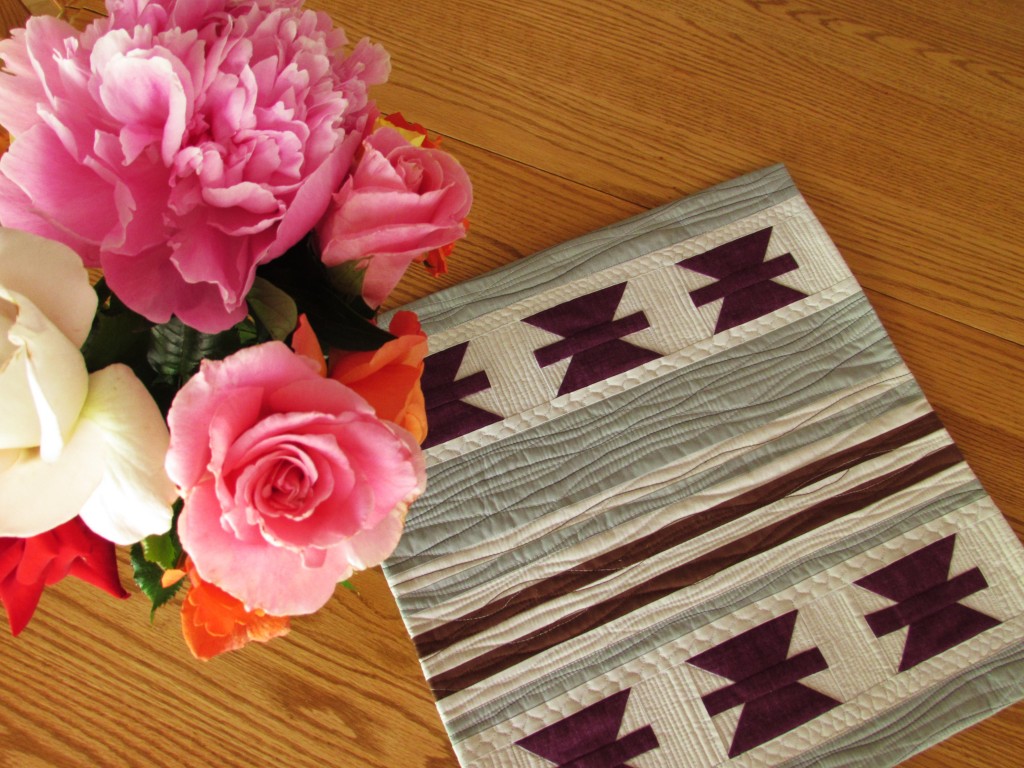 For this project, I chose colors that would work in our master bathroom.  There are lots of bare walls in there. Bathrooms don't rate very high on my need-to-decorate scale. Especially the master – who sees it besides Ray and I? I decided to make something to spruce it up. These colors work wonderfully.
I had so much fun quilting this. Finishing at 16 1/2″ squared, it was small enough to feel secure in trying new things.  This quilt design feels a bit southwestern to me. It reminds me of a couple of throws that Ray bought some years ago on a trip to Mexico.  This inspired me to quilt wavy lines, in three colors, across the horizontal stripes. Using the dark and light gray as well as the brown gives nice texture to the stripes.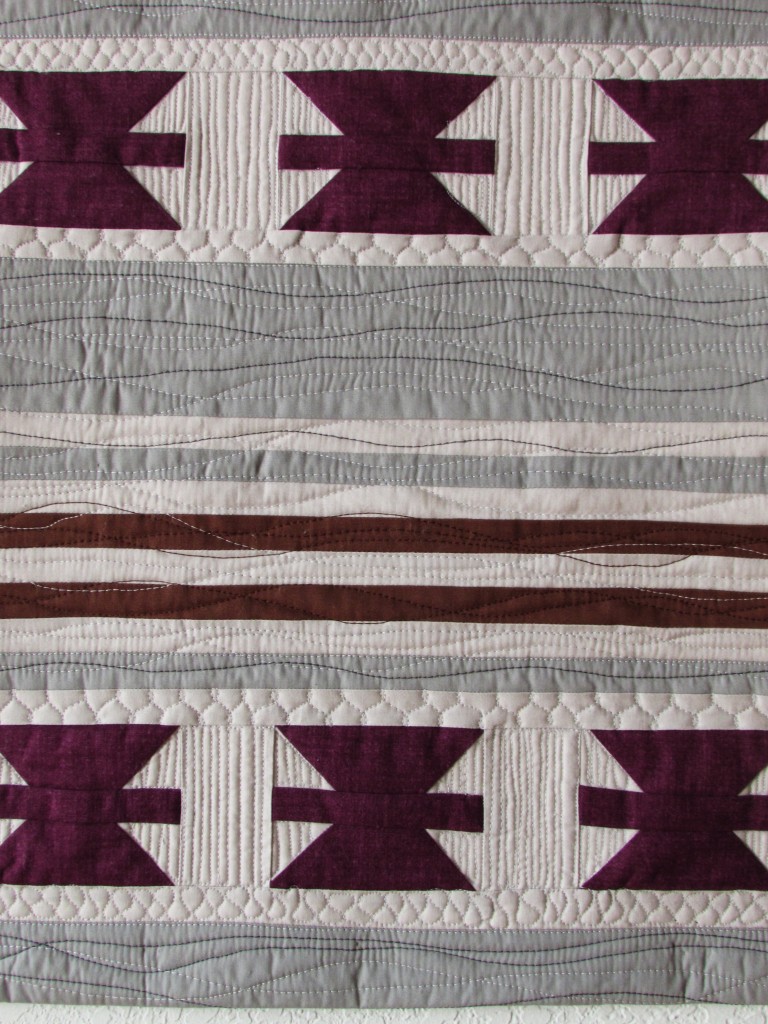 Within the two rows of pieced blocks I used matchstick quilting. Having never quilted these narrow stripes before, I tried quilting with my darning/FMQ foot and with the walking foot.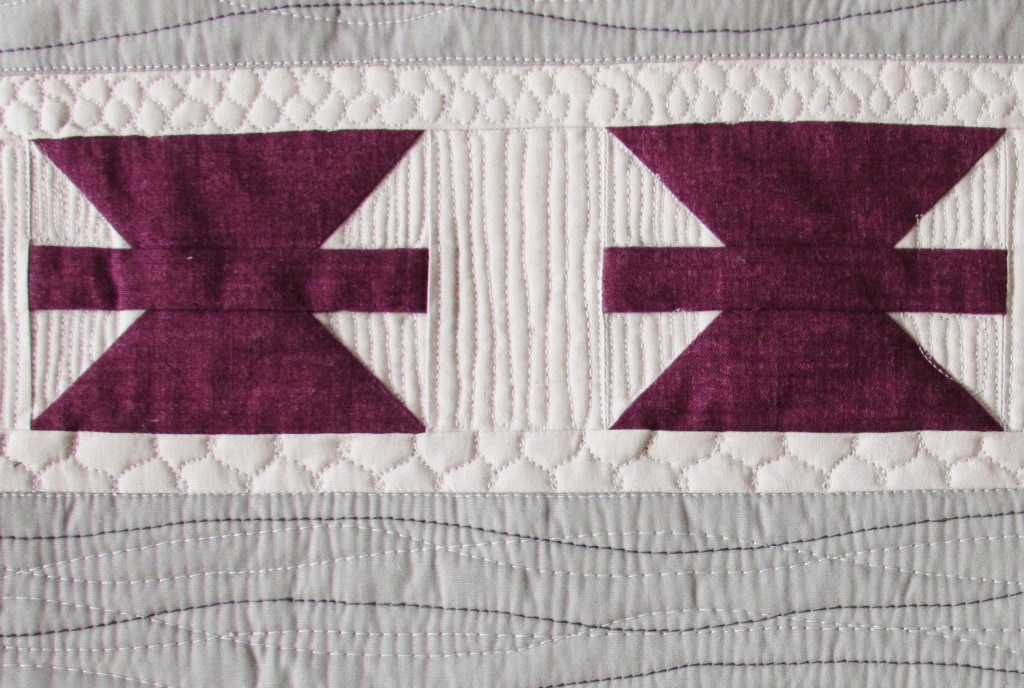 Both work – the walking foot creates much straighter lines but oh my, it was taking forever! Having to stop and turn the quilt at each end was more than annoying. If it was a larger space being quilted, I would try the walking foot again. After a short stint of this though, I switched to my darning foot and FMQ'd the lines. They have a bit of an organic wobble to them but it still look ok. I love how the purple blocks have a bit of a puffiness to them from the tight quilting that surrounds them. Above and below each pieced row, I did some teeny tiny FMQ. Those rows are only one inch tall – it was a challenge to keep the movement flowing in such a small space.
What a fun project this was. Testing this pattern was an easy way to help another quilter out. There are lots of opportunities to test patterns. Be sure that you can meet the timeframe of the pattern designer though. Most likely she is relying on you to complete the task by a certain date so she can release the pattern. Speaking of which, Mihaela is releasing this pattern today!   Check it out and show her some quilting love. It would make a great mini, table topper, or you could use it as a pillow cover if you add the backing to it.
Linking to several of my favorites, including Freemotion Mavericks, Finish it up Friday, and Off the Wall Fridays. Links to all of these are available at the top of the page, under Link Ups.
*****************************************************************************
Just in case you need an idea for Mother's Day gifts (for a friend, your mom, yourself  – even if you aren't a mom!)  Craftsy has awesome classes and I can't imagine a crafty mom who wouldn't love one (or two, or three…) Classes last longer than flowers and they are way more affordable! Click here to check it out.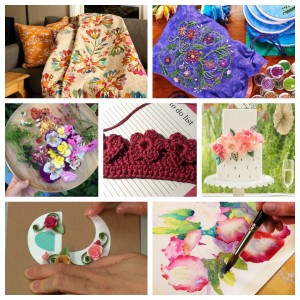 (Always reminding you that I am a Craftsy affiliate which means if you click through from my site and make a purchase, I will be compensated.)