This week I have a finish to share – I made a quilt top using a jelly roll of Kaffe Fassett solids and a coordinating striped piece of yardage. Several months ago, I saw the jelly roll on Cratsy.com and was crazy about the colors. Really rich, earthy tones that were just calling out to me. I didn't have a specific plan for it so it sat on the shelf for a while.
Meanwhile, I have been practicing my FMQ and am always in search of something to stitch. I decided to make a very simple quilt top with the jelly roll as that would allow me a really clean slate for quilting. I went to my LQS and found the coordinating yardage (she has a great selection of Kaffe Fassett in her shop.)  Then I started to play with ideas. I cut strips from the yaradage and laid them out in a few patterns with the jelly roll (actually I drew everything first on graph paper but then still had to play around with it for a while, crawling all over the living room floor.)
First try: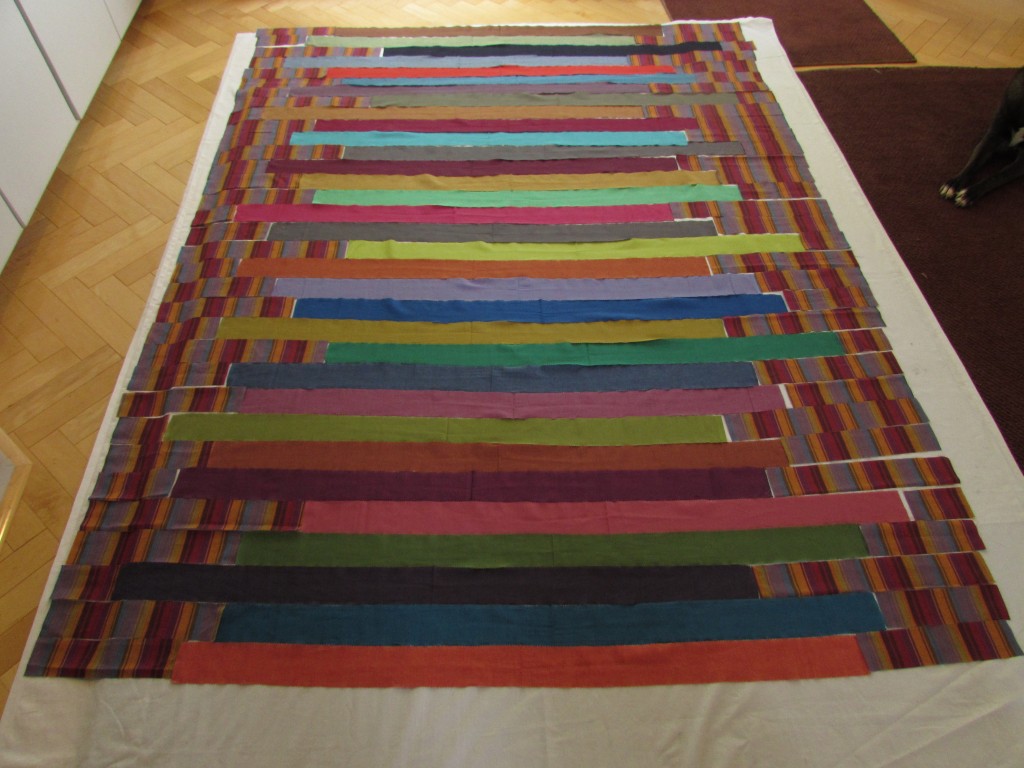 In this version, I was putting the striped pieces in a random pattern. (You can see that Lady was supervising me all the while – those are her paws in the upper right corner.)
Next I tried something with a bit more order to it, increasing and decreasing the length of the striped pieces by size.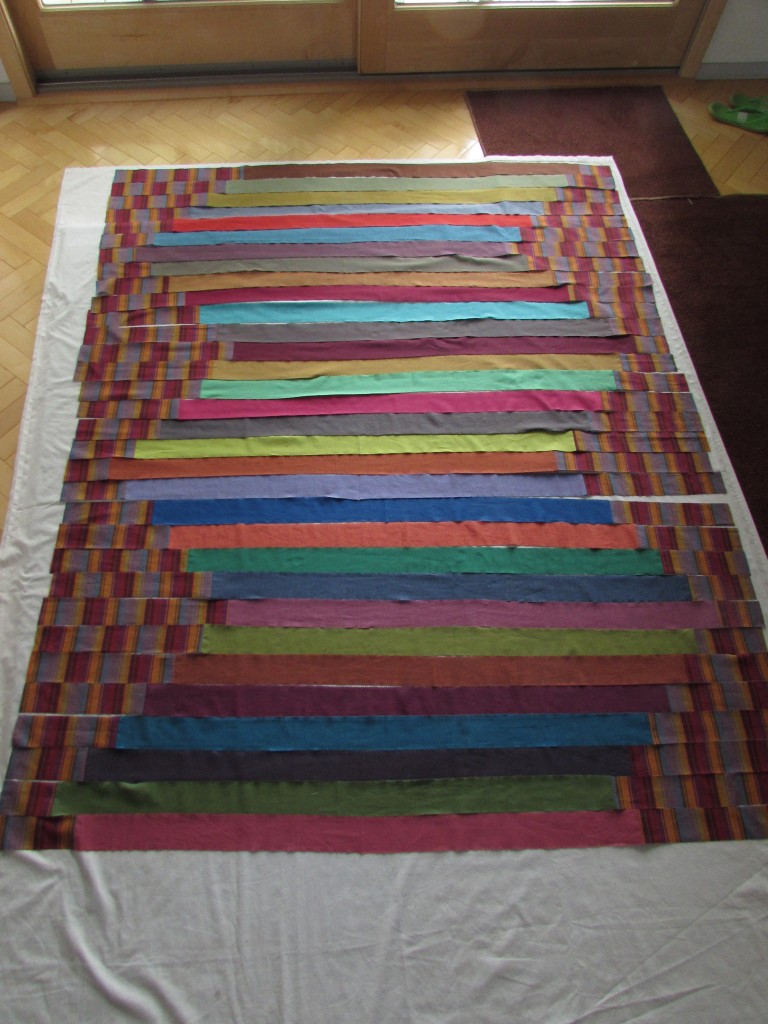 I decided I liked this pattern best. The stitching not a big deal. Well, it shouldn't have been. I had all of the striped pieces sewn to the solid strips and then I spend a day or two dealing with a migraine. I thought that I was through the worst of it and started to sew the stripes together. As luck would have it, I was not thinking clearly enough and in several places, I sewed them together incorrectly, creating havoc with my simple pattern. It took a bit of time with my seam ripper to get it all fixed up.
Now that it is done, I am really happy with the curved look of the solid color stripes. Kind of like an over-sized chevron.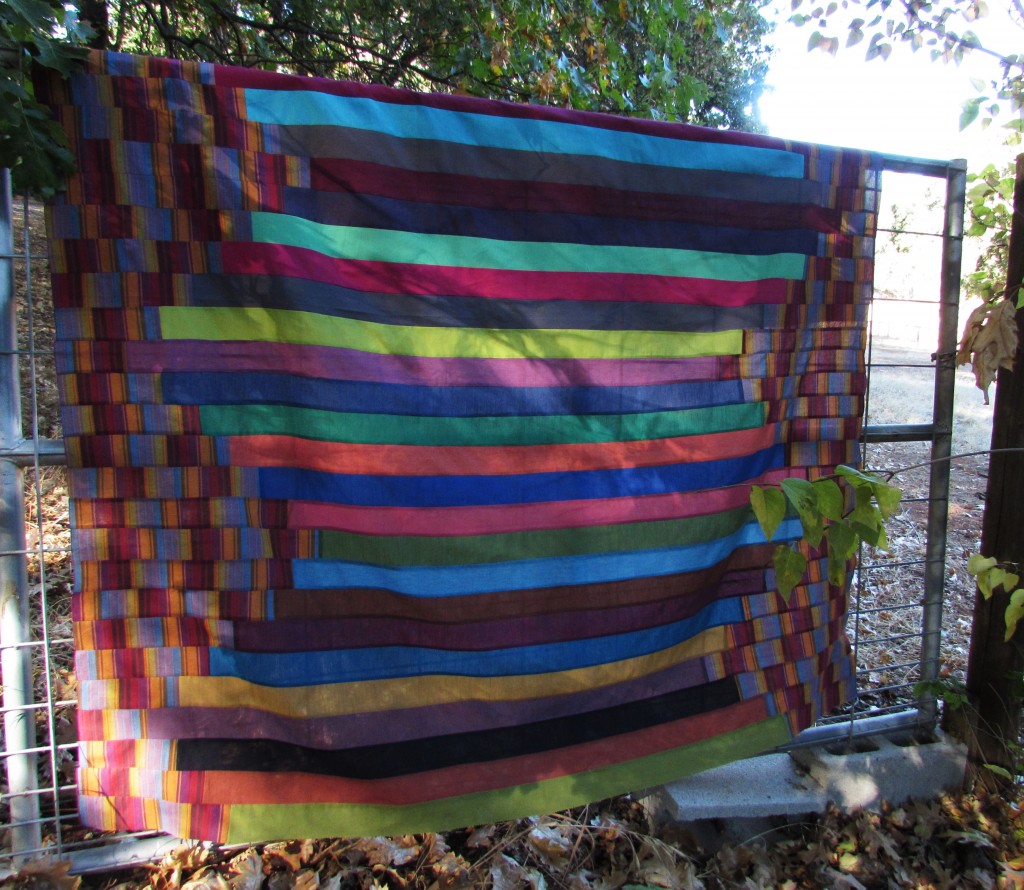 I haven't figured out what I will use as backing. I know I don't have anything in my stash that will work so I will do some shopping for that.  Most likely I will use a solid that is used on the front. I don't plan to put any borders on it. I do plan to finish this up soon so I am going to use it as my October goal for ALYOF. I will have it quilted and bound by end of October!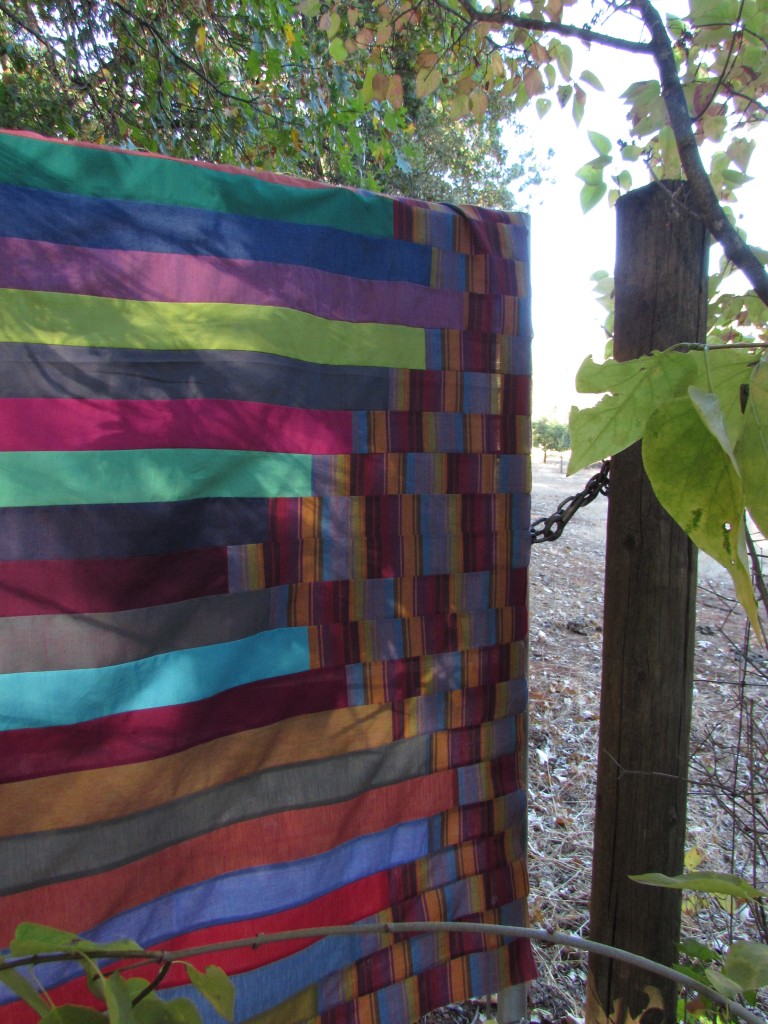 Later today my five sisters are coming to my house for the weekend. I am beyond excited. My mom and dad live about 15 miles from me so the whole family will be together for the weekend. My husband and daughter went up to the Downieville house which means it will be just the original eight of us for the weekend!
Have a great weekend all!
Linking to Amanda Jean at Crazy Mom Quilts.