Last weekend was fantastic. My sisters and I try to get together annually to spend a few days catching up. Usually we rent a place or go to my sister's in Saratoga. However this weekend we mixed it up and they came up to my house. I live about 15 miles from my parents. With everyone here, we could have a weekend that included the whole family, or as we called it the Great Eight weekend.
If you consider it, I would bet it isn't often that a person gets to spend time with their nuclear family. Getting back to the original family, without spouses and grandkids and great-grandkids was really fun. Not that we don't all love our current families and kids, but it was so nice to have a time to reminisce and celebrate our "first" family. (This picture was taken in 1964 so it was before the youngest was born.  Sorry Alicia.)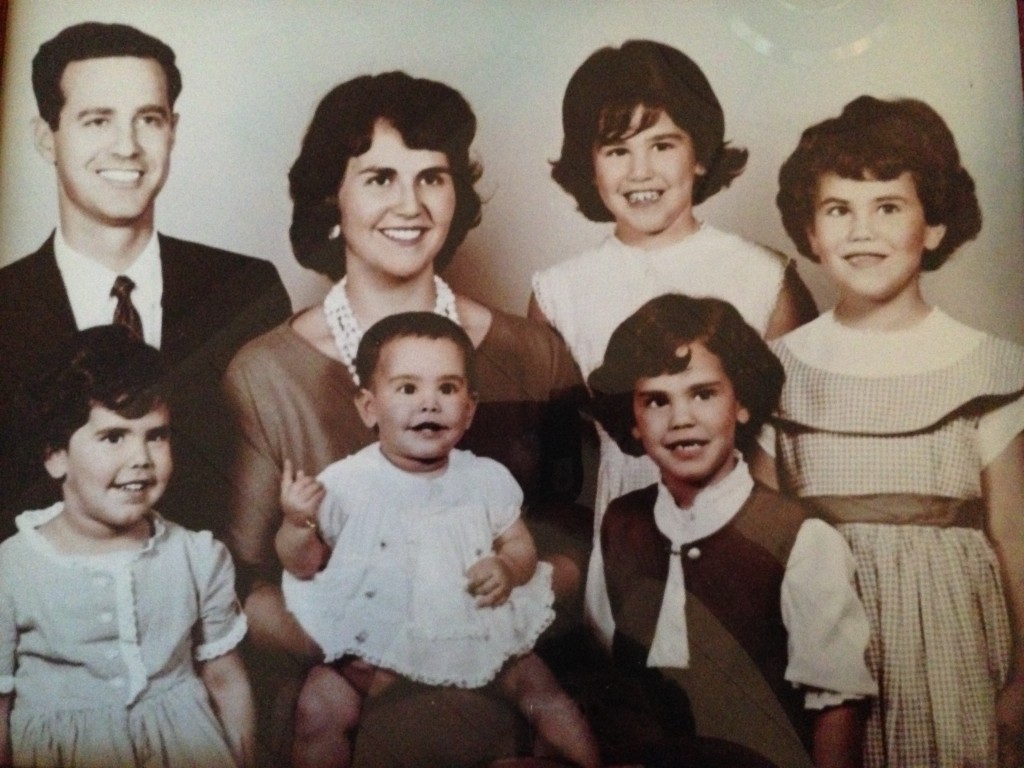 We had a lot to celebrate. Both of my parents had their 80th birthdays in the last nine months. We toasted to their health and happiness. (Check out their t-shirts. My maiden name is Delgado. There is a college in Louisiana called Delgado College. We all have their shirts!)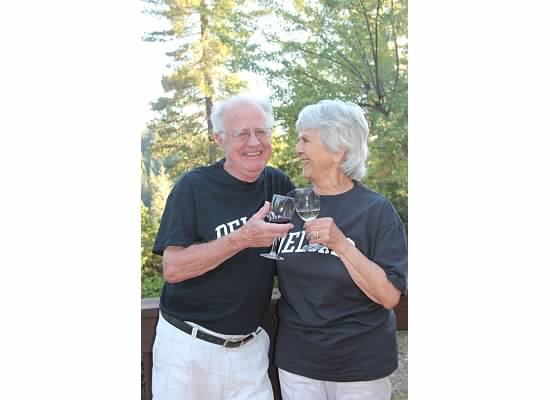 Next we celebrated my sister Patti. She spent the last ten months being treated for breast cancer. She endured surgeries, a horrid four months of chemo and then several months of daily radiation. It was awful and she was amazing throughout. There are no words that describe our relief that treatments are finished and she doesn't have to see her oncologist except for routine check-ups now. She is working hard on getting her strength back, building some muscle mass, and above all trying to be patient as her hair grows back (soooo slowly!)
We had time on Saturday with just the sisters. We took a walk but mostly that looked like this: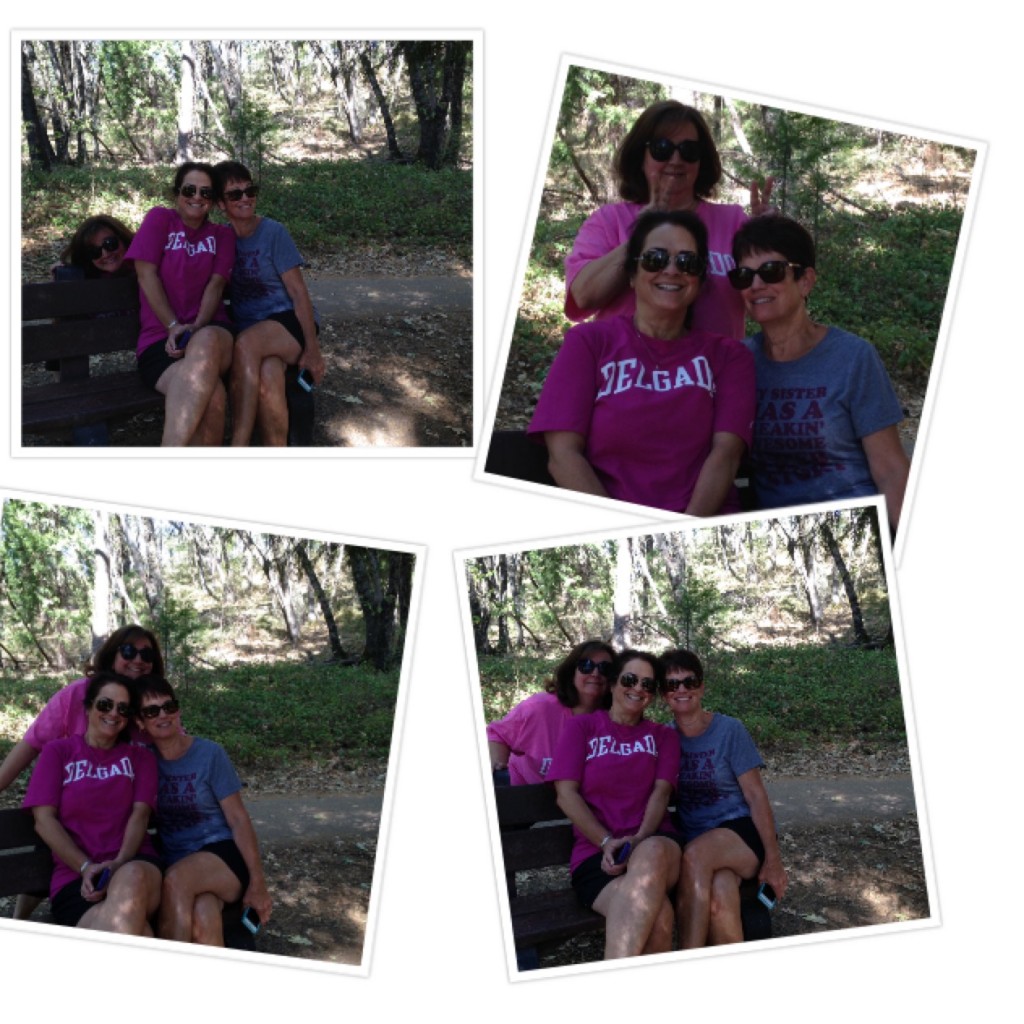 We had breakfast out and then came home and tried to focus on some yoga. No pictures there but it wasn't terribly different from the walk.
Finally we got a group shot with Patti's new license plate. She grabbed it for California and Juanita grabbed it for Colorado (hers hasn't come in yet.) I love it!!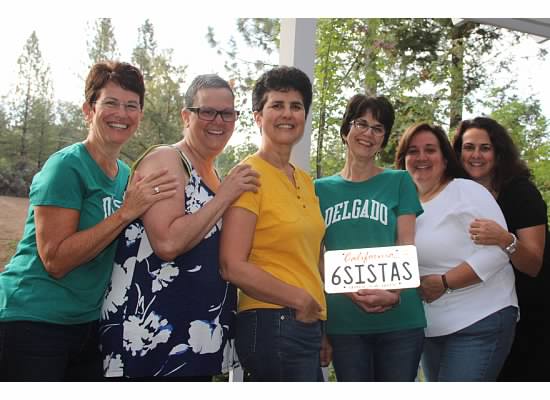 My best friends!
For a token report on action in the sewing room – I am putting sleeves on two of my three quilts that will hang next weekend in the quilt show up in Downieville.This show isn't judged. I am easing into this whole show process. Maybe a juried show is in the future but certainly not yet!
Also working on so many items for my Etsy shop. Here is a small sampling: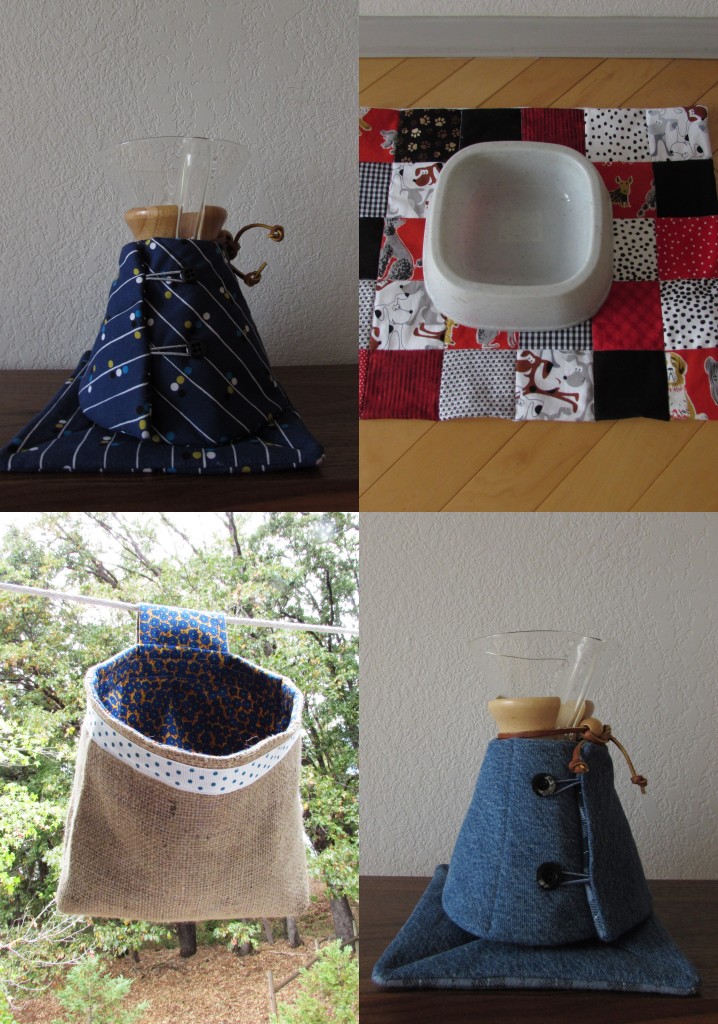 Lots of Chemex covers, a few mats for pet water bowls, lots of clothespin bags.  Business is really picking up. I also shipped a custom order yesterday and have two more in line. This shop definitely takes a large portion of my sewing time, but in return, it pays for (most of) my fabric addiction. I think that between now and December, I will not accomplish a lot of personal quilting. I hope to get the Kaffe Fassett quilt backing today. That project will be worked in between the others. Beyond that, things will have to wait.
Hope everyone is having a great week!