Today is my stop on the String Frenzy Book Tour!! You may have already read a few posts about this new book by none other than Bonnie Hunter. Bonnie, queen of scrappy quilts, has been at it again and this new book is the result of hours and hours of work. If you are new to my blog, welcome! I am so glad you're here and hope you will take a few minutes to look around.
One of the things that impressed me about the book is Bonnie's level of detail. She discusses the basics on block construction, string blocks, crumb blocks and foundation piecing. Lots and lots of great information for the beginner to intermediate quilter which is right where I fall.
Once she provides a good basis of instruction, she moves into the patterns. This book contains twelve unique quilt patterns with wonderful instruction. The difficulty ranges from advanced beginner to intermediate skill level.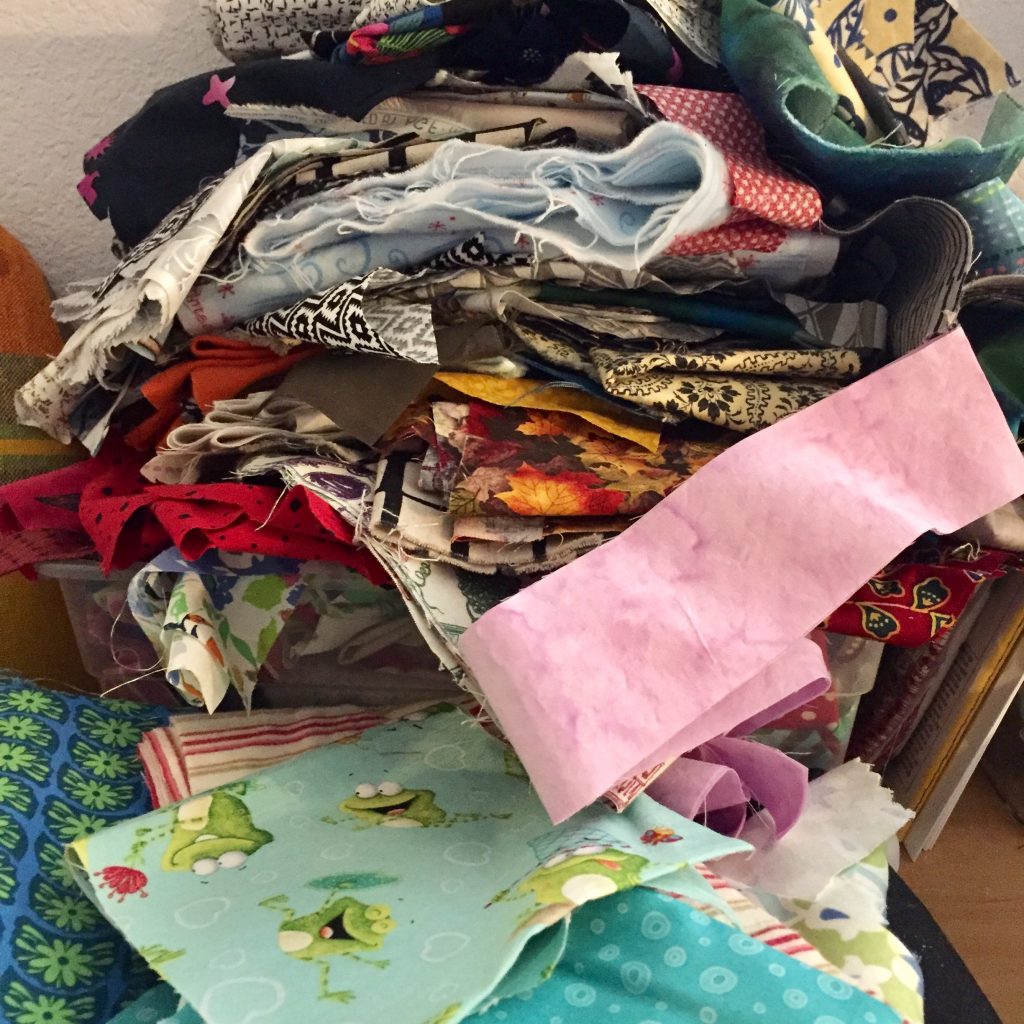 I haven't made a scrappy quilt in a very long time, which is made abundantly clear by the overflowing scrap bins and the pile of scraps not put away (for lack of a bin to fit them into)! While I didn't have time to make an entire quilt, I did want to try one of the patterns. Making a table runner seemed more manageable with the other projects I have going on right now.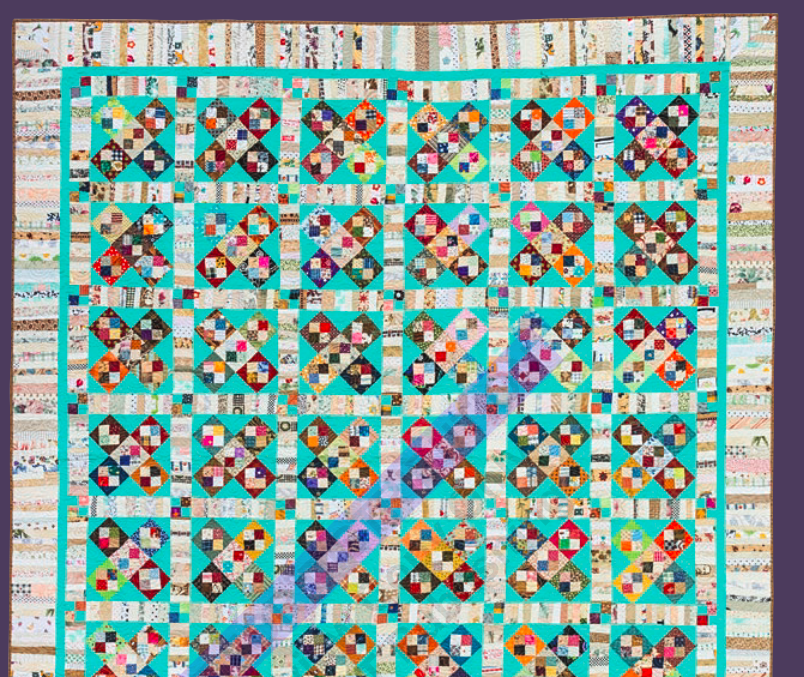 For my project, I selected the Daybreak pattern. I liked the tiny four patch blocks and the string pieced sashing Bonnie used in this pattern. These four patch blocks each finish at 2 1/2 inches. I used strip piecing to make these which was pretty darn quick.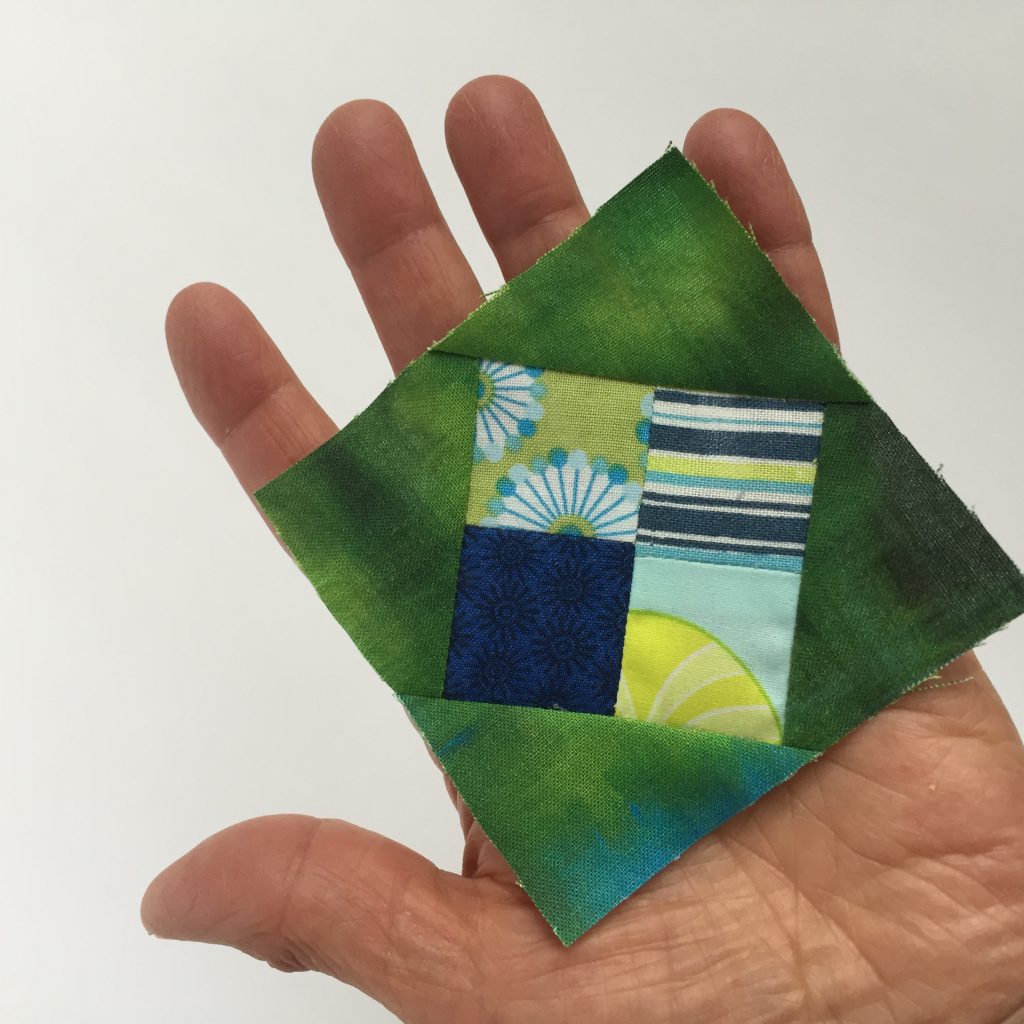 When I was reading the book I decided rather than going with a totally scrappy look, I would choose a couple of colors to emphasize. My choices were green, blue and purple.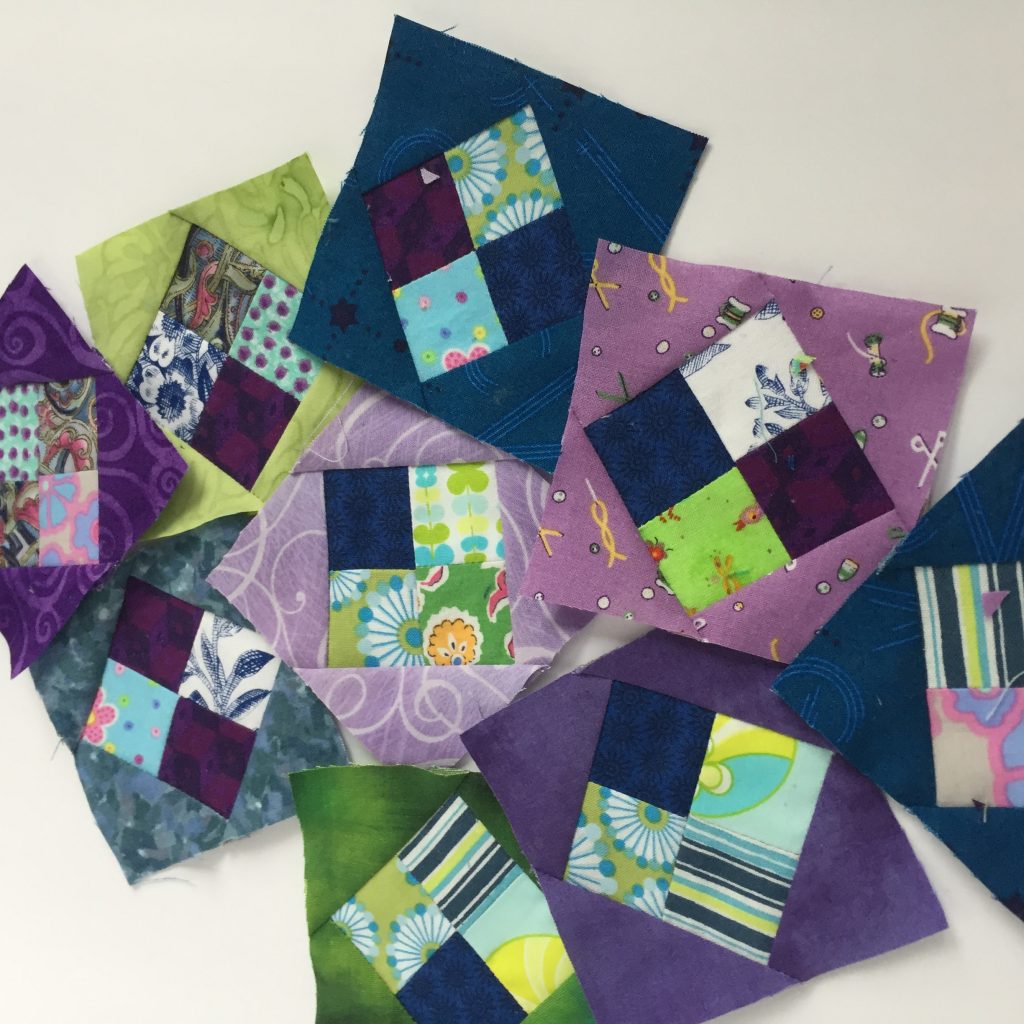 Then I decided I would use a pale green for the setting triangles within each block.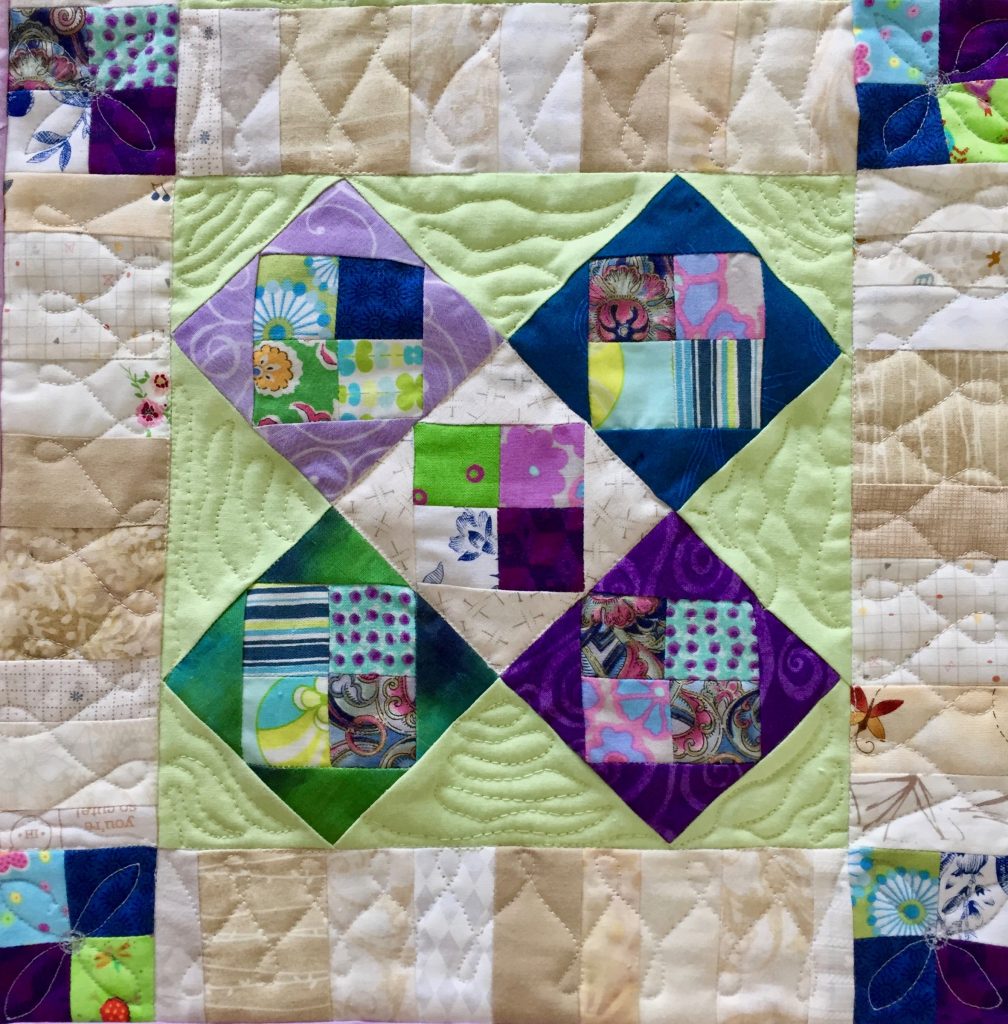 The borders were all pieced using my abundant supply of neutral scraps. I cut them into strings of varying widths and sewed large sections together. Then these were cut into strips measuring 2 1/2″ by 8″.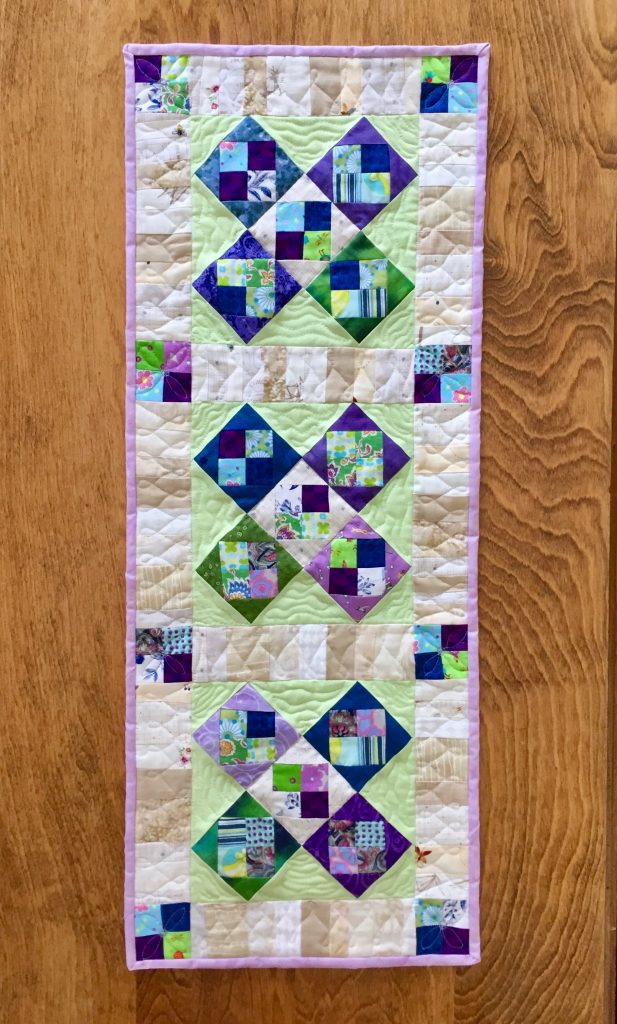 This is the finished project! I had intended to use it as a table runner but I really like it and am debating putting a sleeve on the back and hanging it in my sewing room. The finished measurements are approximately 12″ x 32″ and I have a spot on the wall that might work just fine. I need to think on that for a bit.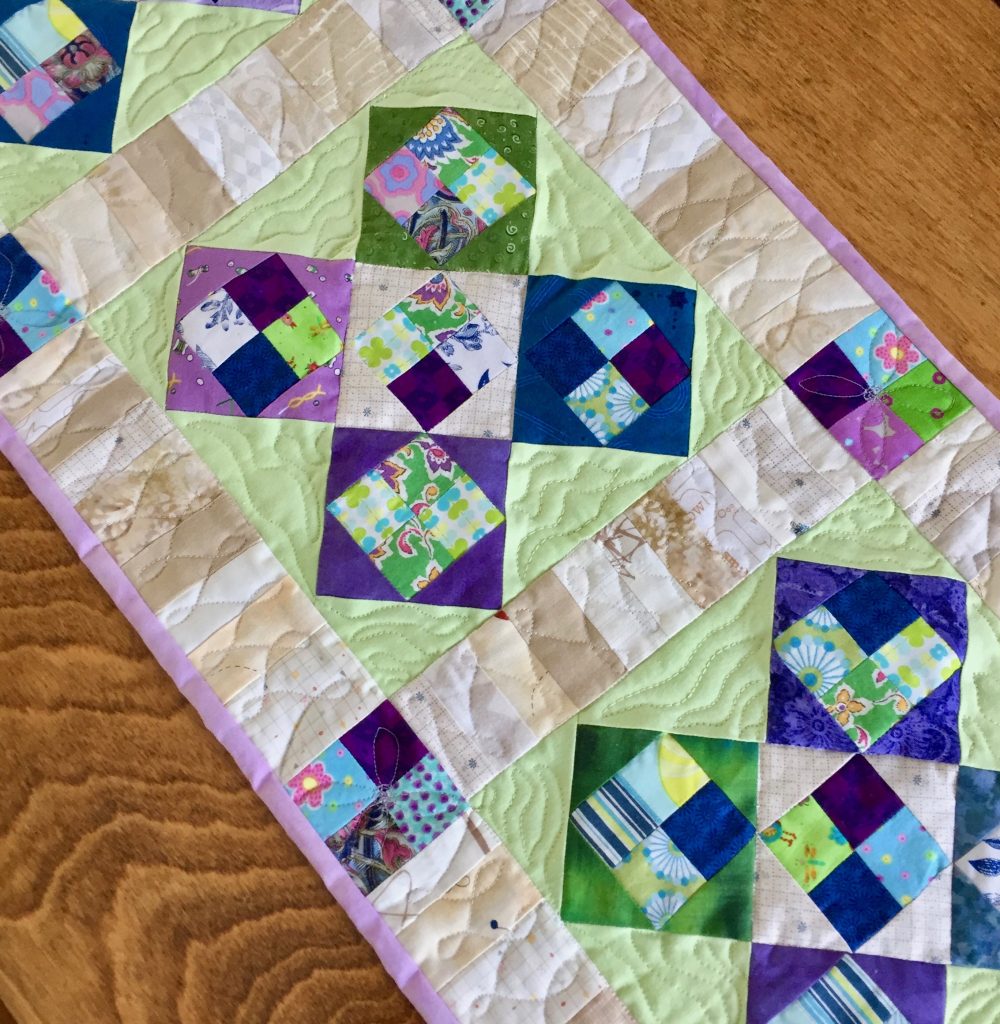 Quilting it was enjoyable. It has been a while since I have done any free motion quilting. I stitched in the ditch around the five on-point blocks within each block because I knew I wouldn't be quilting those. I wanted to leave them alone. Additionally, I used loops on the low volume scrappy sashing and some wavy lines on the light green triangles.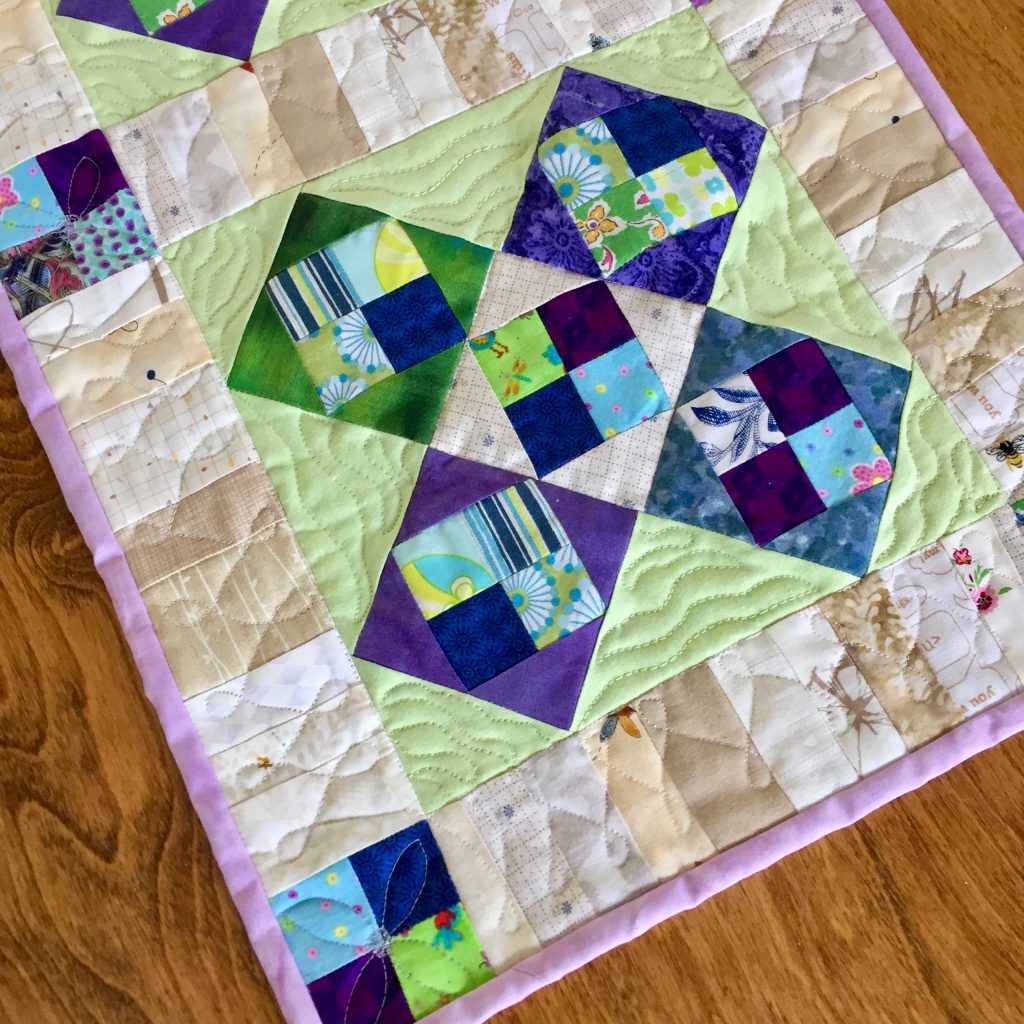 As it should with a scrappy quilt, every bit of fabric came from my stash. I didn't take a photo of the backing but even that was in the closet! Yay for using up some fabrics that have languished for a long while.
All in all, this is a great book. Lots of fun ways to use scraps and if you don't want to make the entire quilt, go for a mini, a table topper or a runner. I love making smaller projects because there is a satisfying finish and practicing my FMQ is so much easier on small quilts.
Be sure to check out the other stops on the tour and look at the projects made by the rest of the gang. Here is the schedule:
Friday, 4/5: C&T Publishing at ctpub.com/blog
Saturday, 4/6: Pat Sloan at ilovetomakequilts.com
Sunday, 4/7: Sandra Clemons at makeitblossomdesigns.com
Monday, 4/8: Susan Arnold at quiltfabrication.com
Tuesday, 4/9: Bernie Kringel at needleandfoot.com. (You are here!!)
Wednesday, 4/10: Bonnie Hunter at quiltville.blogspot.com
Bonus!! C&T Pubs has generously provided me with an e-book of String Frenzy to give to one lucky reader. Leave me a comment and let me know if you are a scrappy quilter. Do you make lots of scrappy projects? What is your favorite way to use your scraps – and what constitutes a scrap? Will you save a 1.5″ square? How small is too small?? Looking forward to hearing back from you. Giveaway open until Friday and I will draw a winner over the weekend!
UPDATE: Giveaway now closed. Winner was comment #6, Sandy M! Congrats Sandy. Enjoy the book! 🙂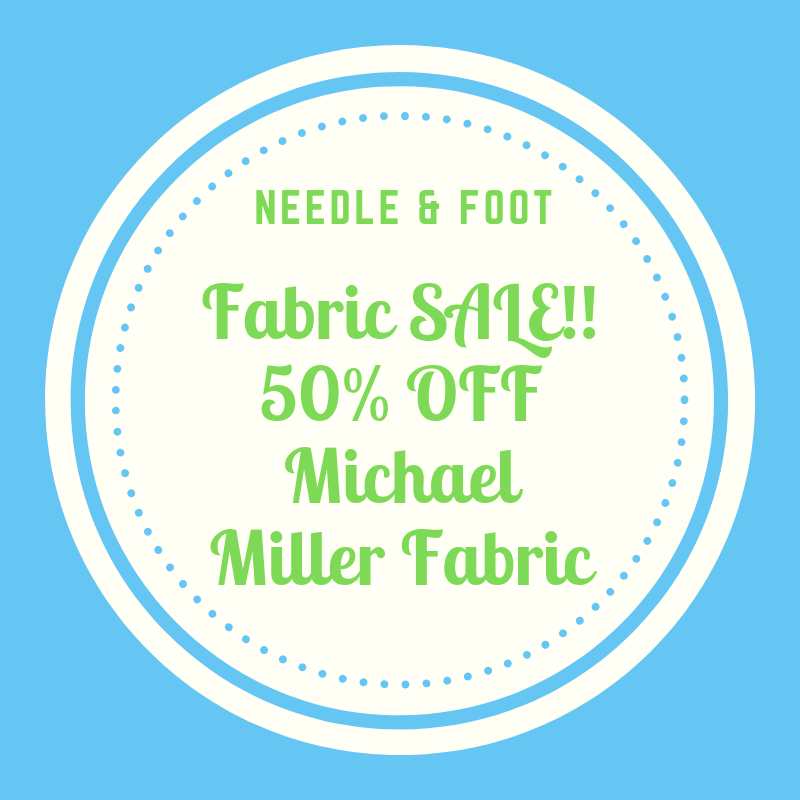 Calling to all customers!! I have all Michael Miller fabrics on sale at 50% off through the weekend! Yep — Such a great deal. Hop over the shop and take a look. I am sure you will find something you love. Prices can't be beat. Shipping is a flat rate of $6.99 no matter how large the order is. Happy Shopping!!
Newsletter!
Have you signed up for my newsletter? It is published every month or so and contains information about my shop, new arrivals, sales, and events. Click here to sign up!