OK, May is going to be busy. We have my daughter's 14th birthday (yikes!). I have a family trip planned that lasts nearly one week and we have my daughter-in-law's graduation from medical school (double yikes!!)  Lots of activity going on so I am trying to be reasonable.
My main goal for the month  (which will by my ALYOF goal for May) has to be the completion of my Allison Glass Mini Quilt. The swap has to be mailed out in the first part of June so this needs to be at the top of the list. It shouldn't be a problem as the top of the mini is done. I need to make the back and quilt it up. I want to make the quilting shine and as I still consider myself a newbie, I need to spend some time with this. I also want to make an "extra" giftie to include with the mini using some of the Allison Glass scrap.  Here is what I have left to make the backing with as well as an extra. I should have plenty of fabric.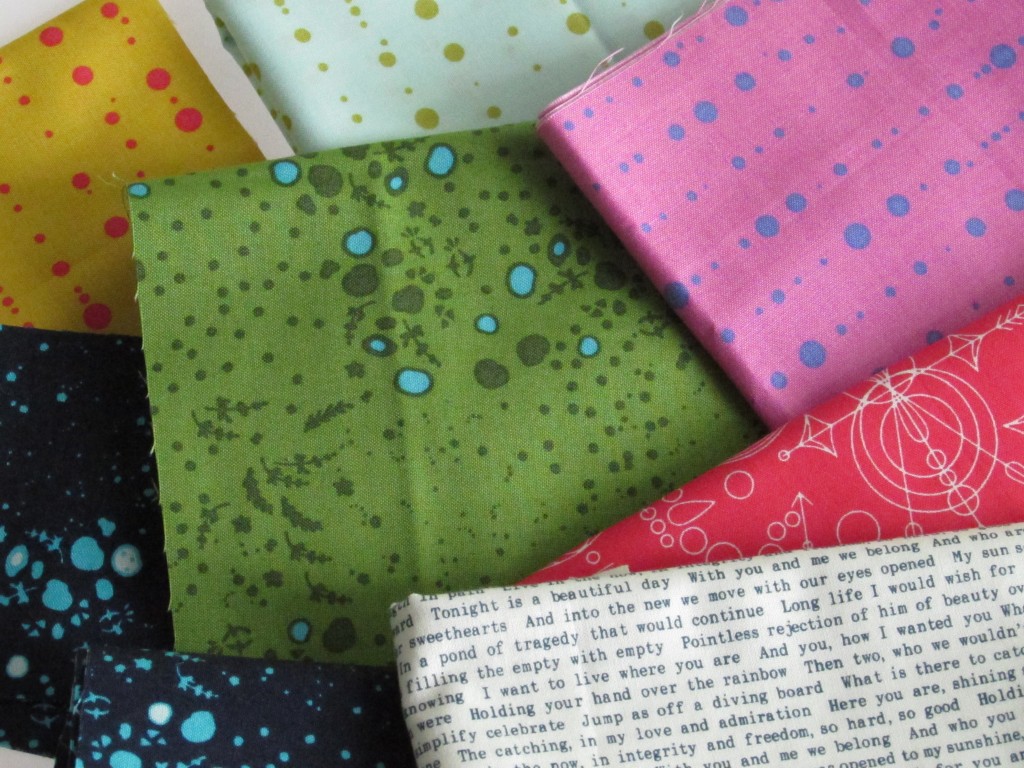 Second to the Allison Glass Mini is a custom order I am doing for a friend. She frequently has her granddaughters for the night and they sleep in bunkbeds. She asked me to make two hanging bags so they can have books and stuffies up on the bunk with them. The bags will hang from the rails of the beds. These are already cut and 1/2 way done so I shouldn't have any trouble finishing them up. Hoping to do that this week. I am using a polka dot twill by Riley Blake and lining the bags with the lovely "Wander Woods" print from Wee Wander.
Third on the list is to make this month's row for my Classic Stitches Row Quilt that I am doing with Mari over at Academic Quilter as my RSC15 project.  Tomorrow she will post the block that is to be made for this month. Luckily May's color is green – I love green and have a bundle of scraps for it.
That is it for goals. Anything that is accomplished beyond that is a bonus.
This weekend was our local quilt show. It was great fun and so inspiring. I want to share the quilt that won Best of Show. This local artist, Sandra Bruce, is amazing. I posted about a class that I took with her last spring to learn her process called "Material Matrix". It is a great process that takes a photo and divides it into patchwork squares by overlaying a grid on it. Sandra is an excellent teacher and a brilliant artist. Her portrait of Clair is approximately 4′ x 5′. Really striking, it is a perfect portrait of this sweet girl. When I was oohing and ahhing over the portrait, Sandra pointed out Clair to me. I asked her to pose for a picture and, while she probably thinks I am some sort of stalker, she did it for me.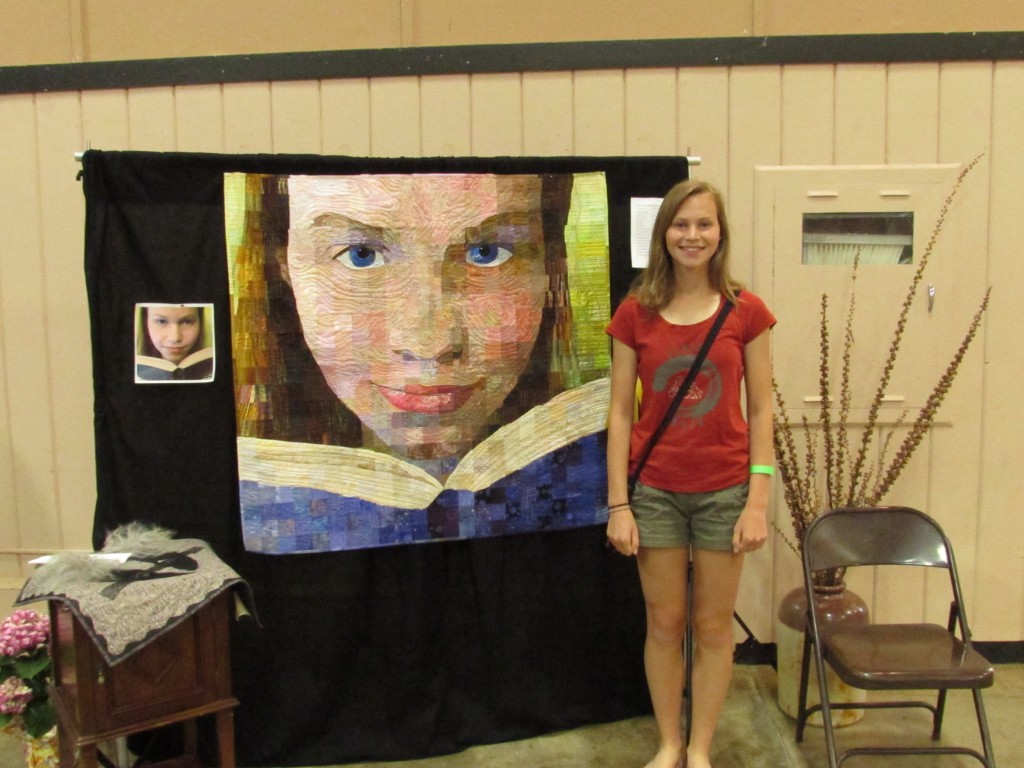 Below is a closer look at the quilt. Sandra's ability to create the human expression with bits of fabric never ceases to amaze me. If I remember correctly, she used 2 1/2″ squares to create this. Click on the link above if you want to check out her gallery. She does travel and teach so you never know, maybe she'll be in your area some time. If she is, it's totally worth your time to work with her for a day or two!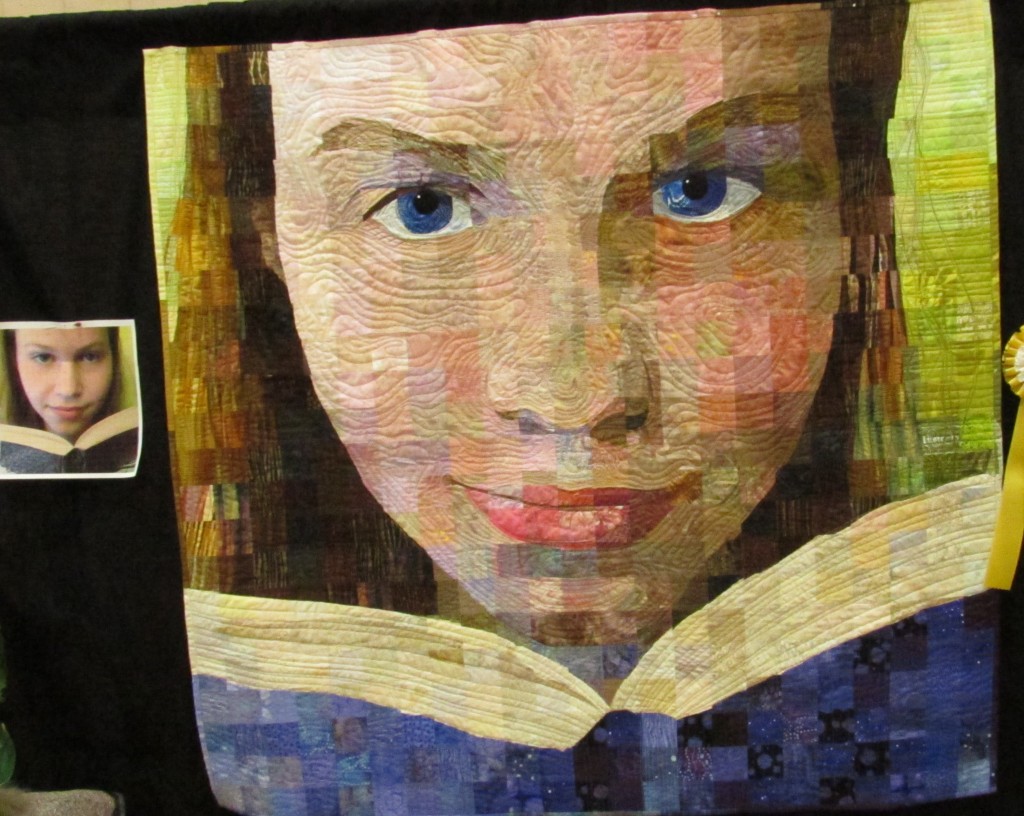 Finally, have you seen the list for some of the instructors at 2016 Quilt Con??? This was in today's issue of the Modern Quilt Guild  Newsletter. Absolutely. Amazing. I am so excited and am considering whether this might be my first time attending. It is in Southern CA in February of 2016 so it would be fairly easy for me to attend.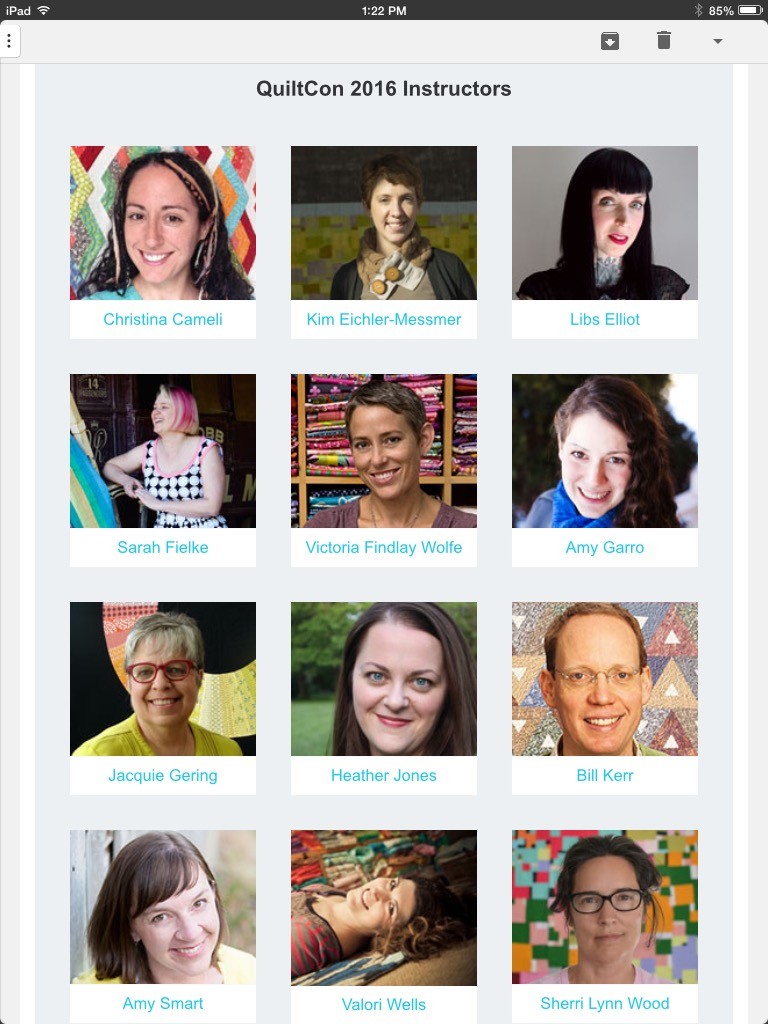 Big question is, how would a person even choose which one(s) to take a class with??? Most of my quilty heros are in this line up. It's too good to be true!!  Are you going?  C'mon, you have a nearly a year to figure it out!
Linking to Sew Cute Tuesday, FreeMotion by the River and ALYOF at Sew Bittersweet Designs.