Lots going on around here lately. My husband has finally decided he is 'done' renovating our little house in Downieville and it is listed for sale. We bought it some years ago after I saw it for sale during a quilting retreat up in the mountains. We have enjoyed many weekends up there and Ray has really outdone himself with updating it. I suspect it will sell easily and make someone very happy.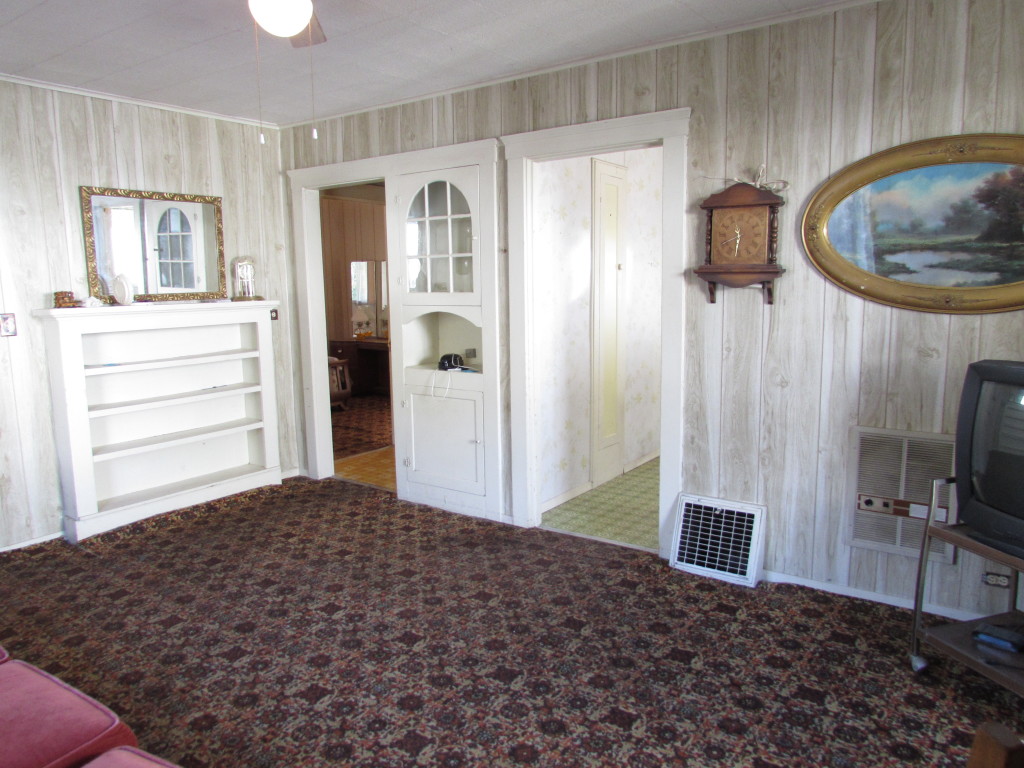 This is a shot of the living room when we were first looking at the house.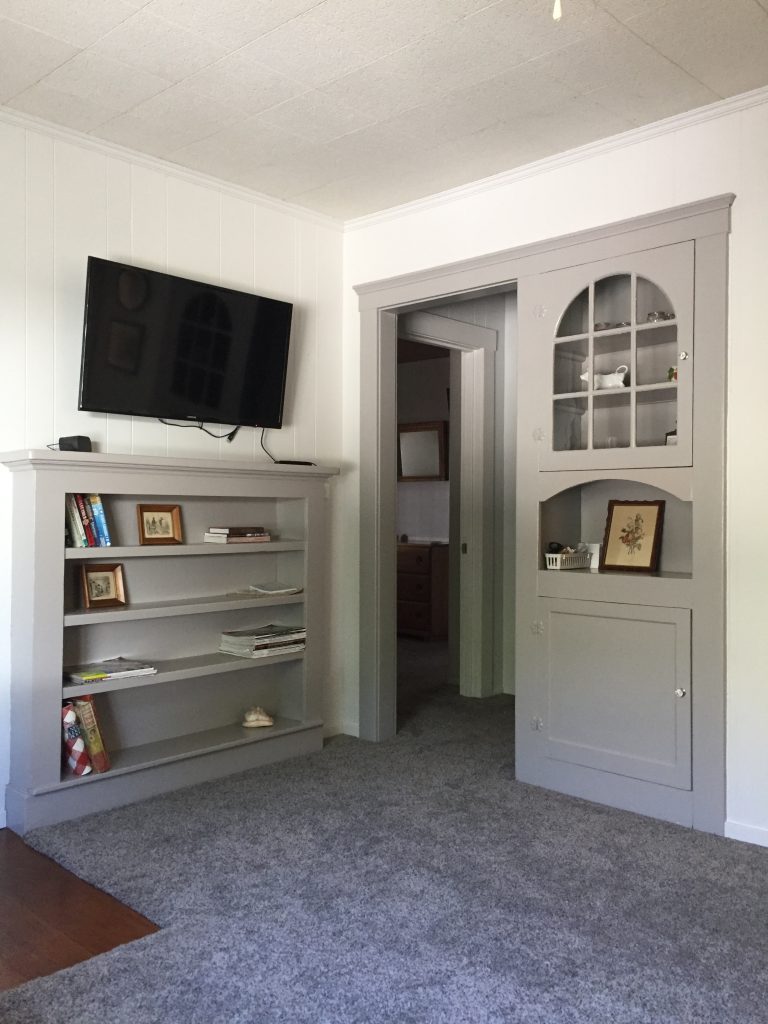 Want to see more? Here is the kitchen when we toured it the first time.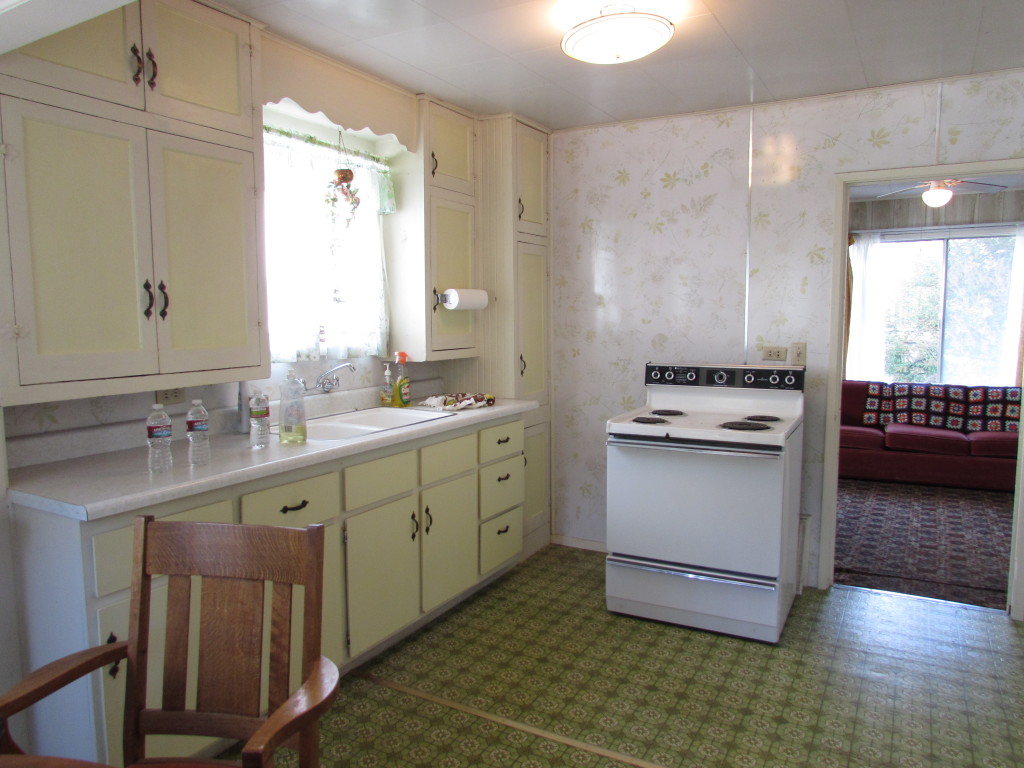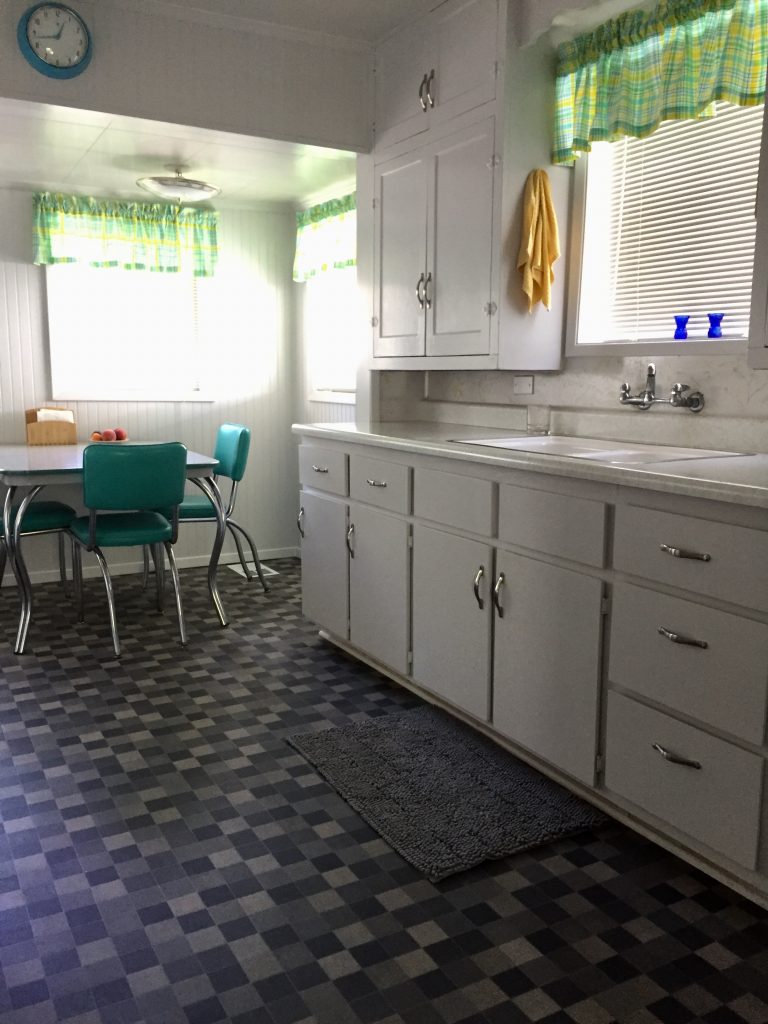 In some ways we are sad to give this little house up but we are also ready to be responsible for just one house again. Life is always changing!
I did bits of sewing here and there over the past week but mostly I was napping and dealing with a long migraine cycle. Ugh, that is so frustrating. Started Sunday night and here it is Friday and I am not so sure it is over yet. Such a waste of time – dragging around and not accomplishing a whole lot. I am so fortunate that reading does not bother me when I am sick – many migraineur's cannot read because of strong sensitivity with their eyes. I have a hard time looking at the computer, I think it is because of that little bit of movement that one's eyes track while looking at a screen. But the T V and books are ok. Anyway, lots of napping and I am crossing my fingers it is over with soon. I did my second monthly injection of Ajovy yesterday. My neurologist said some people experience a benefit right away and it can take others 3 or 4 months to notice a difference. Maybe this month will be better!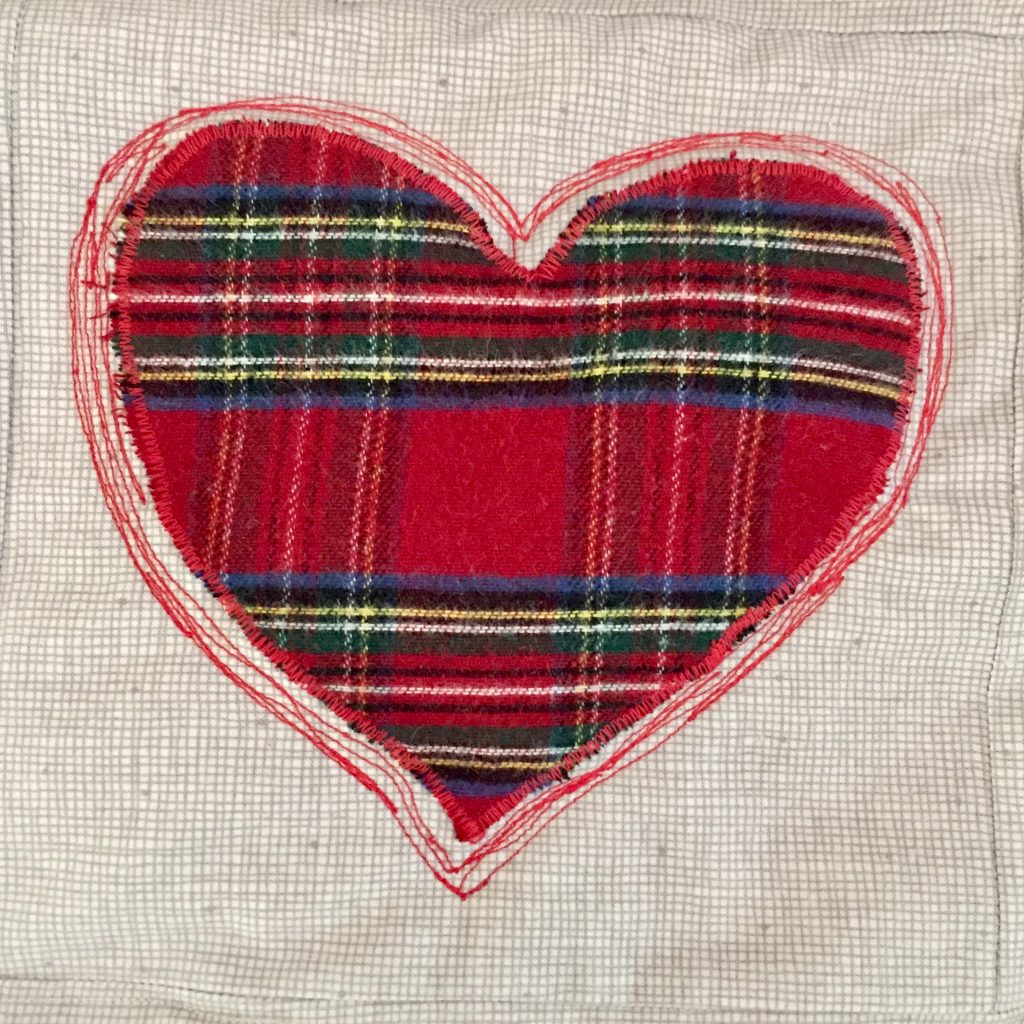 The sewing I did do was mainly working on my friend Susie's memory quilt. I got it basted (Julia helped me crawl around on the floor for that!) I quilted straight lines through the sashing and have been thread sketching an echo of sorts around the two plaid hearts. I think it lends a rustic simple look which is perfect for the mood of this quilt. Next, I plan to work on the short sashing strips between the four patch blocks. Then I need to decide what I want to do with the four patch blocks. I am just taking it easy and enjoying the process.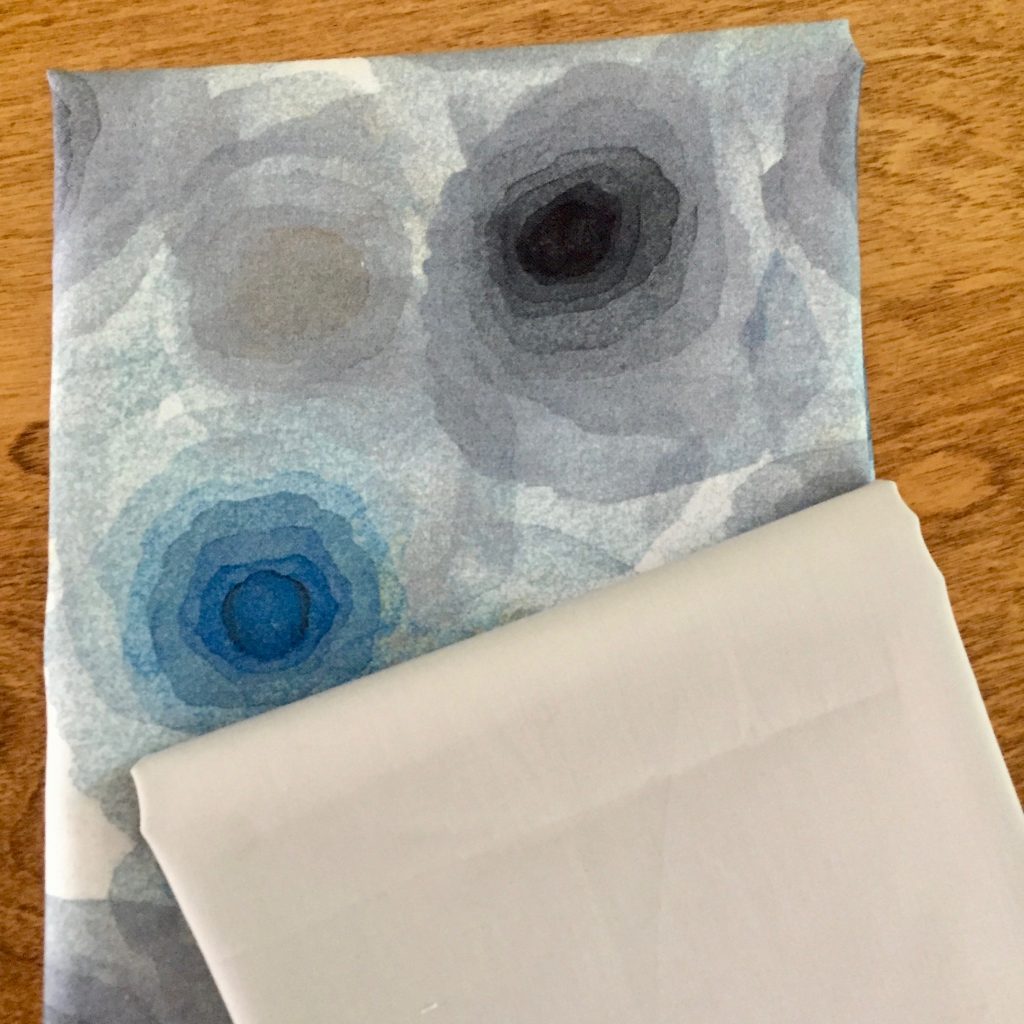 Julia has asked me to make her a new purse. The last one was made in fall of 2017 and it is looking a bit worn. I love her fabric choices! The blue and gray fabric just arrived last week and I am happy to cut into it and give it a try. It is called Harmony with Nature and was designed by Norman Wyatt. She chose the Mystic Gray (an Art Gallery Fabrics Pure Solid) for the lining.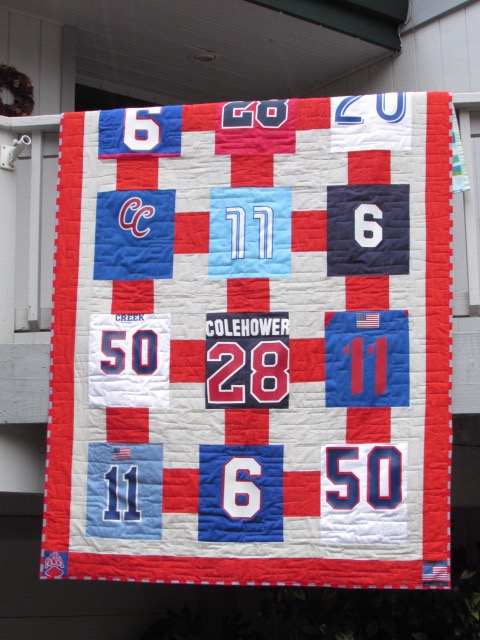 My sister asked me (a LONG time ago) to make a hanging sleeve for a quilt I made for my nephew. Remember his baseball and football jersey quilt? She wants to hang it on a wall in his room. I finally cut a few strips of this gray dot and will get that off to her in the mail.
Today is my husband's birthday. I just finished making him a chocolate cake with chocolate frosting. To keep it dairy free, I used coconut cream instead of butter for the icing – it is yummy and I was licking my fingers the whole time I frosted the cake! I used coffee for the liquid instead of milk or cream because the coconut is fairly sweet and I thought the coffee might cut that a bit. He requested enchiladas from our local Mexican restaurant which is a treat for me. No cooking!! Then we eat cake. Probably way too many calories after a week of napping but such is life.
Hoping all of you are enjoying summer. Have a wonderful weekend and if it is hot outside (it is in the high 90's here!) now is the time to enjoy the cool of your sewing room and make something!!