The release of Modern Plus Sign Quilts, written by Paige Alexander and Cheryl Brickey is being celebrated with a blog hop this week and next. I am so happy to take part in celebrating this book.  I have long been a fan of plus quilts and made one a while back.  I called it Positively Floating and you can see it here. Adding a book devoted to modern interpretations of plus quilts is the perfect thing for my collection of quilting books.
There are a couple of things I really appreciate about this book. One is the ease of most of the patterns Paige and Cheryl designed.  I am not usually one for fussy quilts with tons of pieces to cut and points to match up.  While there are some advanced, challenging patterns in the book, there are also lots of options for simpler designs. Also, there is a nice write up on the history of plus quilts which I really enjoyed.  Finally, with many of the patterns, the authors included an illustration of a suggested layout for cutting the pieces such that you get the most out of the fabric needed. This is really helpful for me as I just don't have a strong ability to see spatial relationships and often (more often than you'd think) will cut my pieces and find I don't have quite enough fabric.  This is because I don't always choose the most efficient cutting plan.  Part of me attributes this to the fact that for years I sewed clothing, not quilts.  Clothing patterns always show the best way to lay out the pieces on the fabric – so I never had to figure this out for myself.  Anyway, I think this was a great addition to the quilt book and you don't see it in many books that are published.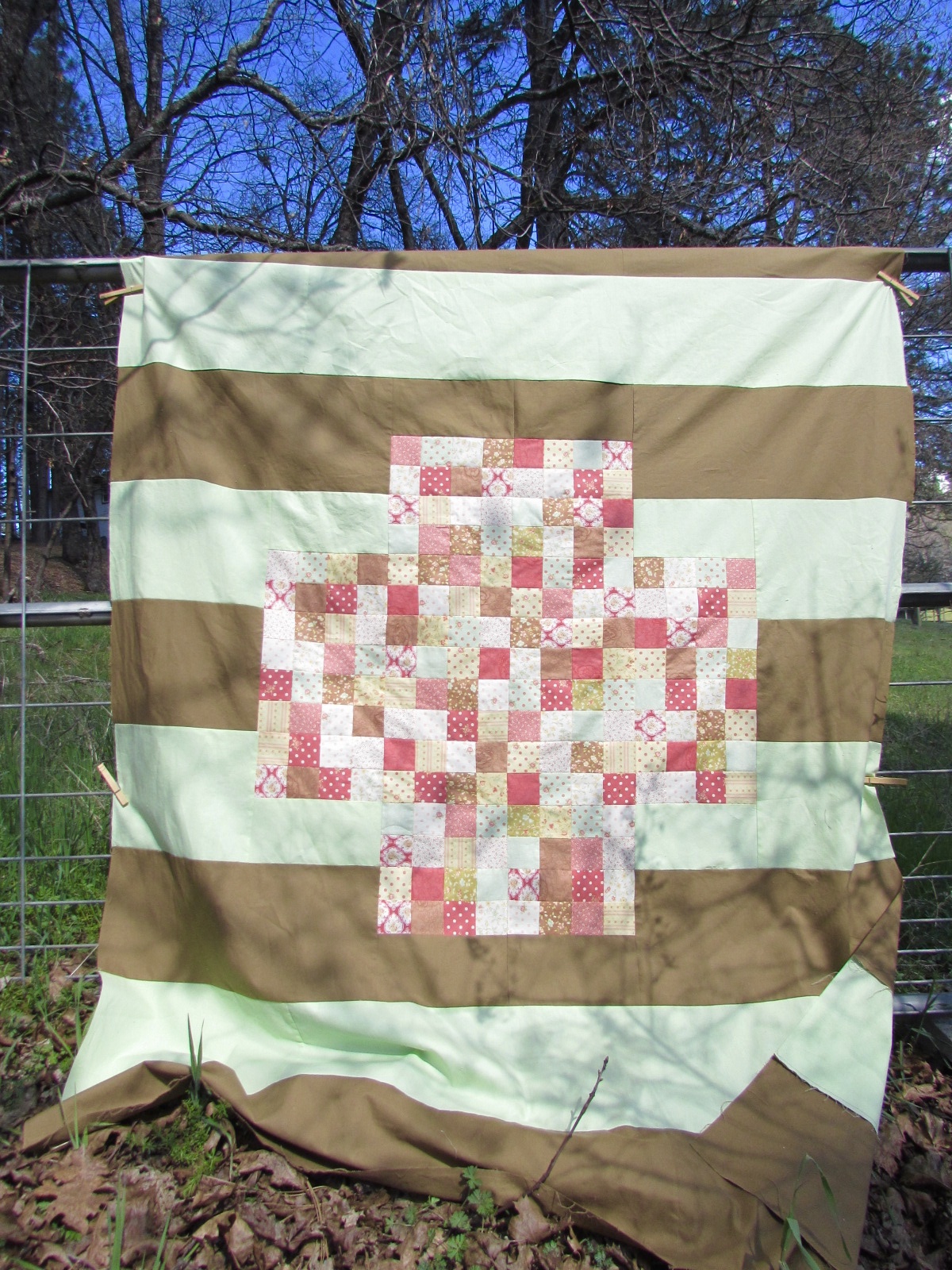 Let's move on to the quilt I made.  This is the pattern called Postage Plus.  It is based on a postage stamp quilt (basically small patchwork) used to build the plus.  The oversized plus is set into a bold pattern of stripes.  This gives a very modern result.  The book shows a quilt with a gray and white background which is looked really clean.  When I chose to make this pattern, it was so I could use up an older Moda jelly roll that I purchased from a destash last year over at Academic Quilter.  Using strip piecing with a jelly roll made this quilt a very simple project to assemble.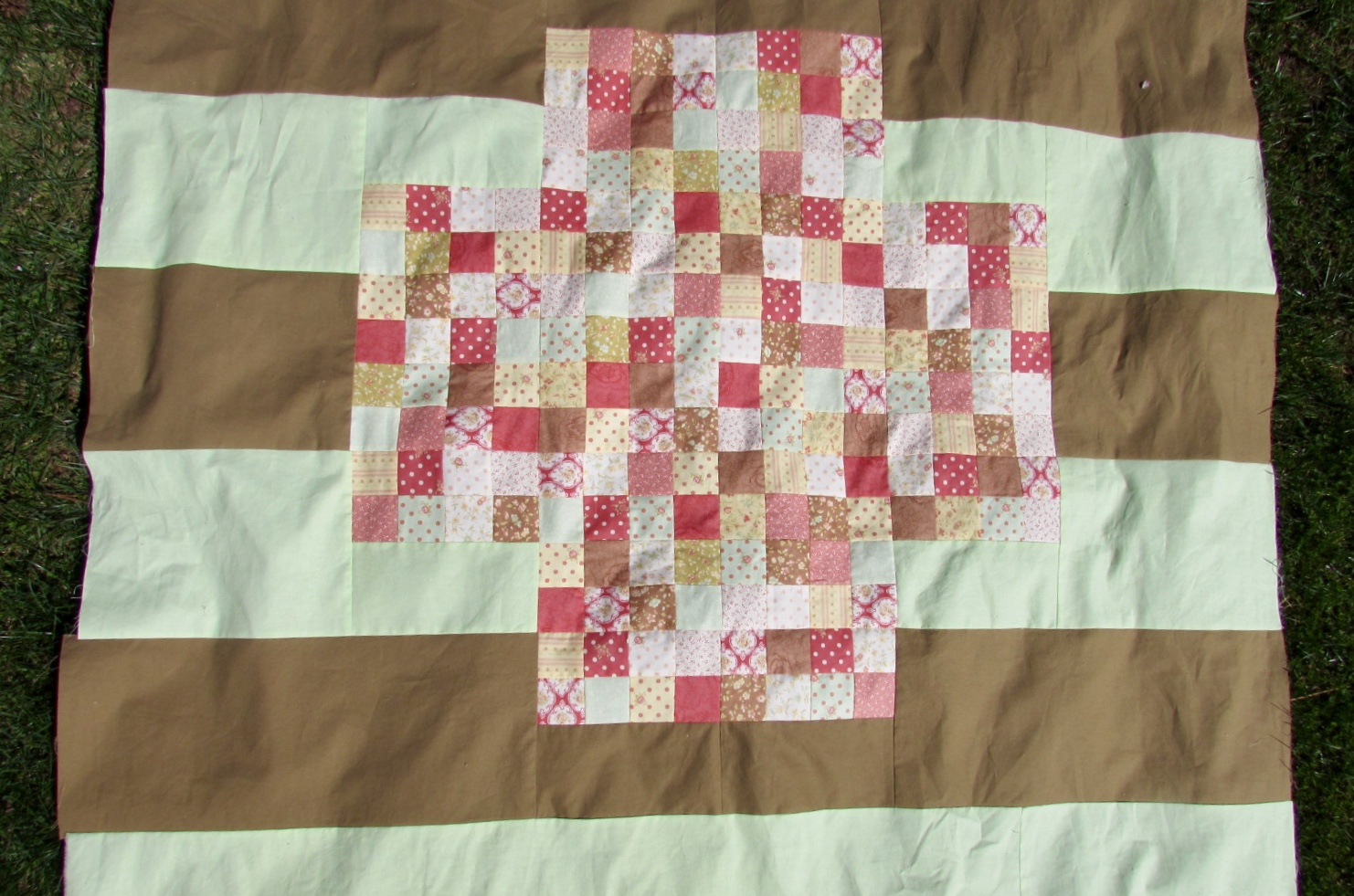 The quilt came together so quickly.  I love using the stripes to bring out the brown and green shades in the patchwork. The colors make me think of ice cream for some reason.  Lime sherbet or coffee ice cream, which would you choose?  I would go for coffee ice cream every time!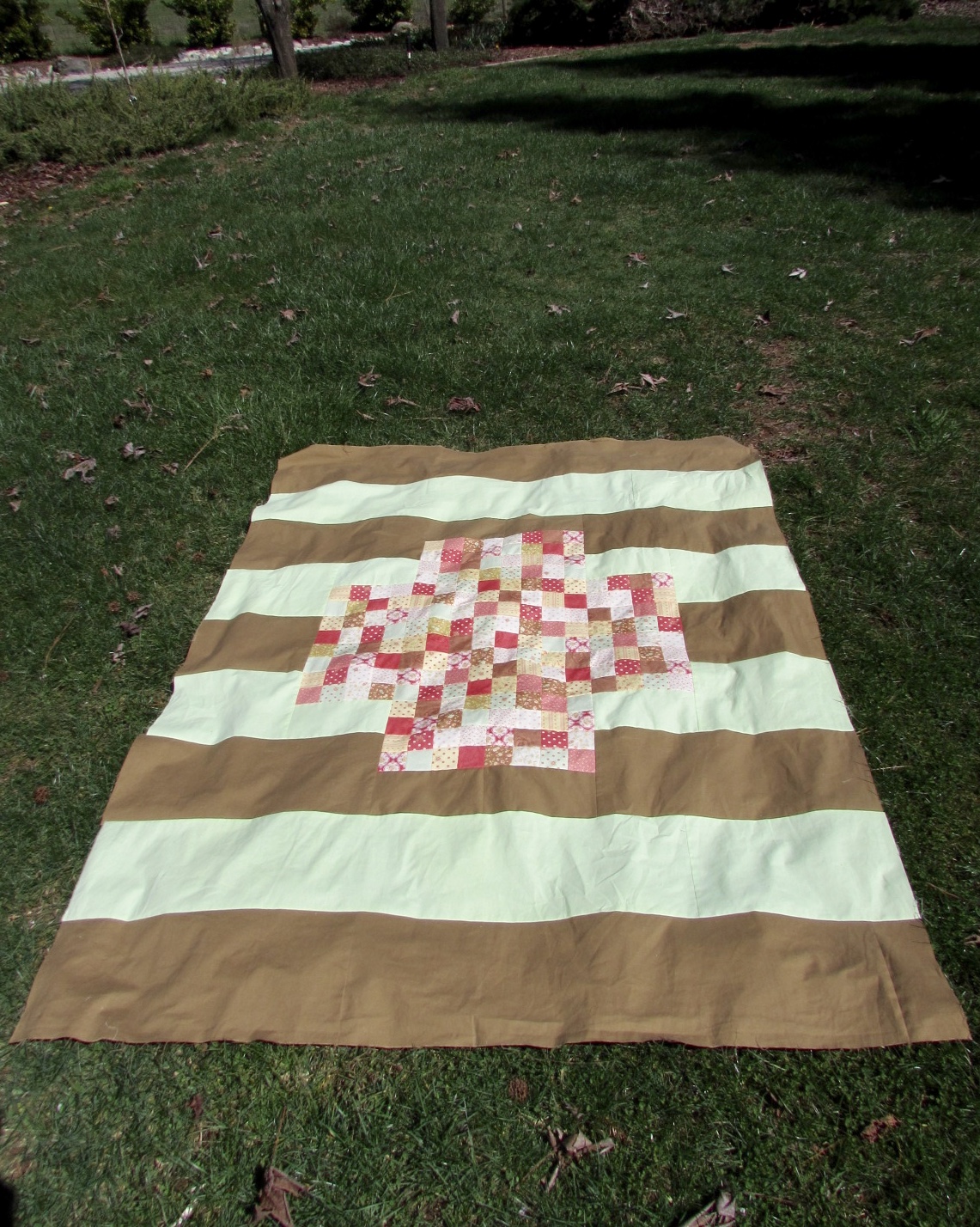 You might notice I am sharing a quilt top, not a finished quilt.  If you are a fan of Instagram, you probably saw the posts where I was unhappily removing a large amount of long arm quilting gone bad.  Ugh!  I took this quilt top and loaded it on a long arm at my friend's house.  For whatever reason, I couldn't use her machine and obtain a good result.  It just looked horrid. I am far from a perfectionist and will often leave issues such as wobbles, mistakes, or points that don't quite work out in the quilt. (Maybe I am too lazy to fix things like this). But this was bad.  Even the lazy quilter in me couldn't just ignore it.  So I stopped, after quilting about 25% of the top, removed it from the frame, took it home and unpicked it.  Really, it wasn't too awful a task and I am happy I fixed this.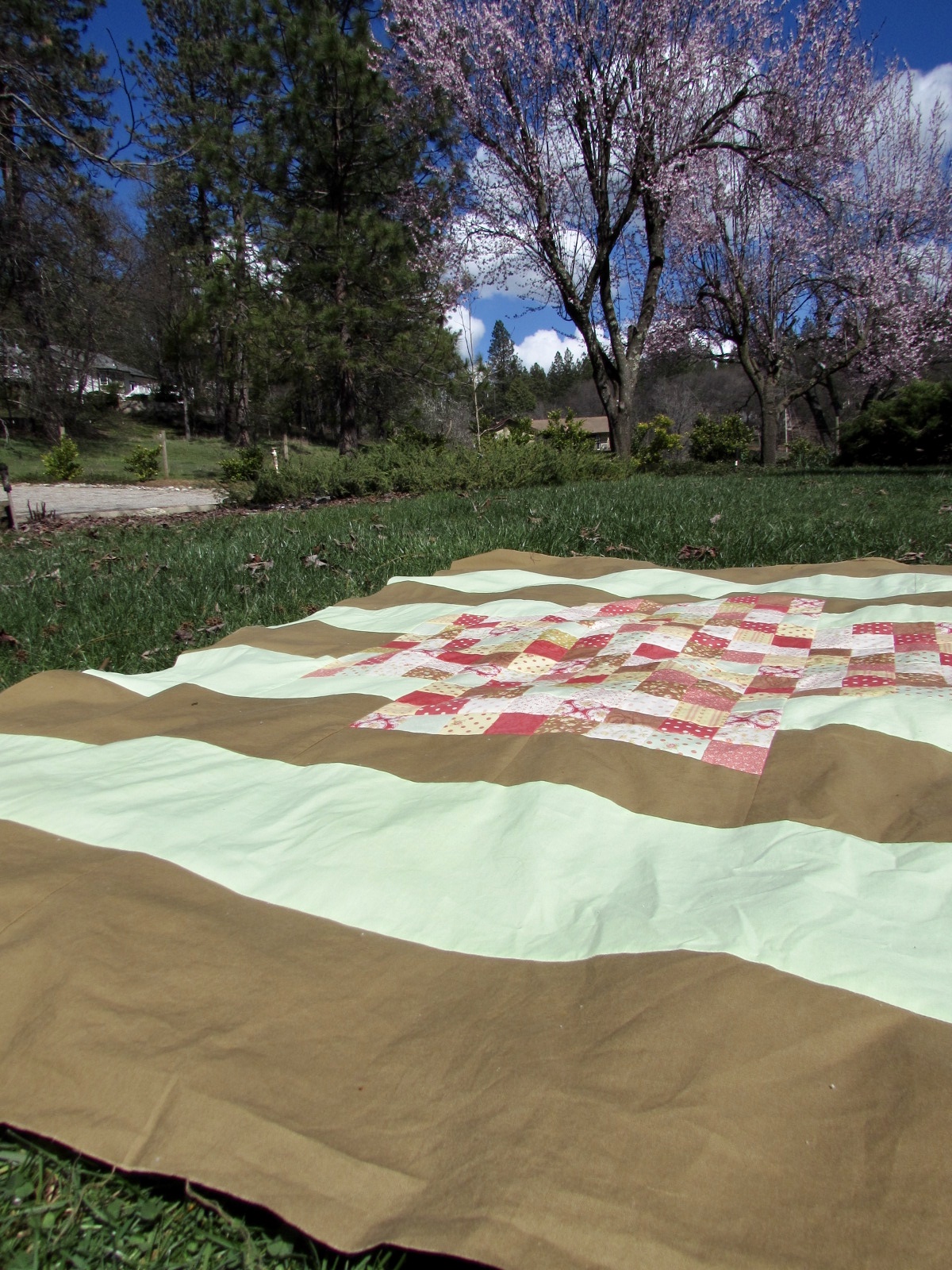 I am eager to load it on the machine at the same shop where I have been renting time.  I have an appointment on Friday of this week and will be able to quilt this up then.  Off topic here, but take a look at the blue skies we enjoyed yesterday.  It was a gorgeous day and I am lucky to have taken photos then.  Today it is fierce, pouring rain – not a day to be outside.  Sure changed dramatically over night!
In closing, I strongly recommend Modern Plus Quilts.  The book is top notch with creative patterns of varied complexity , nice tips and clear information – a book well done.  The blog hop goes on all of this week and through next week.  Paige and Cheryl are offering giveaways each day so be sure to hop over there and enter the giveaways.  Lots of fun happening in blogland these days!
Below is the schedule for the hop
Monday, March 12
Tuesday, March 13
     Signature Plus
     Tribal Plus
Wednesday, March 14th
     Plus Surround
     Kaleidoscope Plus
Thursday, March 15th
     Postage Plus
     Rick Rack Runner
Friday, March 16th
     Row Addition
     Transparency Chains
Monday, March 19th
     Faceted Rings
     Petal Plus
Tuesday, March 20th
     Message in a Bottle
          Tish @TishNWonderland
     Cute as a Button
Wednesday, March 21st
     Celestial
     Pinwheel Plus
Thursday, March 22nd
     Intertwined
     Bear Claw Plus
Friday, March 23rd
Linking to my favorites. Find them at the top of the page, under Link Ups.
This post contains affiliate links which means if you make a purchase by clicking on them, I will receive a small payment. This does not change the purchase price to you in any fashion.