Hi everyone!  I have a few more finishes to share with you for the Spread the Love event.  Remember this doll quilt drive is in support of A Doll Like Me, and will run through the end of the month.  I have a box filled with donations for Amy and plan to send it off tomorrow.
In the box are a number of doll quilts (made by me as well as a couple of local guild members) and three hospital gowns. Amy has asked for the gowns because she wants to include one with the doll when she knows the child has a hospital stay in their near future.  What a cute idea and how therapeutic it is for the child to dress his or her doll in a gown when she will also be wearing one. You can see the gowns up above from the front.  I used this free pattern to cut the gowns out and used a simple narrow, double fold bias tape for the neck and ties in the back.  They can be made out of a fat quarter or similarly sized scrap and take no time at all.
Next on the list of  projects to mail is this I Spy Quilt. I mentioned it a couple of weeks ago and finally got it quilted and bound.  I used a black and whit polka dot fabric for the binding but it is pretty wonky.  I do love the variety of fun fabrics used and think it will be a cute on for a child to play with.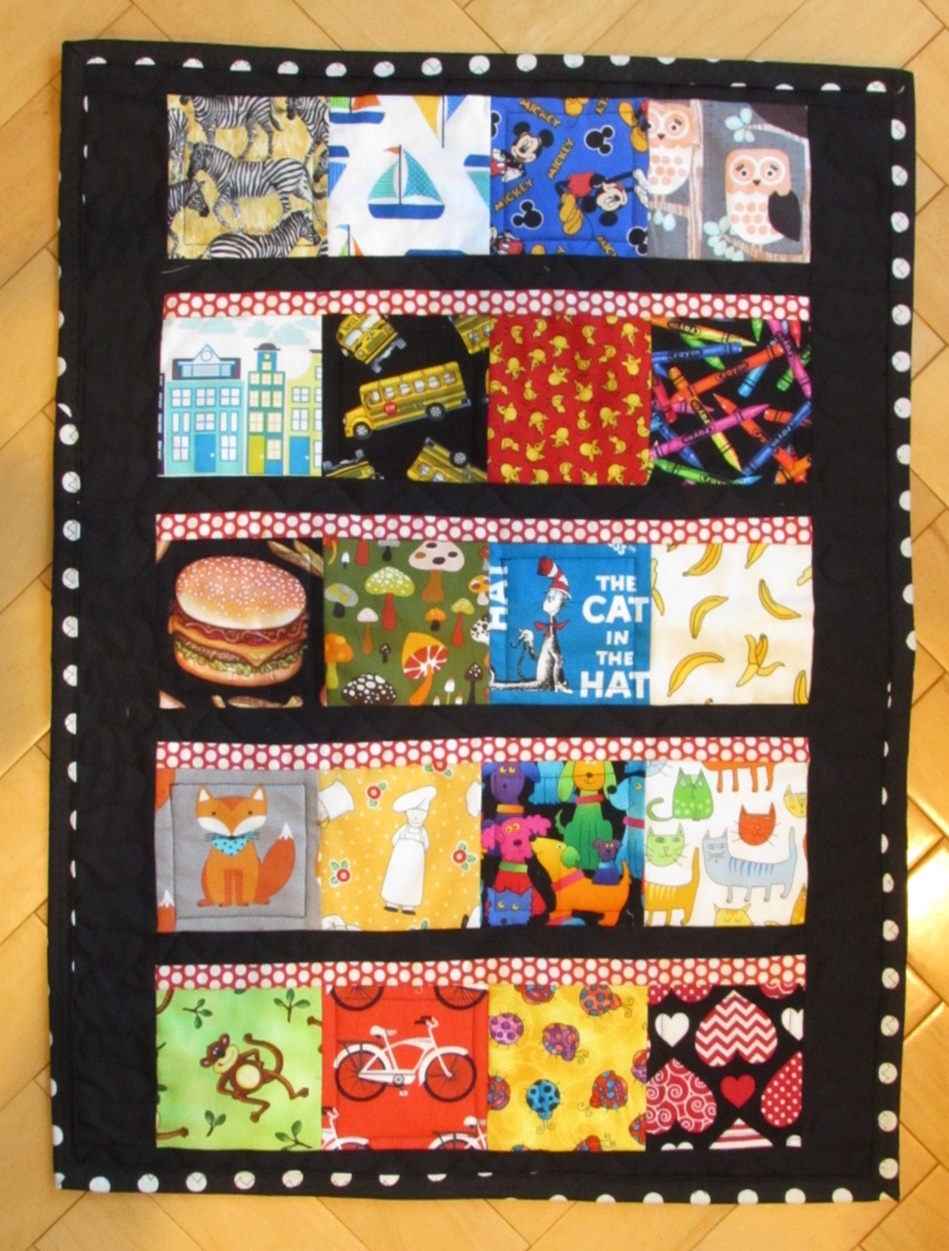 The backing is a piece of fabric I have had in my stash for years.  It has lots of animals scattered about and will be another fun one for a game of I Spy.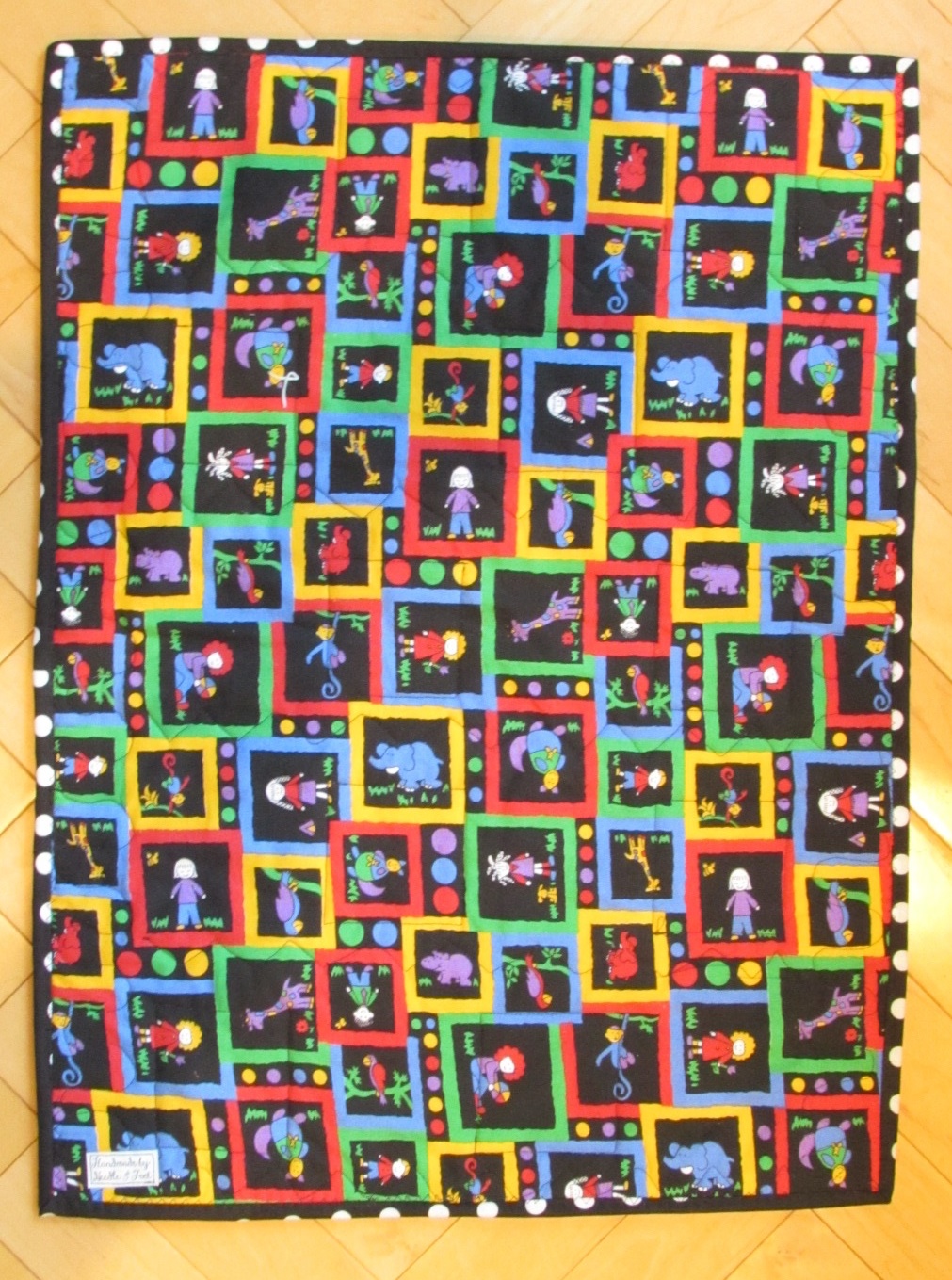 This Fire Truck Quilt is one of my favorites – you know I am a sucker for anything with a vintage look to it! The red and yellow combination is so sweet.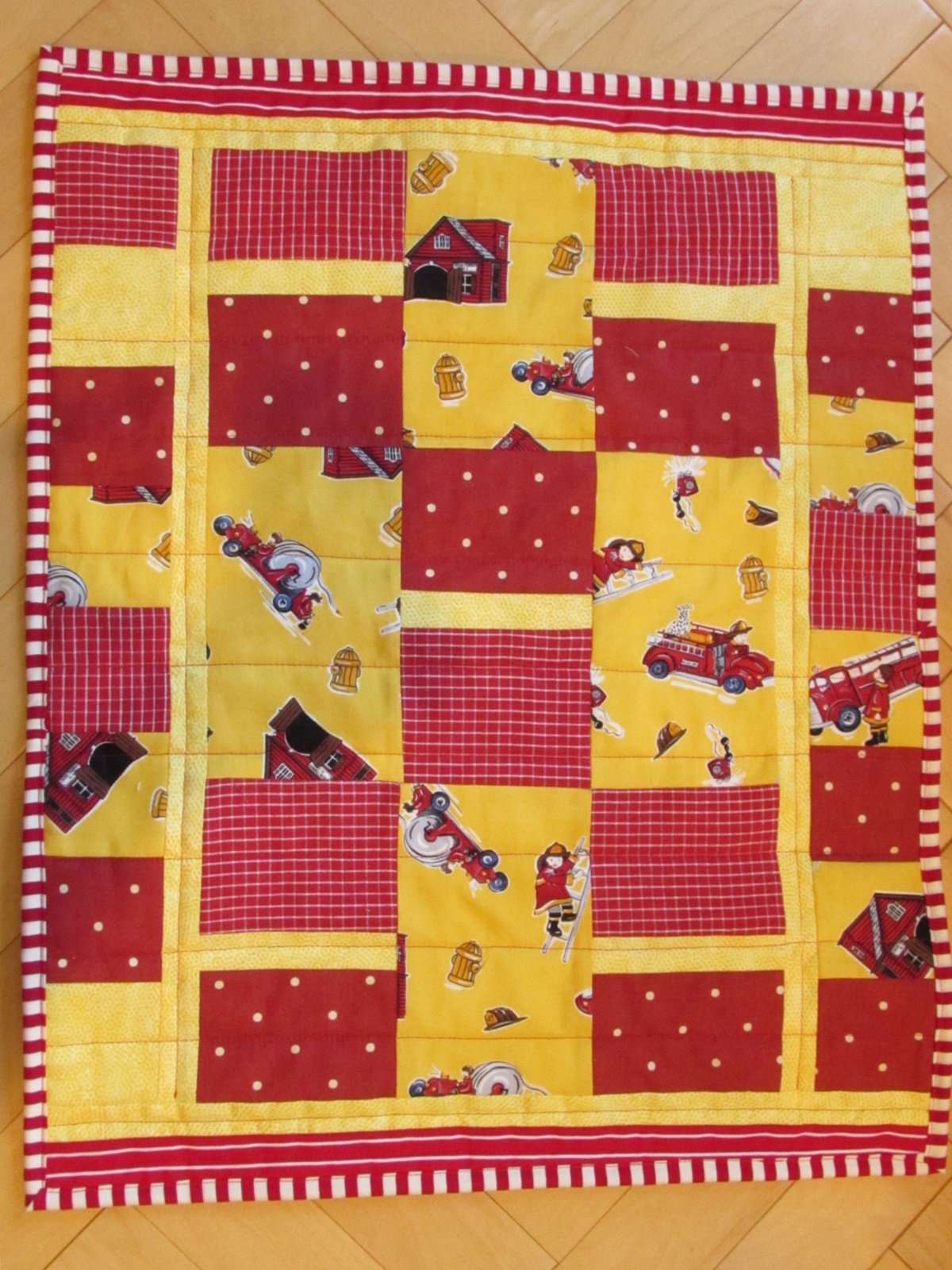 Determined to use only fabrics from my stash, I used red and yellow scraps for the quilt, sashing, backing and binding.  It came together nicely and will surely be loved by its new owner when Amy decides to send it off to a child.
Just an update on the progress of this doll quilt drive.  I have recorded more than 135 quilts finished and shipping at this point.  Promises of many more are made.  How amazing is that???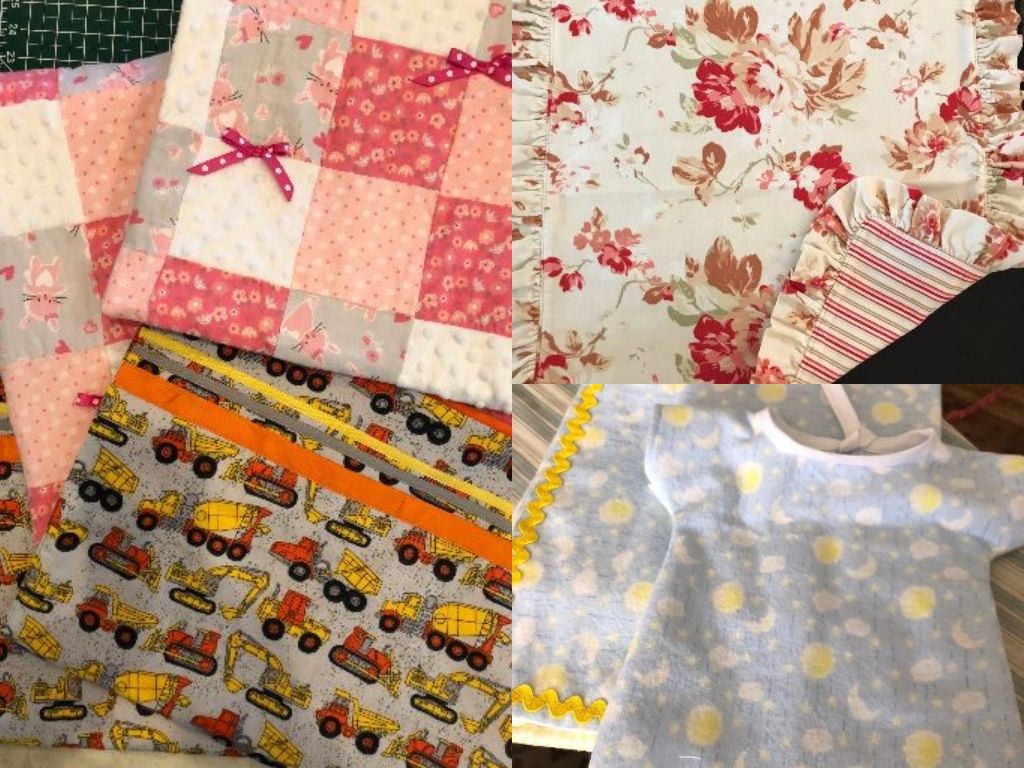 Here is a photo of some projects made by my sisters.  Flannel blankets, a hospital gown, ruffles and flowers, trucks and cement mixers — perfect for A Doll Like Me!! I am so happy they wanted to make and contribute these.
Finally, I have had a few readers ask if there is a way to contribute to A Doll Like Me financially.  Because of the costs of shipping, the fabric and accessories to make the doll, stuffing for the dolls, and most especially the need to fund dolls for families who cannot afford one, there is a Go Fund Me account.  If you feel you would like to contribute, that is wonderful.  Donations can be in any amount, don't feel it has to be a large amount of money; five or ten dollar donations add up and are very helpful. The quilting community has given so much to Amy's cause so please don't feel pressured to make a monetary gift.
Remember if you are making quilts, you can email me for the shipping information.  Any questions?  Leave a comment and I will get right back to you.  Thanks everyone!
Come back on Wednesday the 21st because I will be sharing the blogger bundle for February.  Curated by Kitty Wilkin of Night Quilter, it does not disappoint!!
Linking to many fun places – check them out at the top of the page under Link Ups.