I don't think I can really articulate all that this Spread the Love, Quilting for Kids event has meant to me, but I am going to try.  This is likely to be a long post…. Bear with me.
When I first read about Amy and her shop, A Doll Like Me, I knew she was special.  I knew the work she does is really important and so valuable.  But I didn't know what all would happen when I put out the call to the quilting community to make doll quilts for A Doll Like Me.  I didn't realize how much I would come to enjoy working with Amy. I didn't know I was going to have the opportunity to become friends with her and get to know about her family and what is important to her about this work she does.  Also, I had no idea I would make so many new friends within the quilting community. I hadn't a clue how much support my family would pour into this project. My sisters that sew, made blankets, quilts and gowns, my family donated financial support to the Go Fund Me campaign for A Doll Like Me.  My nephew works for Go Fund Me and he took Amy's campaign to his management team – they loved it and donated $1,000 to it.
Kindness begets kindness.  It has this incredibly powerful, trickle down effect.  Let's take a look at the flow of kindness within this event. I think it is so important.
Amy made a doll for a friend's child.  Kind act #1
Her friend showed it to another friend. Kind act #2
That friend asked for a special doll with a limb difference for her child and Amy made it for her.  Hugely Kind Act #3
The friend shared the doll and Amy's world changed.  A Doll Like Me began. Hugely Kind Act #4
Sometime later, Elana of That Fabric Feeling somehow connected with Amy and offered to make doll quilts for her.  Amazingly Kind Act #5
Elana posted about the doll quilts on her blog, thereby sharing the need with the online quilting community.  Kind Act #6
I randomly stumbled on to the posts about Elana's doll quilts.  Random and happy occurence!
I decide this needs to be shared as a community event so more people can participate, thus creating Spread the Love, Quilting for Kids.  Kind Act #7
Art Gallery Fabric offers me an amazingly generous number of prizes to offer and hopefully encourage participation so Amy would have a large stash of quilts to use in her work.  Kind and Generous Act #8
My family reads about my work (they are such faithful blog readers!) and decide to contribute financially via the Go Fund Me campaign for A Doll Like Me. Kind Act #9
My nephew finds out about these donations from his mom (my sister) and takes it to the management at Go Fund Me.  They donate $1,000 to the campaign.  Hugely generous and Surprising Kind Act #10
Quilters take this event and announce it at their guilds, their sewing groups, their on-line community and I start receiving emails, lots of emails, asking if they can continue to contribute after the February event concludes.  I can't remember how many groups contacted me but it was at least ten.  Kind Acts #11 through 20 or so?
My sister, who lives in the UK, offers to be a collection point so that quilters in the UK can participate without having to mail their quilts to the states.  They are mailing their donation to Juanita and she will collect them, package them up and send them to Amy.  Kind Act #21
A quilter in Canada offers to do the same thing so the participants in Canada won't be paying such high postage expenses.  Debbie is collecting the Canadian doll quilts and will  package them up and send them to Amy.  Kind Act #22
Doll quilts start arriving – I have received pictures of well over 200 doll quilts so far.  Promises of more are in the works. I have heard tales of how meaningful this has been to so many quilters, how much they have enjoyed taking part in this and thinking of these kids who will have their Doll Like Me and also a quilt to wrap up their baby.  So, let's try to quantify this and say these are Kind Acts #23 – 228.  I know there are more quilts in process but this gets the idea across, right?
Quilters ask what else they can do.  Amy says 'well, I would like to have some doll size hospital gowns for kids facing a hospital stay.'  So far I know of fifteen hospital gowns that are finished and sent.  Also two more doll outfits.  More are in the works, but for now this will be Kind Acts #229 – 246.
See how this works? Kindness begets kindness.  Small acts grow, more people get involved, more compassion is extended, and people feel intrinsically rewarded; it feels good to be kind. That warm feeling of satisfaction causes kind acts to happen more and more.  One mom is using this project as a teaching tool.  She has five children and has committed to making five quilts, one with each child helping her.  Those kids will likely benefit and become more compassionate for others, more sympathetic to the needs of others. How will they use that lesson in compassion as they grow? Who knows, but you know it will affect them in a positive manner.
I cannot thank everyone enough.  You are all so amazing. Want to see some of the quilts that were made?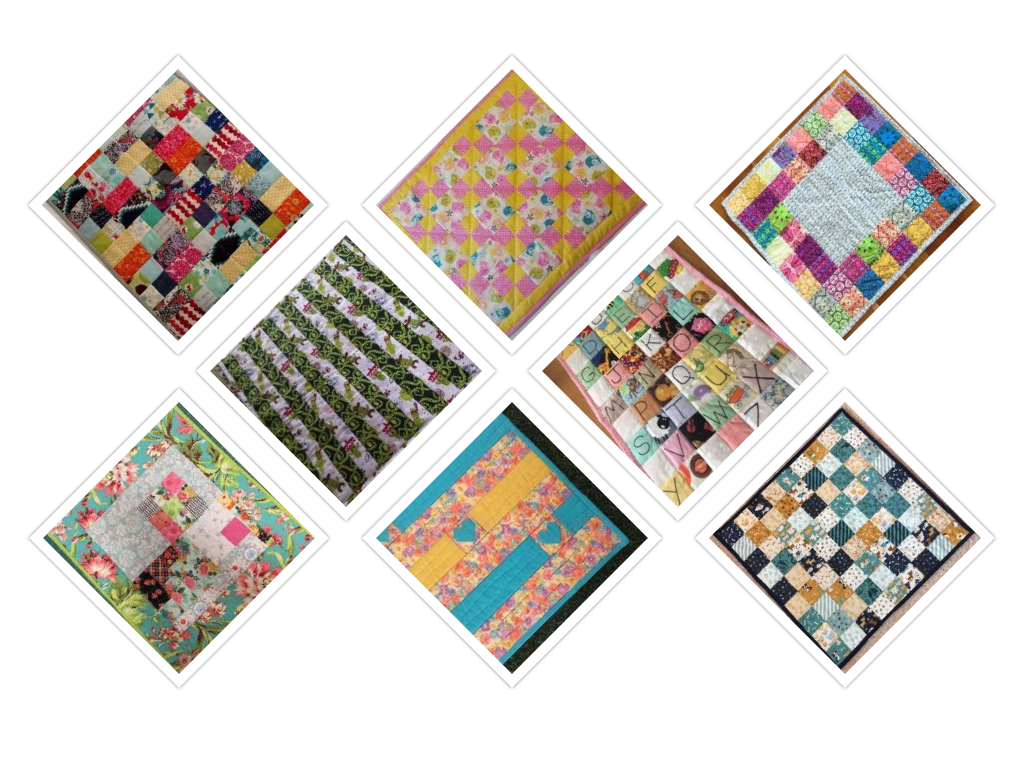 I didn't think it was feasible to upload over 200 pictures so I just made a few collages. So many fun quilts though. I am sorry I couldn't share every single quilt.  They are all outstanding. Included in these special quilts are applique, strip quilts, animals, patchwork, Dr. Suess, Sesame Street, Raggedy Ann, flowers, tractors, and even race cars. Whether modern or traditional, each one is unique and so special.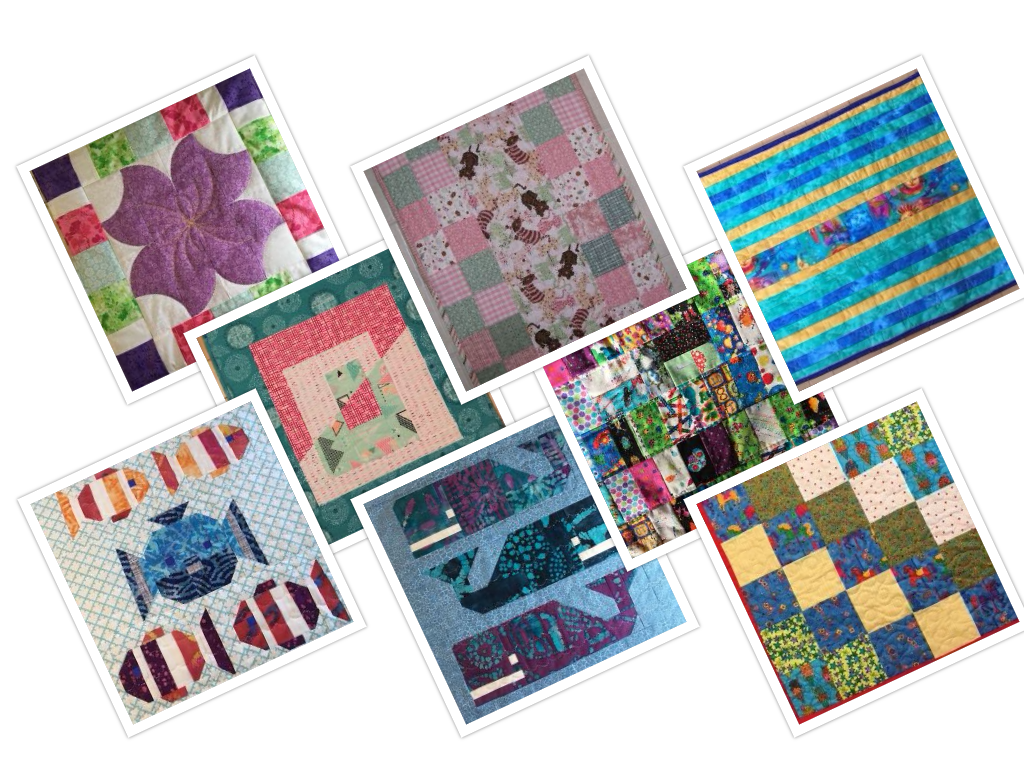 This community grabbed on to the idea of helping children. It spoke to so many of us.  It felt good to do something positive. To have something meaningful to work on as we deal with one senseless tragedy after another in this world we live in.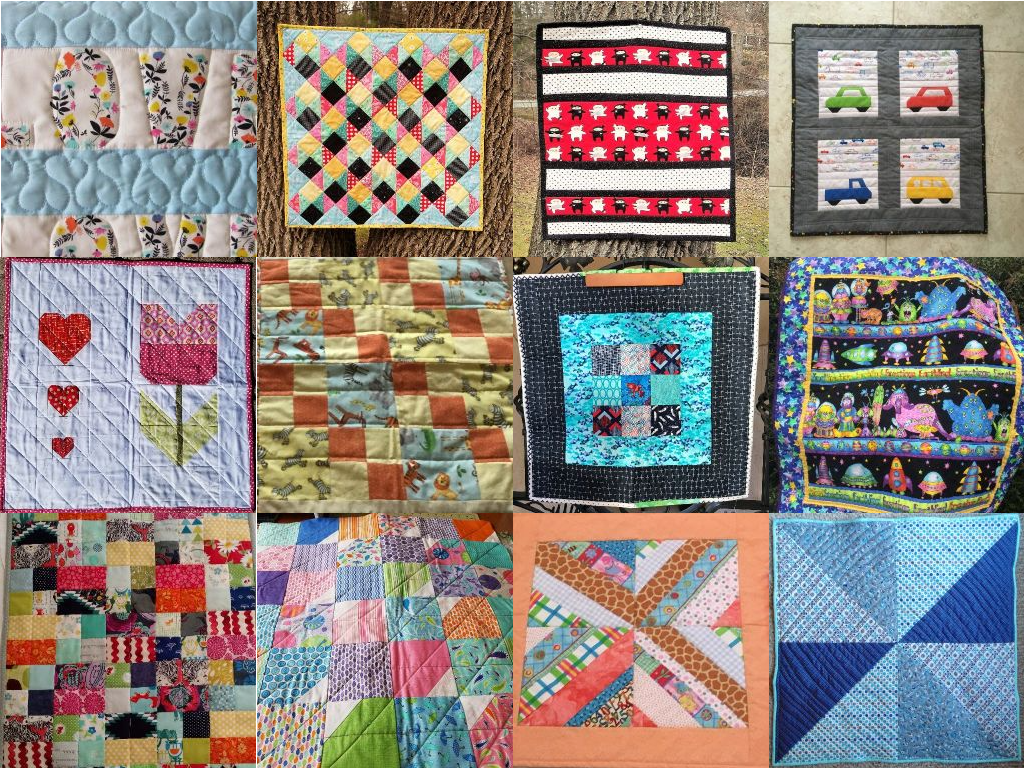 So many amazing, adorable, hand made quilts in all shapes, colors and styles. These tiny quilts aren't going to change the world but we are giving something special to a child who needs our love, maybe just a bit more than the other kids.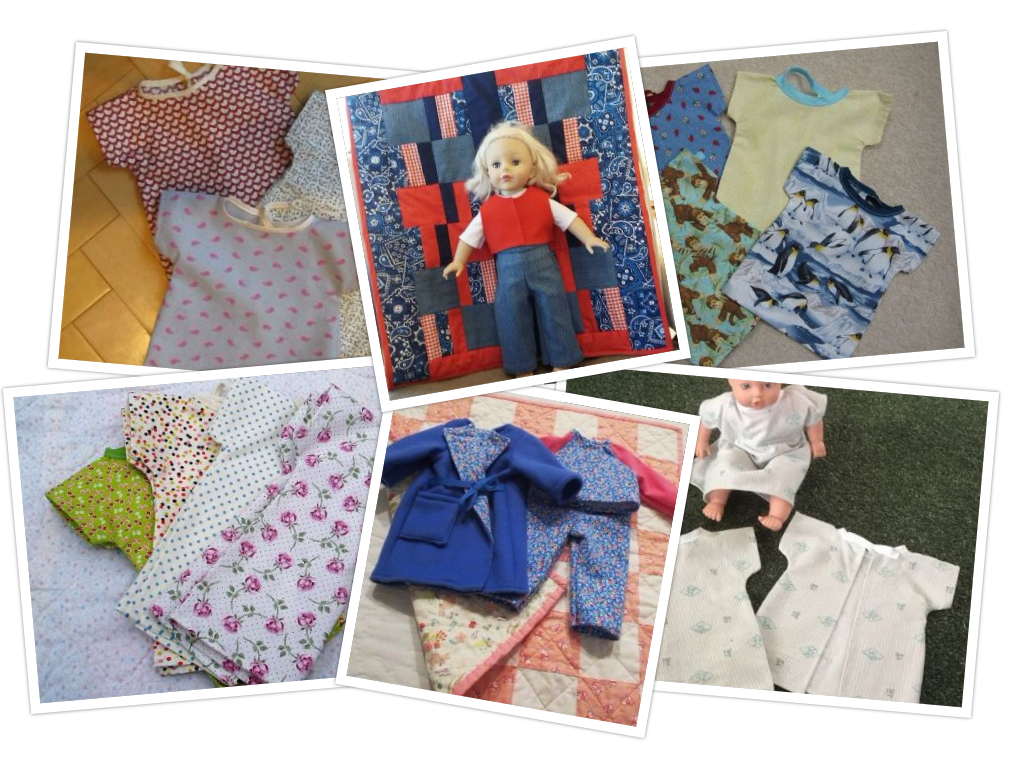 Look at these sweet hospital gowns, pajamas and clothes that have been made so far.
When I was talking to my friend Mari about this doll quilt event I was dreaming up, I asked what she thought – she said there would be an overwhelming response.  She nailed it, didn't she? Do you know what? One quilter made seventeen doll quilts!  She was on a tear (no pun intended!), making one after another; an example of the kindness spreading throughout the community.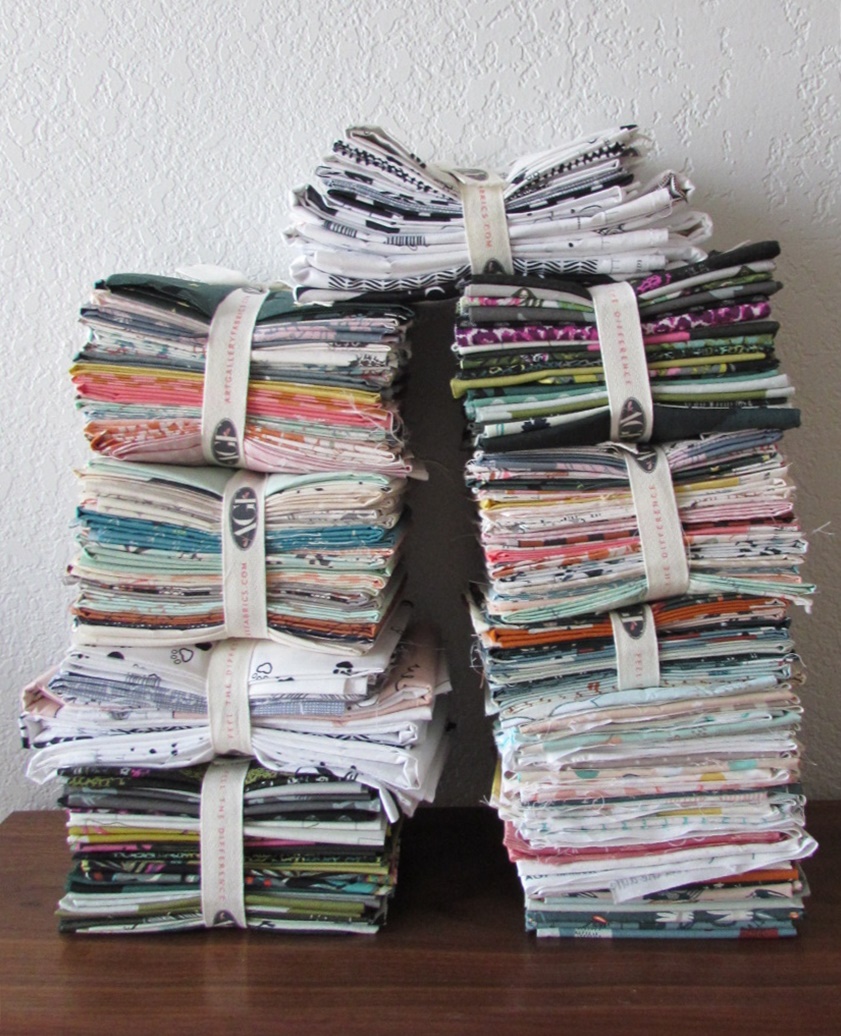 Let's talk about those gorgeous fat quarter bundles offered up by Art Gallery Fabrics!  Each person who emailed me pictures of their quilts has been entered once for each quilt they shared with me.  Also an extra entry was made if the person made hospital gowns or outfits.  You may continue to email me pictures of completed items through February 28th.
Quilt bloggers who have gotten involved can share their posts by linking up below.  The link up will remain open through February 28th. When I read through the link ups, I will enter the blogger once for each quilt shared on the post. I hope you will take a few minutes and check out the other posts.  I am sure you will come away inspired and gratified.
On March 1st I will have the fun task of picking ten winners via Random Number Generator.  I will email the winners and ask for their mailing information.  If you are a winner, please email me your information within two days.  Otherwise, I will pick another winner.  Does this all make sense?  If you have questions, leave them in the comments and I will get back to you.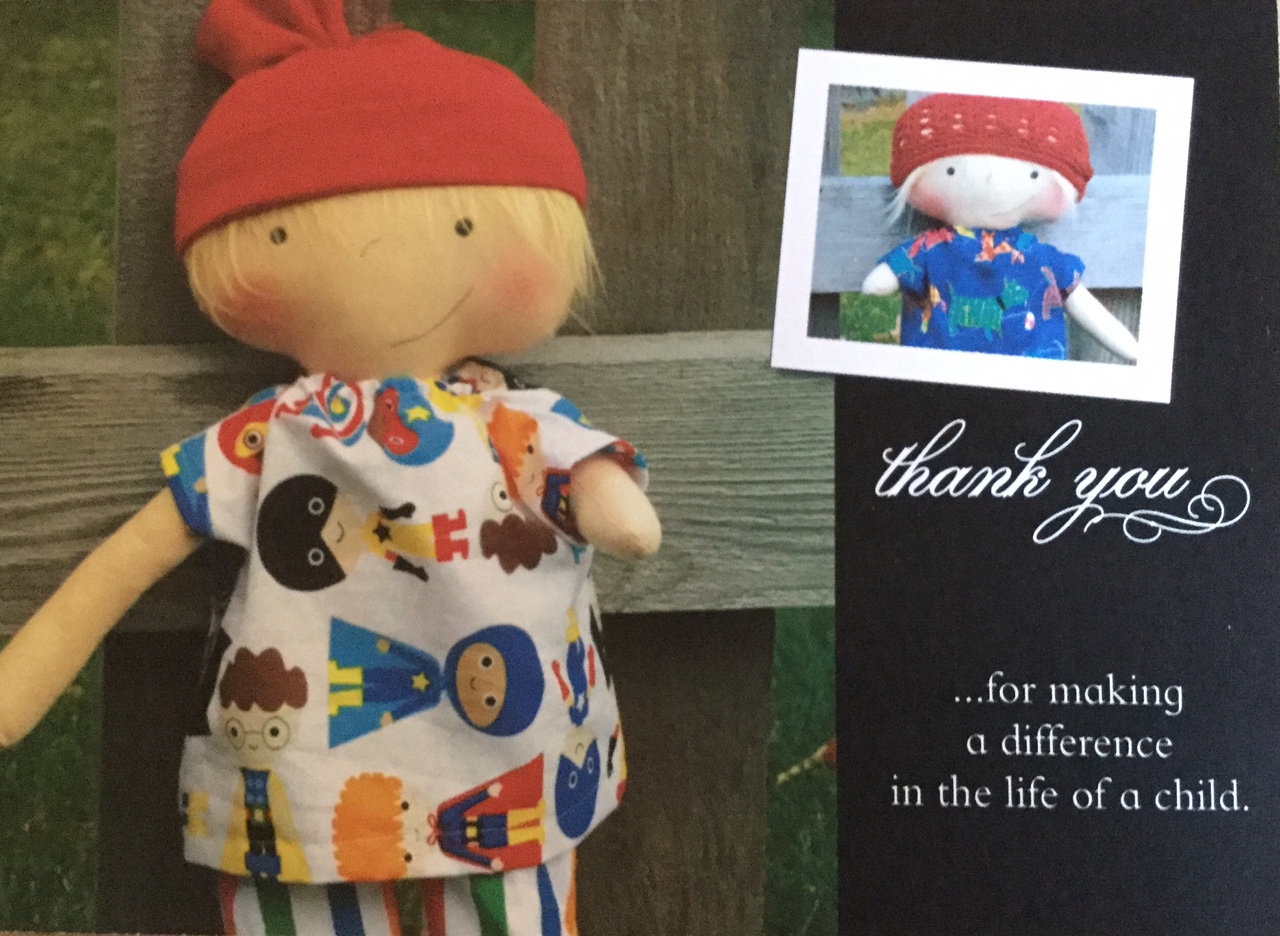 I am so energized by the response from all of you.  You are amazing, generous people and there are no words to accurately describe how gratifying this has been.  Thank you for all of the time and effort you have poured into these sweet quilts over the last several weeks. Thanks in advance for the quilts promised to A Doll Like Me in the future.  I know Amy is overwhelmed by the response and also very grateful.
Loading InLinkz ...