Today I am incredibly excited to share an event with you.  I have been getting to know Amy Jandrisevits, owner and creator of A Doll Like Me.  To begin though, I need to tell you, this is a long post.  I have so much to share!  Go grab a cup of coffee and settle in.  🙂
Several weeks ago, I was browsing quilt blogs (a favorite past time for all of us, right?)  I began reading and skipping around Elana Goldberg's blog, That Fabric Feeling. I landed on a post from early last year titled Doll Quilts. I read about quilts she was making to be given with dolls made for children with special needs.  I was immediately intrigued by this and started following links. The links led me straight to a Facebook page for A Doll Like Me. I read and read and read.  Honestly, I was so touched by this and I couldn't get enough. My first thought was, oh, I should make a quilt and send it to this organization.  But the more I thought about it, the more I wanted to help in a bigger way.  I kept thinking what if I could gather some quilters together and we could make a bundle of quilts for these dolls.  Ok, I am getting ahead of myself here….
First let's really get to know Amy Jandrisevits, the woman behind this incredible shop.  Writing prior posts about people I interviewed, I would rework the conversation and put it into my words, often because I needed to shorten the post.  Today, I don't think I will do that.  I want you to know Amy through her own words.  When she wrote me, her words had a huge impact on me and I don't want to lose any of that. So, meet Amy – mom to three children and currently a stay at home mom.  Prior to staying home with her kids, she worked as a social worker in pediatric oncology.  Her husband is a child psychologist at the Children's Hospital in Wisconsin. Now she makes very special dolls that look like the child who receives them.  Amy makes many dolls with limb differences (missing a hand, or arm, or leg). She makes dolls with a birthmark matching the child who own's it.  Maybe the doll wears a cannula (the little tube bringing oxygen to the child's nose).  The doll might have glasses, a hearing aid, or possibly albino skin or hair.  Anything that the child has, Amy will make the doll have it – so the child can see his or her self in that doll, and have "A Doll Like Me".
My first point of contact with Amy was via Facebook Messenger.
Me: I am a quilter/blogger at Needleandfoot.com. I would like to host an event in February asking my followers to make a quilt to "spread the love". It will be tied into Valentine's Day and community service. Would you like to receive some doll quilts for your dolls? I love the idea of what you do. It is heartwarming and incredibly important. Is this something that would be helpful for you? I would love to hear back from you. If you like the idea, please provide an email address so I can correspond with you outside of Facebook Messenger. Thanks so much and either way this goes, keep up the good work!! Best regards,B.
Amy:   Good afternoon!
YES, yes, yes!!! I love this idea.
I am going to attempt to give you a short answer
I never anticipated that I'd be making these dolls…but one of the best parts is how people have volunteered to participate. I've had a Girl Scout do a bake-sale; I've had friends pool their money; I've had Bible Studies collect money; I've had a few people crochet hats…and then the quilts. My mom is an avid quilter (she just got back from a show in Ontario, California!) and quilts are so important. I think it's a very tangible way to cover someone with love. For many of these parents, they are familiar with isolation and judgment. I think quilts show them (and ultimately their children) that someone cares….that someone also sees their child as something other than a medical specimen. They, when the day is done, are just little people who have parents or grandparents that want everyone to see the same beautiful person that they do.
I think that there is no time like now to show people that loving folks DO exist!!!
I could go on and on…but I am honored to participate. Tell me what you want to do and I'll make it happen. The way the quilts have worked in the past is that I typically send them with dolls who have extra special circumstances. I don't have enough quilts to give to every single person…in fact, at the moment I don't have any! So I usually do kids who are about to be hospitalized or are currently hospitalized. I try to do kids with tough circumstances…foster care and adoption…and kids who are ashamed about how they look because people can be so cruel. I would LOVE to have quilts on reserve.
Maybe you know Elana Goldberg…she has been amazing. And a couple times I've been able to message her with something that I know is coming. Her quilts are works of art and families are SO grateful. My son's best friend asked for a sewing machine for Christmas and he's going to make a quilt for me to give!
It's very exciting and very humbling.
Amy
Later the same day, after reading, and re-reading, Amy's response, I sent her a list of questions.  She took some time and sent me such thoughtful responses.  I want to just share them directly with you.
1.  How many dolls are given out – either monthly or annually?
The number of dolls given out is probably…75 this last year?  Tough because Kalea is two and that makes working a bit tough right now.  I am technically a stay home mom so I sew in between keeping up with her and my two boys (13, 8)
I do have a long wait list.  But I always prioritize requests that seem more urgent (all of them really are…)  So, ones that come directly from doctors and nurses and hospital staff,  teachers, kids in the hospital or about to be in the hospital, kids that have been identified as having issues with their appearance.  And granted, it's not a precise determination.  Sometimes I just go on my gut. 
I never wanted to run this like a business…but I am a business (I know that because I lose 30% of each doll to taxes!!!)  One of the things that happens when I'm getting to know the people who want dolls is that I get to hear their stories. It's such a privilege and it's something I don't take lightly.  For many of these families, it's the first time someone sees their kid through THEIR eyes.  Someone else who will see the charming things that they do and recreate them in the form of a doll.
So let me back up…every child deserves to see his or her face in the sweet face of a doll.  We do a horrible job as a society in how we represent (or don't) differences.  We want to tell kids that they're beautiful but for SO many kids, it's often followed by – but you'll never see a human representation of yourself – and this covers ethnicity, limb differences, skin markings, and disabilities.  I've been asked to do a few talks about my dolls and I always tell this story.  One of my first dolls was a doll for a teenage boy who mused that the only representation of himself that he'd see was in a "Teenage Mutant Ninja Turtle."  His mom bought him a doll because she didn't want him to be left with that sentiment.  I always tell people that the doll can spend its entire life on a shelf or under the bed…but it has to be a part of the journey (and not just my dolls…so long as it looks like the person who will love it!)  I sent you a video of Hope.  It was the first time she'd seen any human representation of herself and….well, you see what happens.
The majority of my dolls have some type of limb difference…however, shortly after I started, a mom asked for a doll for her daughter from China born with albinism!  She said, "You're the closest I've come to finding a doll like her."  So I've done dolls with albinism and birth marks…medical equipment…burns and scars.
Before staying home, I was a pediatric oncology social worker and I always felt wrong giving a kid undergoing chemo a doll with long hair!  Representation (especially in our current climate) is SO important.  Dolls are integral to play therapy – not just any animal – but dolls specifically.  You'd be amazed at how many kids name their dolls either their own name or some variation.  Why?  Because they really look into that face and see their own.  There's a little guy on my page right now…rough circumstances and he's got one more shot at a medical miracle… His sister got a doll last year (and actually Little Things and USA Today picked up the story!) and he was so interested – and he'd never attached to anything like a doll before.  I found someone to donate a doll to him and "Stuart" has become so important in Ping's care.  He talks through the doll…does medical procedures on the doll…and journals from the doll's perspective.  It's classic play therapy!
What was the original question?!?!  LOL   
I could go on and on about the therapeutic nature of dolls – and I don't say that with any arrogance.  I don't mean only mine. Mine just happen to hit a niche of kids who haven't seen themselves before.
2. Do people buy the dolls?  If so, how much do you charge?  If not, how are you funded?
My dolls are between $65-75.  Once you subtract taxes and supplies…and my time, it's a bargain.  I NEVER turn anyone away due to cost.  It's why I try to keep the cost reasonable.  Early on in this process, a guy asked if he could donate a doll – actually he donated three.  He'd seen the video of Hope and wanted other kids to feel like that.  I'd never considered it but what a WONDERFUL component to this.  I've had people donate a few different ways.  Church groups (and then they can pray for the recipient); a Girl Scout; doctors; a few friends.  Whoever I can get.  I think it's so important for the families who receive a donated doll.  There's a story on my page…right before Christmas.  Ping's family donated a doll and unbeknownst to me, the little girl that received the doll just lost her dad.  Read the story.  It's incredible.
So I'd like to have more sponsors – and in my ideal world, no one will pay for their doll.  I've talked about being a nonprofit, but that'll have to wait a couple years. At least until my youngest is in school.  Who knows? I have a friend who works for the IRS and she says it's pretty simple.  At this point I'm lucky if I can brush my hair and teeth AND sew!
3. How big are the dolls (so we can make appropriately sized quilts)?
The dolls are about 18″….American Girl sized.  This is important.  It means that the dolls can share clothes with American Girl dolls and essentially look like everyone else!  There are so many cute clothes and now my dolls look like the cool ones 😉
4.  How did you get started?  When did this all begin?
This started when someone saw a doll that I'd made for a friend of a friend!  It wasn't even a limb difference doll but her daughter had just had a leg amputated.  Macey was 8 at the time.  Her mom asked if I'd consider making a doll without her leg.  It was a no brainer…of course!  Two limb different organizations shot the interest through the roof.  I quickly bought the email and web domains and then secured a trademark.  All of it pretty reactive.  My middle son had just started Kindergarten and I was barely pregnant with my younges.  I had NO IDEA that I'd be making dolls with limb differences.
5. What is your background (e.g.jobs, school, how did you learn to sew, what other things do you enjoy making?)
My name is Amy and I hoard craft supplies.  There.  I said it.  My mom taught me to sew (she's a quilter and now helps me with clothes and bodies)…but she's on the other side of the country!  I used to design scrapbook pages, so I own a million stickers and sheets of paper.  I did clay, rubber stamping, wood crafts.  When we moved from California to Wisconsin, my husband said  'when people say they have a ton of craft supplies, you really do.  This all weighs a ton!'  LOL
I have a master's degree in social work and worked in a hospital before staying home with my two boys and baby girl.  My husband is a child psychologist at the Children's Hospital of Wisconsin, so he helps me get some of the unusual medical equipment.  CHW has also requested several dolls for some of their patients.
6. Any special requirements for us as quilters?  For example, I would assume no embellishments such as decorative buttons or beads because they would be choking hazards.
I have absolutely no requirements.  I have SO many orders that I can always find someone for each quilt.  It' a non-issue.  I think that quilting is an art and I'd never ask someone to alter their canvas.  Elana makes intricate quilts, but simple 5″ blocks are fine, too!  In fact, there's an older woman who sews front to back panels.  The gesture is so kind that people feel so touched.  The kindness of strangers is such a special thing.  I think it's wonderfully therapeutic for families to receive something so special – from someone they don't know. You have to know that many of the people who FINALLY find someone to make a doll like their child have been through so much.  People judge them and gasp at their kids; medical professionals photograph the limb/burn/cleft lip because it's a teaching tool.  It's so…dehumanizing.  That being said, I love this personal touch.
7. Number of boy quilts vs girl quilts?  Since girls tend to play with dolls more, do you need more girl quilts?
Interestingly enough, I do a boy doll about every third one!  Isn't that amazing?  There's a couple little guys whose dolls go everywhere with them.  Boys need the same things that the dolls offer!
8. Do you work with children only in the US or do you have international customers?
I mail at least two dolls a month out of the country.  Canada, Australia, and England are the most common.  But I've mailed to Denmark, Scotland, Chile, and even Egypt!  The limb organizations that I work have a huge amount of followers…and for some of the adoption groups, the circles run small.  Shipping out of the country is ridiculously expensive, though…nearly $30 sometimes.
Note:  Amy and I are working on some ideas for international quilters who would like to participate.  I will let you know details in a separate post.
9. How do you find out about a child who needs a doll?
I own the webpage www.adolllikeme.com but it loops you to Facebook.  I don't have time to maintain a web page right now and I probably can't handle the additional traffic.  But someone told me to buy it so that companies wouldn't try to sell it to me at a premium I couldn't afford…ugh.  My orders ONLY come through Facebook and then direct referrals (from hospitals).  I've not had to do advertising yet (fortunately) and now I think my page pops up when people do a "limb different doll" search.  A few bloggers (especially special needs moms) have referenced the dolls, so I get orders that way also.  But truly it's through my Facebook page.  I'm on Instagram…but honestly it's because my tech savvy brother in law said I needed to be!
10. Where would we be mailing the quilts to?
You would mail the quilts directly to me.  That way I can match outfits and send them with the dolls.  Keep in mind, it won't be to everyone – I simply don't have enough quilts to do that.  There was actually a little one last week who is about to be born with a limb difference and I would have LOVED to include a quilt.  She's nowhere near the top of my wait list but the family is having a rough time adjusting to the news.  See?  Every  doll has a story.  And one is as amazing as the next.
When people send quilts, I always take a picture of the doll with the quilt…and usually families will send a picture of the child with both!  It's so fun to see your work in the arms of the intended recipient.
11. What is the average age of the child receiving the doll?
The average age?  I'd say probably early elementary school.  The ages of recipients totally varies (I'm doing one for a mom right now!  She wants her kids to see HER in a doll!!!)….newborn to adulthood.  Someone actually ordered one for my grandma when she turned 100!  (I didn't even know she wanted one!!!)  I think the most pressing ones, though, are about 5-10.  Pretty young.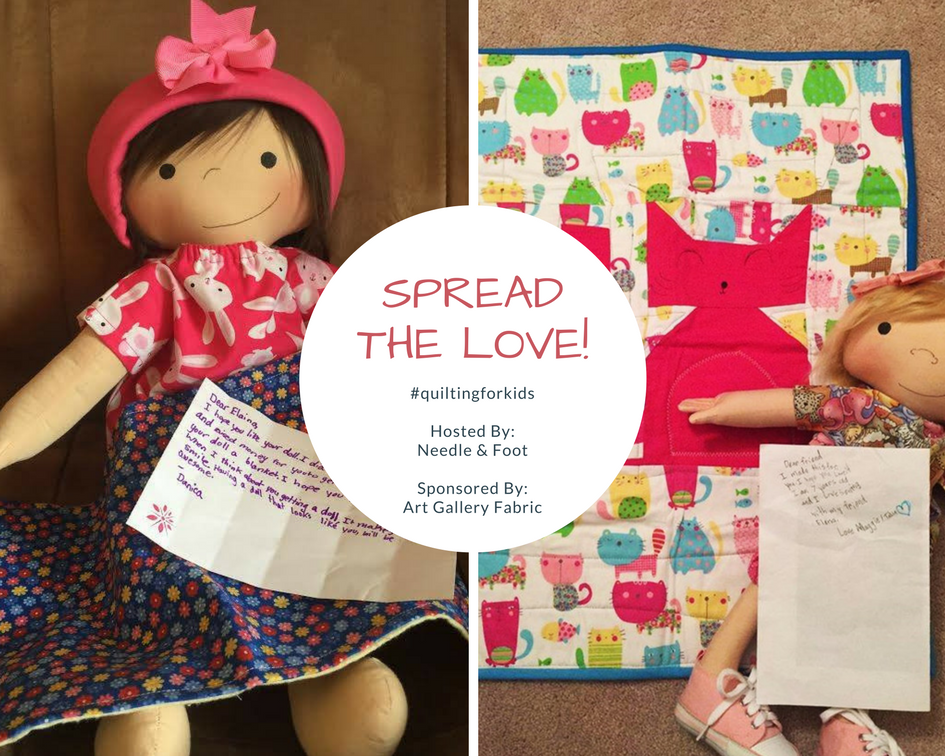 Here is my plan!  I hope to gather a large number of quilts for Amy's children.  I love the idea of our giving community working to provide special little quilts for these amazing children and their awesome dolls. Giving comfort and showing kindness to the parents of these little ones fills my heart. I love the idea of providing comfort to a child going through a scary time in life.  I love the idea that some of these children will form a special attachment to a quilt we provide, maybe the quilt will be their 'lovey'. Might it provide an avenue for some of these cute kiddos to explore their feelings with their doll? Just look at the picture at the top of the page with the little guy sitting on the bed in the hospital with his doll, wrapped up in a quilt. It fills me with joy to see his sweet smile.
This is such an easy way to help others!  We all have a tremendous assortment of scraps (and if you don't happen to, let me know.  I will happily share with you).  The quilts can be simple or as complex as you feel like making.  Use an orphan block as the beginning and build on.  Take a cute juvenile fabric and make a whole cloth quilt and bind it up!  Doll quilts are super fun to make and not too time-consuming or expensive because they are not very big. As for the size of these quilts, they should be made to wrap around or cover an 18″ doll.  I would suggest 22″ x 24″ or so?  A little smaller or larger is fine too.
This is my call for quilters to Spread the Love and quilt for kids.  It is a new month and February is all about love and kindness. Please take an afternoon and make something special for this very special project.  I promise you the following;  an incredibly satisfying, warm, fuzzy feeling inside that is both heartwarming and fulfilling.  For the month of February I will host Spread the Love.  Quilters who participate will make one, or five, or twenty (?!?) quilts and will send them directly to Amy.  The number of quilts you decide to make is totally up to you, I am only teasing.  But the goal is for our giving community to supply Amy with a reserve of doll quilts to be given as she sees fit.
Note:  I did not put Amy's mailing info here for obvious reasons. When you are ready to mail a finished quilt, please email me at needleandfoot at gmail dot com. I will privately send you the info you need.
What do you think?  Is this something you want to participate in?  Leave comments and let me know if you have questions.  As I said above, Amy and I are tossing around some ideas for international participants.  Please do make quilts and we will let you know as soon as we come up with a plan to help with the shipping expense to get your gorgeous quilts back to Wisconsin and in a child's arms. I hope you will take a minute (or an hour!) to scroll through Amy's Facebook page.  The pictures and stories about the dolls and their owners are amazing. You will be in awe of all that Amy has done for these children by creating the dolls for them.
Finally, prizes!  Yep, I have prizes. Art Gallery Fabrics has generously donated ten bundles of fat quarters for me to give out.  You are all familiar with the amazing quality of Art Gallery Fabrics.  They make quilting cottons of the highest quality.  Walter Bravo, owner of AGF, is happy to sponsor this project as he sees a need and knows our community will step up and fill it. Pictures of the bundles will be posted soon.  I am excited to share them with you.  I plan to host a link up during the last part of February.  You will enter a picture of your finished quilt at that time.  If you make more than one, enter a picture (separately) of each one.  Each quilt made is one entry to win a beautiful bundle of AGF! If you have trouble with the link up, or you don't blog, etc, you may email me a picture of your quilt (s) and I will enter you in the drawing.  I will provide more info on this as the month progresses.
Tomorrow I will put up a post sharing a few doll quilts I have been working on.  Maybe these quilts will inspire you! For today though, I encourage you to take a look at your scrap bins, your juvenile prints, those novelty fabrics you weren't quite sure what to do with, the orphan blocks that have been languishing in a bin somewhere — those are the perfect pieces to use! Use your own unique aesthetic, be it modern, traditional or somewhere in between and Spread the Love.
Finally – this is a call to share the event.  If you have a blog, please take a quick minute and share ithe post.  Use the HTML code below to put the graphic on your side bar.  Post it on Instagram with the hashtag #quiltingforkids.  Help me spread this far and wide! I will be linking up to many of the linky parties listed at the top of the page under Link Ups.  Thanks everyone.  I am looking forward to hearing your thoughts on this and sharing all sorts of cute quilts this month!
<div style="margin:0em auto">
<a href="https://needleandfoot.com/2018/02/01/spread-the-love-quilting-for-kids/">
<img src="https://needleandfoot.com/static/doll-quilt.png" />
</a>
</div>