This morning I want to share my progress on the doll quilts I am making for the February Spread the Love event.  If you haven't yet read about this creative and inspiring event, please hop over here and read this post.  Then come back for more!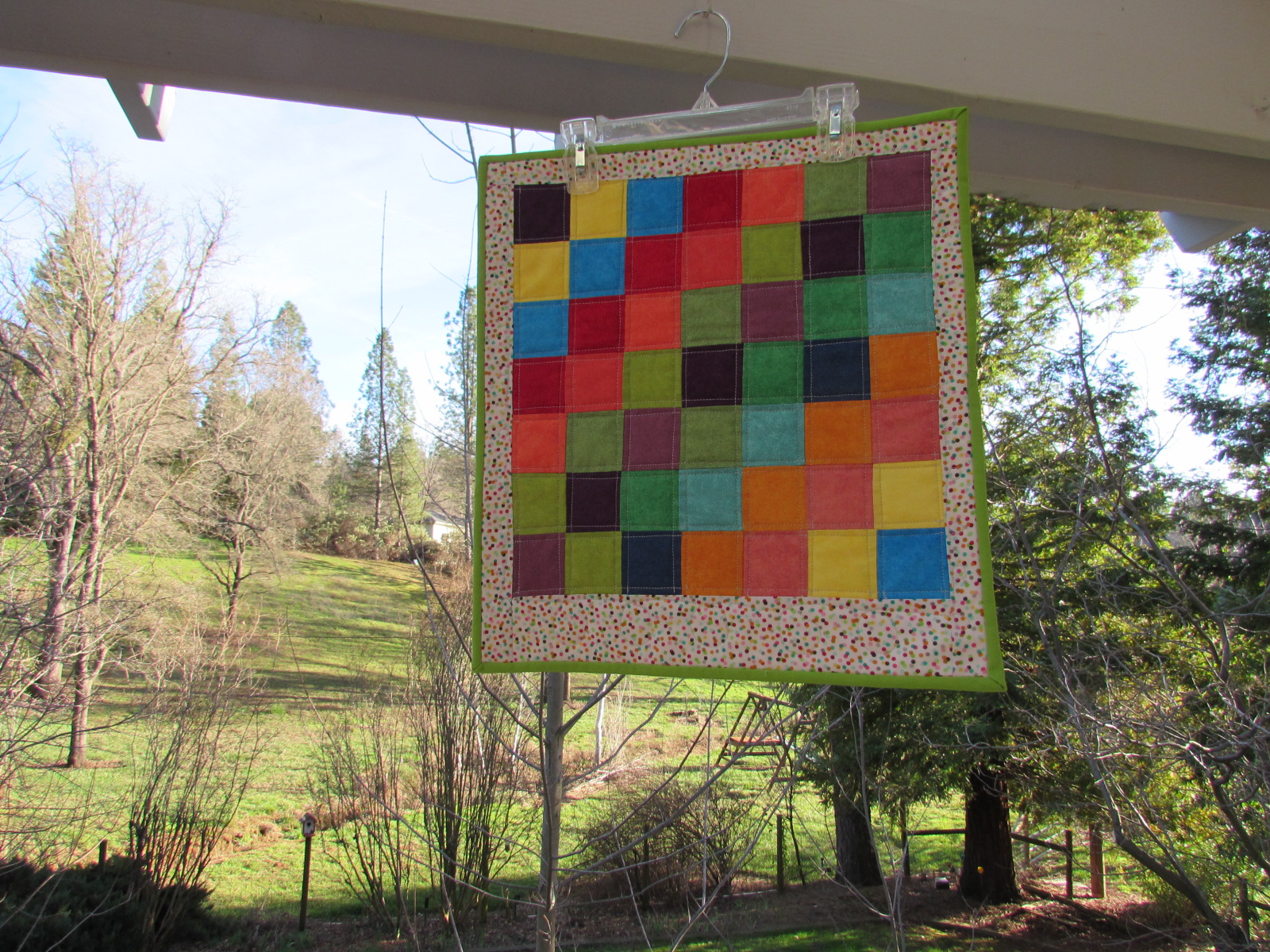 So far I have two quilts finished, one ready to quilt, and another still in pieces on the design wall. The first one I made was a simple patchwork. I had a charm pack of solid colors from Connecting Threads.  I cut the charms into four pieces and arranged them on the diagonal. I had some cute polka dot scraps that are from the Henry Glass line, Modern Tykes which made a cute border.  Quilting was simple lines following the seams and a few loops in the border.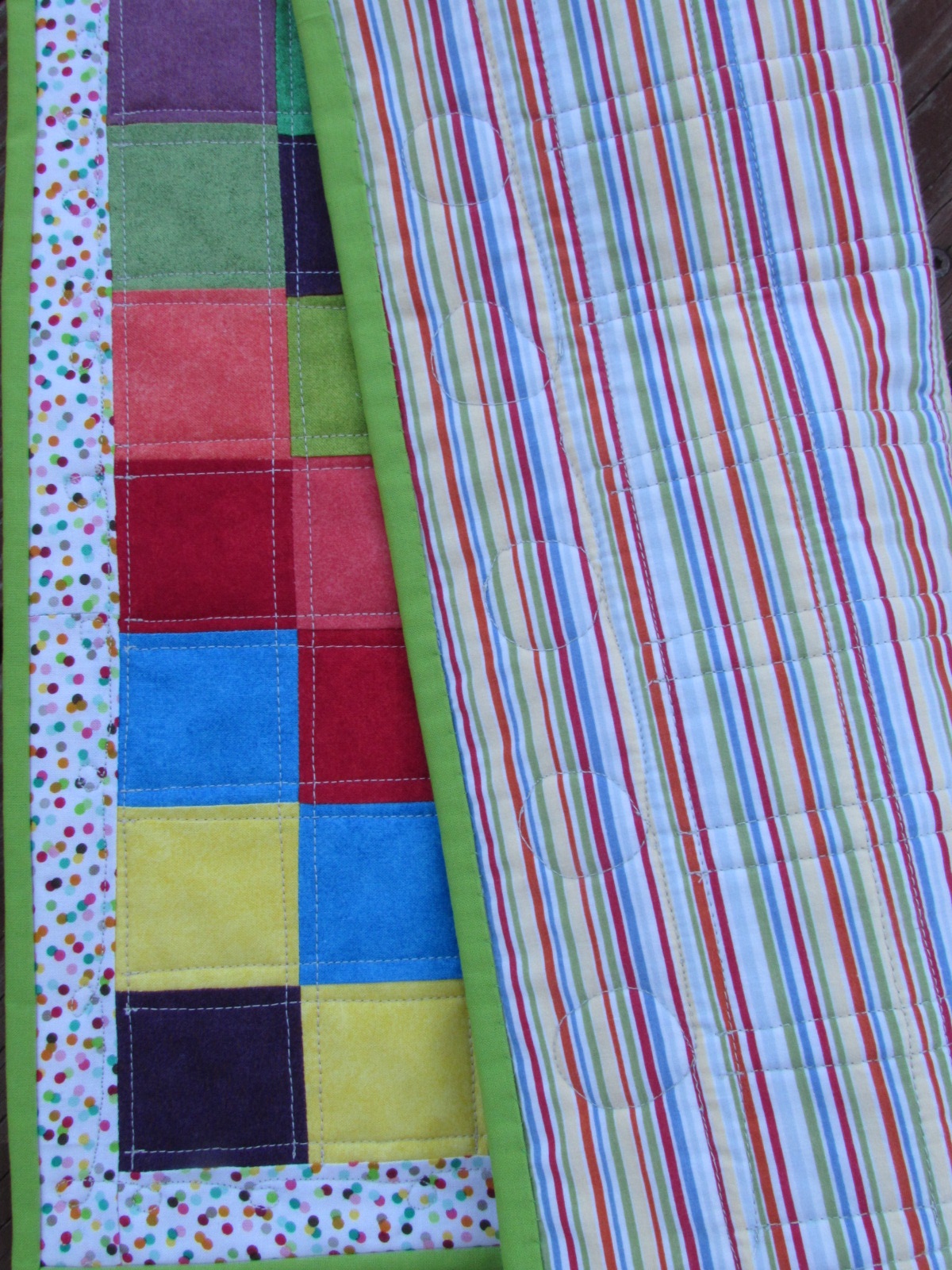 I had a cute striped sheet and used a piece of it as the backing. My only regret with this quilt is the size. At 16″ x 18″, it is a bit on the small size.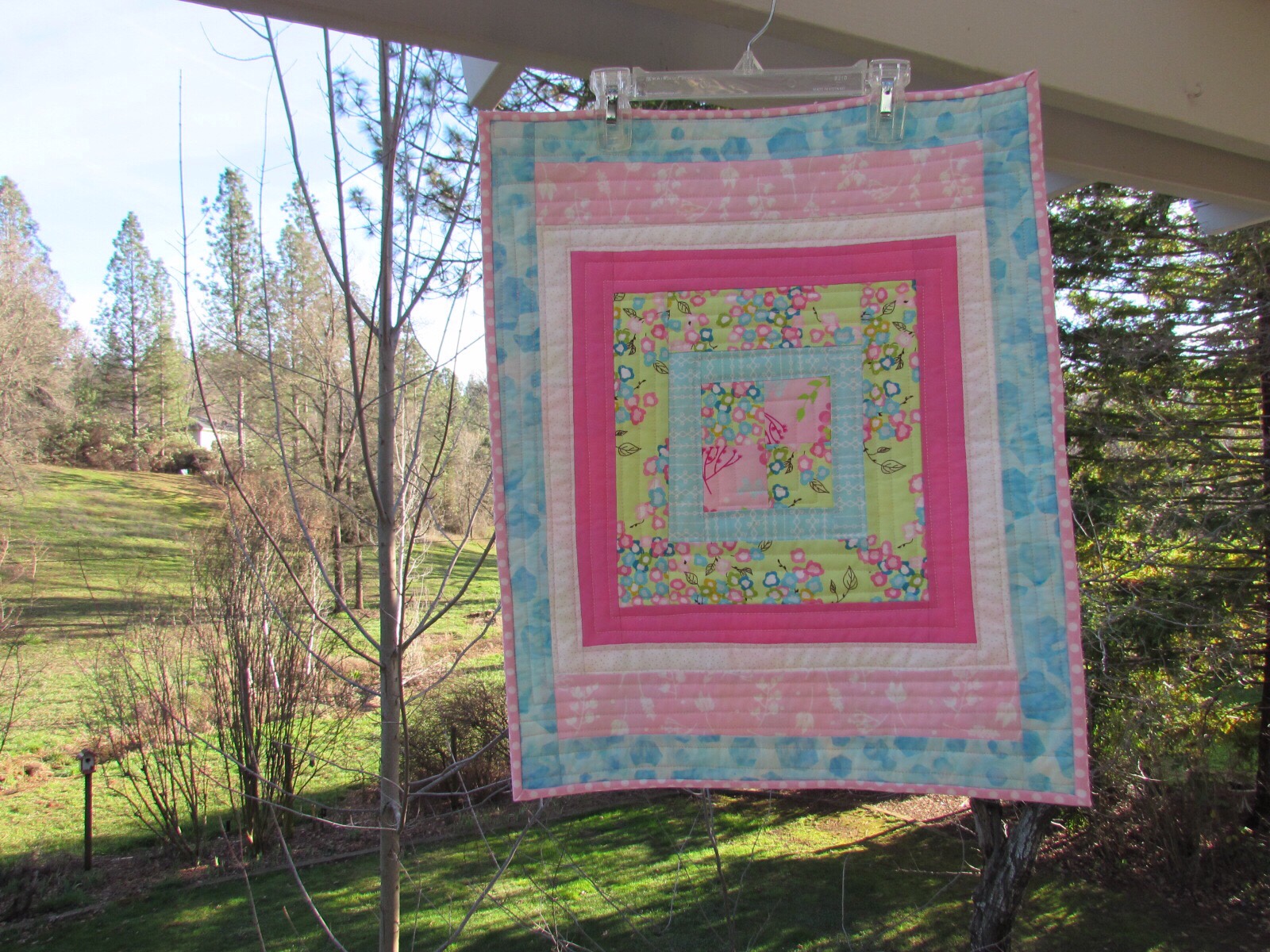 For this quilt I had some Joel Dewberry fabric that has been sitting on the shelf. A long while back, I started making City Sampler blocks from the Tula Pink book. But I don't like the blocks. I have learned so much about color since starting that project and I know I will never finish these as a quilt. So I picked one, placed it in the center and built around it. It looks so cute that I will likely make more with these leftover blocks.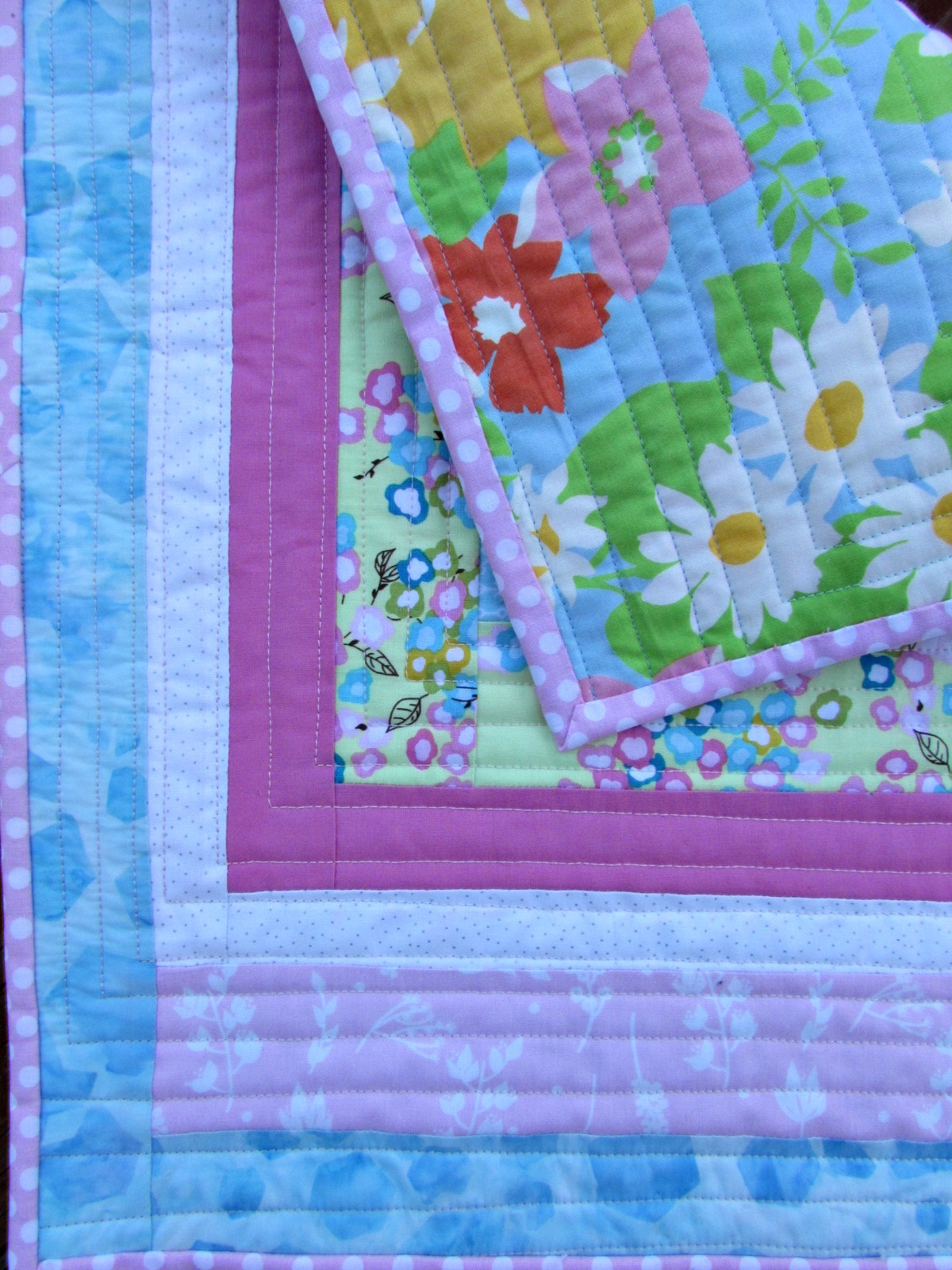 The backing is an older Moda print from my stash. This quilt is a bit bigger, 17 x 21 inches, but I still think it is a bit small.  I quilted a rectangular spiral with my walking foot. I think these doll quilts are the perfect projects to practice my quilting. Whether it be free motion or walking foot, the small size is just right.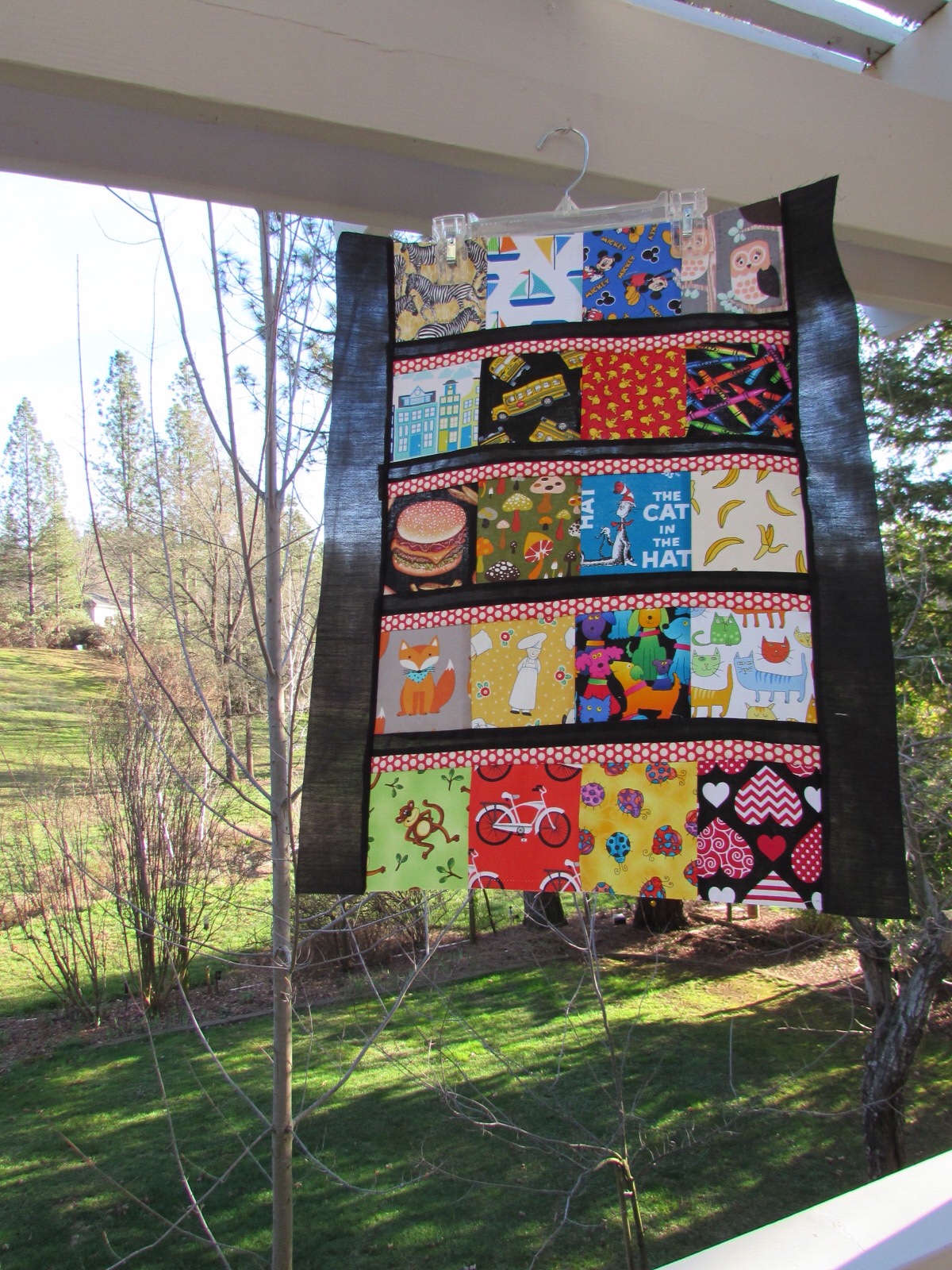 I decided to make this I-Spy quilt next.  Last year I won a a set of I-Spy charms from a giveaway over at Val's Quilting Studio.  It was fun to pick through and use some for this little quilt.   I arranged several rows of blocks and added a narrow rows of black and red polka dot fabrics.  Hopefully the child receiving this will enjoy playing I-Spy and looking for the fun objects contained in the quilt! It needed width so I put a larger border of black on the sides.  It still needs a narrow black border at the top and bottom to finish it off. It should finish at 21 x 24 inches and for whatever reason, this seems like a nice, generous size.
I want to thank everyone for your excitement about this project. The gift of your time and creativity will be much appreciated by the families that receive your quilt with their doll. A couple of readers showed interest in also making some doll clothes for Amy. I checked with her and she would happily welcome doll clothes made to fit an 18″ doll.  I have seen patterns available both at Jo-Ann's and occasionally at thrift stores.  One thing Amy mentioned is she would especially like pajamas and hospital gowns for the dolls.  Remember, she is providing 'a doll like me' and some of these children have more than their fair share of hospital stays and periods of recuperation. Having their doll wear a hospital gown would be another way the doll is like the child.
Also, I have set up a process for quilters in the UK.  My sister lives outside of London and she is happy to be a central point for any quilts.  So, this means if you are a quilter in the UK and want to participate, you would mail your quilt to my sister.  She will gather them and then send them to Amy in Wisconsin.  I am very happy about this because otherwise, the shipping expense might prevent a quilter from being able to participate.  If you know of quilters in the UK who might want to participate, please share this event with them! If you are in the UK and want more info, email me or leave a comment.
Keep the questions coming, either by commenting on this post or emailing me at needleandfoot at gmail dot com.   Thanks so much for participating!  I can't wait to see some doll quilts.  Have a great weekend!
Linking up with all sorts of blogs.  Check the Link Ups tab at the top of the page for more info.