The incredible response to the Spread the Love, Quilting for Kids event has been overwhelming and has definitely reaffirmed my feeling that quilters are an amazingly compassionate, generous and kind group of people. Truly!!  When I thought about hosting this event I had this idea in the back of my mind where we would provide Amy, owner and creator of A Doll Like Me, with a stack of 25 quilts or so. Well, I can tell you with absolute certainty, we are far beyond that already. I would estimate at least 46 quilts have been shipped.  Judging by the daily emails I am receiving, many more are in progress.  I am starting to log the entries in the giveaway that will happen on March 1st.  (Remember to be eligible for prizes, you must either link up with the linky party I will open from February 25 – 28.  Or, you may email me a picture showing each quilt you finish and ship to Amy by February 28th.  Each quilt counts as one entry.)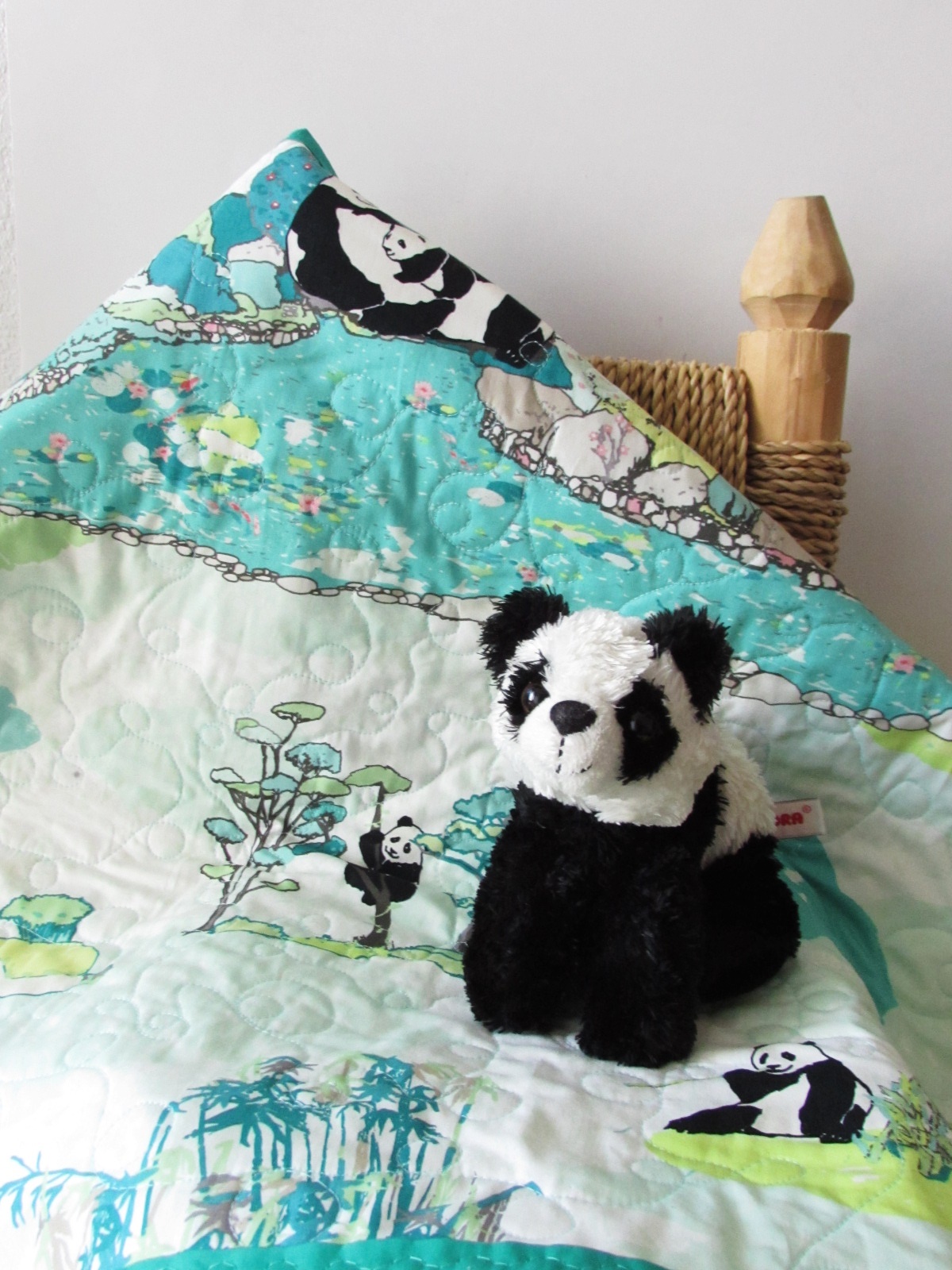 Busy as this event has made me, I am so happy to host it.  Sewing for a such a great cause is completely satisfying.  This week I made several quilts.  I want to share two of them with you today.  They are both just adorable and were so simple to construct.  For the first one, I used Pandagarden Recess.  You might remember I made a whole cloth quilt with this sweet panda bear fabric designed by Katarina Roccella last November.  Originally I made a larger crib quilt and used it as a sample to show during quilt shows I was working.  Well, this cute line is selling quickly and I don't have very much left. (But if you are interested, there is still some in the shop!!)  I decided to repurpose the quilt and create several doll size quilts.  Manufactured by Art Gallery Fabric, this line is so whimsical.  I love the palette used by Katarina – black, white, shades of green and the occasional pop of pink.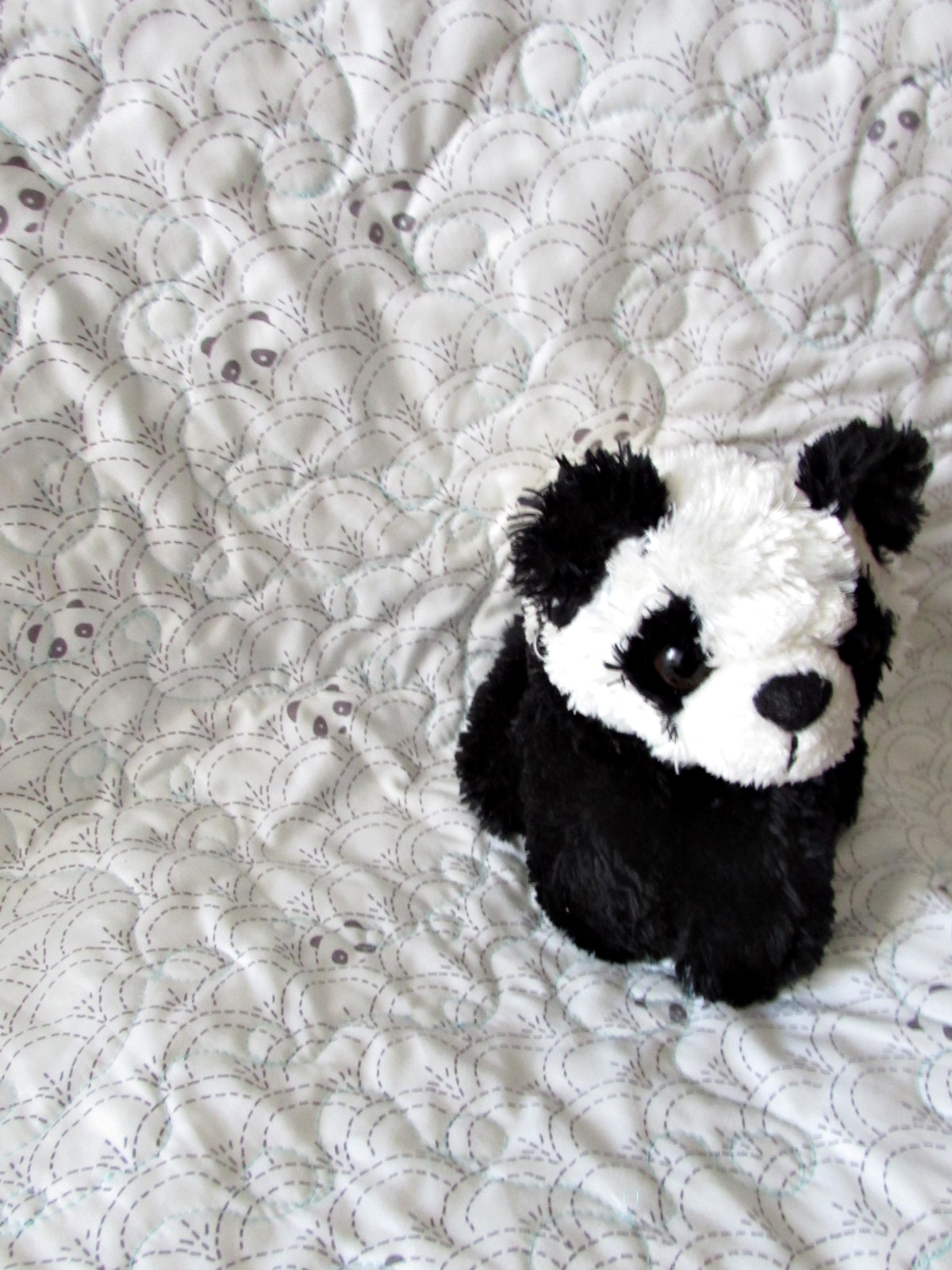 I was able to cut it into three pieces and retain much of the pandas playing on each quilt. If you remember, it is backed with the fabric called Hidden Panda. So much fun and I am so happy to be able to take that whole cloth quilt and share it with more children.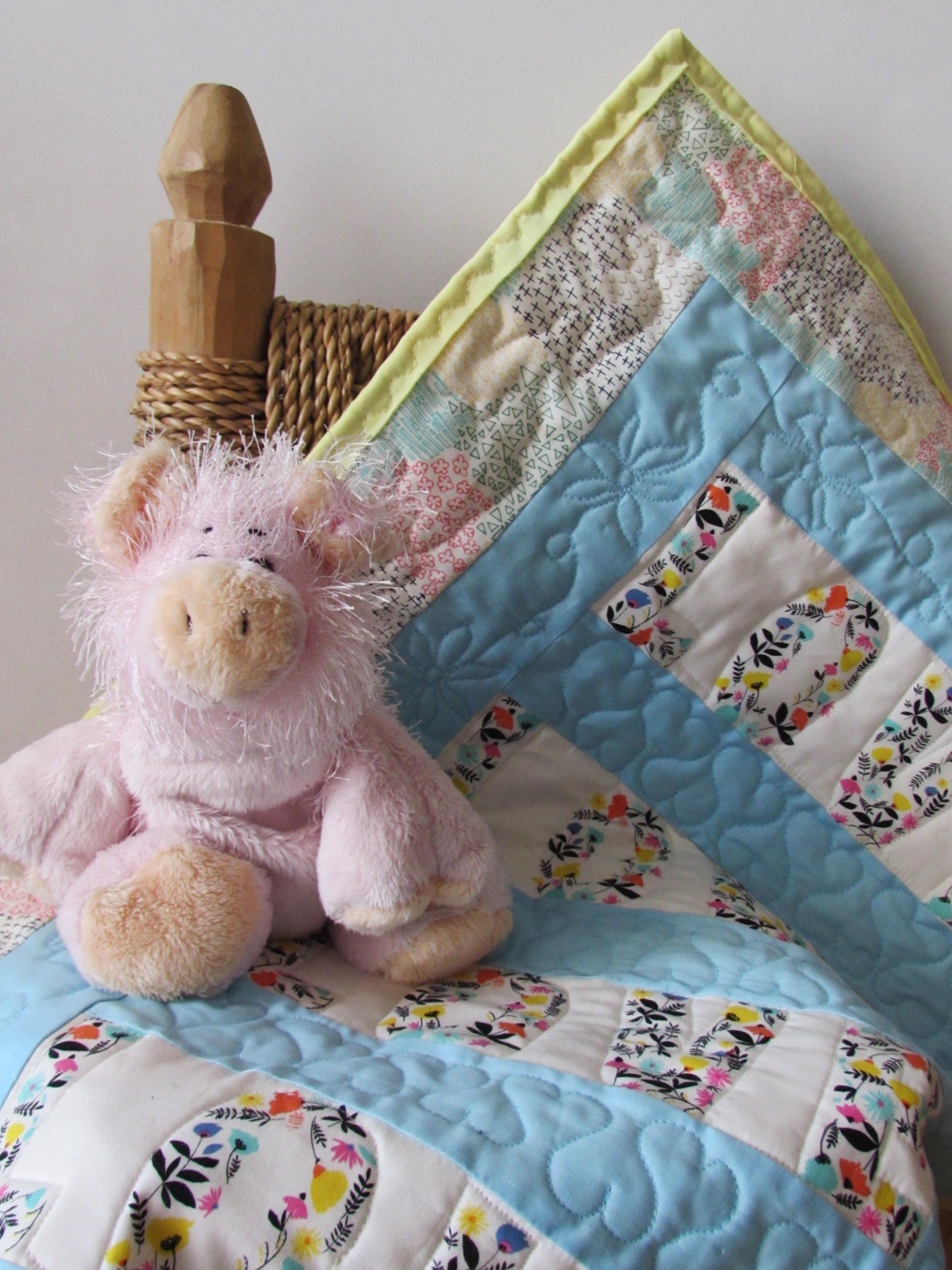 Next I used the LOVE Blooms fabric, from the Capsules line produced by Art Gallery Fabric. To begin, I fussy cut four rectangles that contained the word LOVE. I knew that was the word I wanted to build off of. I took a light blue Pure Element solid called Tranquil Waters (also by Art Gallery) and sashed the four rectangles. Once the center was sashed and assembled, I added a border using Window View in Spring.  This piece is from the Happy Home line designed by Caroline Hulse , for Art Gallery. The abstract floral is so sweet and adds lovely color to this tiny quilt.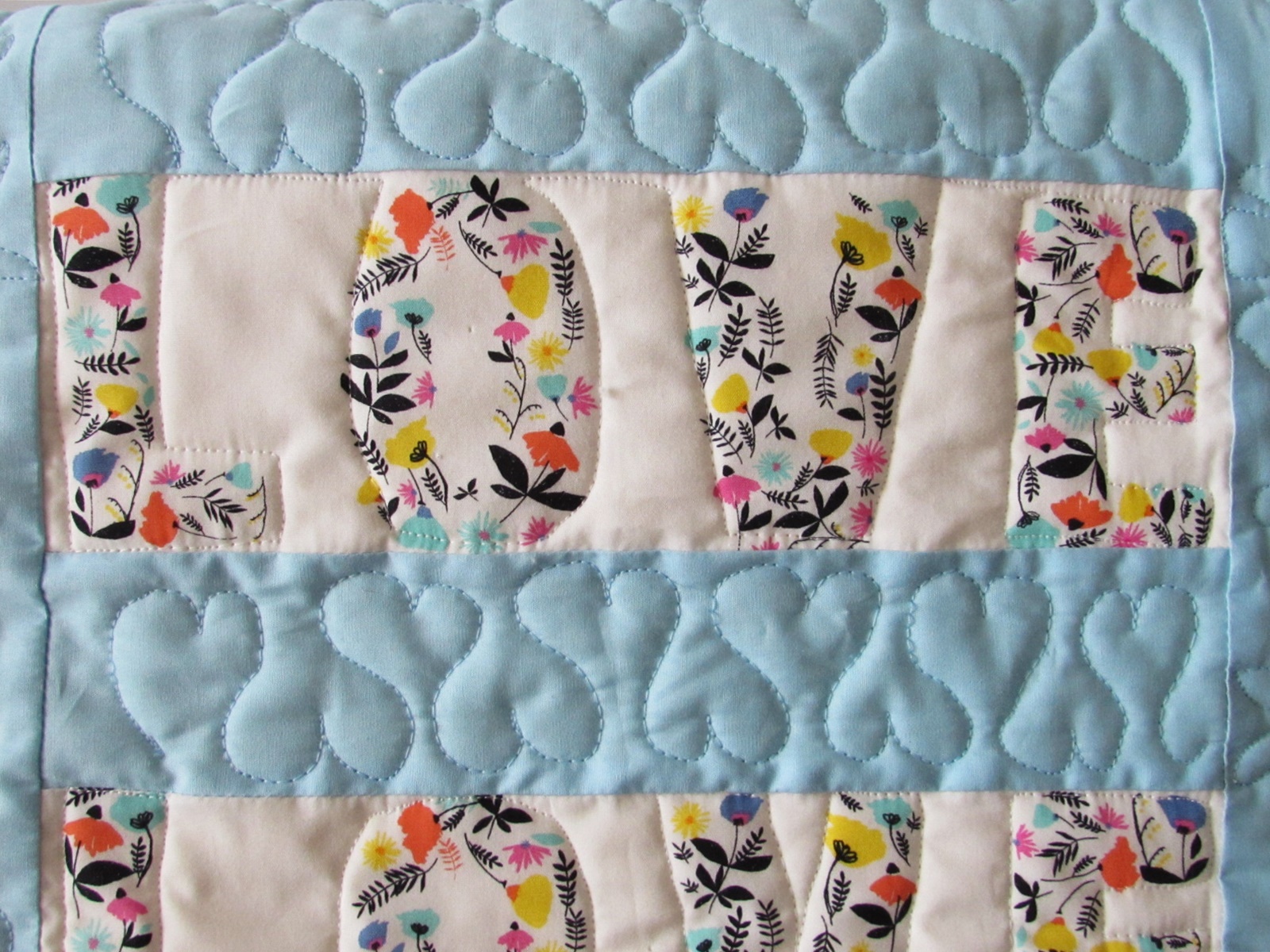 I took advantage of the size of this quilt and practiced my free motion quilting – I love having these smaller projects to practice on.  I suspect the recipient of this little quilt will not be looking at my stitches with a critical eye! First I did a quick outline of the blocky letters spelling LOVE.  Then I did a stipple over the outermost border.  Because of the pattern on that fabric, the quilting doesn't show up well.  I decided to just do a basic stipple since it won't be readily visible.  For the solid blue sashing I had thought of quilting words over it to express love for this little child.  When I told Julia, she thought it might not be effective because the child might not be able to read.  Instead, I hopped over the my all-time favorite quilting site, The Inbox Jaunt, and searched for heart motifs.  When I found this one, I doodled it on paper for a while.  It was a breeze to quilt and looks so sweet on the rows of light blue between the LOVE rectangles.  On the outer blue borders, I quilted loops and flowers.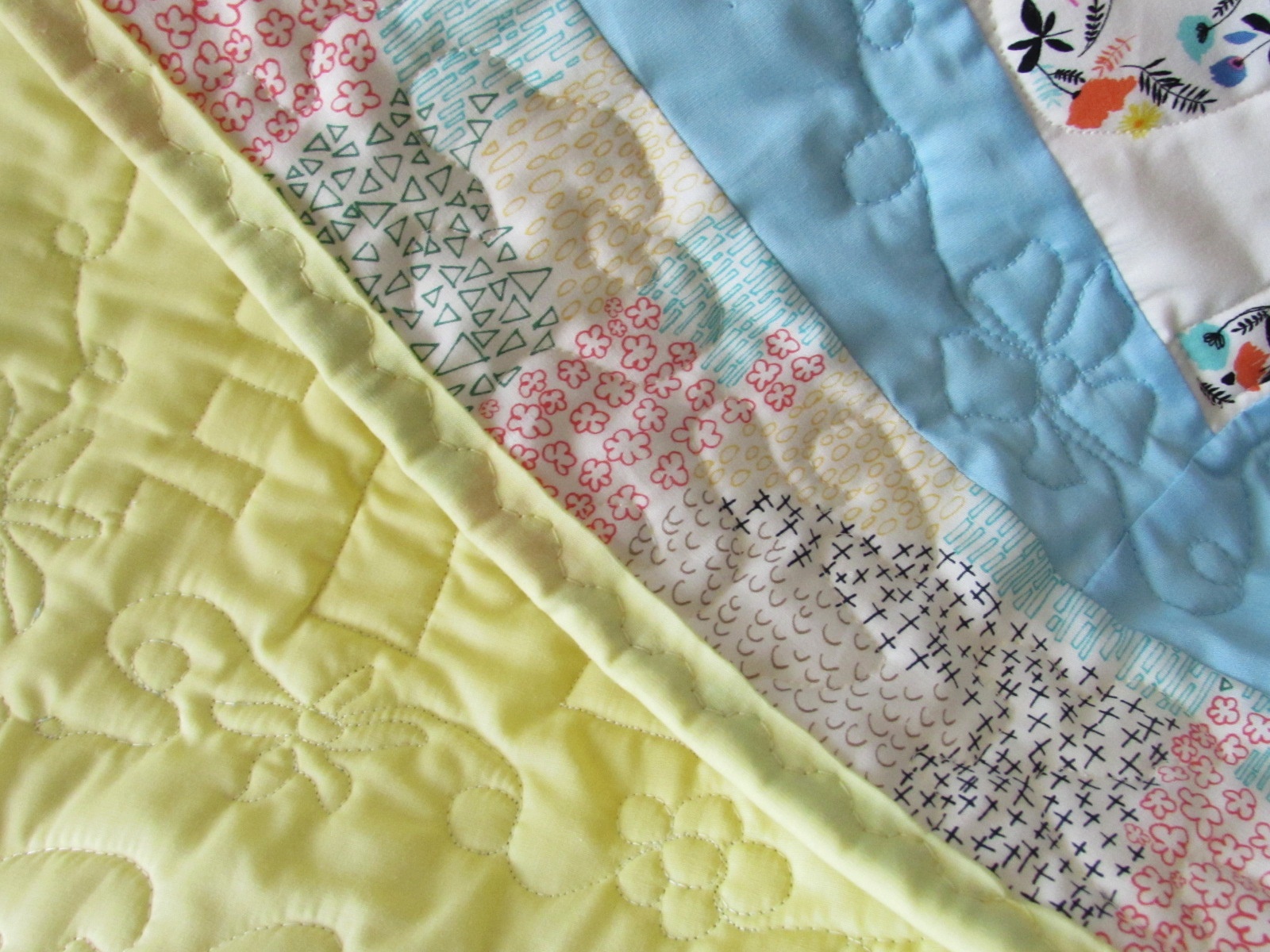 For both quilts, I machine stitched the binding to the back side, folded it to the front and used a zig-zag stitch to attach it to the front. The stitch is decorative and I am hoping these quilts are played with and used constantly.  This will require lots of laundering and the machine stitched binding might be a bit sturdier than a hand stitched.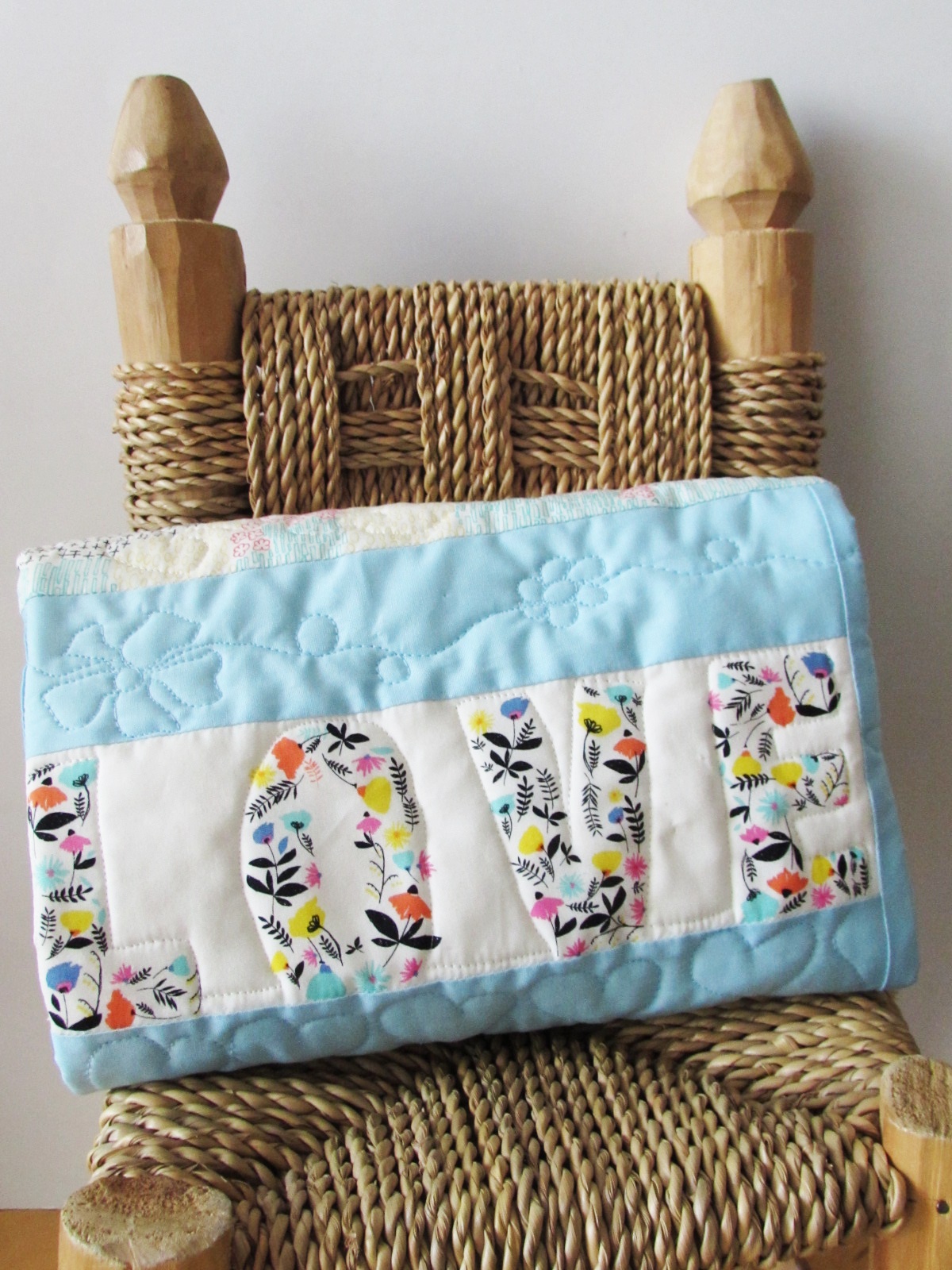 Both of these quilts will be sitting on the sewing table for a couple of days while I finish up a couple of others that are nearly done. Then they will travel to Wisconsin to live at Amy's until she sends them off to a child who needs them.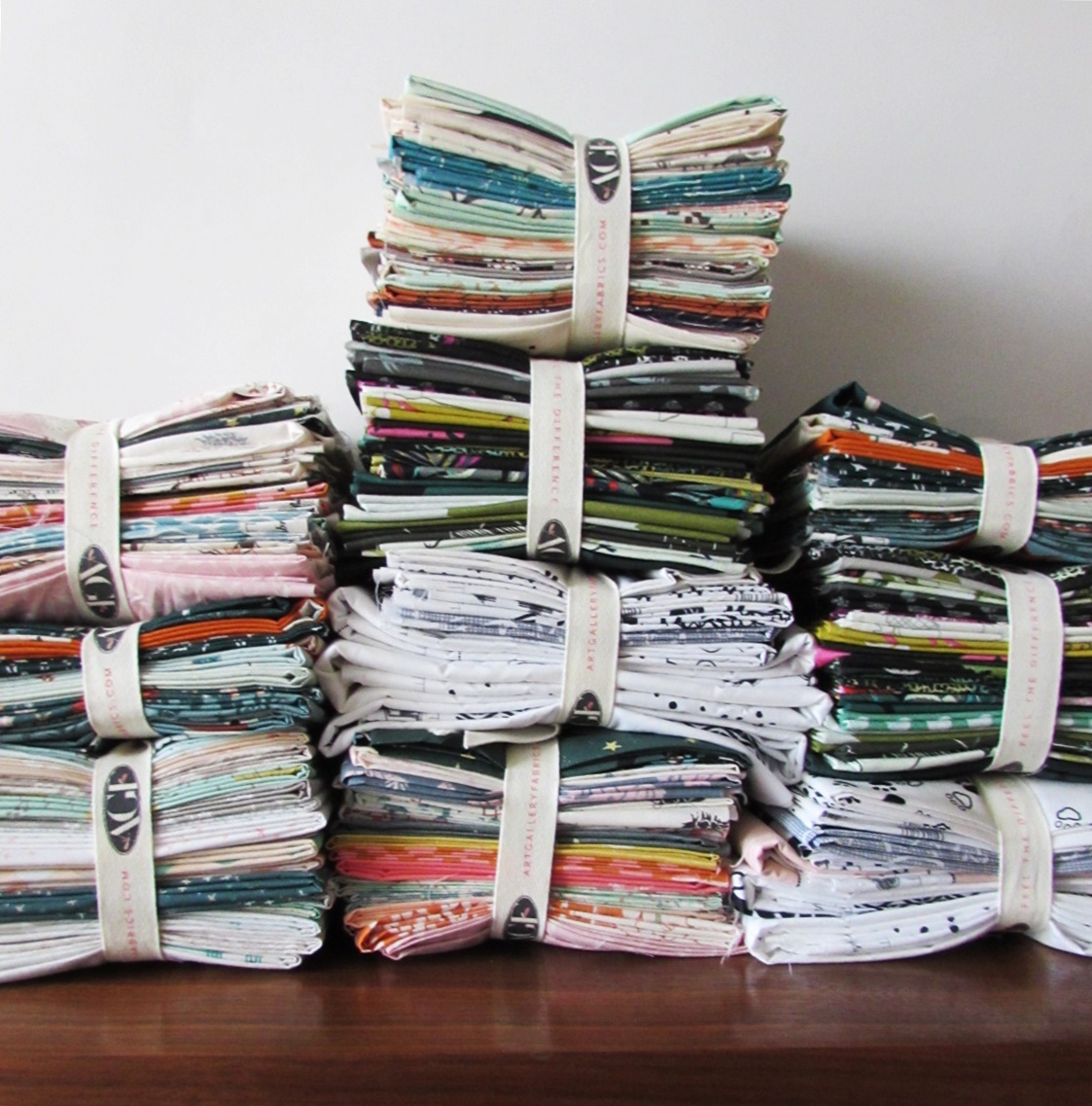 Before I close, I want to show you a picture or two to pique your interest in the prizes I will be giving at the end of February. I still cannot get over the generous support provided by Art Gallery Fabric.  When this box arrived yesterday I just squealed. There is a whole lot of gorgeous fabric there.  For now though, this is all I am showing you!!  Come back Monday and I will give you a closer look. I am truly honored to have the support of this amazing company.
Linking to my favorite parties – click on the Link Up tab at the top of the page for more info.