Today I want to share the incredible fabric donated by the ever generous Art Gallery Fabric to be used as prizes for the Spread the Love, Quilting for Kids campaign ongoing during the month of February.  To read more about the actual event, click here, here and here.  You won't be sorry – this has been a very special project and so many quilters are involved!
In late January, just before I was planning to announce the event on my blog, I sent an email to Walter Bravo, owner of Art Gallery Fabric.  I explained the project and sent a few links to some of the work done by Amy Jandrisevits, owner of A Doll Like Me. Hoping to have a bundle of Art Gallery goodness to offer as a prize, I politely asked for a bundle of fabric, hopefully one with a theme appropriate for children.  I kid you not when I say Mr. Bravo replied in under ten minutes. (This is on par with Art Gallery Fabrics; as a customer I receive a response incredibly fast each time I have a question about fabric or what I am ordering for my shop. )
His reply was this: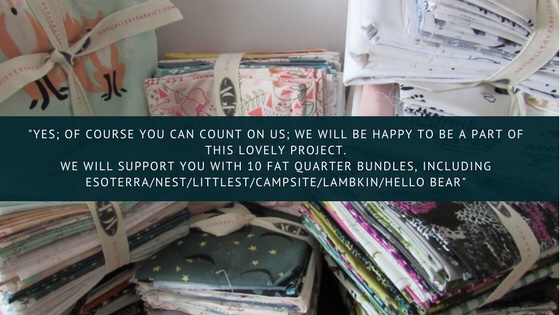 I was so excited to hear of this gift!  I suspect almost all of the doll quilts that have been made and/or promised, would have been made without the offer of prizes at the end of the event.  Quilters love to help and are willing to jump right in.  But really, does the idea of a possible prize hurt?  Not one bit!  Last week I received the box of bundles and quickly opened it to see the variety of colors and patterns. This is a whole lot of gorgeous fabric!!  Let's take a look.  (By the way, there was no request by Art Gallery to feature their fabrics in a post, I decided to highlight their generosity myself.)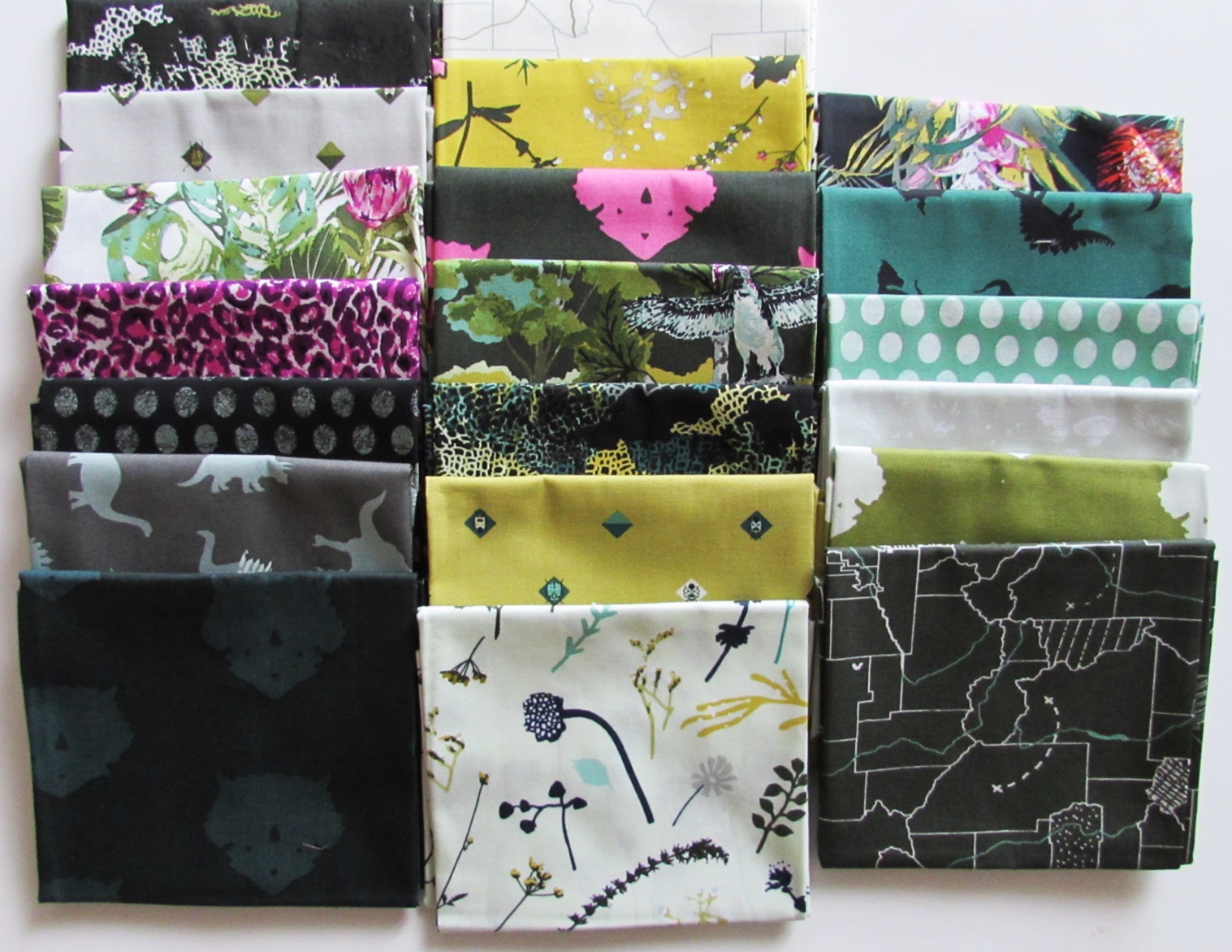 First we will look at Esoterra, a dinosaur themed line designed by Katarina Roccella. This line contains a dramatic look at prehistoric creatures that once roamed the earth.  The palette features deep green, dark teals, grays and hints of fuchsia.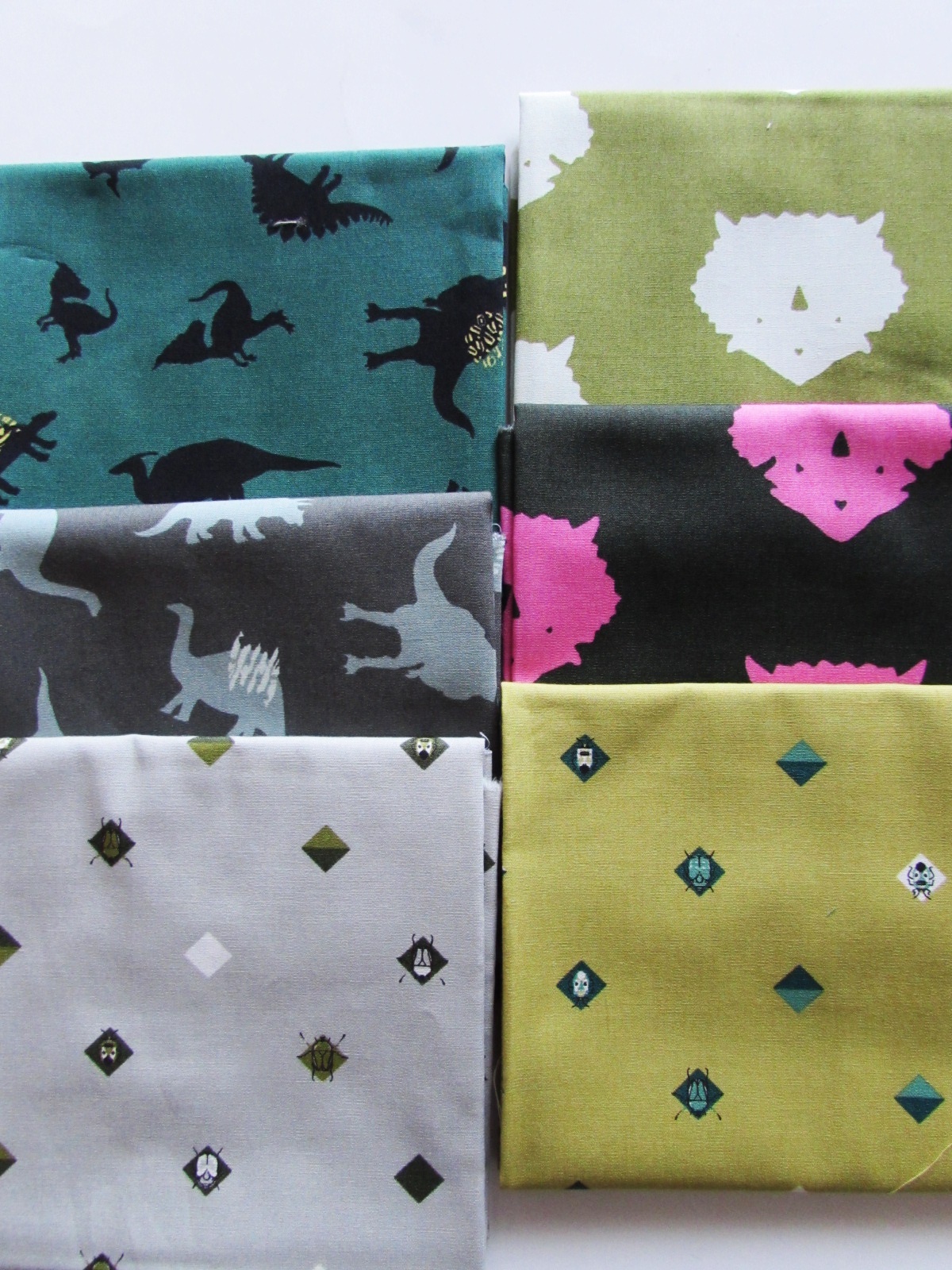 The pieces that are focused on the dinosaurs include those shown above.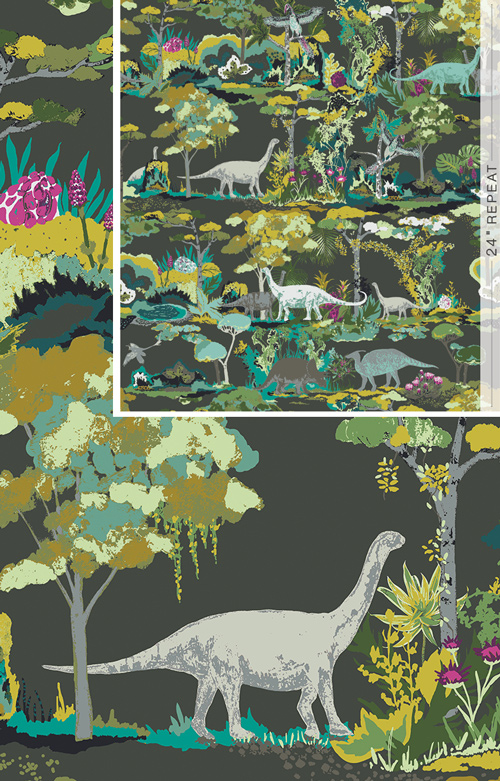 I love the piece shown above – it is really dramatic and would be great as a whole cloth quilt for the dinosaur loving child!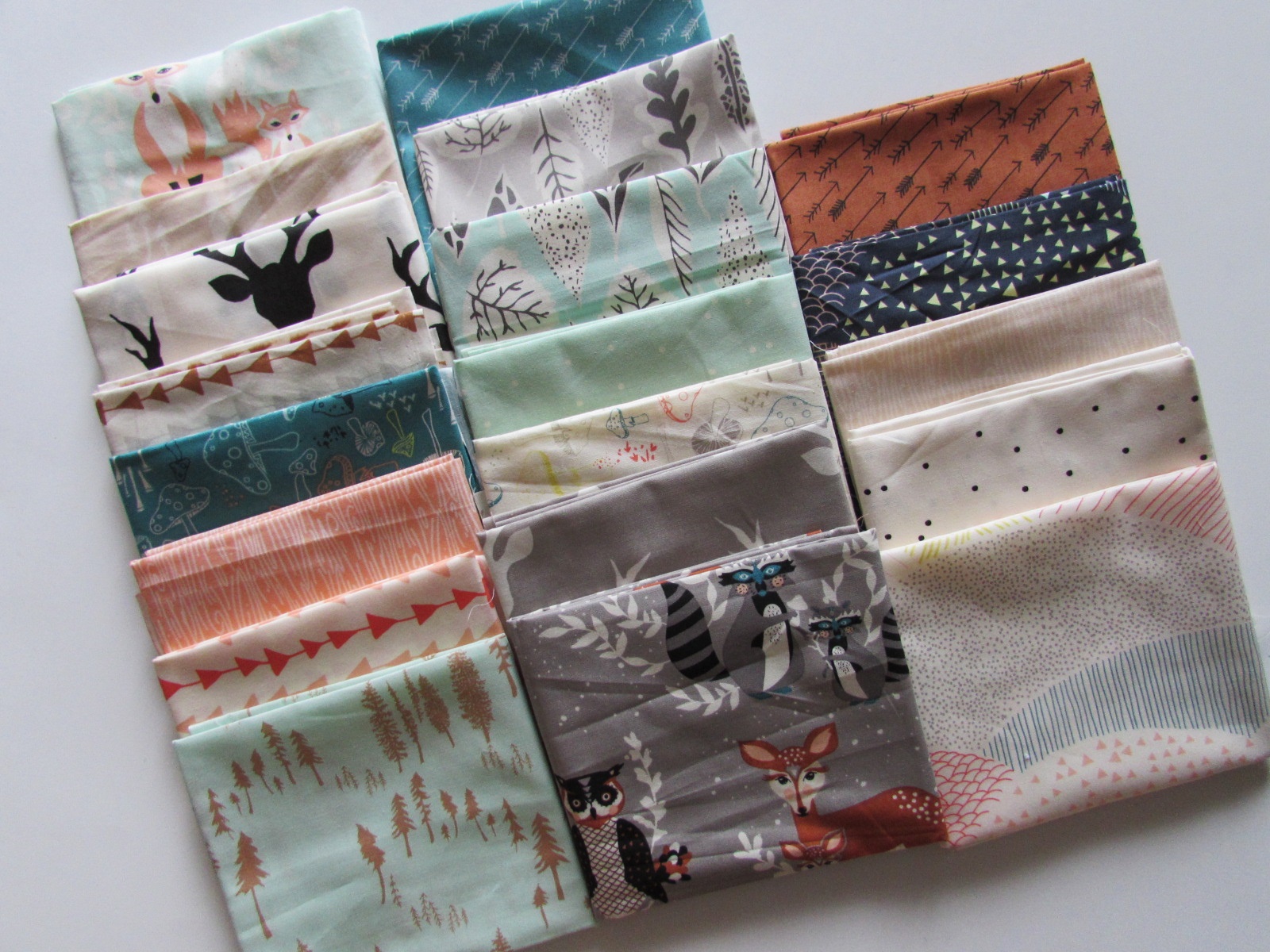 Next up is Hello Bear, designed by Bonnie Christine.  This line was inspired by her son, Bear. (By the way, I am sorry about the wrinkles. Might have been better to press some of the fabrics before taking pictures.)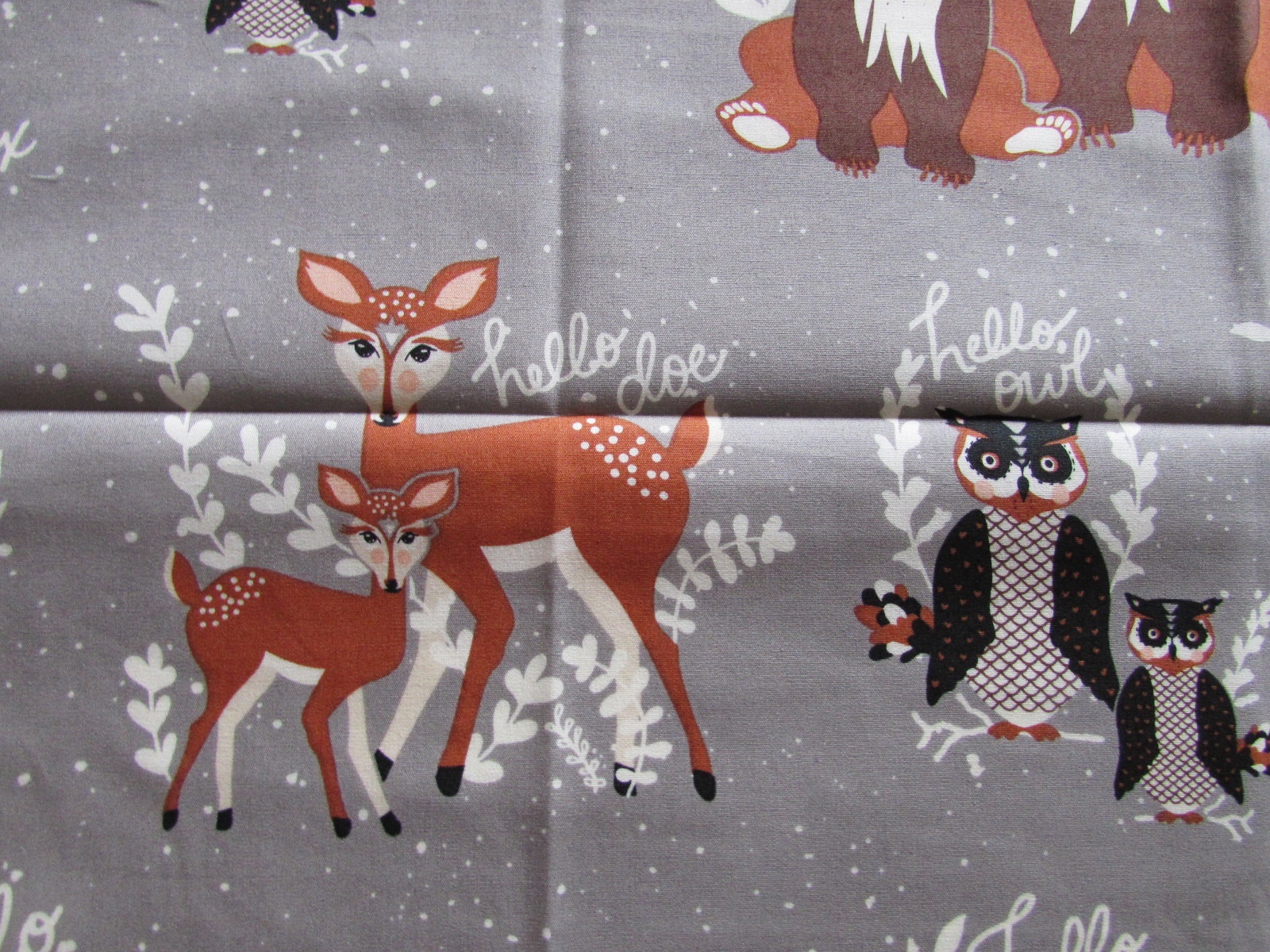 Bonnie Christine used woodsy tones like pastel moss, conifer and bark for this bundle of fabric. It is soothing and has a very modern look to it.  Woodland creatures never disappoint.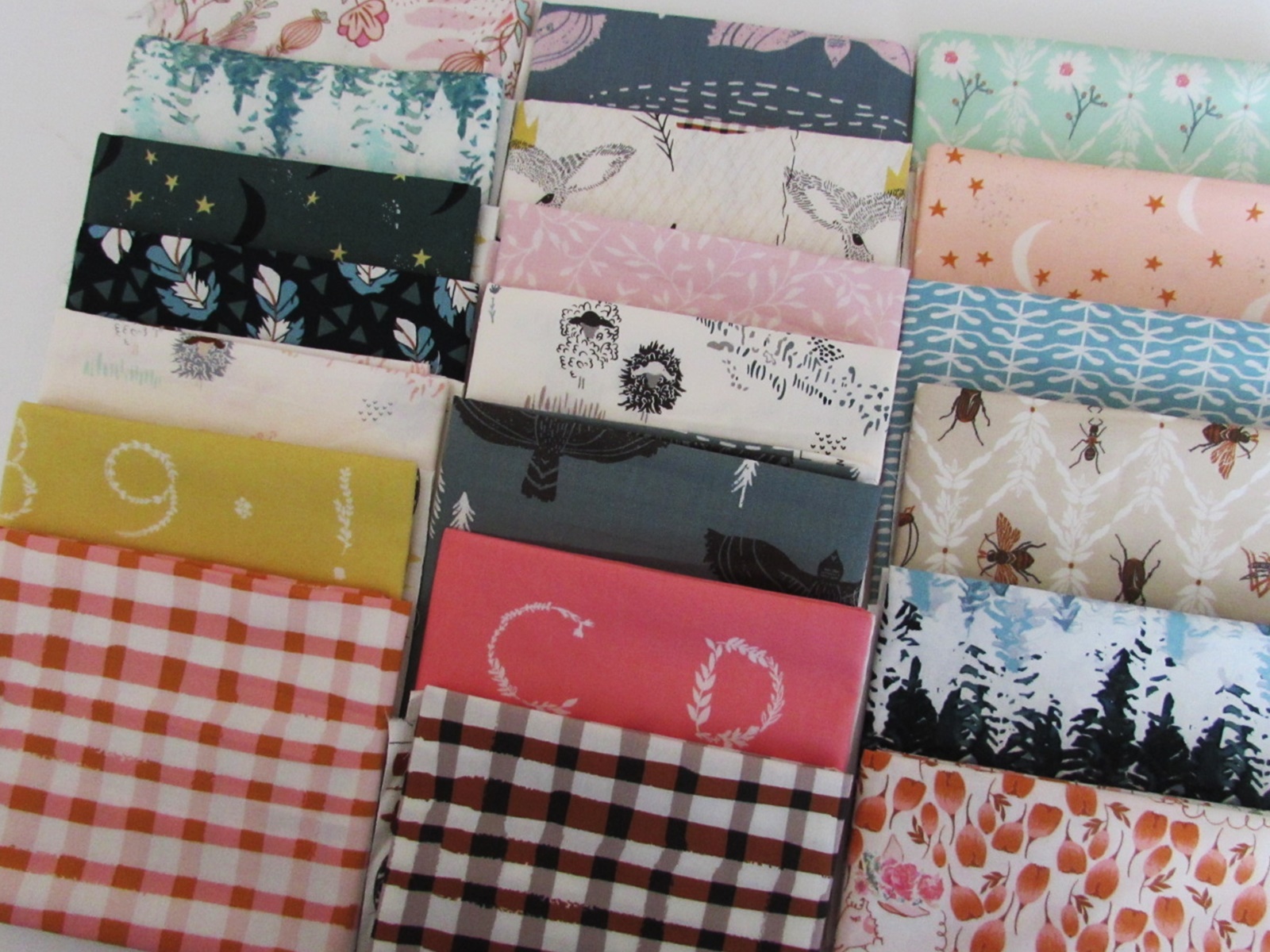 The picture above shows the Lambkin line, also designed by Bonnie Christine.  Here she used sophisticated colors of mint, slate and blush this collection shows the vision of a peaceful farmstead.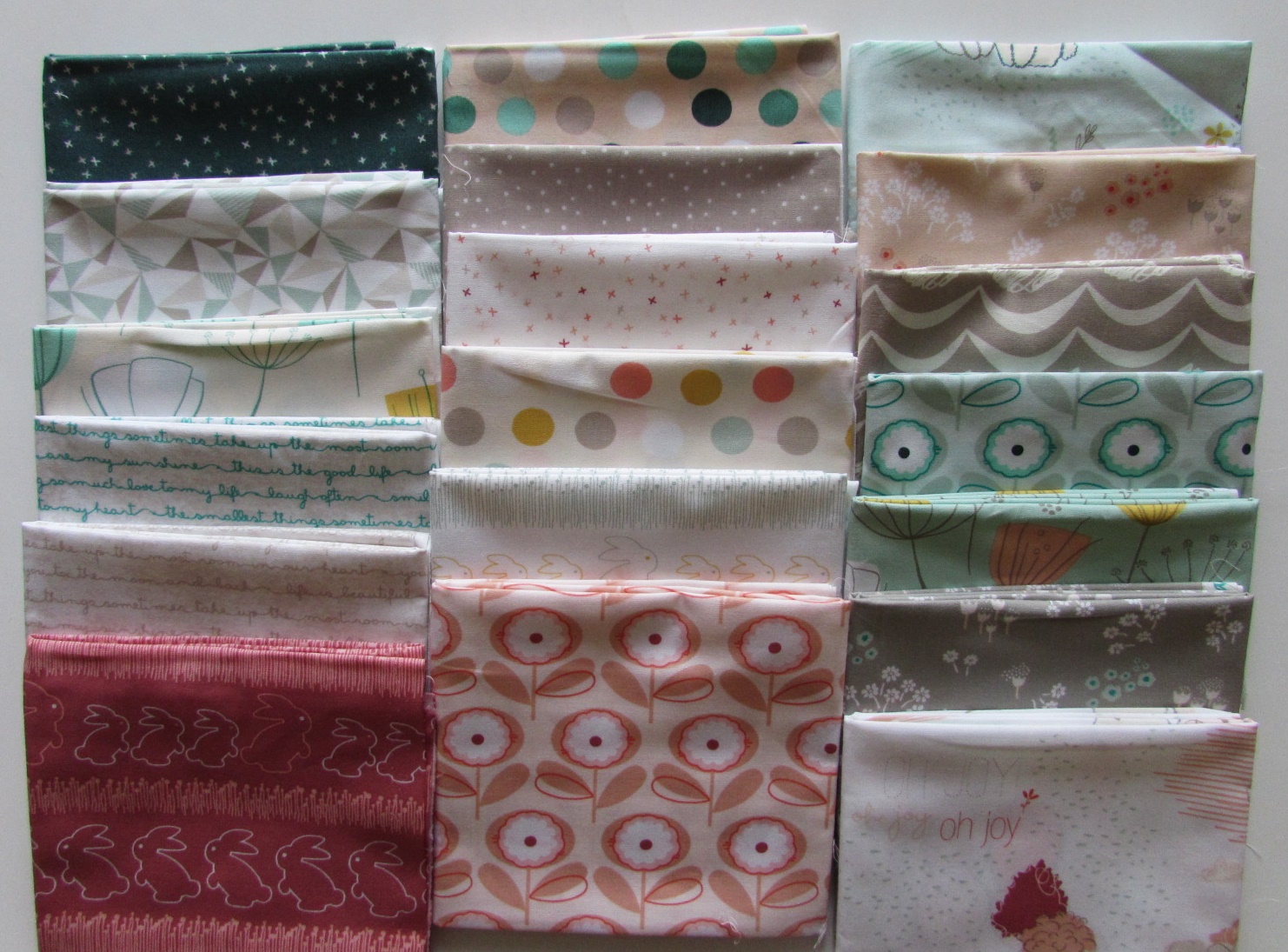 Moving along, we will take a look at Littlest, designed in house by the folks at Art Gallery Fabric. Using tones of mint, taupe, grey & peach, this line has soft bunnies and sweet musings (I love a text print!!)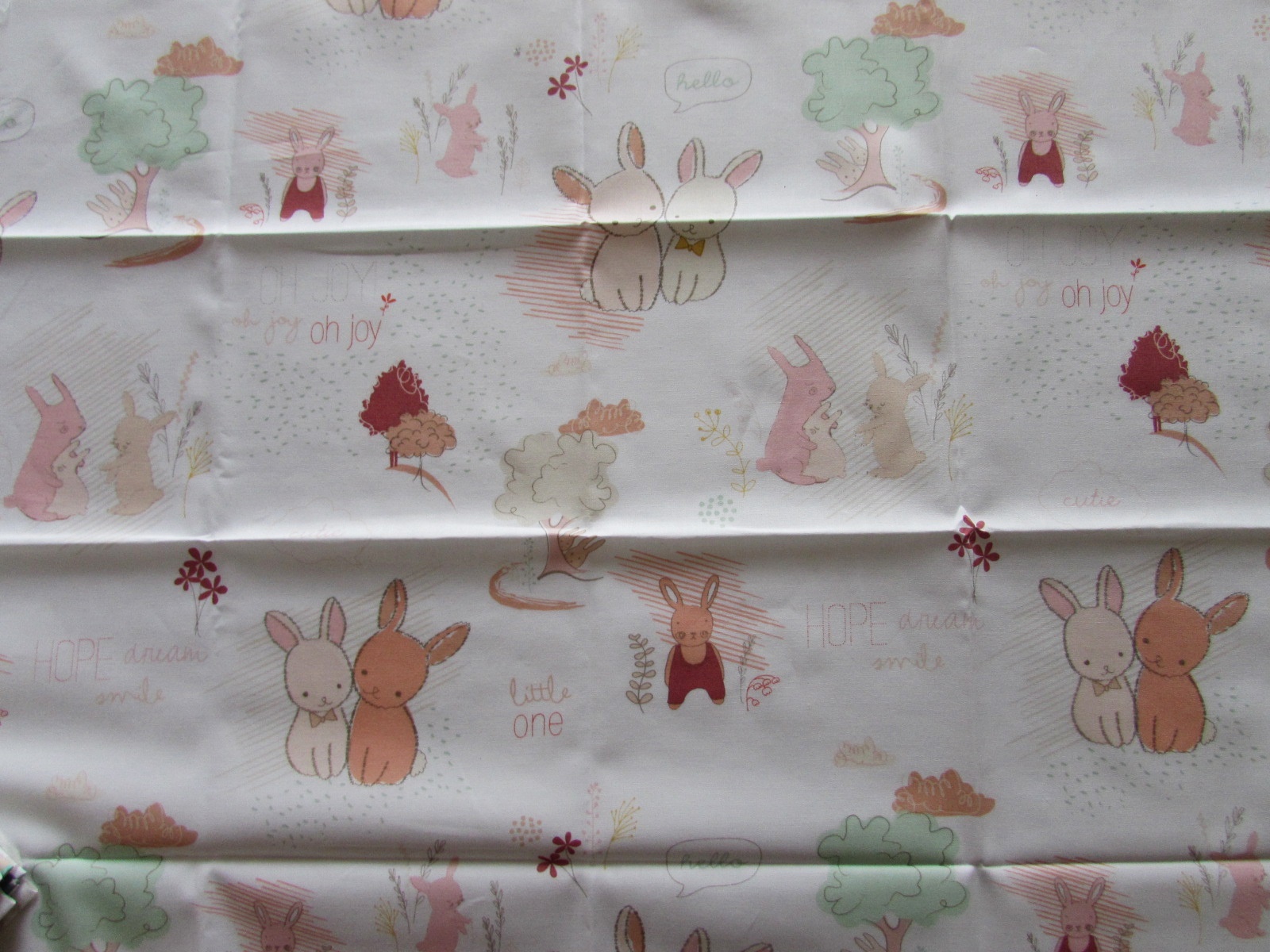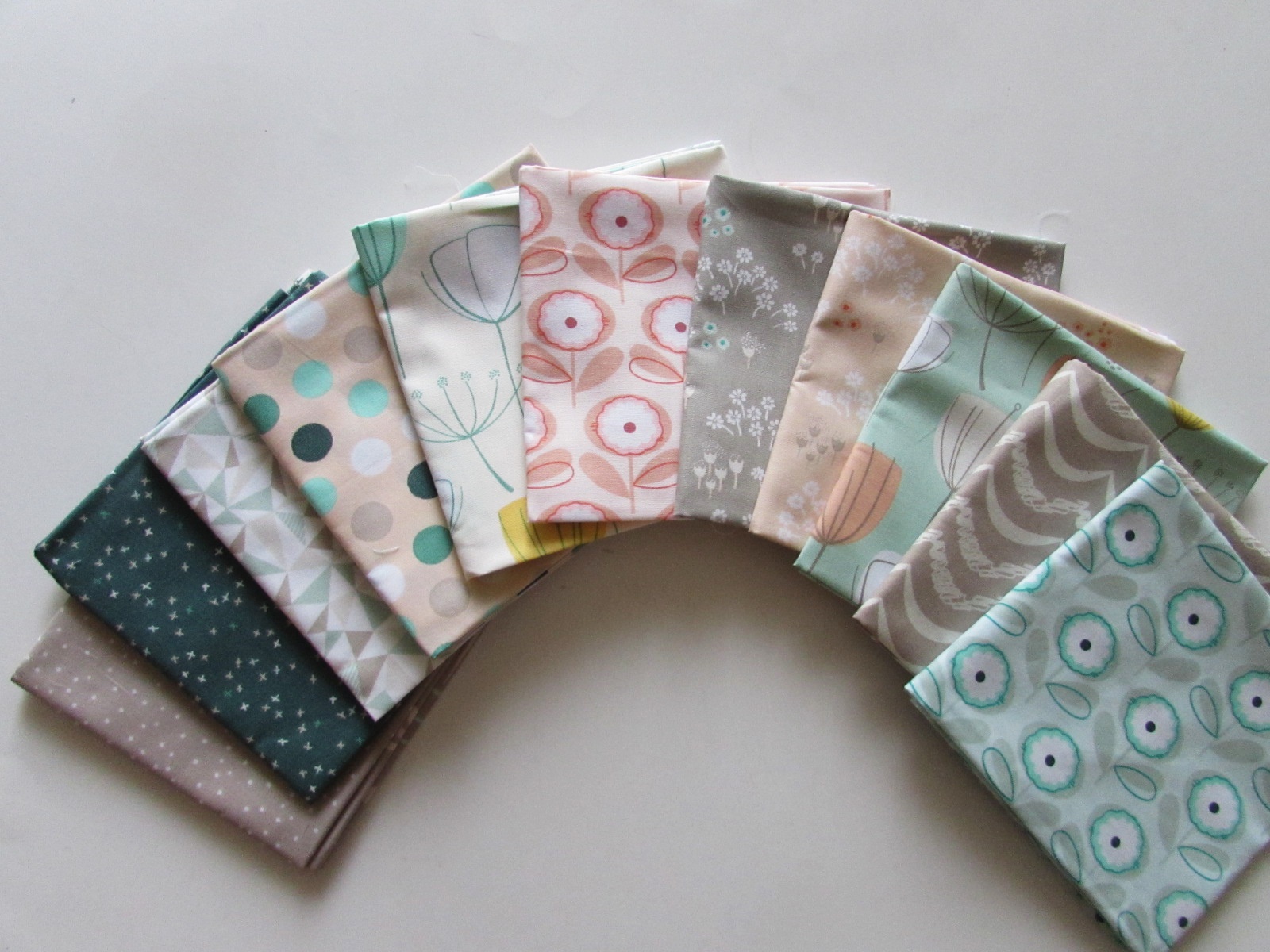 If those sweet little fabrics are removed from the bundle, one is left with a pretty bundle of muted florals, dots, and  stars. I think the dusty tones of taupe, pink, green and blue are really attractive. This bundle could be used in so many projects and provides a totally different look.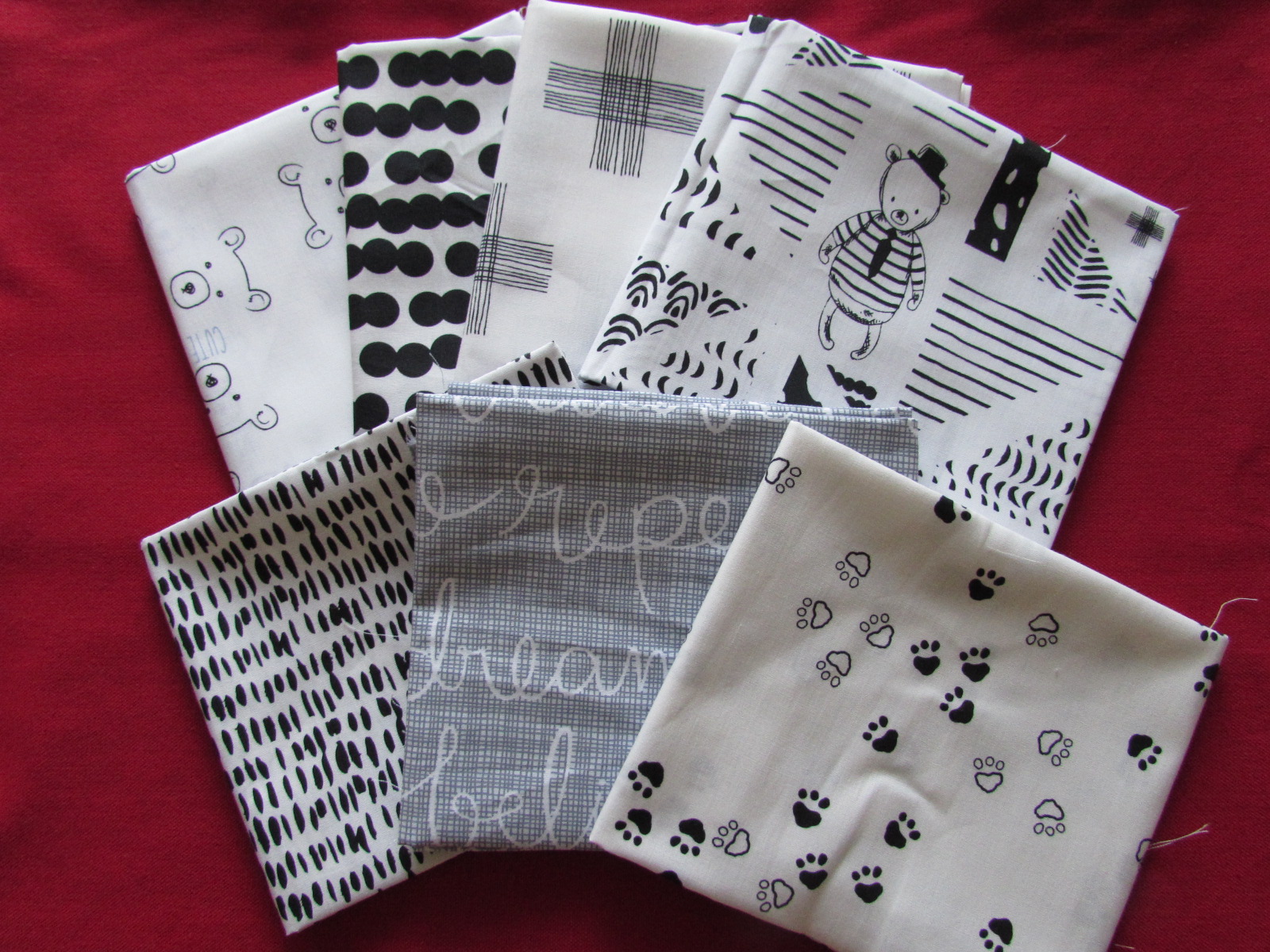 There has been a lot of talk about Nest, one of the newest lines by Art Gallery.  This was also designed in house.  I am showing it against a red background to provide a good look at this gender neutral collection. What a sweet bundle of fabric – it showcases cute paws, little bears, and adorable lambs against a contrasting black and white palette.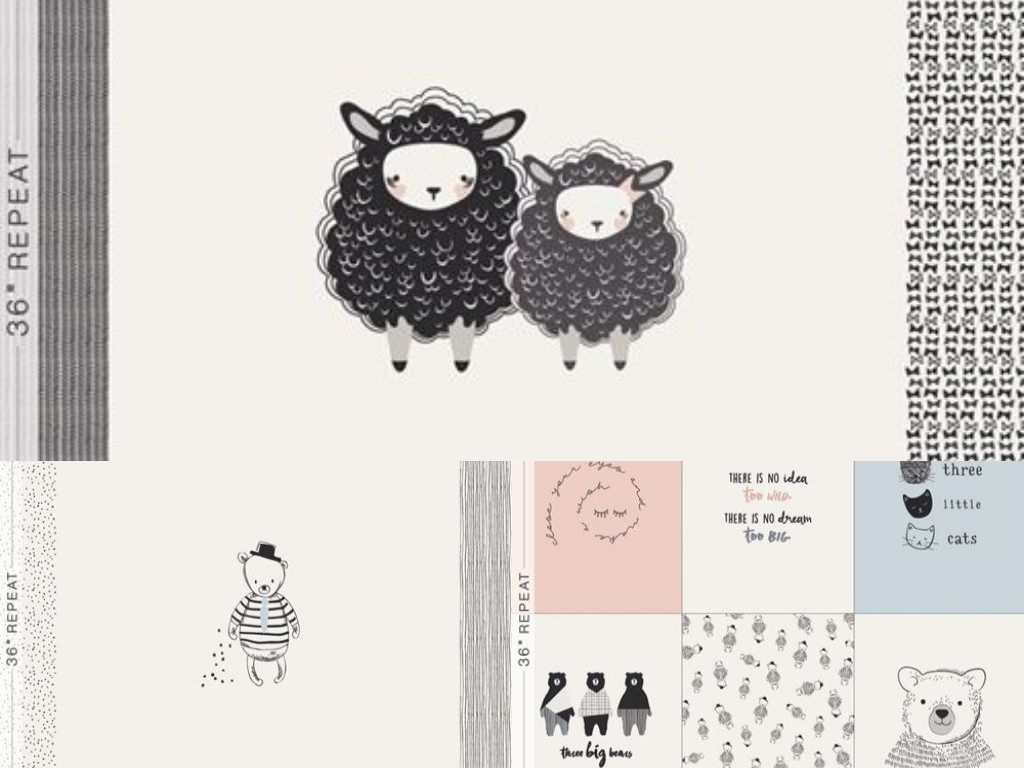 The fabric line comes with three panels, each measuring 36″ x 42″.  Above is a collage of all three panels.  They are just the sweetest.   Two lucky winners will receive the fat quarters of the coordinates plus one of each of the panels!!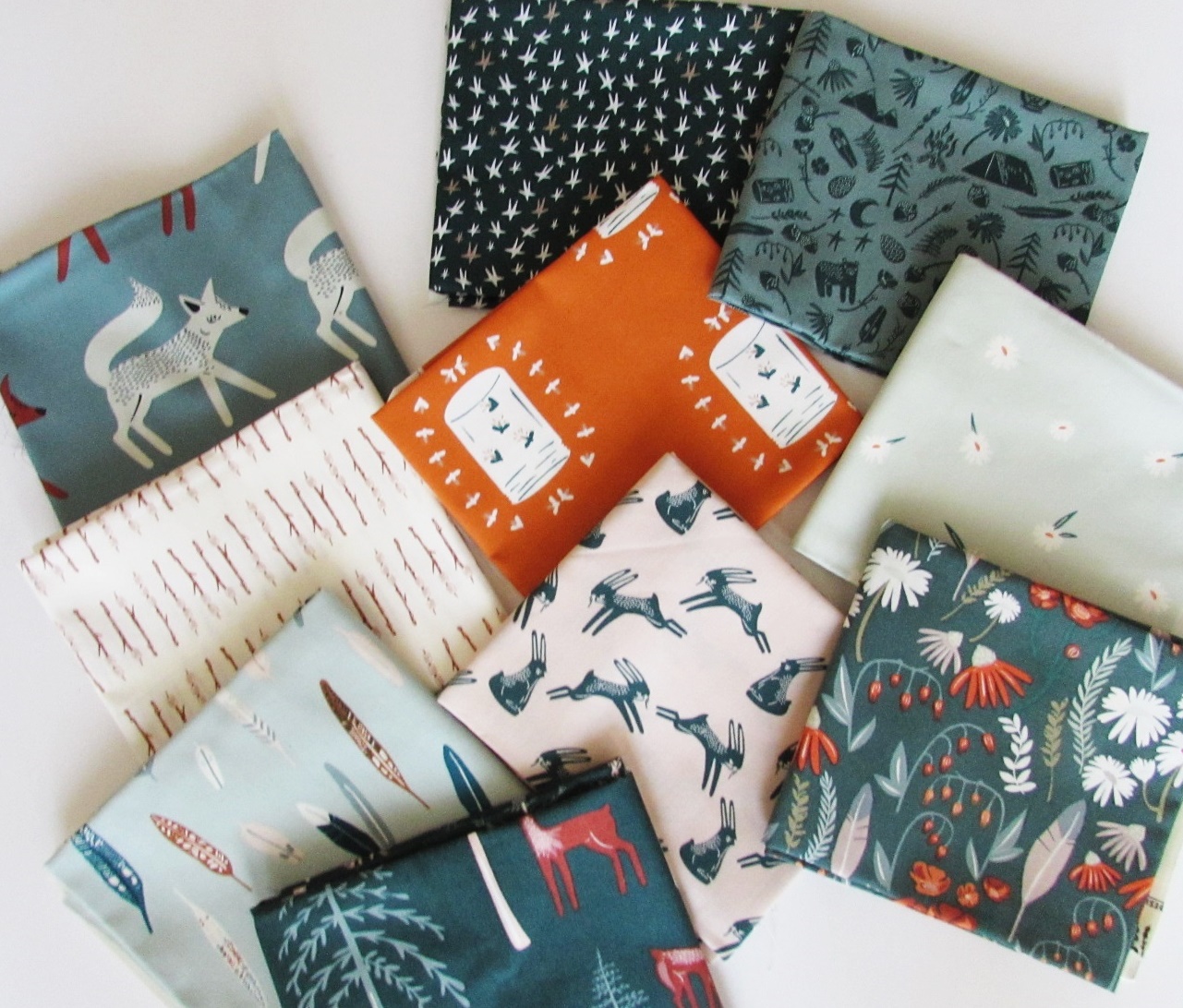 Finally, let's take a look at Campsite, also designed in house at Art Gallery Fabric.  I actually just purchased several bolts of this and listed them in my shop last week. But the entire collection is shown above.  I am in love with this bundle.  I grew up camping and really our family camped until the last couple of years. (My bones are not happy sleeping on the ground these days!)  But the fabric sure makes me nostalgic – especially the print on the left showing the sticks loaded with marshmallows, ready for roasting.  Who wants a s'more?  The jars of fireflies are really cute too.
As I looked through all of the bundles sent to me, I felt overwhelmed with gratitude for Mr. Bravo's generosity.  He really went above and beyond, didn't he?  Looking at both Nest and Lambkin, I realized I need to add some of these to my shop.  I will be placing an order later today and will let you know when they are listed.
Remember, each quilt made and donated to A Doll Like Me is one entry in the prize drawing.  There are two ways I am keeping track.  One is with email; just email me a picture of the quilts you send off to Amy and I will enter you.  Send your email to me at [email protected] . The other way is with a link up on the blog.  The link up will be open from 2/25 – 2/28/18.  Bloggers, link up your posts featuring the doll quilts you made.  From there, I will enter you in the drawing.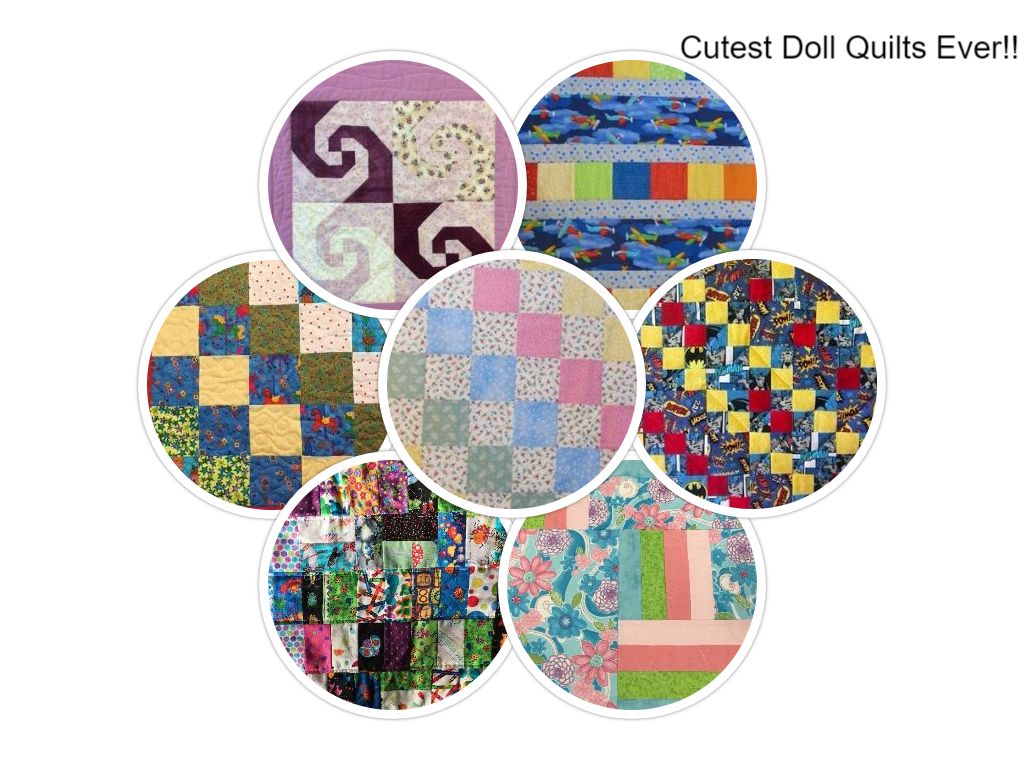 Thanks to everyone who is sewing for A Doll Like Me.  Amy and I both are so grateful for your participation!  I will close with this collage of some of the quilts that have been made thus far.
Linking up to some fun sites – take a look at the list of linky parties at the top of the page, under Link Ups.