I surprised myself by finishing up the Snowflake piece that I started last weekend while at the Mountain Star Quilters retreat. I had really done the bulk of the work over the weekend. All that remained was to square up the blocks and add borders. Then it was ready to sandwich, quilt and bind.
I am pleased with the project – the fabric choices worked well.  I had help selecting the fabrics for this one. I was at my LQS and it was a Thursday which meant that Sandra was working. Sandra Bruce is a gifted quilter/artist/long-armer in Grass Valley. I have mentioned her before – here and here.  She does amazing quilts from photographs that she then pixelates by placing a grid over to piece the photo together. If you have a minute, pop over here to see some of her work – it is well worth your time.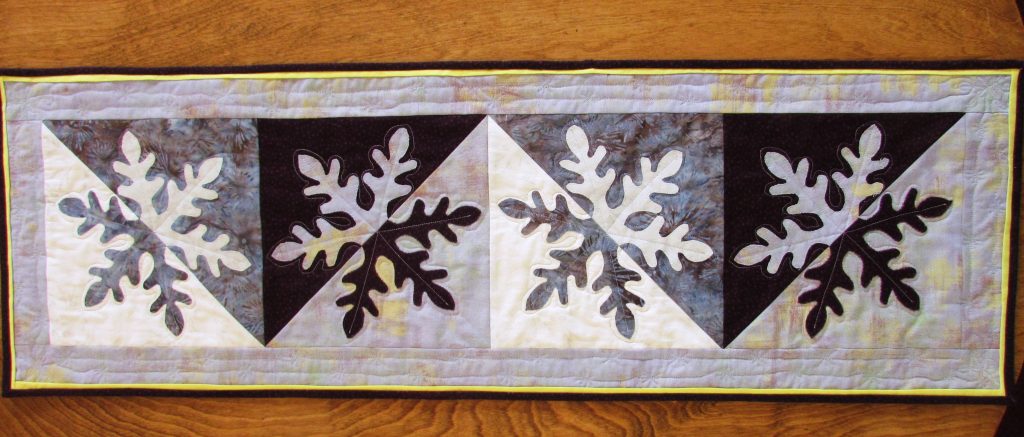 Back to my Snowflake project. Sandra was working and I asked for her help gathering fabrics.  I knew I wanted and icy blue and a deep burgundy to play off of each other. The suggestions that I appreciated most from Sandra was to use a Grunge fabric (first time I have done that) and a solid, bright yellow for the outer flange. I wasn't sure about the yellow but I like it – it picks up the yellow in the Grunge fabric nicely.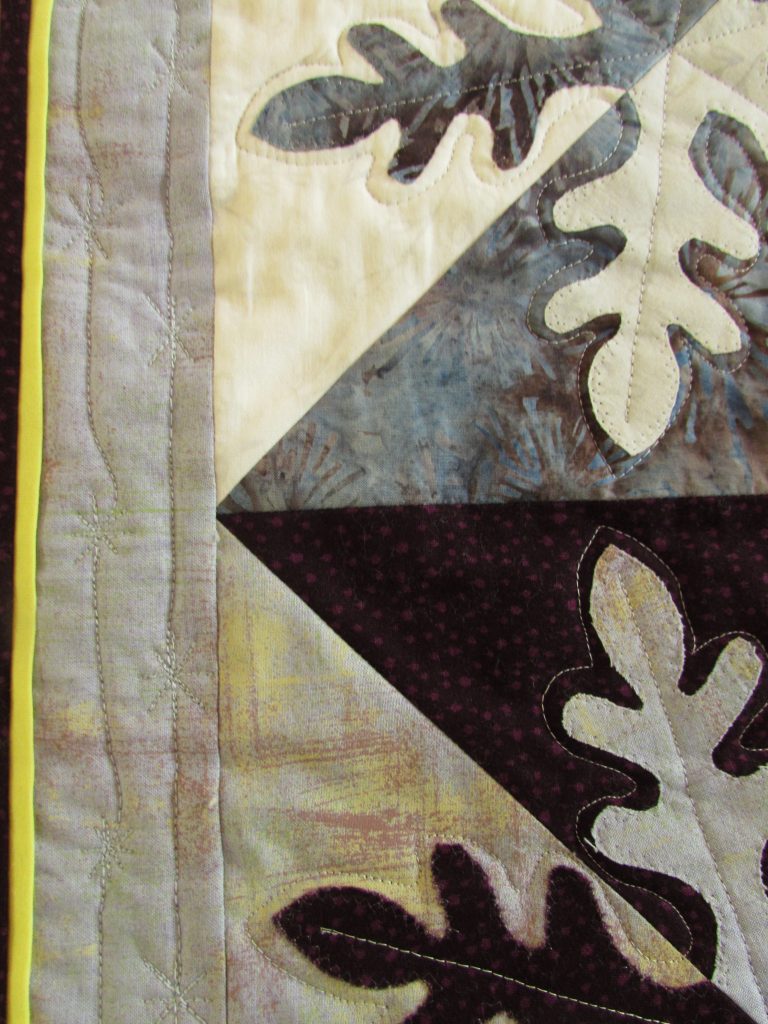 I mentioned that the applique process was tedious, moving along each curve of the snowflakes. However the clear thread was forgiving and the little misses that happened along the way don't really show up.
Quilting this one was very simple. I stitched straight lines through the star of the snowflake and then echoed around each one.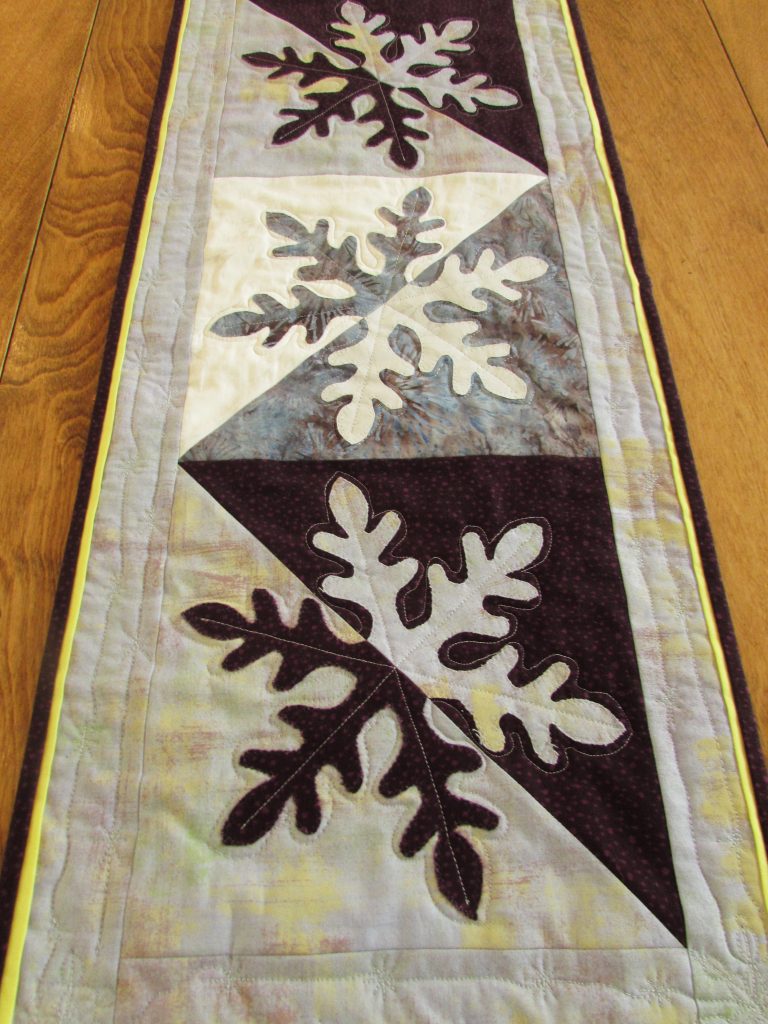 For the borders I stitched slightly wavy lines with little star/snowflake shapes along the way. Also, I did a snowflake on each corner. (I am not thrilled with how they turned out but that's the way it goes sometimes.)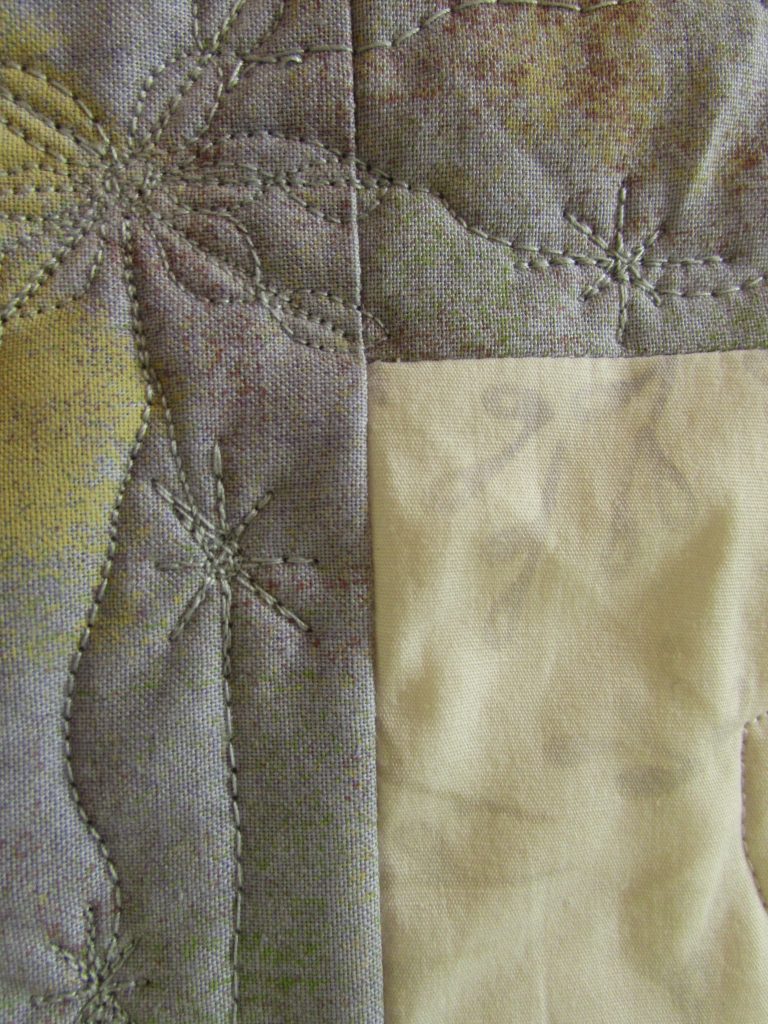 The backing is a piece of white with tiny silver polka dots that I found at a thrift store over the summer. I like the snowflake motif on this white shimmery backing. I even have a sleeve made for this but it still needs to be sewn to the back. Talk about a complete finish. 🙂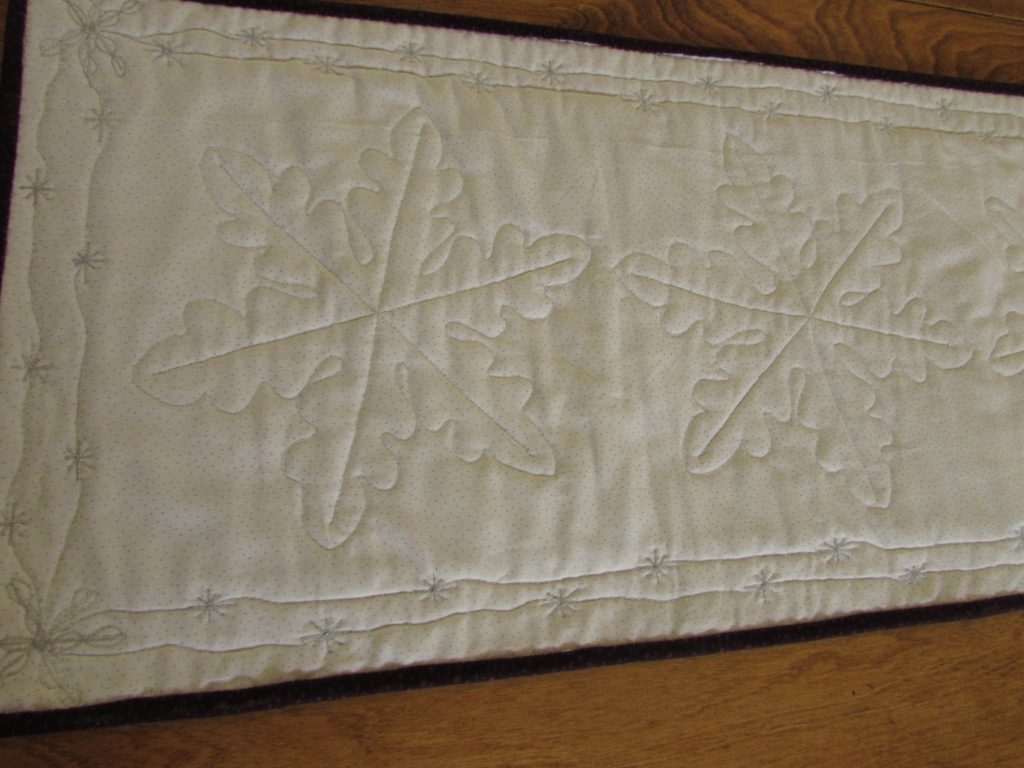 I don't want to use this as a table runner because I don't want to wash it. I feel uncertain about the strength of my applique. Instead, this quilt will hang in the living room up in Downieville – at least during winter. I should make another long piece to switch out during the other seasons.
Linking to my favorites – find them at the top of the page, under Link Ups.